Some links on this page are monetized by affiliate programs - see disclosure for details.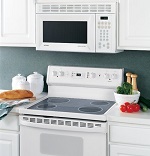 The invention of the microwave has made cooking easier than ever. With a microwave, you can easily reheat your food, warm up precooked, frozen, and canned sides, make popcorn, or defrost meat quickly.
While counter-top microwaves are still popular, more and more people are looking for the best over-the-range microwaves that look great and free up counter space.
Comparison: The Best Rated OTR Microwaves of 2019

What are Over-The-Range Microwaves?
Over-the-Range microwaves, also known as OTRs, are microwave ovens that are mounted above a range. These are most commonly used in kitchens where cabinets are mounted above the gas range. Using sturdy brackets on the wall and under the cabinets, the microwave is mounted safely in place.
This puts it directly at eye level, so it's easier to use. Because it is mounted, it also doesn't take up valuable counter space, leaving you with more room for prepping food.
What are the Different Types?
If you want extra space in your kitchen, an over-the-range microwave may be just what you're looking for. There are a two different types on the market for your consideration, traditional over-the-range microwaves and convection microwaves.
Traditional OTRs – These are basic microwave ovens that can be used for cooking, heating, and defrosting. They are available in different finishes and may have multiple functions, lights, and vents. These are similar to any countertop microwave, and the only difference is how it is mounted.
Convection OTRs – If you want to get more out of your microwave, choose a convection option. These advanced appliances allow you to broil, toast, and cook your food to perfection using a convection heating system. Convection OTRs provide you with more functions, but they are typically more expensive than traditional microwaves.
What are the Advantages of Owning an OTR Microwave?
If you have a smaller kitchen, an over-the-range microwave will help save space. Most OTRs also have built-in lights, as well as ventilation options that can be used while cooking on your range. OTRs allow you to easily heat and prepare food in just minutes, so they're extremely convenient. They aren't just functional, though.
Many modern kitchens have over-the-range microwaves that enhance the décor. Matching ranges and OTRs in black, white, or stainless finishes are functional and stylish.
Does My Over The Range Microwave Need Anything That A Normal Microwave Doesn't?
Your over the range microwave needs the same things as other microwaves, but they are likely configured slightly differently. Over the range microwaves need a mounting system, vents, and access to electricity.
The vents and the mounting systems are typically the areas where poor over the range microwaves fail to meet the customer's needs. If your microwave has vents which point downward into the range, then you'll get the range fumes or extra heat filtering into the chamber.
If, on the other hand, your over the range microwave vents to a separate area, it'll have superior durability as well as safety.
The mounting systems of the best over the range microwaves have dedicated venting areas which are compatible with most cabinet systems that you'd find over a range.
Who are the Contenders for Top Microwave?
Whirlpool WMH31017AW Microwave – If you want to save space, this microwave is a great option for you. It's easy to mount and install, and it's just as simple to use. With its low price, it's a budget-friendly option that can make your kitchen more functional, as well as create a less cluttered look.
Sharp R-1214 – Cook, reheat, and defrost with ease with this microwave that has multiple built-in functions for ease of use. This space-saving option offers many different features, including a variety of cooking settings and a three-way vent system.
Sharp R-1881LSY – Your kitchen will look fabulous after you install this model from Sharp. Not only will it add an extra bit of style with its clean and modern stainless steel design, but it also allows you to broil, crisp, heat, and so much more with just the touch of a button.
Considerations
Whether you're replacing an old, outdated microwave with a more modern model or you want to enjoy having extra counterspace, over-the-range microwaves are certainly worth considering. You want to make sure that you purchase an appliance that will get the most use in your kitchen, so before you buy, think about these key features for each model that catches your eye.
Color
When you purchase an OTR, you want it to match your range and other appliances. Most OTRs are available in black, white, or stainless, and some may even have detachable plates that allow you to change the color. This is particularly useful if you plan on changing out your other appliances in the future.
Size
You want to consider size for a couple of reasons. First, you want to make sure that it is large enough to meet your needs. If you only occasionally use a microwave, a smaller model may be right for you. It's also important to consider size to ensure it fits over your range perfectly.
Make sure you measure the space underneath your cabinets, as well as the space between your range and the bottom of your cabinets to ensure a perfect, safe fit.
Ease of installation
If you've never installed an over-the-range microwave before, you want to look for one that comes with everything you need, including hardware and mounting brackets, as well as templates and guides for mounting purposes. Detailed instructions are also very helpful.
If you're considering a microwave that requires outside ventilation or a complicated installation process, you will need to contact a professional electrical contractor.
Price
Basic OTRs are not much more expensive than countertop microwaves, priced around $100 to $200. If you have a larger budget, you may want to opt for a convection microwave that has more functions.
If you have stainless steel appliances and want to purchase a matching OTR, you can also expect to pay a little more for this finish.
Color
Whirlpool WMH31017AW
This model is available in white, so it matches perfectly with your existing white appliances.
Sharp R-1214
You can easily match your new microwave to your other appliances with this model, which is available in your choice of White or Stainless Steel.
Sharp R-1881LSY
This top-of-the-line OTR has a durable and modern stainless steel finish that coordinates beautifully with other stainless appliances.
Size
Whirlpool WMH31017AW
With this microwave, you have 1.7 cubic feet of cooking space, making it just the right size for most containers.
Sharp R-1214
This microwave offers plenty of cooking space for even your largest microwave-safe containers. It features 1-1/2 cubic feet of interior space for cooking, heating, and defrosting.
Sharp R-1881LSY
With a capacity of 1.1 cubic feet, this is smaller than the other microwaves on this list, but it still provides plenty of cooking space.
Ease of installation
Whirlpool WMH31017AW
This microwave comes with everything you need for a safe installation. The instructions are detailed and easy to read, and most buyers of this model found that it could be installed with just one person, although having assistance to place the microwave on the bracket can make the job easier.
Sharp R-1214
This model comes with all of the hardware and mounting brackets you need for a safe installation. Installing it is fairly simple. However, due to the weight of this microwave, you might want to have an assistant on hand to help you lift it without damaging it.
Sharp R-1881LSY
This microwave comes with everything you need for installation, and installation instructions are detailed and easy to follow. At over 70 pounds, it is one of the heavier OTRs available, so assistance with lifting helps prevent injury to yourself or damage to your appliances.
Price
Whirlpool WMH31017AW
This basic model is one of the most inexpensive, and it's a great option for those who want a basic space-saving microwave.
Sharp R-1406
This is a mid-priced model. It's affordable enough for most budgets, and it offers many features found on more expensive models.
Sharp R-1881LSY
This is one of the more expensive models currently on the market. However, it does offer many different options not found on basic models, so if you plan to use your microwave a lot, the extra expense may be worthwhile.
Best of the Best: Our OTR Microwave Reviews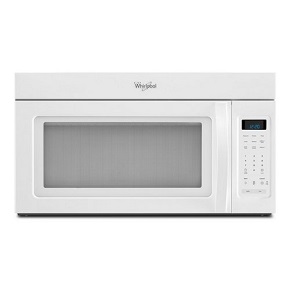 If you want a great microwave without spending a lot of cash, this model from Whirlpool may just be what your kitchen needs. This no-frills microwave offers several basic functions and a clean design that looks great in any kitchen.
Vent while you cook on your range with the 220 CFM range system that can be adjusted easily to vent up or to go outside. This 1,000-watt model offers two stage cooking, a blue LED display, and a two speed fan.
Pros:
It heats well
It's inexpensive
The fan and the microwave itself are quiet
Easy to install
It has plenty of cooking space inside
Cons:
The fan points upwards and is not protected, so debris may fall into the vent
The wire mesh filter seems cheap and ineffective
It does not provide clear operating instructions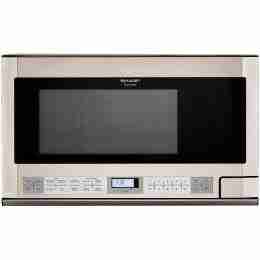 If you're looking for a reliable microwave that also saves space, this model from Sharp is a high-quality model that looks great, mounts easily, and best of all, comes with a low price tag. Start off by choosing the color that coordinates with your kitchen, then use the included hardware and bracket to install it safely.
When your microwave is ready to use, you'll enjoy many features found on high-end microwaves. This includes ten variable power settings, cooking, heating, and defrosting zones, auto-touch controls for one button operation, and three venting options. You can rest easy knowing your purchase is protected with a 1-year limited warranty.
Pros:
Comes backed with a warranty against defects
Easy to install
It has three ventilation options (horizontal, vertical, and recirculating) so you can effectively vent your range
It feels more durable than cheaper models
Comes with a built-in light
Easy to use
Cons:
It is extremely heavy, so assistance may be needed when mounting
The fan is loud
The filter for the exhaust fan is sold separately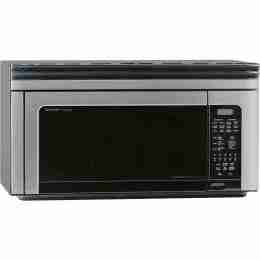 If you want many different cooking options in your microwave, you'll find everything you need on this stainless steel model from Sharp. This microwave allows you to do more than just pop a bag of popcorn or reheat your leftovers. It also functions as a convection oven, so you can bake, brown, crisp, broil, and roast your favorite foods with ease.
This OTR is equipped with a vented range hood, built-in hood light, and a fan. The unit has a ceramic turntable that can be turned off or on with just the push of a button. It also comes with a high rack and a low rack so you can heat your food perfectly every time. It has an interactive 2-color display, and the display can be changed to Spanish or English.
Pros:
It functions as a convection oven
One-touch features
Easy to use
Easy to install
It looks modern and stylish
It is backed with a warranty
Offers more features than basic microwaves
Cons:
It is very heavy, so installation may require two or more people
More expensive than many other Over-the-Range microwaves
All in All
Microwaves have made cooking in our kitchens more convenient than ever. If you use your microwave often, you can't go wrong by purchasing the Sharp R-1881LSY. Not only does the over-the-range design free up extra space in your kitchen, but it looks great when installed over your range.
With so many cooking options, including convection cooking, this microwave can double as a second oven without having to spend thousands of dollars on a double oven. The heating is consistent, the size is just right, and the stainless steel and black glass design enhances the look of any modern kitchen.