Some links on this page are monetized by affiliate programs - see disclosure for details.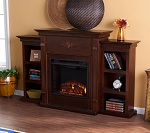 During the chilly evenings of fall and the cold days in winter, nothing is better than sitting in front of a warm, roaring fireplace. There's just something about a fireplace that makes your home more relaxing, not to mention it provides you with much-needed heat on the coldest days. Unfortunately, not every home has a fireplace.
If you own your own home, you can have a fireplace and chimney installed, but this costs thousands of dollars and puts your home in disarray for several weeks. If you rent a home or an apartment, you are likely not allowed to install a fireplace. However, eve if you don't have one, there are options available for you that don't cost a fortune. In the past few years, these electric fireplace inserts have grown in popularity because they're a non-permanent and inexpensive way to bring the peacefulness of a fireplace into any home.
Ten of the Best Electric Fireplaces of 2019

What are Electric Fireplaces?
Electric fireplaces are designed to look like traditional wood burning or gas fireplaces. The main difference is that they do not require a chimney, they do not use real fire, and all you have to do to enjoy the ambiance of a fire is plug the fireplace in and turn it on.
These fireplaces are designed to mimic the look of fire, and they even have blowers similar to space heaters that allow them to produce heat.
What are the different types of Electric Fireplaces?
There are several different types of electric fireplaces to choose from, so you can find the ideal product for any space.
Electric fireplaces with mantels – These freestanding fireplaces look very similar to traditional fireplaces. They have a mantle that you can use to store nick-knacks and photo frames, and they are available in a variety of sizes and finishes.
Wall-mounted fireplaces – If you don't have a lot of extra space in your room, but you want to enjoy the beauty and warmth of an electric fireplace, a wall-mounted option is perfect for you. These are thin fireplaces that mount directly on the wall and do not take up any floor space.
Fireplace inserts – If you live in an older home with a non-functioning fireplace or you can't make a fire because it violates a fire code, you can get use out of that space with an electric fireplace insert. These boxes slide right in your existing fireplace to replicate the look of a burning fire while keeping your home safe.
Built-in fireplaces – These fireplaces are built right into the wall, so they have a more natural look and take up less space. The one drawback is that the wall has to be measured and cut for installation, so it's best left to a professional contractor.
Media consoles – Take up less space with a functional media center with built-in electric fireplace. These consoles hold DVDs and video games, game systems, cable or satellite boxes, and even your TV, all while displaying a beautiful electric fireplace.
What are the advantages of owning an Electric Fireplace?
If you want to enjoy a burning fire but you don't have a fireplace, an electric fireplace lets you do so anywhere you have a power outlet. Not only does an electric fireplace create a relaxing and calm atmosphere, but with its heater blower, you can heat small spaces without continuously having to run your primary heating unit, which could help you save on your electric bills.
Electric fireplaces are also decorative and easy to install, and they're a great way to enhance your décor.
Are Electric Fireplaces Safe?
They're considered much safer than traditional fireplaces. Electric fireplaces have practically no risk of starting a fire or burning skin. They also have no risk of a gas leak.
Plus, you can place them just about anywhere. Electric fireplaces are safe when placed directly against a wall. They can also sit on carpet, rugs and other fabric.
Electric fireplaces are the better option if you have children or pets. The front of the fireplace doesn't get hot. The heating element of the fireplace is separate from the glass. Plus, they require no venting.
They're also safe for the environment. Electric fireplaces emit no harmful pollutants. They're an energy efficient way to heat your home.
Who are the contenders for Best Electric Fireplace?
Best Choice Products Electric Wall Mount Fireplace – This space-saving fireplace mounts right on your wall, so you don't have to worry about a big, bulky piece of furniture taking up precious space in your home. It features a realistic flame effect for ambiance, as well as a built-in 1500-watt heater that adds warmth to your living room, bedroom, den, or any room with a power outlet.
Lifesmart Large Room Infrared Quartz Fireplace – The oak mantle gives this electric fireplace a rich look, but you'll love the inexpensive price. It has a built-in quartz heater with a circulating fan to warm up any room, and it also comes with a convenient remote control for easy adjustments. If you want to change up the look of your room, this fireplace is on casters, so it's easy to move around.
SEI Tennyson Electric Fireplace with Bookcases – Instead of just purchasing an electric fireplace, why not add a quality piece of furniture to your home? With this electric fireplace from SEI, you'll get all of the benefits of an electric fireplace with the added bonus of beautiful bookcases. This model looks perfect in any room, including libraries, studies, and offices.
Considerations for Choosing the Right Electric Fireplace
If you like the idea of being able to enjoy a fireplace without the smoke, dangerous fire, and messy clean up after burning wood, then an electric fireplace is just what you need for your home or office. Before you begin your search for the ideal fireplace, there are a few key points you should keep in mind.
Price
The first thing you should consider before purchasing an electric fireplace is how much you're willing to spend. It is important to remember, however, that in many cases, you get what you pay for. If you opt to purchase the least expensive fireplace just to save money, you may end up with an inferior product that's made of cheap wood, has an unrealistic flame, and doesn't produce much heat. Consider all other factors, in addition to pricing, before making your purchase.
Finish
You want your fireplace to match your other furniture like coffee tables and end tables. Electric fireplaces are available in a variety of finishes, from bright white to dark ebony. Look for a finish that enhances your space.
Heat
If you just want an electric fireplace for the ambiance, the heat settings may not matter to you. However, if you plan to use your fireplace for heating a smaller room, you will want to consider how much heat the unit puts out, where the vents are positioned, and how much energy is consumed by the unit.
Size
Decide where you want to put your new fireplace in order to figure out what size you need. If you're short on space, look for a smaller model or one that mounts on the wall. If you have plenty of space and you'd like a large piece of furniture to complement your other furnishings, select a full-size fireplace or media console with a built-in firebox.
Price
Best Choice Products Electric Wall Mount Fireplace
This is one of the least expensive electric wall-mounted fireplaces available, so it's ideal for anyone following a strict budget.
Lifesmart Large Room Infrared Quartz Fireplace
With a slightly higher price tag, this is a mid-range fireplace that looks much more expensive than it really is.
SEI Tennyson Electric Fireplace with Bookcases
This fireplace is the most expensive on the list. However, the price isn't too expensive when you consider that this combines beauty, quality, and functionality.
Finish
Best Choice Products Electric Wall Mount Fireplace
This model is surrounded in black glass, so it coordinates beautifully with almost any décor.
Lifesmart Large Room Infrared Quartz Fireplace
This Lifesmart fireplace has classic style with a lovely Burnished Oak finish.
SEI Tennyson Electric Fireplace with Bookcases
If you select this fireplace, you'll have your choice from two finishes, Espresso or Ivory.
Heat
Best Choice Products
You can choose from two different settings, Low and High. The Low setting puts out 750 watts of heat, while the High setting puts out 1500 watts.
Lifesmart
This fireplace has two different settings that adjust up to 1500 watts to comfortably heat a smaller space.
SEI Tennyson
This 5,000 BTU 1500-watt electric fireplace produces plenty of heat without raising your power bill.
Size
Best Choice Products
This 35" x 6" x 22" fireplace mounts on the wall, so it's great for smaller spaces. The black glass front even detaches if it's too large for your wall.
Lifesmart
With measurements of 23" x 11" x 29", this model is smaller than traditional fireplaces, so it's great for almost any room.
SEI Tennyson
This is a larger piece of furniture, measuring 70" x 14″ x 42.25″.
Our Electric Fireplace Reviews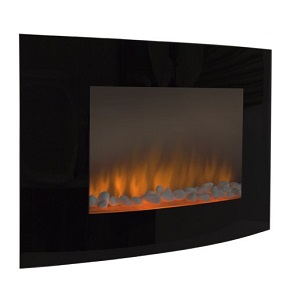 If you desire the classic beauty of a fireplace with a modern touch, this black glass wall-mounted model combines the beauty and functionality of a fireplace with a unique design. You won't have to worry about crowding your floor space, as this model mounts easily and securely on any wall with the included bracket and hardware.
Sit back, relax, and enjoy a realistic frame without the hassle of building a fire, fending off smoke, and cleaning up ashes afterwards. You can adjust the heat settings to High or Low easily on the unit, or you can use the convenient remote control to adjust your new fireplace.
Pros
Installation is fast and easy. It has a modern look that complements different furniture finishes, decorative items, and paint colors.  CL Certified. It has tip protection for safety. It shuts off when overheated for your protection. 3D flame technology gives the fire a more realistic effect. The remote control makes it convenient to operate. It is very inexpensive.
Cons
It does not emit as much heat as more expensive models. It is not as quiet as other electric fireplaces.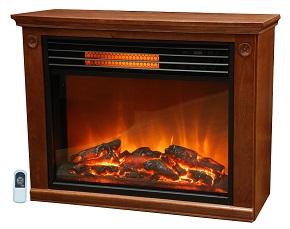 If you want a classic, no-frills fireplace that produces a realistic flame and heats up a room without running up your electric bill, this model from Lifesmart certainly fits the bill. The oak mantel looks great with other wood furniture, and the realistic flames are soothing and relaxing. The scroll fan helps circulate heat around small and large rooms.
Front-facing vents and 1500 watts of power provide you with plenty of warmth, making this fireplace more realistic. This product isn't as large as a traditional fireplace, so you can put it almost anywhere. If you decide you don't like the placement, you can easily move it around on the attached casters. The digital thermostat is easy to control right from the unit or with the remote control.
Pros
It can be used with or without heat. The flames are very realistic. It is reasonably priced. The heat settings help warm up a room while using very little power. It's extremely portable. It is very quiet. It is protected with a 1-year warranty.
Cons
The finish is prone to scratching. It is not the same size as a full-size fireplace, so for very large spaces, you may want to consider something larger.
Update your space with this stunning piece of furniture. Not only will you be able to enjoy the beauty and warmth of a fireplace without the fire, but you'll also have a mantle for placing decorative items and six bookshelves. The mantel supports up to 85 pounds, so you can even use it for your flat screen TV. Added details like a floral carving above the firebox gives this piece of furniture a more elegant look.
The flickering flame looks very realistic, while the strong heater helps warm up your space. A wireless remote can be used to easily control the flame and heat settings. It is constructed with a c ombination of read wood and particle board, so it's sturdy and well-built, and it is available in your choice of Espresso or Ivory finish.
Pros
The large mantle and shelves provide you with extra storage space. It is solid and sturdy. It is a well-crafted piece of furniture that complements your other furnishings. Uses long-life LED lights. You can adjust the heat and flame brightness. It can heat up to 1,5000 square feet in less than 30 minutes. The flickering flames and glowing embers give the firebox a more realistic look. It is quiet.
Cons
It is more expensive than other electric fireplaces. Assembly may be difficult.
Conclusion
Electric fireplaces look great in any room of your home, and best of all, you don't have to worry about dangerous fires, messy ashes, or smoke and pollution. With an electric fireplace, you can enjoy warm heat and a glowing fire without the hassle of actually building a real fire. They are great for houses of any size, as well as apartments, condos, and even enclosed patios.
If you'd like to update your interior with a modern electric fireplace, you can't go wrong with the SEI Tennyson Electric Fireplace with Bookcases. Not only will you be able to enjoy a realistic fire, but you'll also have a quality piece of furniture that will catch the eye of anyone that enters your home.