Some links on this page are monetized by affiliate programs - see disclosure for details.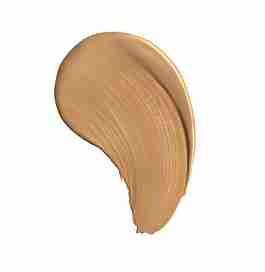 Buying new cosmetics should be a fun experience. You should be able to pick out fun new colors to enhance your eyes, lipsticks in classic colors for everyday wear, and other beauty products that help enhance your natural beauty. However, sometimes, shopping for makeup can be a real bother. Buying the perfect foundation is certainly one of the most difficult tasks. Not only do you have to worry about picking the right color to blend in with your skin, but you also have to pick the right product for your skin type.
If you suffer from oily skin, you know how much of a pain it can be to find a foundation that doesn't make oiliness worse. However, you can have fun shopping for cosmetics again with a little research and a few quick tips.
Compare: The Top 10 Best Foundations in 2019

Introduction: A Guide to Foundation for Oily Skin
Foundation is typically one of the first cosmetics applied to the face. This product, also known as base, helps you start off with a clean canvas for applying dark lipsticks or bright eyeshadow colors. This product is designed to even out skin tone, cover up red spots or blemishes, hide dark circles, and give you a more flawless appearance. However, if you have oily skin, you know that using the wrong product can backfire. After several hours of wear, your skin may become oilier and shiny.
The makeup may not look as smooth, and it can even lead to breakouts. However, if you purchase a product designed just for oily skin, you can have beautiful skin without a hint of shine.
What are the different types of Foundations for Oily Skin?
Purchasing a foundation for oily skin isn't as easy as looking for a bottle marked for this skin type. Because there are so many available, you need to do your research to find out which one is best for you. Do you want light or heavy coverage? Is it available in the right color for your skin tone? The first step in making a purchase that best fits your needs is knowing about the different types of foundations available for you to purchase.
Liquid foundation
It is absolutely critical that you purchase a liquid foundation designed for oily skin. Because of its consistency, buying the wrong type can result in skin that looks shiny and greasy, along with clogged pores and breakouts down the road. Look for oil-free products that are specifically designed for your skin type, and stay away from any moisturizing products or makeup that has a dewy finish. These are best if you want heavier coverage for dark circles, blemishes, or to cover redness of the skin, like that caused by rosacea.
Pressed powder foundation
This is another choice if you want lighter coverage. However, make sure that it is designed for oily skin, or else oily spots may cause oxidation, which changes the color of the foundation.
Mineral makeup
This is a great choice that many women with oily skin use. These natural products can help make oily skin look matte, and it doesn't clog pores like other types of foundations. This helps you achieve a matte look and keeps oil under control for several hours. Like powders, though, buying the wrong type can result in oxidation and color changes on your oily spots.
How Can Oily Skin be Prevented?
Even after you find the perfect foundation, oily skin can still be an unwanted hassle. Fortunately, there are a few simple ways you can minimize your skin's oiliness.
Wash your face twice a day – no more or less. Washing too much will increase oil production. Your body responds to the lack of oil by producing more sebum. Only wash your face first thing the morning and right before bed. Doing so helps your skin create a natural level of oil production throughout the day.
Also, wash your face with lukewarm water. Both warm and cold water dry out your skin. While dry skin might sound good, this isn't how you want to have it. Your body will produce more oil as a response to the skin's dryness.
What are the Advantages of Using Foundation?
When you purchase the right foundation for your skin type, you'll find that you're able to cover up any little imperfections without creating extra oil. You'll be able to cover dark circles and create a fresh canvas for applying other cosmetics. These foundations also banish shine, giving you a matte finish when used properly. This type of makeup works with your skin type to help you look your best for any occasion.
Which Products are Contenders for the Best Foundation for Oily Skin?
Revlon ColorStay – Get the staying power you need at an affordable price with this makeup from cosmetics leader Revlon. You won't have to worry about shiny skin midday or oxidation that may make the foundation look orange in your oily spots. This formula is designed specifically for oily skin, and it also works for combo skin that's only oily in the T-zone. It's oil-free, so it won't clog up your pores and lead to a greasy look after the end of a long day, and it's designed to stay in place, so it won't rub off on your shirt or transfer anywhere it doesn't need to be. It comes in a great assortment of shades to blend with any skin tone.
Mary Kay TimeWise – Turn back the hands of time with this foundation from Mary Kay, which is designed for oily skin or skin that is a combination of dry and oily. It is formulated with peptides and Vitamin E which improves the look and feel of your skin, making it look tighter, firmer, and younger. It doesn't transfer, and it even holds up well under high humidity.
Clinique Even Better Makeup – If you hate wearing liquid foundations because it just feels too heavy, this is an excellent choice. You get just the right amount of coverage without the heavy feeling and without looking like your makeup is caked on. This lightweight foundation is ideal for combination skin, helping absorb oil hour after hour for the matte finish you've been looking for.
Considerations for Choosing the Best Product
Now that you know that you have to pick a foundation designed for your skin type, it's almost time to start shopping for your new makeup. However, there are a few other things you need to keep in mind before you make that purchase. If you have your own criteria, make sure the product you pick has everything you're looking for, and also keep an eye out for these four features.
Type of makeup
As mentioned earlier, there are several types of makeup available for oily skin. Make sure that you purchase the type you'd prefer to wear. For light coverage, look for a powder or mineral makeup designed to absorb oil. For more coverage, choose an oil-free liquid.
Skin types
There are several different types of oily skin that you could be dealing with. If you have oil all over, this is categorized as oily. However, if you find that you just get oily on your forehead and nose but your skin is dry or normal elsewhere, this is combination skin. After properly identifying your skin type, purchase a product that is designed to target your problem areas.
Shades
As the old saying goes, the best way to wear makeup is to look as though you're not wearing any. Nothing gives you away faster than having harsh, unblended lines along your jaw or a darker or lighter skin tone on your face than the rest of your body. Ensure you pick a product that very closely matches your skin tone for the most natural look.
Type of makeup
Revlon ColorStay Makeup
This is an oil-free liquid makeup.
Mary Kay TimeWise Matte-Wear Liquid Foundation
This oil-free liquid helps keep your skin matte hour after hour.
Clinique Even Better Makeup
Say goodbye to oily skin with this dermatologist-created, oil-free liquid makeup.
Skin types
Revlon ColorStay
This product is ideal for skin that is oily all over, as well as for combination skin.
Mary Kay TimeWise
You can use this product on oily or combo skin.
Clinique Even Better
This is a great choice for oily skin, as well as skin that is oily in the T-zone and normal or dry everywhere else.
Shades
Revlon ColorStay Makeup
You'll be able to pick your perfect match from 22 different shades. Color choices include Buff, Cappuccino, Caramel, Early Tan, Fresh Beige, Golden Beige, Golden Caramel, Ivory, Ivory 110, Mahogany, Medium Beige, Mocha, Natural Beige, Natural Tan, Nude, Rich Tan, Rich Ginger, Sand Beige, Toast, Toast 370, True Beige, and Warm Golden.
Mary Kay TimeWise Matte-Wear
This product is available in 23 different shades including Ivory 1 through 7, Beige 1 through 8, and Bronze 1 through 8.
Clinique Even Better Makeup
You'll have your pick from 30 different shades. These colors include Linen, Alabaster, Buff, Cream Whip, Fair, Ivory, Cream Chamois, Golden Neutral, Neutral, Cashew, Honey, Porcelain Beige, Butterscotch, Vanilla, Beige, Nutty, Tawnied Beige, Latte, Sand, Deep Neutral, Cream Caramel, Toffee, Ginger, Golden, Spice, Amber, Pecan, Clove, Sienna, and Espresso.
Final Word: Our Foundation Reviews Are In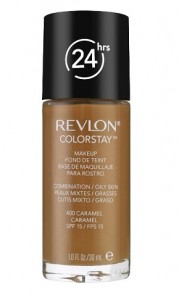 Want makeup that will last? This foundation from Revlon is designed to last up to 16 hours without transferring, running, or oxidizing, and it is available at a very budget-friendly price. This foundation provides a medium coverage, just enough to cover your trouble areas while also leaving you with a semi-matte finish.
It's a great choice for women with allergies or sensitive skin, as well as for anyone that is fighting oiliness on the skin. It comes in a wide range of shades to provide you with the perfect match, whether you're very fair or you have dark skin. It also has SPF 6 to give you added protection while you're out in the sun.
Pros:
It is very inexpensive
Works for oily or combination skin
It does not transfer
Stays in place for up to 16 hours
Does not contain oil or fragrance
Easy to find a match for your skin tone
Leaves a semi-matte finish to prevent shine
It goes on smoothly
It isn't cakey
Doesn't lead to break outs when a proper skin care regimen is followed
Cons:
It may oxidize slightly over many hours
However, it is barely noticeable
It's a bit thicker than other liquids, so it may be a little more difficult to blend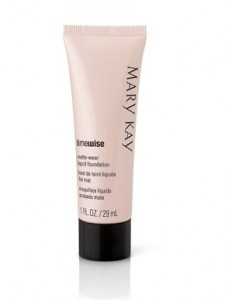 Wouldn't it be great if wearing makeup actually helped improve the appearance of your skin when you weren't wearing it? With this product from Mary Kay, you not only get a great foundation that helps keep oil under control, but it's also loaded with ingredients that help improve the health and appearance of your skin, with or without makeup.
This foundation contains vitamin E and peptides that help smooth the skin, giving you a more youthful appearance. It is ideal for covering up imperfections, filling in lines and wrinkles, and even making your pores look smaller for a truly flawless finish. This product works well to control oil for hours, so you don't have to worry about shine if you have oily or combination skin. It doesn't look or feel heavy, so you can always feel your best whenever you put this on.
Pros:
Comes in a wide variety of different shades to match any skin tone
It provides great coverage without feeling like a mask
It is ideal for oily or combo skin
Helps improve the appearance of your skin and reduce the signs of aging
It is very resistant to heat and humidity
Provides great oil and shine control
It is transfer-resistant, so you don't have to worry about it rubbing off on everything
Cons:
It does not provide a heavy coverage. if you're looking for something to hide dark circles or blemishes, you'll want a product with more coverage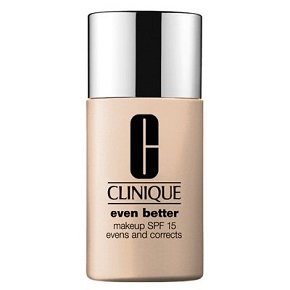 If you want the most natural look, look no further. This foundation is designed to help control oiliness while keeping your skin looking naturally fresh. Not only is oil controlled, but it also helps cover up redness, dark circles, and other imperfections. The great thing is that you won't even feel like you're wearing makeup like some foundations.
This foundation goes on smoothly and is very easy to blend for that natural look you desire. It comes in many shades to match any skin tone, from light to dark. It is gentle enough for use on sensitive skin, and it lasts all day long without fading or transferring.
This product works best for oily or combination skin to bust shine and keep oil under control for hours. It has a matte finish, and it even has SPF 15 to keep your skin protected from UV damage.
Pros:
It goes on smoothly
It's easy to blend
It comes in 30 shades
It offers UV protection
Matte finish with no hint of shine
Very long-lasting
It isn't heavy but provides plenty of coverage
It evens out skin tone
Controls oil without needing a separate powder
Doesn't clog pores
Cons:
It is a bit more expensive than other foundations
It looks too heavy when applied with a brush
In Conclusion
Oily skin doesn't have to be a problem anymore. With a regular skin care regimen with products designed to control oil, along with cosmetics formulated for your skin type, you'll have the beautiful, flawless skin you've always wanted. If you're looking for a foundation that helps control oil all day long, Clinique Even Better is a product you want to add to your shopping list. You'll see that with the SPF protection, the light, yet even coverage, and all-day oil control truly makes this foundation Even Better than the rest.