Some links on this page are monetized by affiliate programs - see disclosure for details.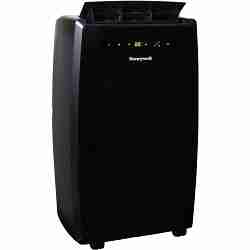 When summer arrives, the outdoor temperatures begin to rise. To keep yourself cool and relaxed while indoors, an air conditioner is a must-have item that you should have in your home. However, in some cases, you may find that your regular unit just isn't doing its job. Whether you have a window unit that doesn't circulate air well or your master bedroom is on the second story and it just doesn't get as cool as your downstairs living area, dealing with a hot home can be uncomfortable and dangerous.
If you want to cool off a room that isn't air conditioned or you want to kick up the air produced from your home system, a portable air conditioner can certainly get the job done.
Introduction: What is a Portable Air Conditioner?
A portable air conditioner is a small unit that is used to cool the air in the room in which it is located. These units remove warm air from the room and blow out cold air. This results in air that is cooler and more comfortable. The primary difference is that these units are quite small, and they do not require installation.
You can move them throughout your home as needed to keep every room cool. These are ideal for smaller spaces that have little airflow, or they can be used in larger areas of your home in addition to your main unit for an extra burst of cool air.
What are the different types you can buy?
Before you invest in one of these units, it's important to know what to expect before you begin shopping. Before you break down the features and costs of each individual unit, you'll want to differentiate between the types of portable units available on the market.
Single hose system
This system takes air from within the room and cools it. However, there is a small amount of warm air that needs to be removed from the room. The single hose takes this warmer air and vents it outside. This hose is also known as an exhaust hose.
Dual hose system
These are a bit different than single hose systems in that they have two hoses. One is designed to draw air from outside, cool it, and release it into the room. The other, like single hose systems, is used to remove any warm air.
Heating/cooling units
These units are designed to keep your home cooler in the summer and warmer in the winter. These are a great choice because they can be used year-round, but they may be much more expensive than a basic cooling unit.
What are the Advantages of Owning a Portable Air-Con?
If you find that your home just doesn't stay cool enough, even when your thermostat is turned way down, you might want to add some back up in the form of a portable A/C unit. These units are also ideal for using in rooms that don't have any air, including enclosed garages or built-on rooms that are not connected to your central A/C unit. In homes with multiple stories, the higher levels may seen hotter, and a portable unit can help cool down these spaces without adding hundreds of dollars to your electric bill.
You can also take these units with you while you travel, and you can even use them in an RV or camper for added comfort.
Who are the contenders for Best Model on the Market?
If your upstairs bedroom is just too hot to sleep in, this portable unit may be the right choice for you. It effectively cools several hundred square feet by several degrees, making it a great choice for smaller spaces or rooms that just aren't as cool as the rest of your home. It comes with wheels, so you can move it from room to room or around the same room with ease. This unit has great convenience features like a digital display and remote control, features found on more expensive units, but on this, they're available at a fraction of the price.
When you need a little bit more power, this portable unit is sure to do the job. It not only blows out cool air, but it dehumidifies the air, providing you with an airy room with great air circulation. It is extremely powerful, enough to cool a larger room by several degrees, it has easy-to-use controls and a remote control, and it also is very quiet, so you don't have to worry about it disturbing you while you work, sleep, or just relax.
Keep your space cooler than ever with this great unit from DeLonghi America. This pushes out a massive 12,000BTUs to cool larger areas, but don't be fooled – that doesn't mean it's very loud. In fact, this unit is designed to cool 100 percent better and be 50 percent quieter than the average unit. It removes excess moisture from the air, preventing the growth of mold and mildew which can be dangerous, and it also works to remove airborne particles and bacteria from the air for a cooler, healthier space.
Considerations: Identifying the Best Portable Air Conditioner
Now that you know you want to make this purchase, it's time to begin shopping. But before you pull out your wallet, you need to make sure that you evaluate each product you're considering for your home. Instead of just picking the first unit you find, there are a few key features you need to look out for in order to ensure a satisfying purchase. You can begin your search by looking at these four features, but also make sure to look for your own criteria before you make that purchase.
Price
Portable A/C units are not exactly cheap, but you don't have to go over your budget if you just comparison shop. If one unit is more expensive but has a feature you'll use, go with the costlier product. If, on the other hand, you're not concerned about extra convenience features, a cheaper, basic unit may do the job. It's also important to consider other things, including the overall quality and design, in order to find the price that's right for you.
Warranty
It isn't unreasonable to expect to get a good bit of use out of your unit. If after a few uses, it suddenly quits working, you won't have to worry about losing money on repairs or replacements if you have a warranty on your purchase. Look for a product that has a longer warranty period that covers all parts of the unit.
BTUs
BTU determines how much air output you're going to have. The higher the number, the harder your unit will work. If you want to cool a small room, a unit that is below 10,000 BTUs may be sufficient. However, for larger spaces, look for one that's above 10,000.
Cooling space
While you're checking out the BTUs, it's important to keep an eye out for how big of a space the unit is supposed to cool. Buying a unit that is too large for your space could be a waste of money, while purchasing one that is too small will run up your utility bill and not effectively cool your room.
Warranty
SPT 8,000BTU Single Hose Portable AC
Your unit will be protected by a 1-year manufacturer's warranty.
Honeywell MN10CESWW
A 5-year limited warranty that is included with your purchase is one of the best you'll find.
DeLonghi America PACAN120EW
A 1-year warranty protects your unit from manufacturer's defects.
BTUs
SPT Single Hose Portable AC
With 8,000 BTUs, this is a great unit for a smaller space.
Honeywell MN10CESWW
This 10,000 BTU unit is best for small and medium-sized rooms.
DeLonghi America PACAN120EW
At 12,000 BTUs, this unit is effective in cooling off small, medium, and larger rooms and spaces.
Cooling space
SPT Single Hose Portable AC
This cools a room averaging about 250 square feet.
Honeywell MN10CESWW
You can effectively cool up to around 350 to 400 square feet with the use of this unit.
DeLonghi America PACAN120EW
Up to 450 square feet can be cooler than ever before when you use this model.
Conclusion: Our Final Portable Air Conditioner Reviews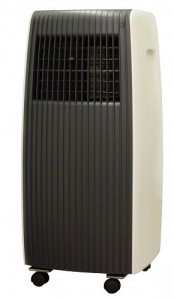 If your small home office or child's bedroom upstairs just gets too hot, this small, portable, and affordable unit is designed for effective cooling without running up your power bill. You can easily move it to the best spot in the house on its attached casters, so you don't have to worry about lifting it.
Save power by using the programmable feature, which allows you to set a timer for it to automatically shut off, or keep it cool all day and night with the continuous run mode. The digital temperature display is easy to use, and it even comes with a remote control for easier operation. It has an expandable exhaust hose, and it also has a built-in water tank so you don't have to drain the condensation elsewhere. If you do want continuous draining, though, it comes with a drainage tube. Other notable features include a filter that traps dust particles and a dehumidifying option to remove excess moisture.
Pros:
It is affordable.
Easy to move around the room.
Reusable filter.
Removes excess moisture from the air.
Timer that can be set up to 24 hours.
Encased in fire-resistant housing for safety.
The auto restart function saves your preferred settings.
Cons:
It is very heavy, so it may be difficult to carry up stairs or other areas.
It doesn't cool large spaces.
Very large.
Louder than more expensive units.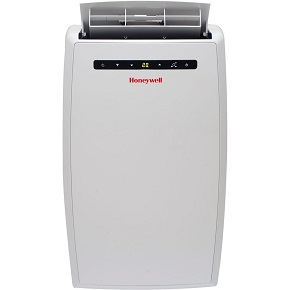 Don't be fooled by the sleek, modern design of this unit – it packs some real power, enough to cool any small or medium room in your home. This unit works hard to cool and dehumidify your room without driving up electricity costs. You won't have to worry about installing it in a window or performing other lengthy processes. Just wheel it to wherever you want it to be, turn it on, and it's ready to go.
It comes with a remote control for easy controlling anywhere in the room, and it has an easy-to-install window venting kit to get all of that hot air out of the room in a hurry. It also has an auto-evaporator system which doesn't require draining or emptying buckets. If it's too cool in your space, turn it to the fan function. The controls can be operated with just a simple touch, and it comes in your choice of color, including White, Black, and Black & Silver.
Pros:
It cools a larger space than less expensive models.
No buckets are required for water evaporation.
The controls are easy to use and it comes with a remote.
It has three speeds.
Can be a fan as well.
It has a timer that can be set up to 24 hours.
Very efficient.
Cons:
The window kit is a bit flimsy.
It is a bit loud when in use.
The condensation tank has to be emptied often.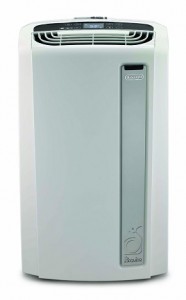 If you want the most cooling power but don't want to hear loud noises from a compressor all night long, this unit is just right for you. It boasts 12,000BTUs to effectively cool up to 450 square feet, but it's about 50 percent quieter than other units, even smaller ones. This unit works hard to cool off any space, as well as to remove any excess moisture that can make the room feel stuffy and can even load to mold and mildew.
In addition to cooling your air, there is also a filter that helps filter out dust, allergens, and bacteria, leaving your air not only cooler but healthier as well. The controls are very easy to use, but it also comes with a full-function remote control that you can use anywhere in the room for your convenience. This unit isn't too big, and it's easy to move around your home using the attached casters or the side handles. It has a condensation recycling system that eliminates drips and the need for a bucket, and the exhaust can be easily vented out of any window.
Pros:
Cools larger rooms and spaces up to 450 square feet.
Filters allergens, pollen, and bacteria out of the air so it's a great choice for those with allergies.
Very easy to control.
It is quieter than other units.
It is very portable.
Does not require a bucket and it does not drip.
It dehumidifies the air.
Comes with a full-function remote.
Can be used as just a dehumidifier or it can be combined with the A/C function.
Cons:
The warranty period is short for the price.
It takes up a good bit of floor space.
All in All
Stop sweating all summer long and boost your home's primary A/C unit with a portable air conditioner. To get the most out of your unit, consider purchasing the DeLonghi America PACAN120EW. Even though it is a bit more expensive than other units, it also functions as a humidifier and purifies your air, leaving you with a cooler, healthier home with every use. That's why it's our overall winner for best portable air conditioner on the market today.