Some links on this page are monetized by affiliate programs - see disclosure for details.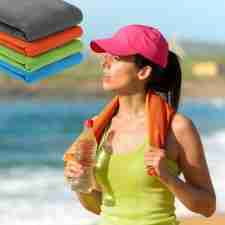 Travel towels are versatile and powerful additions to your packing list whether you are heading out of town or hitting the gym. You can be clean and dry with little fuss because travel towels are the most absorbent towels on the market. Not only do they feature antibiotic properties, but they also are quick drying and odor resistant. With travel towels you can worry less about the added burden of damp and dirty laundry as you focus on the more important aspects of your travel plans.
Whether you want something in your carry on to assure cleanliness in the airplane bathroom or need something lightweight to carry on your backpacking trip, the travel towel is a great accessory that won't take up too much space or add extra weight to your luggage.
This guide will help you learn about the wide array of travel towels on the market, and will break down the key features to consider. This information will help you choose the best travel towel that's right for you whatever your travel needs may be.
Compare: The Top 10 Best Travel Towels of 2017

Intro: What is a Travel Towel?
Typically made of microfiber, the travel towel is both lightweight and highly absorbent. The material used to make travel towels is a combination of polyester and polyamide. The strands are extremely thin – 1/100th the diameter of a strand of human hair. The thinness of the fibers used to construct the towel is what gives the travel towel its power of absorbency. As easily as it pulls water in, it allows water to be extracted when you twist or wring the towel.
Most travel towels include antibacterial agents in their synthetic fibers. These fibers also contribute to the durability, breathability, and softness of the product.
Why You Should Always Bring Your Travel Towels On Your Adventures
Although originally designed to add convenience when traveling, travel towels have advantages you can benefit from when you are at home or away. The number one advantage is their absorbency and quick drying features. Travel towels can hold up to eight times their weight in water, and when you've finished drying off, simply wring it out to remove nearly all of that collected moisture. In just a few minutes of air time, your towel is completely dry and ready to be stored away. It's no wonder travel towels are a must for anyone with long locks of hair. Just a quick squeeze and wrap shaves time off your morning prep to get out the door.
Convenience is another huge advantage. Bringing your own travel towel to the gym, yoga studio, camp site, or anywhere you'd travel allows you the benefit of a clean towel that won't weigh you down and cause unpleasant odors as it dries. Conventional towels get water-logged which harbors bacteria and mildew if not properly aired. The travel towel, on the other hand, can easily be wrung out and its antibacterial properties helps keep everything in your suitcase or gym bag clean, fresh, and odor free.
Storing a travel towel in your gym or yoga bag means a clean fresh towel is always within reach during your workout. Some people use travel towels as a barrier between themselves and shared fitness equipment. Being both absorbent and antibacterial, the travel towel enhances your goal towards optimal health.
The durability and longevity of travel towels are additional advantages. Travel towels can last for well over 500 washes without fading or losing shape or absorbency. They hold their color well and are lint free. All this measures up to money savings to you on top of quality and convenience.
What Are The Different Types You Can Buy?
All travel towels share the feature of quick absorption of moisture and ease of extraction. Although uses of travel towels vary, the core elements are basically the same. Microfiber allows the towel to have the highest absorbency of any towel. Travel towels can hold up to eight times their weight in water. Quick drying is another feature that is a signature quality of all travel towels.
The differences in travel towels break down into the texture and surface. Some travel towels have a weave, such as a honeycomb or channels. This enhances absorbency as each cell or row collects water evenly.
The plushness of the material also varies between travel towels. Some are more nappy and thick, somewhat like a terrycloth towel whereas others are thin. The thickness of the towel directly affects how much it will absorb. However, what some lack in thickness they make up for in size. Some people will choose a thinner towel because it will be more like a bath towel in size. This is perfect for wrapping around yourself at the pool or after for drying off after stepping out of the shower at the gym.
Which Travel Towels are the Best on the Market?
This is an ample sized travel towel that comes with its own travel bag and hook for drying. Color choices are generous and the added corner zip pocket gives you a place to stash your valuables while you shower.
The McNett is more like a regular bath towel than the others due to its terrycloth construction. Because of that, it is easy to get used to when you make the switch to a travel towel. The texture, however, makes it less compact.
This towel is the most lightweight. It absorbs water quickly and is easily wrung out when you need added absorbency.
Features to Consider
Absorbency
The point of a travel towel is to have a highly absorbent product that you can depend on day after day. When selecting a travel towel, be sure to check its absorbency rating and consider features that may enhance absorbency such as weave and density of the material.
Durability
A highly rated travel towel is one that won't fray or thin after multiple washes. You also want to find a towel that will maintain its power after many washes. Be sure to do your part in maintaining your towel: don't use fabric softener or bleach when laundering as these products will interfere with the properties of the fabric. A safe bet if you do make this mistake is to give a quick rinse in vinegar to restore the towel to its original capability.
Packability
Many towels nowadays come with breathable pouches that keep your towel safe and dry without dampening other items in your suitcase, pack, or gym bag. Getting your towel back into its packing size helps you maintain the integrity of your travel capacity. A good travel towel will take up very little room and won't interfere with other items in your luggage.
Ease of Cleaning
Many travel towels are stain resistant and are easily cleaned with a quick run through the washer. Because they are designed to trap and release water, they do a good job with also releasing both grime or debris that may accompany any moisture they collect.
A word of caution: when drying your travel towel, avoid mixing with items that may have heavy lint. Travel towels themselves are lint free, but they will attract any lint in the dryer like a magnet. Due to the texture of travel towels, shedding this lint could be problematic, but any lint brush would do the trick to restore the towel to its original appearance.
Absorbency
ECOdept Large Microfiber Travel Towel
This suede-like towel is super absorbent. It air drys quickly and the snap loop works great for hanging it from a tree branch or any such place where it would be difficult to thread a loop.
McNett Tactical Ultra-Compact Micro-Terry Towel
Because this towel has a terrycloth texture it has added absorbency. Despite that, it drys just as quickly as other travel towels.
Raqpak Microfiber travel towel
This towel is lightweight, so it absorbs water fast, but you need to wring out to continue.
Durability
ECOdept Large Microfiber
This towel stands up in consistency and color wash after wash.
McNett Tactical Towel
The McNett is rugged and durable.
Raqpak Microfiber
Because it is lighter in weight it does not have the same durability as the others. However, it does work great for certain uses, such as drying off at the beach or pool, dabbing off in the gym, and as a nice light barrier between you and the gym mat when doing yoga or calisthenics.
Packability
ECOdept
This towel comes with its own mesh pack that works the size down to the size of an average novel.
McNett
With the McNett, you have more towel to deal with because of its added plush. It comes with a roll pouch with an added toiletry bag included.
Raqpak
The Raqpak is so compact and easy to add to any piece of luggage.
Ease of Cleaning
ECOdept
The ECOdept is easy to clean and colors stay vibrant wash after wash.
McNett
This towel washes up great and maintains its texture and integrity.
Raqpak
Due to its lightness we suggest you wash this towel in the gentle cycle. It does clean nicely and maintains its shape and color intensity.
Final Results: Our Travel Towel Reviews Are In
Pros:
The Raqpak is large, absorbent, and lightweight.
Cons:
The texture is a bit like suede which may take some getting used to when you first use it as a towel. The dark colors bleed, so take that into account when you wash it.
Pros:
The microfiber in this towel is silver treated which enhances its antibacterial properties. Because it has more density, it doubles as a fantastic cleaning cloth.
Cons:
This towel has but one color option which is a sort of olive drab.
Pros:
The corner zip pocket allows you to keep your valuables close at hand when you are showering at a campground or travel hostel. The colors are vibrant and color-fast. The loop for hanging has a snap so you can easily attach it to a tree branch. Finally, the pouch is waterproof, so if you need to pack it wet, it won't affect other things in your luggage.
Cons:
The pouch is not the easiest to work with because it has a slot rather than a full zip out opening.
Conclusion
Travel towels allow you to enjoy the wonders of travel without having to worry about how a damp and heavy towel may impact your enjoyment. They offer flexibility and comfort whether you are at the gym, on the road, or backpacking through the wilderness. With modern fabrics and features, travel towels help you feel confident about your health and hygiene. And there are so many great options on the market today, so finding one that's right for you is a snap.