Some links on this page are monetized by affiliate programs - see disclosure for details.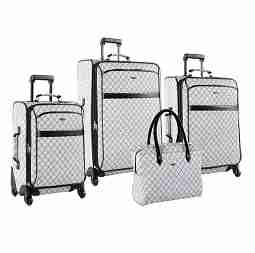 At some point in life, we all have to travel. Whether it is for a relaxing getaway with our family or friends or a business trip for the company we work with, travel is something that most people do at least once in their lives, and some people travel multiple times each year. That's why you'll want to look for the best luggage set, to find bags and suitcases that hold up to your trips.
Whether you're going on an exotic cruise or just to the next state to spend the holidays with family, you know that overnight packing is essential for any trip. Instead of using duffle bags or backpacks for the trip, why not travel in style with the best luggage set in your price range.
Compare: The 10 Top-Rated Luggage Sets of 2021

What Comes in a Luggage Set?
A luggage set is a set of bags that are used to hold your belongings while you travel. The best luggage set will differ from brand to brand in regards to sizes, pieces, materials, and overall design, but a set is made of several pieces that are made of the same fabric and feature the same color or pattern.
Most sets include a large suitcase, as well as a smaller suitcase or several. A smaller toiletry bag may also be included to hold health and beauty items. These sets are designed so that you can easily pack all of your clothing, shoes, electronics, and personal items that you will need during your trip.
You might also be interested in: Our Guide To The Best Carry On Bag
What Are the Different Types of Luggage Sets?
Whether you are purchasing your first set of luggage or you're replacing an older set, there are a few things you need to look for while shopping for this type of product. The first thing you need to know is about the different types available, the differences between each type, and which one will best fit your travel needs.
Rolling sets
These sets contain a piece or several pieces that have wheels attached. This way, you won't have to lug a big, heavy suitcase around by hand, but instead, can pull it around by a handle that slides into the suitcase when not in use to eliminate bulk. These are best for when you have a very heavy suitcase or you plan to handle your bag for a longer period of time, such as walking through the airport.
Spinner sets
These are similar to rolling sets, however, they offer more range of movement. Whereas most sets with wheels just move forward and backward, these can do a complete spin, making it easy to drag them forward, backward, and side to side without having to lift a loaded suitcase that's quite heavy
Hardsided sets
Most modern suitcases are made of soft fabrics for a more lightweight design, but others are made of harder plastic. These sets are ideal for keeping clothing from getting rumpled easily and protecting breakable items. These sets may be more expensive, but they are more heavy-duty as well, and they can easily last through years of traveling.
Designer sets
These are typically the most expensive of all sets. They are made by a high-end, well-known designer brands and may feature signature fabrics and designs that are associated with their work. These sets are very trendy and often come with a very large price tag.
What Are the Advantages of the Best Luggage Sets?
The primary advantage of owning a set of luggage is that you will have plenty of space for your personal belongings while you travel. Modern suitcases are made with multiple pockets, including plastic lined compartments, where all of your items can be kept neat and organized, even during the longest trips.
Since these sets are coordinated, they look great while they're organizing, and if you pick a distinct color or pattern, they are easy to identify when you're at the airport, on a cruise, or anywhere you might be separated from your luggage for a brief period of time.
What Is the Best Luggage Set Brand on the Market?
Just because you're on a budget doesn't mean that you're stuck with an old-fashioned, outdated, or just low quality set of luggage. If you've spent a lot on your trip and you're watching your bank account, this 3-piece set has everything you're looking for, including a low price tag. You'll receive a set in your choice of four great colors, each with interior pockets, high-quality polyester fabric, and spinners that allow you to have ultimate mobility when walking through the airport, going into your hotel, or boarding a cruise ship.
Keep your precious cargo safe whether you travel by car or plane in this hardsided set. This set has three different pieces to fit all of your essential items and is made of a durable material that's really built to last. Organization pockets, oversize zippers, and your choice of two colors rounds out this mid-priced set that's ideal for traveling anywhere.
Show off your great sense of style while transporting your belongings from place to place in this set from Travel Gear. This high-end set comes with everything you need for an overnight trip or even a week-long vacation. It features a signature fabric, available in three colors, interior pockets, roomy designs, and spinners that let you move with ease and style.
Factors to Consider When Shopping for The Best Luggage Set
Even if you only take vacations every now and again, a set of luggage is always nice to have to make packing and transporting your personal items more convenient. If you've decided that you want to purchase one of these sets, it may be tempting to just buy the first one you see that has a nice price tag or comes in your favorite color. However, you should look at several factors for each set you consider purchasing.
The following four features are some of the most popular things that consumers look for when shopping for a new set of luggage, and you should consider each point before making your final buying decision.
Price
Price shouldn't be the only thing you consider when making your purchase, but it certainly should be part of the final decision. You want to stay within a budget that is reasonable, but you don't want to bypass other important features or settle on an inferior product solely based on price. Consider other factors, including quality, overall reviews, and size before you let price be your determining factors.
Warranty
Luggage isn't necessarily cheap, so you don't want to settle on a set that's not designed to last you through many trips. While everyday wear and tear is quite normal, even on the most high-end sets, things like broken handles, luggage locks that don't work, and wheels that break off after just one use may very easily be covered by a manufacturer's warranty, costing you nothing for repairs or replacements.
Number of pieces
Sets come with different pieces, anywhere from two to five or more. Determine how many pieces will best fit your needs. For solo travel, a two-piece set may be sufficient. However, if you frequently go on long trips or you're packing for the whole family, a larger set may work best for you.
Fabric/materials
No matter what the suitcase is made of, you want to make sure that it is durable. Look for high-quality polyester or nylon materials, as well as hard plastics and polycarbonates for luggage you can count on.
Price
American Tourister Luggage AT Pop
This budget-friendly set is available for the affordable price.
Samsonite Luggage Winfield 2 Fashion HS
This mid-priced set comes around the average price of all the sets we compared.
Travel Gear Signature 4 Piece Expandable Spinner Luggage Set
This set retails for an exceedingly respectable price for such a nice luggage set.
Warranty
American Tourister Luggage AT Pop
This set comes backed with a 10-year warranty, one of the best in the business, especially at this price point.
Samsonite Luggage Winfield 2 Fashion HS
You'll receive a 10-year limited manufacturer's warranty from Samsonite.
Travel Gear Signature 4 Piece Expandable Spinner Luggage Set
Your purchase comes with a 5-year limited warranty.
Number of pieces
American Tourister Luggage AT Pop
You'll receive three pieces with this set: a 21-inch spinner, a 25-inch spinner, and a 29-inch spinner.
Samsonite Luggage Winfield 2 Fashion HS
Three pieces come with this set, including a 20-inch spinner, 24-inch spinner, and 28-inch spinner.
Travel Gear Signature 4 Piece Expandable Spinner Luggage Set
This set comes with four great pieces to easily carry everything with you on your trip. The pieces include a 28-inch suitcase, a 24-inch suitcase, a 26-inch suitcase, and a 20-inch carry-on tote bag.
Fabric/material
American Tourister Luggage AT Pop
Each bag is 100 percent polyester.
Samsonite Luggage Winfield 2 Fashion HS
This hardsided set is made with 100 percent polycarbonate that provides you with durability you can count on.
Travel Gear Signature 4 Piece Expandable Spinner Luggage Set
This set is made from 100% polyester.
Our Final Reviews Are In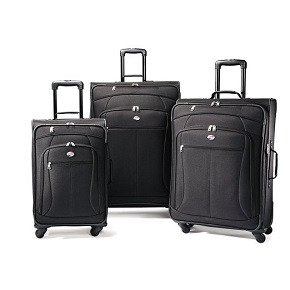 You don't have to pay a fortune to have stylish, quality luggage. This three piece set comes with everything you need for your trip, including bags that are 21 inches, 25 inches, and 29 inches. Each bag is equipped with spinners that allow for a greater range of movement for easy transport wherever you go.
These polyester suitcases are available in your choice of four colors, Black, Navy, Purple, and Aqua Blue. They have padded top and side carry handles for easy portability. There are multiple pockets on the interior, as well as front panels for last-minute packing and organization.
Pros:
This set is very affordable
The spinners make them easy to pull around
Made with high-quality polyester for durability
Backed with a great warranty
Multiple pockets for easy packing
They are lightweight
They come in multiple colors
Cons:
The top handles do not feel as sturdy as those on other models
The zippers may rip or break over time
Suitcases do not keep their shape over time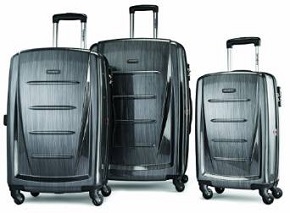 If you've dealt with fabric luggage before that has ripped or lost its shape while being tossed around by the airlines, a hardsided set will provide you with more security. This set is made with polycarbonate that's strong and durable enough to last for years, and a 10-year limited warranty provides you with confidence knowing you've made a great purchase.
Each piece has spinners for easy portability, TSA-approved side locks, and interior dividers and pockets for complete organization. This set has three pieces, enough to pack for several days or longer, and it comes in your choice of colors, basic Charcoal or brighter Orange.
Pros:
Very high-quality and durable
Not very expensive
It comes with a warranty
It has retractable handles for portability
Spinner wheels make these glide along with ease
Each piece has a combination lock for security
Despite its durable construction, it is fairly lightweight
It is resistant to dents and dings, and it always holds its shape
Brushed pattern helps conceal scrapes and scratches
The interior is fully lined
The interior has cross straps to hold everything in place
Cons:
Interior zippers are a bit difficult to open and close
No external pockets are on the smallest bag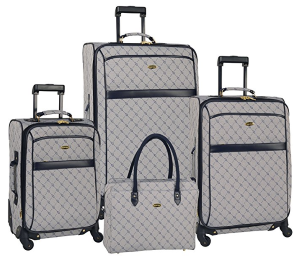 This designer set provides the perfect combo of space, functionality, and fashionable style. The first thing you may notice is the attractive exterior fabric that really makes this set stand out in your choice of three colors, White/Peacoat, Grey, and Burgundy. Each suitcase features a telescoping handle that retracts when not in use, a lock button to keep the handle in place, and 360 degree rolling with the attached spinners.
There are multiple interior pockets, an expandable design making these easy to pack, and additional great features like shoe pockets, side gusset pockets, and dual front pockets for those last-minute items you forgot to pack. The interior of each bag is fully lined, and you have four sizes to choose from, including a zippered carry-on. This set has a great design that will keep you looking stylish during travels. The great durability will last you for years of use.
Pros:
The set has four great pieces, providing you with plenty of packing space
Fashionable exterior
It comes with a warranty to protect your purchase
The handles are very sturdy
The spinners make them easy to pull around
Suitcases nest for easy storage when not in use
It provides plenty of space
The set has plenty of interior pockets, including separate space for shoes, mesh pockets, and more
Cons:
Durable construction but not designed for use in rainy weather conditions
In Conclusion
When you travel, it's important that you have a quality set of luggage to protect and store all of your belongings, so you're never without the things you need the most while away from home. If you want the best luggage set that features a stylish design, quality fabric, four great pieces, and plenty of space for packing, the Travel Gear Signature 4-Piece Set has everything you're looking for. With this set, you can pack your bags in style and quality that you can count on for many years to come.