Some links on this page are monetized by affiliate programs - see disclosure for details.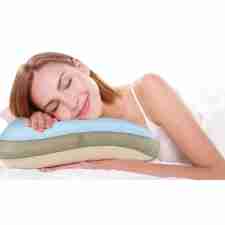 While sleep may be an absolute comfort to you, to some it's a hot, sweaty, annoying struggle. For these people, it seems as if it's impossible for them to fall asleep when they actually need to. They lie in bed for 30 minutes, an hour, and sometimes even longer, just trying to doze off for any extended period of time. If you're a hot, sweaty, or struggling sleeper, you know just how miserable this can be. However, there is an item which will greatly assist you in your pursuit of comfortable sleep. This item is a cooling pillow.
Cooling pillows are made out of lightweight and breathable materials which allow you to drift off to sleep without suffering from overheating. For struggling sleepers all over the world, cooling pillows have the potential to be the cure to all insomnia woes.
What is a Cooling Pillow?
A cooling pillow is, quite simply, a pillow that is designed to keep your head cool all throughout the night while you're sleeping. These pillows are made out of a variety of materials, but most commonly consist of memory foam and gel foam materials.
While they are typically the size of a standard sleeping pillow, there are also large, body cooling pillows available on the market. As breathable as any pillow you're going to find, cooling pillows will ensure that you get a comfortable, refreshing night's sleep each and every night.
What are the Benefits of a Cooling Pillow?
While many people have no problem sleeping with a typical, standard pillow, others have trouble with sweating and overheating while they're trying to sleep. A cooling pillow is designed to keep its sleeper as cool and comfortable as possible at all times during its use.
If you're an insomniac or have trouble with overheating while you sleep, a cooling pillow could potentially be the answer to your problems. In any case, cooling pillows are superbly cozy, comfortable, and relaxing pillows to lay your head down on at night.
Who are the Contenders for Best Cooling Pillow?
A dual-sided pillow, this Nestl Bedding pillow has one side consisting of a cooling ice silk material and another side consisting of soft bamboo rayon, making it great for both hot and cold sleeping conditions. Gel infused, it is designed for breathability and regulates your temperature, helping you stay asleep throughout the night. It comes in multiple sizes, including body pillow form and a size for toddlers, fulfilling your size preferences.
Available in standard, queen, and king sizes, this Coop Home Goods Memory Foam Pillow provides plenty of size and cushion for a steady, comfortable sleep. With a gel-infused memory foam and microfiber interior, it circulates air consistently and does a superb job of removing excess heat. Also consisting of memory foam, it fits to the shape of your head, meeting your own specific comfort preferences.
Measuring in at 20 inches by 30 inches, the pillow is queen sized, providing enough space for your head to rest comfortably. The soft bamboo outer cover and cooling gel memory foam pillow keeps you cool throughout the night. The memory foam and adjustable fillings allow you to customize the pillow to meet your unique head and neck support needs. The pillow is not only made from breathable fabric but is also hypo-allergenic.
What to Consider When Finding the Right Cooling Pillow?
On the surface, all cooling pillows tend to look just about the same; which is to say, like all pillows. However, just because all cooling pillows look the same, doesn't mean that they are, in fact, the same. There are a number of differences in each cooling pillow that make all the difference in their overall function and performance. In order to choose the right cooling pillow, you should take these differences into consideration. They include everything from the pillow's construction, to its size, to its comfort, to its breathability.
Construction
Typically, cooling pillows are made out of a combination of memory foam and gel foam. The exterior of each pillow typically consists of a microfiber mesh which allows for supreme breathability and heat transfer. When choosing a cooling pillow, keep an eye out for these characteristics.
Size
Cooling pillows come in all different shapes and sizes with some of them being appropriate for bed pillows, and others serving more appropriately as couch pillows and body pillows. You should know the pillow's intended use before making a purchase.
Comfort
Obviously, one of the most important aspects of any pillow is that it's comfortable. Cooling pillows, in particular, are designed for maximum comfort as they allow you to stay cool and keep from overheating. Read online buyer reviews to get an idea as to the comfort of each cooling pillow.
Breathability
In order for a cooling pillow to work appropriately, it needs to be extremely breathable and ventilated. Pillows with microfiber mesh exterior linings are specifically equipped to ventilate excess heat, keeping them cool at all times.
Conclusion: Our Cooling Pillow Reviews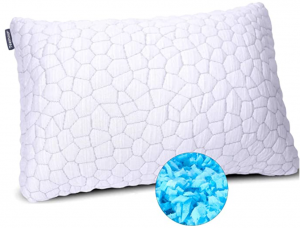 Perhaps you don't have the budget to be spending a great deal of money on a pillow. If so, you might consider taking a look at this cooling pillow by Teemour. Measuring in at 20 inches x 30 inches, it provides more than enough space for you to lay your head down at night. Made of memory foam and lined with a breathable fiber material, it maximizes airflow and keeps heat from building up under your head. If you're looking for a very nice cooling pillow at a budget price, you should check this one out.
Pros:
Breathable hypoallergenic soft bamboo pillowcase fabric
Firm, but comfortable
Adjustable height
Queen size
Cons:
Has a scent that some may not enjoy but usually goes away after a few days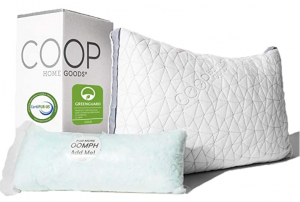 This Coop Home Goods Eden Memory Foam pillow costs slightly more but is worth the money given its high quality and effectiveness. Measuring in at 18 inches x 8.3 inches x 7.3 inches, it's the size of any standard-size bed pillow, giving you plenty of space to lay your head down at night. It also comes in both queen and king sizes. An adjustable pillow, it consists of gel-infused memory foam and microfiber fill blend, making it great for both hot sleeping conditions. Coop Home Goods made this pillow with high quality materials, including Lulltra fabric, which is a blend of bamboo-derived viscose rayon and polyester for your breathability and softness needs.
Pros:
Adjustable height
Hypoallergenic gel infused memory foam
GreenGuard Gold certified (no harmful chemicals)
Comes in different sizes to fit your preference
Cons:
Depending on how you sleep and your preferences, the pillow might lack sufficient support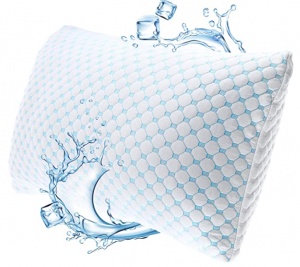 Although there will undoubtedly be a lot of different opinions on which cooling pillow is the best cooling pillow, we're going to go with this Nestl Gel Infused Memory Foam Pillow as the best on the market right now. A dual-sided pillow, it consists of a cooling ice silk material on one side and soft bamboo rayon on the other. With a gel infused shredded memory foam and cooling ice silk material, it does a great job of providing good airflow and support. The pillow comes in different sizes, including a body pillow size. If you're looking for the best cooling pillow on the market, you need to give this one a look.
Pros:
Dual-sided gel foam and memory foam pillow
Adjustable height/width and size
Superb comfort and support
Cons:
No major cons to speak of
All in All
Sleep is a necessary commodity. Without a good night's sleep, life looks dull, dim, and depressing. But what do you do if you're an insomniac or someone who overheats at night while under your blankets? A cooling pillow is the solution.
Versatile and breathable pillows like the Nestl Bedding Gel Infused Memory Foam Pillow do a superb job of reducing heat buildup. It will allow you to sleep all through the night without sweaty disturbances. Sleep should be an easy luxury. Don't let it be an annoying chore. Invest in a high-quality cooling pillow.