Some links on this page are monetized by affiliate programs - see disclosure for details.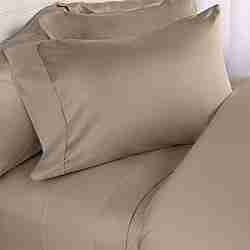 Down bedding can be very expensive. In fact, many consider this type of bedding to be an investment because genuine down comforters, also known as duvets, can cost hundreds of dollars. The reason why this bedding is so expensive is because it is made with the feathers and soft down of ducks and geese.
This results in very soft bedding that is insulated enough for cold nights but still provides adequate air flow, so you don't get overheated. Because of its price, it only makes sense that you want to protect your bedding. The best way to keep a duvet protected from daily use and to give it a more decorative look is with the best duvet cover for you.
Compare: The 10 Top Rated Duvet Covers of 2018

The Basics: What is a Duvet Cover?
A duvet cover is a cover that is designed to protect your duvet, or down bedding. Since this type of bedding requires special dry cleaning, you want to protect it from stains, dust, and other things. You can do this easily by slipping a cover over it. Not only does this protect your down bedding, but covers are available in a variety of colors and patterns, so you can purchase one that enhances the décor in your bedroom.
If you decide to change the paint color and other items in your room, no problem – just buy a new matching cover, and you'll still be able to enjoy your soft, comfy bedding.
See also: 10 Down Comforter's You'll Absolutely Love
What are the Different types?
If you want to protect and upgrade your duvet with a new cover, there are a few types that are available to you. Understanding the differences, advantages, and disadvantages of each makes it easier for you to pick a cover that is ideal for your bedroom.
Reversible – Get two for the price of one with a reversible cover, which has a different color or print on each side, allowing you to change up the look of your bedding just by flipping it inside out.
Lightweight – These covers are made with lightweight covers, and they are ideal for warmer seasons. Look for covers made in breathable fabrics like cotton, silk, or microfiber.
Heavy – These add a bit of extra warmth on the coldest nights. The most popular choice for winter weather covers is flannel, which is soft and snuggly.
What are the Advantages of Using a Duvet Cover?
When cared for properly, your duvet will only need to be cleaned once every few years. Without a cover, it may need to be cleaned often and because it requires dry cleaning, this is not only a hassle, but it can be very expensive. Instead of putting your duvet at risk, care for it easily with a cover.
A cover is also great because you can coordinate it with your furnishings, wall pictures, paint, and other items in your room for a more pulled together look. They're easy to put on, easy to change, and most can be washed right in your washing machine, helping you cut back on pricey dry cleaning bills.
Related: The Top 10 Most Comfy Sheets for Your Bed
Which Products are our Contenders for Best Duvet Cover Overall?
You don't have to pay a fortune to make your bed look like a million bucks with this 3-piece set, which comes with everything you need to make your bed more stylish and comfortable. This set comes in your choice of six great colors, two sizes, and it includes the cover and two matching pillow shams. It is easy to care for, as all you do is toss it in your washing machine and dryer, and multiple matching pieces, including sheets and bed skirts, all sold separately, are available to give your room the perfectly coordinated look you desire.
Down bedding is some of the warmest bedding on the market, but you can crank up the heat a notch by adding this cotton flannel set. This heavyweight flannel adds extra warmth when you need it the most. You can choose from two different sizes and four colors to complement your room's décor. This set comes with the cover, which is machine washable and dryable, as well as two matching shams.
Cuddle up in luxury by adding this exceptional set to your bed. You will receive three pieces, including the cover and two matching pillow shams, all made of luxuriously soft and durable 1500 thread count cotton comparable to Egyptian cotton. This fabric is easy to care for and wrinkle-free, so it will always look great. It also comes in two different sizes and eight beautiful colors.
Features to Think About
You can't go wrong with purchasing a cover for your duvet. Not only will it improve the look of your bedroom, but it can also provide added warmth and the protection you need for your expensive insert. Once you've decided to make the purchase, keep the following points in mind to make the right decision so you don't regret your purchase.
Price
These covers can cost anywhere from less than $50 to several hundred dollars. Pick a set that fits within your budget, but make sure not to buy inexpensively just to save a few dollars. Instead, you might want to consider spending a bit more to get a higher quality set that you can enjoy for years to come.
Sizes
A cover has to fit over your duvet perfectly in order for it to work properly and look perfect. Make sure you buy the appropriate size to fit over your duvet, and don't go too small or too large.
Colors
Covers are available in many different colors and patterns. Stick with a neutral color if you change up the look of your bedroom often, or you can match it with other items in your room for a more coordinated look. Reversible options are also available, so you can change up the look of your room simply by flipping over the cover.
Guarantee/warranty
Protect your purchase with a guarantee or warranty that protects against issues that may have occurred during the manufacturing process, including loose threads, rips and holes, or stains that were already on the cover when you purchased it.
Price
Utopia Bedding 3-piece Set
This 3-piece set is affordably priced, making it one of the most affordable duvet sets on the market. This is a great stock-up price, so you can buy one for your own room, a guest room, and even children's bedrooms.
Pinzon Heavyweight Cotton Flannel Set
This set is priced reasonably, which is about average when compared to other 3-piece sets, and it is very competitively priced when compared to heavyweight flannel sets.
HC COLLECTION Duvet Set
This set retails at the higher end of the pricing scale.
Sizes
Utopia Bedding 3-piece Set
Choose from King or Queen sizes to ensure the perfect fit for your duvet.
Pinzon Heavyweight Cotton Flannel Set
This is available in two different sizes, Full/Queen and King.
HC COLLECTION Duvet Set
This 3-piece set comes in Queen size, as well as King size to ensure the perfect fit.
Colors
Utopia Bedding 3-piece Set
You'll have your choice from colors including Black, White, Light Blue, Grey, Beige, and Dark Brown.
Pinzon Heavyweight Cotton Flannel Set
You'll get your choice of four colors, including Aubergine, Graphite, Italian Roast, and Smokey Blue.
HC COLLECTION Duvet Set
This set comes in eight different colors, including Burgundy, Chocolate Brown, Cream, Gray, Eggplant, Lavender, Taupe, and White.
Guarantee/warranty
Utopia Bedding 3-piece Set
A 30-day guarantee ensures that you are 100 percent satisfied with your new bedding set.
Pinzon Heavyweight Cotton Flannel Set
This set does not come backed with a warranty or guarantee.
HC COLLECTION Duvet Set
These pieces do not come with a guarantee or warranty.
Conclusion: Our Duvet Cover Final Reviews Are In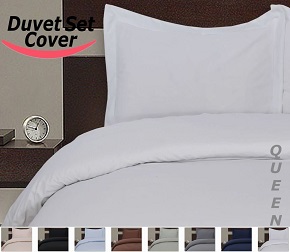 If you want a basic cover for your duvet that is easy to put on and take off, care for, and looks great, then look no further. This bedding set will truly put you in a state of Utopia after you see the low price tag, the high-quality design, and the softness that is worth every penny. First, begin by choosing the right size cover for your bedding. Next, pick from six great colors to enhance your bedroom.
The 100 percent combed cotton design is durable and soft, and it allows you to easily wash and dry this set in your household appliances. It comes with two matching shams for easy coordination, and you can also purchase other matching pieces, including flat and fitted sheets, for an additional price.
Pros:
Can be washed and dried in household machines
It is preshrunk, so you don't have to worry about the set shrinking
Comes in several great colors
It's very soft and durable
The double stitched hems are durable and add a nice touch
Your purchase is guaranteed
Matching pieces are available for perfectly coordinated bedding
Cons:
Desn't have ties so some shifting may occur
May pill after washing
May fade and wear out after multiple washes
Does not have the same quality as more expensive bedding sets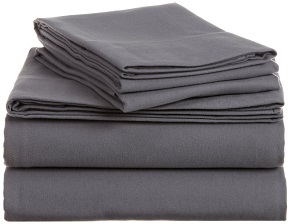 Down comforters are known for warmth, but you can kick up the heat a notch for the coldest nights with this cotton flannel set. Don't be fooled – this isn't a hard, scratchy flannel. Instead, it is velvety soft, warm, and a wonderful addition to your bed. The double napped finish on both sides provides just the right amount of warmth for those cooler days.
Your duvet will stay firmly in place with the button closure, and each matching sham (a pair comes with the cover) has an envelope closure. Matching flannel sheets are also available, sold separately. The set is easy to care for, machine washable and can be dried in a machine, so you don't have to throw away money at the dry cleaners.
Pros:
The fabric is very soft
It is very warm
The set is affordable
It comes with three pieces, including matching shams, for a complete bedding look
It comes in four great colors
The fabric is very breathable
Cons:
It fades after wash
Lint builds up easily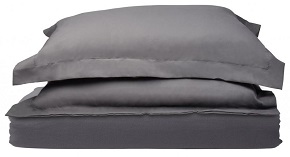 Egyptian cotton has become renowned for its durability and softness, but it's also extremely expensive. This set provides you with the same great qualities of Egyptian cotton at a fraction of the price. First, choose the correct size for your bedding, then choose from one of the eight beautiful colors. You will receive a cover for your duvet and two matching pillow shams.
This set is made with 1500 thread count cotton that's cool, light, and soft but still extremely durable and able to withstand being washed in the washing machine and nightly use. It provides extra warmth, but the fabric is still breathable, so you don't get overheated while you sleep. It is hypoallergenic so it's great for those who suffer from allergies, and it can be washed and dried easily in your own household appliances. Includes button closures to keep your duvet and pillows in place. All in all, this one wins our seal of approval for best duvet cover set.
Pros:
Soft and warm
Comes in eight great colors
Great for those who suffer from allergies
It is easy to care for
The fabric is wrinkle-free, so it always looks great
It is comparable to high-quality Egyptian cotton, but costs a fraction of the price
Cons:
The buttons may come off over time
It may fade over time after multiple washings
All in All
Protect your expensive duvet and dress up your bedroom with a new duvet cover that adds beauty, warmth, and protection to your down bedding. The HC COLLECTION Duvet Set is a great choice for your king or queen size bedding. It comes in many great colors, so it's easy to coordinate with your bedroom décor. Accompanied by a cozy, soft texture, it adds just the right amount of warmth to your bed.