Some links on this page are monetized by affiliate programs - see disclosure for details.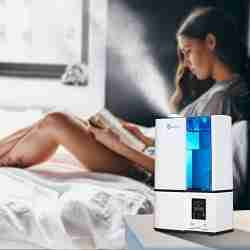 Cold and flu season is the absolute worst, and if you've ever had one of these illnesses, you know just how bad it can get especially in the winter time. While you have to keep your heat in your home running to keep your household warm on the coldest days, this heat makes the air dry, which can aggravate a runny or stuffy nose, a cough, and sore throat. It can keep you up at night and not allow you to recover easily.
For times like these, a humidifier is a device that won't cure your illness, but it can make it easier to recover.
Top Rated Ten: The Best Cool Mist Humidifiers of 2018

What is a Cool Mist Humidifier?
A cool mist humidifier is a device that you use to put moisture into the air. It helps you breathe easier, especially when you are sick. Unlike traditional humidifiers that create hot steam, these convert water into a cool mist that is very effective at adding moisture into the air.
There are a few added benefits for picking a cool mist model. It's ideal for children, who won't get burned if they accidentally put their hands in the steam, and it also uses less power because it does not have a heating element that's required in order to heat the water. These devices are generally less expensive than those that put out steam.
What are the different types?
If you're considering purchasing one of these devices for your home, you need to know what to expect when you start shopping. Because this is one of the most common types of humidifiers, you'll find thousands of brands, sizes, shapes, and colors, as well as models with different features. In general, though, there are two main types that you should first decide between before you start looking at other details.
Evaporative
This is the most common type of humidifier, and it works by running water through a wick filter, which then disperses the mist throughout the air. This works on the basic principal of evaporation, only it electronically speeds up the process. These are less expensive, easy to use, and work with any type of water, including hard water.
Ultrasonic
Instead of using a wick, these models rely on sound waves to create a very fine mist that is put into the air. This type of humidifier is quieter, but it may be more expensive, and it is not recommended for use in homes with hard water.
What are the Advantages of Owning a Cool Mist Humidifier?
A cool mist humidifier can be a lifesaver during the winter or any other time when the air in your home is dry. If you're sick with a cold, it can help ease congestion in the chest, help cut down on coughing, and can help you sleep better at night. It's also great for helping with chapped lips, as dry air is the leading cause of painful chapping.
Humidifiers are a great way to treat an illness in babies, children, and adults of all ages without having to resort to medication. It's also helpful for those who suffer from asthma and have difficulty breathing when the air is too dry.
Which products are our top contenders for Best Cool Mist Humidifier?
Providing up to 16 hours of continuous use, this Ultrasonic cool mist humidifier offers top value at a low price. With a 360 degree mist nozzle and a speed lever, it allows you to seamlessly adjust both the angle and speed at which mist is dispensed from the humidifier. Its automatic shutoff feature ensures that it stops running once it has run out of water.
This model comes equipped with a cartridge that filters out impurities so they aren't released into your air. It is equipped with a lot of great features that ensure you get the most out of your humidifier, including a timer, a 15-hour run time, and the ability to set your humidity level and the amount of mist that is dispensed. The LCD control pad makes it easy to adjust your settings, and the ultrasonic technology ensures its very quiet for a peaceful night's rest.
Add moisture to your air while removing impurities with this combination humidifier and purifier. Pet dander and other allergens are a thing of the past with this combo unit, which doesn't even require a filter – the water acts as your filter. It releases a cool mist that moisturizers the air. It's large enough to work in a room up to 800 square feet, it's easy to fill, and it's easy to control for cleaner, healthier, moister air.
Features to Consider
Keep your whole household feeling better and healthier with a humidifier. The cool mist works just like warm mist in keeping the lungs clearer and helping ease coughs and stuffy noses but come with the added benefit of releasing cool air that won't burn you or your children. Once you've made the decision to make a purchase, don't just jump in the first product you find. Instead, think about these key points to pick a humidifier that's tailored to the needs of your household.
Price
Humidifiers come at different price points, from small economy size budget-friendly models to larger, more expensive products that keep your air cleaner while adding moisture. Consider your own budget, then decide which features you have to have in your unit to narrow down your selections.
Run time
If you want a humidifier that will run all throughout the night to help with a cough from your cold, you'll need to look for one that can run for many hours without needing to be refilled. If you just plan to use yours occasionally, a model with a smaller tank and shorter run time may offer everything you need.
Room size
A smaller model is great for a nursery, but it won't effectively moisturize the air in a larger space. Consider the size of the room where you will primarily use the device to determine which one you should purchase.
Controls
Look for models that are very easy to control and offer options for how the vapor is dispensed. Good features to look for include adjustable vents, humidity controls, and built-in timers that turn the device off at a certain time.
Price
Ultrasonic Cool Mist Humidifier by Pure Enrichment
This quality humidifier is available at a great price. You can buy a few for the different rooms in your house, and it also makes a great baby shower gift.
TaoTronics Humidifier
This humidifier can be purchased at a mid-level retail price.
Venta Airwasher
This is one of the more high-end humidifiers on the market. However, it also functions as an air purifier.
Run time
Ultrasonic Cool Mist Humidifier by Pure Enrichment
This model will operate for up to 16 hours using just 1.5 liters of water.
TaoTronics Humidifier
You can enjoy a peaceful night's sleep again, even when you're sick, as this model runs for 15 hours on one gallon of water.
Venta Airwasher
This has a 3-gallon capacity that can run for at least 24 hours.
Room size
Ultrasonic Cool Mist Humidifier by Pure Enrichment
This humidifier works best in a small room like a bedroom or nursery.
TaoTronics Humidifier
This works best in rooms up to 538 square feet, so it is just right for most small and average size rooms.
Venta Airwasher
This humidifies and purifies air in rooms up to 800 square feet.
Controls
Ultrasonic Cool Mist Humidifier by Pure Enrichment
The 360-degree rotating nozzle allows you to direct the mist where you need it without moving the whole unit. It also has a built-in time and controls for mist flow and humidity level.
TaoTronics Humidifier
You will receive a 2-year warranty on the purchase of this device.
Venta Airwasher
This has just three controls, making it very easy to operate. You can choose from Low, Medium, and High to control the speed of the fan.
Conclusion: Our Reviews Are In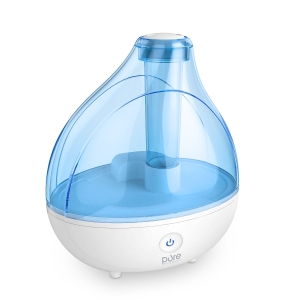 Though it's cheap, this Ultrasonic cool mist humidifier provides truly top-tier functionality. Manufactured to accommodate small rooms, it can run for up to 16 hours of continuous use. With a 360 degree twirl function as well as a button that allows for different mist speeds, it provides cooling comfort to anyone in its general vicinity. If you're looking for a great cool mist humidifier at an affordable price, you need to check this one out.
Pros:
Easy to use
360 degree twirl function
Capable of changing mist speeds
Cons:
Does not accommodate medium and large rooms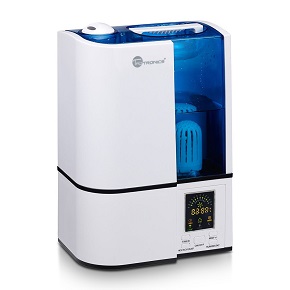 If you want something more than a basic model and you plan to use your device quite frequently, you should consider this great product from TaoTronics. The first thing you'll notice is that it's very easy to control from the LCD panel, which is equipped with a timer, humidity and mist level controls, and a sleep mode with built-in nightlight.
You won't have to worry about loud noises while you sleep, since this uses ultrasonic technology for whisper-quiet operation. It has a cartridge that removes impurities from your water, including calcium, magnesium, and micro-organisms, so you can rest easy knowing that the water vapor being distributed throughout your home is safe and clean.
Pros:
It is small and lightweight
It has three mist modes of Low, Medium, and High
You can control the humidity level
It has a built-in timer to shut off at a set time
Equipped with a sleep mode
It's easy to use
Comes with a brush for easy cleaning
It filters out impurities that can be released into the air
It's very quiet
It has a long run time
It has a low-level detector that shuts it off when water is low to prevent damage
Comes with a 12-month warranty
Cons:
It isn't completely silent
It is a bit expensive for just a humidifier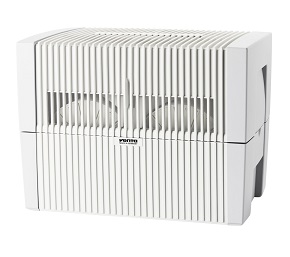 Why just humidify your air when you can clean it too, all with one device? The Airwasher is more than just a humidifier – it also functions as an air purifier. Your air will be moister, making it easy to breathe 24/7, while the device also removes pollen, dander, dust, and other allergens that can irritate allergies and asthma. You'll eliminate germs and make your household cleaner and healthier than ever with this great device.
This is designed to run all of the time to keep your home clean, and it's easy to use and maintain. It's not much larger than other air purifiers, and it comes in your choice of White or Gray. You can also purchase additives that can be added to your water for relief from congestion and other signs of illness, as well as a wheeled trolley to move it from room to room. It effectively humidifies and cleans the air in rooms up to 800 square feet, and it operates quietly. This is a great product that pulls double duty to eliminate dry air and allergens in your home.
Pros:
It's a 2-in-1 product
Easy to clean and maintain
It uses very little power
Runs 24 hours a day to keep your home healthy
Helps preserve wood furniture
Helps eliminate static electricity
It removes many common allergens from the air
It's easy to control
Does not require a filter
Includes a 2-year warranty
It is lightweight
Cons:
Larger than a traditional humidifier
It is expensive
Can be a bit noisy when on the High setting
Final Thoughts
Dry air can make you feel even worse when you're sick, and it can even contribute to things like headaches and congestion all year long. If you want to feel better year-round, a household cool mist humidifier is a great way to improve the air quality in your home. For the most health benefits, a product like the Venta Airwasher not only keeps your air moist with clean, healthy mist, but it also helps remove the allergens in your air that can lead to illness. For a clean, healthy home this is an investment that's certainly worth making.