Some links on this page are monetized by affiliate programs - see disclosure for details.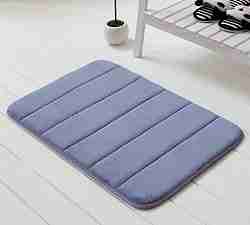 Have you ever gotten out of the bathtub or shower, and slipped on your tile or vinyl floor? Maybe your bathroom looks just a little too plain, and you want to enhance your décor without spending a fortune.
Whether you're trying to make your bathroom safer for you and your family or you just want to add a more decorative touch to your space, a bath mat is the perfect affordable option.
Compare: The Top 10 Best Bath Mats of 2018

An Introduction to Bath Mats
A bath math is a type of rug or mat that is used specifically in a bathroom. These come in many colors, styles, and sizes. Some are designed for decorative purposes, while others are more for safety in and out of the bath. Others work for both purposes.
What are the Advantages?
There are several advantages of owning a bath mat. One advantage is that you can totally change the look of your bathroom just by adding a few mats in strategic places like in front of the bathtub or in front of your vanity. These give your room a more pulled together look without costing a fortune, and since they come in so many shapes, colors, and sizes, you can truly personalize the look of your room, enhancing your other bath décor. Safety is another advantage.
When hard floors get wet, they become very slippery. A bath mat helps keep the floor dry, preventing dangerous falls in the bathroom. Mats designed for use in the tub give your feet a firm grip to prevent falls in a slippery tub.
What are the Different Types?
When you shop for a new mat for your bathroom, you may actually find the shopping experience to be quite overwhelming since there are so many mats available. To make your purchase easy and stress-free, the first step is to know what type of products are available so you can choose the one that best fits your needs.
In-tub mats
These mats are made of rubber or plastic and are designed to go right in the floor of your bathtub. These are designed with holes that allow the water to not back up while you're showering. They stick to the bottom of your tub but they are easily removed without leaving any marks or damage behind. These mats are best for those who have a slippery tub and want to prevent dangerous falls. These are more for safety than decorative purposes, although you can find mats in different colors and designs.
Decorative mats
These mats offer a balance of safety and function. They are used outside of the tub to add a splash of color to your bathroom, and they can also be placed to make your room safer. Common places to put these rugs include in front of the sink or shower, where water can drip and make the floor slippery and unsafe.
Memory foam mats
Much like decorative mats, with the exception of being made of thick, plush memory foam. These are ideal for use in front of a vanity, where you might stand to put on makeup or fix your hair. These are more comfortable to stand on for longer periods of time instead of standing on a hard floor.
Which Brands are the Best Bath Mats on the Market?
Get 2 for the price of one with this affordable package. You'll have your choice from a rainbow of colors of ringspun cotton that is soft and absorbent. These mats are very affordable, but you will find that they didn't overlook quality at all. These can be placed anywhere in your bathroom, and since they's machine-washable, they're very easy to care for.
Prevent slips and falls in the tub with this anti-slip mat. This is an anti-bacterial mat, so you don't have to worry about your bathtub becoming infested with germs. This mat comes with suction cups that keep it firmly in place, so you and your family can feel safe in the tub or shower.
Add a touch of luxury at an affordable price with this rug that is made from thick, soft memory foam. You'll feel like you're stepping on a cloud every time your feet touch this rug, which is available in your choice of color to coordinate with your bathroom accessories and décor.
Features to Evaluate
Once you're ready to move forward with your purchase, you may be inclined to just buy the first thing you like. However, you don't want to experience buyer's remorse by choosing a product that you like in pictures but don't like when you get it home. Before you make that purchase, there are a few key features you should evaluate to make sure you're making a smart decision. These four features will help you get started in narrowing down your choices.
Price
Most mats are pretty affordable but some may be made with higher quality materials or come in a larger size that adds to the price tag. Decide approximately how much you want to spend before you start shopping. It's also important to note that other features, including size and overall durability, should also be considered in addition to price. For example, if you need a very large rug, you don't want to save money by purchasing a rug that's too small.
Size
Speaking of size, you want to make sure that you purchase the proper size for your space. If you have a large vanity with double sinks, you may want to purchase a longer runner or even two separate mats. If your mat will be going inside of your tub, you need to measure the interior of your bathtub to make sure it's the proper fit.
Colors
Since mats are also decorative, you'll want to purchase something that complements the rest of your bathroom, from your paint and fixtures to your accessories. Basic neutrals like black, white, and brown go well in most bathrooms, while bold colors, soft pastels, and patterns are also available for a more personalized look.
Uses
If you want a mat to be used in your tub, you'll want to find a rubber antibacterial mat and not just a cotton mat that is designed for use on the floor. Make sure that you purchase the right mat for your needs.
Price
Utopia Luxury
You'll receive two mats for one low price with this purchase.
Epica Anti-Slip
This mat is very affordable as well.
Townhouse Rugs
This is one of the more high-end mats available.
Size
Utopia Luxury
Each of the two mats in this pack measure in at 21 inches by 34 inches.
Epica Anti-Slip
This mat measures in at 16 inches and 28 inches, a great size for standard tubs.
Townhouse Rugs
This product measures 17 inches by 24 inches.
Colors
Utopia Luxury
You can easily coordinate your new accessories with your bathroom with this pack, which comes in your choice of White, Champagne, Plum, Royal Blue, and Smoke Gray.
Epica Anti-Slip
This mat is just available in white.
Townhouse Rugs
Green, Gray, Black, Blue, Brown, Burgundy, Butter Pecan, Khaki, and Zebra are your color choices.
Uses
Utopia Luxury
These mats are designed mainly for decorative purposes, and they are best used in front of sinks, vanities, tubs, and showers.
Epica Anti-Slip
This mat is designed to fit inside of a tub or shower to prevent falls when the floor gets wet.
Townhouse Rugs
This is great for use in front of tubs, showers, and vanities where you get ready each day.
Conclusion: Our Bath Mat Reviews
If you're on a budget, but you want to improve the appearance of your bathroom, this 2-piece set from Utopia Luxury gives you two luxurious matching bath mats. These mats are made from two-ply ringspun cotton that is soft and durable. The edges are double stitched and hemmed for durability.
Each rug measures a roomy 21 by 34 inches, and come in your choice of five different colors. These are lightweight enough to throw just about anywhere, and when they get dirty, they can be tossed in the washing machine for easy care. These are decorative mats that don't cost a fortune, are absorbent, and look great in any bathroom.
Pros:
You get two rugs for the price of one
Very affordable
Soft yet durable
They come in multiple colors
They are very absorbent
Easy to care for
Good quality for the price
Cons:
These do not have rubber backing, so they are not skid-resistant
They are more for decorative purposes than for safety
They are quite thin, so anyone looking for a thicker, plusher rug may want to purchase something else
Don't slip, slide, and risk injuring yourself in your tub or shower when you can remedy the problem. With this mat from Epica, you can prevent slips and falls whether it's in your tub at home or in your business, like hotels or gyms. This mat is large enough to provide plenty of space for moving around safely, has suction cups to hold it in place, and has a textured surface to prevent slips.
This is made with wear-resistant, durable rubber that is latex free. It has also been antibacterial treated, so you don't have to worry about germs invading your bathing space. Even though the suction cups keep it securely in place, it is easily removable so it can be sprayed off or hung up to dry.
Pros:
Stays in place with the suction cup backing
Treated with an antibacterial treatment to prevent germs
Large enough for shower stalls or larger bathtubs
Very affordable
Very durable
Easy to clean
Cons:
The rubber has a strong smell, although it does fade over time
It needs to be cleaned with a brush regularly to prevent mildew
Hard flooring like tile looks great, but it can be cold on your feet when you step out of your warm shower, slippery when wet, and harsh on your feet while you're standing for long periods of time while applying makeup or drying your hair. This is why you should invest in a memory foam mat like this one from Townhouse Rugs. This mat is made with soft microfiber and has one inch of memory foam that is plush and feels great, even during long periods of standing.
This rug has a non-skid back so it stays in place, and the multiple color choices make this decorative, too. Care is easy, too. This rug is machine-washable and can be laid flat to dry or tossed in a dryer on the tumble cycle.
Pros:
It's very soft, thick, and plush
It comes in multiple colors
It does not slide across the floor
Can be used in the bathroom or in other areas, like kitchens or laundry rooms
Although it is priced more expensively than other rugs, it is still very affordable
It is easy to care for
Made with high-quality materials
Cons:
It is a little small
It does not dry as quickly as other mats
In Conclusion
You can keep your floor dry and protected, avoid slipping when exiting your tub or shower, and give your bathroom a beautiful new look without spending a ton of money with the memory foam rug from Townhouse Rugs. This bath mat comes in many colors and prints, is thick and plush enough for long periods of standing, enhances any bathroom beautifully, and costs just around $25, making it the best bath mat for just about any home.