Some links on this page are monetized by affiliate programs - see disclosure for details.
After a long day at work, taking care of the kids, or running errands, there's nothing better than putting on your pajamas and hopping into a warm, cozy, and comfortable bed. Your bed is your sanctuary, a place where you can enjoy reading the latest bestseller, surfing the web on your tablet, watching TV, and of course, taking a nap or getting a good night's rest. Sometimes, though, it may feel as though your bed is missing something, and it could be the type of bedding you have.
No one wants scratchy sheets or thin comforters that just aren't warm. If you want to give your bed an upgrade without spending a fortune, a high-quality down comforter is a great way to make your bed more comfortable, as well as more attractive.
The Top 10 Best Down Comforters of 2019

Introduction: What is a Down Comforter?
A down comforter is a type of bedding that you use as your blanket while you sleep. Unlike most other bedspreads that are filled with cotton, polyester, or synthetic materials, down spreads are filled with feathers taken from geese or ducks. Not only does this make the comforter thick and soft, but it also provides you with added warmth.
These comforters come in a variety of sizes that offer the perfect fit for your bed, as well as colors and patterns that match your bedroom décor.
What are the different types of Down Comforters?
One thing that many people will find when purchasing this type of bedding is that it is more expensive than a traditional comforter. Because of that, you want to make sure you make the right purchase the first time to avoid being stuck with a product you don't like or dealing with the hassle of returning it.
This is why it's important to know what to look for in this type of bedding, including the types you'll see while shopping.
Duck down
Since feathers are used in down bedding, duck feathers are frequently used because they are easy to acquire. This type of bedding is typically the least expensive, and it may not be quite as comfortable as bedding stuffed with goose down.
Goose down
This is more expensive, since it is more difficult for manufacturer's to acquire goose feathers. This bedding is usually very high quality and thicker than bedding stuffed with duck down.
Duvets
These can be stuffed with goose or duck down. However, whereas a traditional comforter can be used as it is, these require covers which slip right over the bedding. This allows you to easily wash the outer cover, and you can also change it easily as desired without having to buy a completely new comforter.
What are the Advantages of Down?
There are several advantages to buying this type of bedding. The first is that it is thick, soft, and will make your bed so much more comfortable for an affordable price. Down is also very popular because of its insulating properties. It can keep you extremely warm on the coldest nights, but it still allows air to circulate, so you won't get overheated.
Finally, it really enhances the look of your bedroom. By purchasing a comforter in a color that complements your décor, you'll give your room a mini makeover without spending a fortune and without having to do a lot of work like painting or moving furniture.
How Do I Take Care of a Down Comforter?
Down comforters can be a bit pricey, but they'll last a long time with proper care. First, make sure to buy a high-quality comforter with tight stitching. Also, if you use a cover, your comforter will only need to be cleaned every three to five years.
You can either wash your comforter at home or take it to the dry cleaner. Make sure the dry cleaner uses steam instead of chemical cleaning. Otherwise, the feathers inside can turn brittle.
When washing your comforter at home, first inspect it thoroughly. You're looking for any cuts or tears – even small ones. When a comforter gets wet, these small holes can quickly grow. For best results, only wash a comforter in a front-loading washer with no agitator. Use cool water, mild detergent, and no fabric softener.
Which Brands Are Our Top 3 Picks in 2019?
Snuggle into softness at a price that's easy on the wallet with this great comforter, which is made with Pyrenees down that is rare and very luxurious. The outer shell is made with 100% Egyptian cotton for ultimate softness, and this comforter is very full, so it provides incredible warmth that can even help you save on your monthly electric bill during the colder months. The Comfort Lock border prevents shifting, so you always have an equal amount of down throughout for the best night's rest.
Lay in luxury with this wonderful comforter, which is stuffed with soft and insulating goose down. You can stay comfortable year-round with this thick comforter, which has an Egyptian cotton outer that's smooth and soft against your skin. This comforter is thick, comes in gift packaging if you want to give it for a gift for a birthday, Christmas, or bridal shower, and is hypoallergenic, so it's a great choice if you have allergies.
You'll feel like you're sleeping on a cloud when you cuddle up with this luxury bedding. It provides the warmth you need on cold nights, but keeps you comfortable the rest of the year as well. It has thick filling for extra comfort, Egyptian cotton fabric for softness, and durable seams that prevent shifting and keep the filling where it needs to be.
Features to Evaluate
Consider new down bedding as an investment for your home. You should expect your new bedding to last for several years, and if you buy a quality product, this shouldn't be a problem. You do, however, need to make sure you purchase a great product and don't just invest in something that will spend more time in the back of your closet than on your bed. Before you jump the gun to make a purchase of expensive bedding, consider the following points to ensure you're fully satisfied with your purchase.
Warranty
Warranties don't cover regular wear and tear, but if there is a quality issue that causes your comforter to rip or be unusable, a warranty will allow you to have it repaired or replaced at no additional cost.
Size
Your bedding has to fit your bed perfectly. If you purchase the wrong size, it will be too large or too small. Make sure that you not only look at the size (like Twin or King) but also the measurements, particularly if you have a thick pillowtop mattress.
Fill
The first thing you should consider when looking at the fill is what type it is: goose or duck. Next, you need to look at the fill power, which is just a measurement of how much down is in the comforter. This determines not only how thick and fluffy the comforter is but it also affects the insulation. Comforters with higher fill power are warmer and more insulated. On average, fill power ranges from 300 to 900.
Warranty
Pacific Coast Comforter
A 10-year limited warranty is provided by the manufacturer with the purchase of this bedding.
Luxury Goose Down Comforter
A warranty is available by contacting the manufacturer of this bedding.
Egyptian Bedding Comforter
A manufacturer's warranty can be obtained by contacting the manufacturer of the bedding.
Size
Pacific Coast Comforter
This bedding measures in at 90 inches by 98 inches, and it fits most full or queen size beds.
Luxury Goose Down Comforter
This Queen size bedding measures 90 inches by 90 inches.
Egyptian Bedding Comforter
This bedding comes in a King size that measures 106 inches by 90 inches.
Fill
Pacific Coast Comforter
This soft bedspread is filled with Pyrenees down, and with 650 fill power, it is a medium weight comforter that is warm enough for most climates.
Luxury Goose Down Comforter
This bedding has 750 fill power so it is very thick and comfortable, as well as insulated enough to keep you warm on cold nights.
Egyptian Bedding Comforter
This is made with 100 percent goose down, and it has over 750 fill for thickness, insulation, and comfort.
Final Reviews: See Our Winners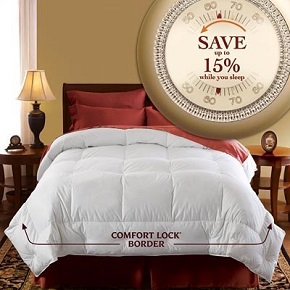 If you're on a tight budget, you don't have to settle for low-quality bedding. This comforter from Pacific Coast is cozy and comfy, and it's priced just as affordably as down alternative bedding. Don't mistake a great price for poor quality, though. This has a thick down fill, 420 thread count Egyptian cotton outer shell, and a Comfort Lock border that keeps the down from shifting out of place.
This is backed with a 10-year warranty, and it's very easy to maintain. It only needs to be professionally cleaned every three to five years, and it can even help you save up to 15 percent on your monthly utility bills.
Pros:
It is medium-weight, so it's great for keeping warm in most temperatures
The neutral white color matches any décor
It is easy to care for and maintain
It is very warm and insulated
Cons:
Not as fluffy as more expensive comforters with higher fill power
Over time, some shifting may occur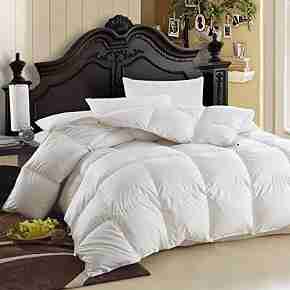 It'll be hard to get out of bed each morning when you snuggle into this outstanding comforter. It has all of the thickness you could want to keep you warm, but it also allows air to circulate so you don't overheat. It's filled with high-quality goose down, and if you have allergies, don't worry – it's hypoallergenic.
Other features that make this comforter stand out include a 600 thread count Egyptian cotton cover, it can be used with a duvet cover, and it has box stitching so the down doesn't shift and go flat. It's also pried quite affordably when compared to comparable bedding.
Pros:
It is very soft
It is extremely thick
Provides a medium level of warmth that is appropriate for most climates and temperatures
It has box stitching to prevent shifting
More affordable than many other comforters
Includes with a warranty
Cons: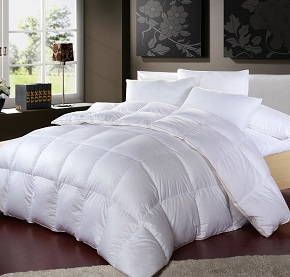 You'll feel like royalty every time you get into bed with this high-end down comforter, which is soft, fluffy, and well-made, so you can enjoy it for many years to come. On the outside, you'll get complete softness with the 100 percent Egyptian cotton outer fill that has an amazing 800 thread count.
Inside is 100 percent goose down, which is known for its softness. This comforter is filled to the brim, and it has box stitching that keeps it all in place. It is hypoallergenic, so you don't have to worry about using it if you have allergies, and it can be used with your choice of duvet cover, sold separately.
It is thick enough to use on the coldest nights while still providing adequate airflow that prevents you from sweating and becoming too hot during the night. This luxury comforter provides the perfect mix of comfort and warmth year-round. That's why it's our choice for best down comforter.
Pros:
Use it with or without a duvet
It's very thick
Good insulation
The stitching prevents shifting
It's easy to fluff with a few quick shakes
It doesn't have an odor like some new comforters do
It is very easy to care for
Extremely soft
High-quality
Cons:
It is more expensive than other comforters
It is heavy
In Conclusion
If you want to have a great night's rest, quality bedding is a must, and you can't find anything better than a down comforter. You'll have a soft fluffy place to lay your head, and you'll stay warm on the coldest nights and maybe even save money on your next power bill.
If quality and comfort is what you're looking for, you can't go wrong with the Egyptian Bedding Comforter. The combination of its thickness, the 100 percent goose down filling, and the 800 thread count outer shell makes this the comforter of your dreams.