Some links on this page are monetized by affiliate programs - see disclosure for details.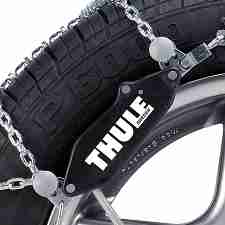 Driving in snow and ice can pose a real challenge. Not only can it slow you down, but it can also be very dangerous, even when you drive carefully. In colder areas where snow and ice is commonplace during the winter months, you have to be able to drive safely from place to place, whether it's to pick up supplies for your home, get the kids to school, or go to work.
If you have to drive in hazardous weather, it's important to drive carefully, but it's also a necessity to get a little bit of extra traction with tire chains.
Compare: The 10 Top Rated Tire Chains of 2019

A Guide To Tire Chains: Introduction
To keep your car running smoothly, there are a number of items you need. Tire chains are special metal chains that are designed to fit snugly over tires on cars, trucks, and other vehicles on the road. These chains provide additional traction on roads that are slick from ice and snow. In areas where snow and ice can sit on the ground for weeks or even months, these are absolutely essential for maintaining control and staying safe while driving around curves, climbing up hills, or coasting down them.
What are the Advantages?
The most important thing about tire chains is that they keep you safe on slick, hazardous roads. If you live in a place where winter weather can get quite dangerous, you'll need to equip your vehicle with these necessary accessories. You'll be able to continue to live your life and get from place to place when your vehicle is equipped with snow chains.
What are the Different Types?
Whether you live in a snowy area or you plan to travel up to a cold, snowy area for vacation, you'll need to make sure you're fully prepared by equipping your vehicle with chains that are fitted for your tires. In order to ensure your safety, you want to make sure you purchase the right type of chains for your car or truck.
Classic chains
These are very durable and often the least expensive. However, these can be very difficult to put on because you have to drive onto them. This can be an almost impossible task if there is already snow on the ground.
Quick chains
These are a bit more expensive than classic chains, but they are easier to put on. They still require quite a bit of work to go on perfectly, but they can be put on in an emergency situation or when there is snow and ice on the ground.
How to Drive Safely with Tire Chains
Tire chains help you stay safe when driving in the worst winter weather conditions. But chains do have limitations. Even when equipped, you'll need to drive safely. Never drive over 30 mph. Also, keep acceleration even and try to never spin your tires.
Once the chains are on the tires, you'll want to drive on snow and ice as much as possible. Driving on clear pavement can damage both the tires and chains. Also, never drive on any broken chains, as they decrease your ability to control your vehicle.
Make sure you know how to install the chains correctly. You might want to practice installation at home. Doing so can help you feel more confident when you have to put the chains on when parked roadside in a snowstorm.
Which Brands Make the Best Tire Chains on the Market?
Security Chain Company QG2828 – Get a grip on the road when you're in your light truck or SUV with these affordable chains, which perform just like the more expensive chains. These are easy to install and provide the right amount of traction for driving in hazardous weather. You can even take them off-road, making them a versatile choice for your vehicle.
Glacier Chains H2828SC – Get a grip with these Glacier Chains. These provide the traction you need to get around safely, and they meet all state requirements. They are easy to install, have side locking cams to keep them in place, and they fit a variety of vehicles.
Thule 12mm XG12 – The technology used with these chains make them easy to install and even easier to remove when the snow and ice melts. These have a special design that provides you with ultimate traction on the slickest roads, and they come backed with a warranty, so you know you'll get season after season of use.
Features to Evaluate
Before you take your car out on slick roads, you need to make sure your vehicle is properly equipped with the right snow chains. There are a few things that you need to evaluate in order to make sure that you make a sound purchase. After all, chains that don't fit properly or work as they should, they won't make your car safe enough for the road. You also need to evaluate a few other key features to ensure you get the product you need.
Price
You want to make sure that you can afford the chains that work best for your vehicle. However, you should never purchase inferior chains or ones that don't fit properly, as safety should always come first. Make sure that you look at all other features, including the size, before you purchase just because the price is right.
Recommended Vehicles
You need to make sure that the tires you're purchasing are designed for use on your vehicle. There are chains available for cars, light trucks, work and heavy-duty trucks, SUVs, ATVs, and more. You want to purchase the right type for whatever it is you drive.
Available Sizes
You need to make sure that you purchase the right size for your tires. Chains that are too loose may damage your tire and could lead to an accident. Ones that are too small won't fit at all. Make sure that you understand sizing for each manufacturer and that you buy the proper size.
Number of Chains
To make sure you get the best deal, make sure you see how many chains are included in your purchase. Most sets come in pairs, but this isn't universal, so always double check to make sure how many you have the right amount.
Price
Security Chain Company QG2828
These are a very affordable option.
Glacier Chains H2828SC
These chains just a bit more, which is competitive with other prices on similar products.
Thule 12mm XG12
These chains cost on the higher end when compared to similar products.
Recommended Vehicles
Security Chain Company QG2828
These are best used on SUVs and light trucks.
Glacier Chains H2828SC
These particular chains fit on many different trucks, vans and SUVs.
Thule 12mm XG12
These chains are best used on SUV and cross-overs.
Available Sizes
Security Chain Company QG2828
These chains come in eight different sizes to fit a variety of vehicles. Price may increase or decrease when purchasing a different size other than the QG2828.
Glacier Chains H2828SC
You can choose from seven different sizes for a custom fit for any vehicle. Prices vary according to size.
Thule 12mm XG12
In addition to this particular size, there are five other sizes that you can choose from to ensure the perfect fit.
Number of Chains
Security Chain Company QG2828
You'll receive two sets of chains with your purchase.
Glacier Chains H2828SC
Each set includes chains for two tires.
Thule 12mm XG12
You'll receive two chains with each set that you purchase.
Final Word: Our Tire Chains Reviews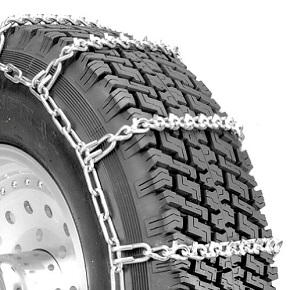 If you want to stay safe out on the road but you want to stick within a budget, these chains should be near the top of your list of choices. These are specifically for light trucks and SUVs, and they fit on multiple makes and models.
You'll get ultimate safety with these chains that that are link chain reinforced for quality you can count on. These meet all state guidelines for snow chains, and they are for on and off road use. They are very easy to install, and they come in a total of eight sizes for all types of vehicles.
Pros:
These are affordable chains
Multiple sizes are available to fit many different vehicles
They are easy to install
They are very high quality
For use on the roads and highways, but also suitable for off-road use
They provide great traction
Cons:
The V-Bar can damage high-ply tires
They don't come with a warranty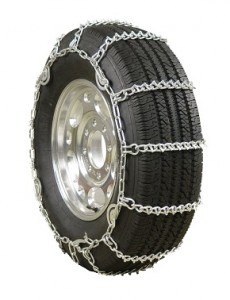 Even deep snow and slick ice can't stop you when you equip your truck, SUV, or van with these snow chains. These provide maximum traction to keep you safe while out on the road. The carbon steel twist link cross chain with welded V-bar ensures that your vehicle won't slip, slide, and put yourself, passengers, and others on the road in harm's way, even in the worst conditions.
Lever end fastening makes these easier than other chains to mount, and the side-locking cams keep them safely in place while you drive. These meet state requirements for safety, and they work even on steep inclines.
Pros:
These are affordable
They come in multiple sizes to fit a wide variety of vehicles
They are easy to install and easy to remove
Ideal for plowing and towing
The design is heavy-duty enough for the worst conditions
Cons:
They may be a bit too tough for on-road use unless there is a lot of snow and ice
Using with tires that are not high-ply may result in damage
They may be a bit difficult to install for the first time, but they are less difficult than many other products
They don't come backed with a warranty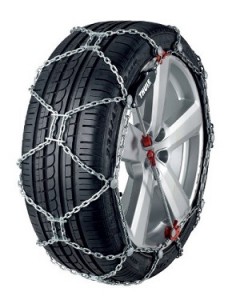 When it comes to your safety, why trust any product that's less than the best? For performance that outshines much of the competition, these chains from Thule may have exactly what you're looking for, balancing quality with an innovative design, ease of installation, and a warranty you won't find with other products.
You'll get the perfect fit with these, which offer a self-centering and self-tensioning install and a micro-regulation system for perfect tensioning. When the snow and ice melt, these have a quick external release that makes them easy to remove. The special pattern design and double chains provides you with maximum traction up or down steep hills, in the mud, or in thick snow or ice. The anti-scratch bumpers protect your alloy wheels from damage, and the design provides you with ultimate comfort while driving – no bumpy ride here. These also come backed with a 5-year warranty, so you know you'll get plenty of use out of this product.
Pros:
This comes backed with a 5-year warranty
These have an innovative design that provides maximum traction in all conditions
They are easy to install, and they are also easy to remove
These are easy to align and center, unlike other chains
Driving with them on is smooth and you feel secure
Cons:
They are a bit more expensive than other chains
Closing Thoughts
When you live in an area that turns into a winter wonderland, you know how important having the right supplies can be and that includes chains for your vehicle's tires. If you want to feel safe and secure, Thule 12mm XG12 chains are quite possibly the last chains you'll ever have to buy. These are so much easier to install and remove than other products, have a unique design that provides the security and traction you need on the road, and come with a great warranty, making them the best tire chains to keep you safe in any type of inclement weather.