Some links on this page are monetized by affiliate programs - see disclosure for details.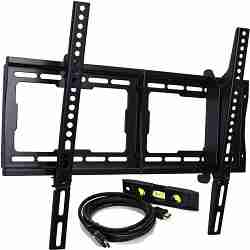 The first TVs were encased in huge cabinets that took up a good portion of a room. Later TVs weren't much better. They were still large, bulky, heavy, and had to be set on a solid, sturdy surface. Using the latest technology, modern TVs have become better than ever.
LED, OLED, LCD, and plasma TVs have already taken over living rooms around the world. These TVs are more lightweight, thinner, and produce a much better picture than televisions ever have before. This makes it easy to put them on smaller TV stands… But to enjoy the full space-saving benefit of your flat screen TV, consider mounting it to a wall.
The Top 10 Best TV Wall Mount Brackets of 2019

A Guide to the Best TV Wall Mounts
TV wall mounts are used to hold your TV to the wall, eliminating the need for a TV stand. A TV mount is screwed into the wall with studs for stability. Once your mount has been properly attached to the wall, you remove the stand from your TV, then use the brackets on the back to attach it to the mount. This gives you with a great viewing angle and lets you experience television like you never have before.
What are the Different Types?
If you own a flat panel TV and you want to give your home a more streamlined look, a TV mount is the perfect way to do so. Before you make your purchase, consider the different types of mounts available, and see how they can benefit you.
Fixed mount
This mount sits flat against the wall, and your TV is attached to sit flat against the wall. With this type of mount, your TV is fixed in one spot, and it cannot be adjusted. These are typically the least expensive mounts.
Tilting mount
Get the best angle for viewing with a tilting mount. This type of mount has an option that allows you to tilt the screen up or down.
Slim mount
A slim mount can be fixed or have the option to tilt. This is the slimmest type, and it keeps your TV closer to the wall.
Swivel mount
This is similar to a fixed mount with the added benefit of being able to slide the TV horizontally for the best angle.
Articulating mount
This is the most versatile (and often most expensive) of all of the mounts. It has an arm that allows you to swing the TV away from the wall and swivel it left or right. This provides you with multiple viewing positions.
What are the Advantages of Mounting?
The biggest advantage to owning a TV wall mount is that it frees up more space in your home. Not only does it sit flush with your wall, but you no longer have to worry about having a big, bulky TV stand or entertainment center taking up space in your room. Instead, the TV is firmly mounted, taking up little space. If you have a cable or satellite box, DVD player, or other devices, you can buy a small shelf or stand that takes up less space in full-size entertainment center.
Another advantage to a TV wall mount is that it gives your room a cleaner, more modern appearance. TVs look great when mounted above a fireplace or on a main wall in your home. A wall-mounted TV enhances your décor, better for annoying cables and antennas.
Tips for Mounting Your TV on the Wall
Generally, mounting a TV on the wall is a simple and easy process. But there a few potential tricky parts you'll want to watch out for.
First, be skeptical of your stud finder. Calibrate it properly before use. Go slow when searching for studs. Before drilling, poke the wall with a small screwdriver to double-check the stud's location. Also, locate any internal firewalls, as they can obstruct your ability to thread wires through the wall.
Additionally, always buy more cable than you think you'll need. Eight feet of cable is standard if the TV is mounted directly below the cable outlet. But always overestimate. Extra cable can be easily wrapped up and stored in the wall. However, if you don't have enough cable, you won't be able to connect your equipment.
Who are the Contenders for Best TV Wall Mount of 2019?
If you want a basic mount that's strong enough to hold a TV up to 32-inches, you'll want to check out this model.
Make sure you always have the perfect viewing angle any time of day with this full motion wall mount.
This durable mount has great features like tilt options combined with strength that's unrivaled.
Considerations for Choosing a Wall Mount Unit
Once you've made the decision to add a wall mount to your home for your flat panel TV, you may not know what to do next. With so many different mounts available, how do you know which one to choose? You can narrow down your choices by looking at a few key features on every mount that you consider purchasing.
TV size
There's no question that you need to purchase a mount that is designed to hold the right size TV. If your TV doesn't fit properly, you may not be able to use the mount. If you have to rig the mount up to work properly, you risk damaging your TV. Make sure that any mount you purchase is the right size for your TV.
Weight limits
Mounts have different load bearing weights, so you need to purchase one that can fully support your TV. If you have a heavier, large screen TV, putting it on a cheap mount not designed to hold heavy weights puts your TV, walls, flooring, and surrounding items at risk for damage.
Ease of installation
Anyone can install a TV mount without a professional's help if they choose the right one. Look for mounts that are easy to install. Typically, low profile mounts are the easiest to use.
Price
Always take a look at the price of the mounts you are considering. An inexpensive mount may not be as high-quality as one that costs a little more. Likewise, a more expensive mount may come with features that you'll never use, so you can select a less expensive, more basic version.
TV size
VideoSecu TV Wall Mount Flush Ultra Slim Bracket
This bracket is designed to safely support TVs in sizes that range from 19-inches to 32-inches. A smaller version is also available for TVs that are 15 to 27 inches.
VideoSecu Articulating Full Motion TV Wall Mount
You can safely mount any TV that is between 32 and 65 inches. It works with VESA patterns up to 684×400 millimeters.
Sanus VMPL3-B Tilt Wall Mount
This mount is versatile enough to use with most of the sizes available on the market today. It is compatible with TVs that are between 27 and a whopping 84 inches.
Weight limits
VideoSecu TV Wall Mount Flush Ultra Slim Bracket
The maximum weight that is safely supported by this mount is 80 pounds.
VideoSecu Articulating Full Motion TV Wall Mount
Any TV weighing up to 165 pounds will be safe and secure when this mount is installed properly.
Sanus VMPL3-B Tilt Wall Mount
You won't have to worry about your TV being too heavy. This mount easily supports weights up to 280 pounds.
Ease of installation
VideoSecu TV Wall Mount Flush Ultra Slim Bracket
This is one of the easiest mounts to install. From start to finish, which includes finding wall studs and moving furniture, the process takes approximately one hour before your TV is ready to watch.
VideoSecu Articulating Full Motion TV Wall Mount
Installation is very straightforward, and it's not difficult once you get going. However, the instruction manual is not very clear, so you will have an easier time installing this if you have installed one before.
Sanus VMPL3-B Tilt Wall Mount
Installation is quite easy for most TVs. With larger, heavier TVs, putting the TV on the mount may require an additional helper.
Price
VideoSecu TV Wall Mount Flush Ultra Slim Bracket
If you don't want to spend a fortune on your TV mount, this one is priced right. The smaller version is available for just $10.
VideoSecu Articulating Full Motion TV Wall Mount
This is a mid-level TV wall mount. Although there are cheaper ones available, this one is strong, durable, and provides lots of different features.
Sanus VMPL3-B Tilt Wall Mount
This mount is priced below $200. However, it is one of the most durable on the market and works with most TVs, regardless of size or weight.
Reviews: The Top TV Wall Mounts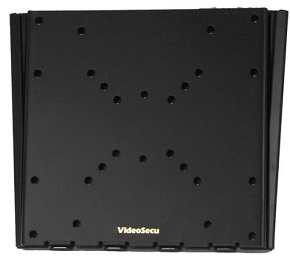 If you don't need the extra features like tiling or articulating arms, this mount is just right for you. This low profile mount hangs easily on your wall, safely supports your TV, and provides you with that modern look you're hoping to achieve with a wall-mounted TV.
This mount is VESA-compliant, so it works with all TVs with the VESA mounting hole pattern, making mounting your TV a breeze. It fits most TVs from 19 to 32 inches, and it may even work with some 42 inch TVs, provided they meet the weight limit of 80 pounds. Your TV will be safe, secure, and look great while hanging without you having to spend a fortune.
Pros:
Installation of this mount is very easy and in most cases, does not require professional help
It is strong and durable when mounted in a wall stud
It comes with all hardware
Additionally, it is inexpensive while being very sturdy and reliable
Cons:
It does not tilt or swivel, an also doesn't work with larger or heavier flat panel TVs
It is difficult to reach connections on the back of your TV because of its design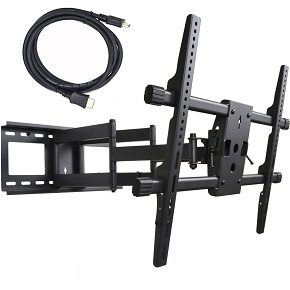 When you want to mount any TV between 32 and 65 inches, consider purchasing this mount. It is VESA compliant, so it works with most TVs. It supports a full 165 pounds, so you never have to worry about your TV falling. The lock and release safety system is an additional safety feature designed to protect your TV.
You'll always find the perfect angle in any size room with any size of TV. This TV tilts and the articulating arm allows you to move it away from the wall and swivel to the perfect position. It is easy to install, and it even comes with an HDMI cable to use with your TV, Blu-ray player, game system, or HD-enabled cable box for crystal clear high-definition viewing.
Pros:
This mount tilts up or down up to 15 degrees for optimum viewing
An articulating arm swings off from the wall a full 25 inches, and it folds up to provide a 4-inch clearance
It has post-installation level adjustment that makes it easy to get your TV perfectly level
It supports many of the most popular size TVs and swivels from side to side Additionally, it is durably made and easy to install
Cons:
The instructions could be clearer
It will not work on two studs when they are more than 16 inches apart
The rails on the back of the TV may obstruct cords and cables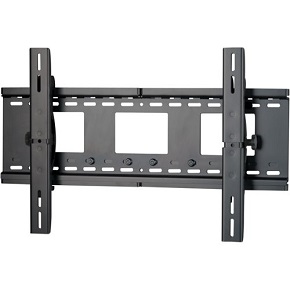 Flat panel TVs aren't exactly cheap, and you want to protect your investment. Mount your TV with ease without constantly worrying about durability with this heavy-duty mount. It works for TVs up to 84-inches, and it supports a full 280 pounds. It's also designed for three-stud installation over the standard two, providing you with that extra security you're looking for.
This mount tilts, so you can set it to the perfect position for viewing your favorite television shows and movies. It is easy to install, and it is compatible with most TVs that have VESA mounting holes.
Pros:
It supports more weight and a wider range of sizes than the majority of other TV mounts
It tilts for perfect viewing in any room
Constructed of heavy-duty steel that fully supports your TV, it is one of the slimmest low profile tilting mounts on the market
It is easy to install
Cons:
It is more expensive than other mounts
Because it uses metric screws, if you need additional screws, they are more difficult to find
All in All
When you're ready to take your TV viewing experience to the next level, you can do so with a TV wall mount. If you decide that a wall mount is right for your household, stick with a mount that fits a range of sizes, is extra strong and durable, and installs with ease.
Although the Sanus VMPL3-B Tilt Wall Mount is one of the more expensive you'll find, it will allow to know that your tv is always safe and secure. That feeling is as good as it gets.