Some links on this page are monetized by affiliate programs - see disclosure for details.

After a long day at work or just a day spent with with family and friends, nothing is better than climbing into a nice, warm bed lined with soft cotton sheets and a fluffy comforter. Many people have spent hundreds of dollars on soft down comforters, which are filled with down feathers that are cushy and warm. However, one of the downsides of a down is that it is quite expensive. This also isn't an option for those who suffer from allergies to these feathers.
So, what do you do if you want a soft comforter that keeps you warm all night but down just doesn't work for you? You can try a down alternative comforter that's just as soft and available at a fraction of the price.
See The 10 Best Down Alternative Comforters of 2018
What is a Down Alternative Comforter?
Traditional down comforters are filled with small down feathers. These tiny feathers are taken from ducks and geese, and when stuffed in a comforter, provide and extra-soft and super comfy bedding option.
Down comforters are thick, fluffy, and perfect for colder nights. However, anyone that suffers from allergies or doesn't want to pay hundreds of dollars will benefit from down alternative comforters. These bedspreads mimic the softness and thickness of down, but instead of feathers, they are filled with another material like rayon, cotton, or polyester.
What are the different types?
There are a few different types of down alternative comforters on the market. These comforters are identified by the materials that are used for the outer portion. This is the part of the comforter that lays against your skin, and different materials are used to make these comforters cooler or warmer depending upon your own personal preference.
Batiste fabric
These are the most lightweight comforters, and they are best for those who like to be cooler while sleeping.
Sateen down alternative comforters
Sateen is similar to satin, in that it is very soft and smooth. It also has a shiny appearance that looks great in any bedroom.
Damask fabric
This offers you plenty of warmth, and it's generally very inexpensive.
Cambric fabric
These are basic weaves that are extremely soft and very budget-friendly.
What are the advantages of owning one?
A down alternative comforter is the ideal way to stay warm and comfortable in your bed. Unlike regular down, down alternative blankets are extremely affordable. They also come in a variety of colors, sizes, and patterns, so they look great when matched with your bedroom décor. Down alternative comforters are also great for allergy sufferers. You also won't have to worry about the tiny feathers breaking through the fabric and poking you while you sleep, a common complaint with many down comforters.
Who are the contenders for Best Down Alternative Comforter?
If you want the luxury of a down comforter at a price that doesn't make you empty your wallet, this comforter is a budget-friendly choice. It is soft, fluffy, and it comes in your choice of size colors and three different sizes. This is an ideal comforter for any bedroom, including guest rooms and kids' bedrooms, and it even works for dorm rooms.
This sateen down alternative duvet insert can be used alone or with your favorite duvet cover. The 300 thread count sateen design is soft and smooth, and the down alternative fill, made of 100% polyester, is hypoallergic, thick, and warm. You can choose from seven different sizes, including oversize designs that provide you with plenty of warmth. The price tag on this quality comforter is a fraction of comparable down comforters.
Enjoy the comfort of down without paying thousands of dollars with this luxurious comforter. This great comforter combines soft 300 thread count Egyptian cotton with soft down alternative fill. This comforter is available in white, so it looks great with any décor, and it is machine washable, so it's very easy to keep clean.
Considerations for Choosing the Right Product
If you want to get the best night's sleep without spending a fortune, a down alternative comforter may be just what you are looking for. Before making your purchase, there are a few things you should consider to ensure you are fully satisfied with your new comforter.
Price
Down alternative comforters can cost hundreds of dollars. For many, this bedding is way out of their price range, which is why down alternative comforters have become so popular. You can expect to pay anywhere from under $100 to several hundred dollars for a down alternative comforter. Generally, more fill, higher quality materials, and a higher thread count make for a more expensive comforter. Also, a larger size is typically more expensive than a smaller size, like a twin.
Sizes
It's important that you purchase a comforter that is designed to fit perfectly over your mattress. Buy a down comforter that is sizes right for your bed for complete comfort. If you like a lot of overhang, look for oversize comforters.
Colors
You want your comforter to match your other bedding, your paint colors, portraits, nick-knacks, and other décor. Many down alternative comforters are available in basic white, although you can choose popular colors like purple or blue as well.
Care
Another thing you should consider before making your purchase is how the comforter will be cleaned. If you don't want to spend a lot of money and time on dry cleaning, look for one that can be washed in your household washing machine.
Price
Grand Down All Season
This affordable comforter's cost varies depending upon what size you select.
Natural Comfort Soft and Luxurious
This comforter retails for the same price for all seven sizes.
Royal Hotel's 300 Thread Count
Expect to pay more for any size for this down alternative option.
Sizes
Grand Down All Season
Choose from Full/Queen, King, or Twin/Twin XL to fit any size bed in your home.
Natural Comfort Soft and Luxurious
It's easy to find the perfect fit with this comforter, which comes in Twin, Full, Queen, King, California King, Oversize King, and Oversize Queen.
Royal Hotel's 300 Thread Count
Choose from King, Queen, Oversize King, Oversize Queen, and Twin/Twin XL sizes.
Colors
Grand Down All Season
Choose from six great color combinations when you pick this comforter. Colors include Black/Grey, Chocolate/Sky Blue, Ivory/Sage, Ivory/Taupe, Plum/Lavender, and Taupe/Chocolate.
Natural Comfort Soft and Luxurious
This soft comforter comes in a neutral white that looks great with any color scheme. You can use it alone or with your choice of duvet cover, sold separately.
Royal Hotel's 300 Thread Count
Solid White is the color that is available for this comforter.
Care
Grand Down All Season
This down alternative comforter is easily cleaned in your washing machine. It is not overly bulky, so it fits in most traditional washers and doesn't require a commercial-size machine.
Natural Comfort Soft and Luxurious
If this insert gets dirty, just throw it in the washing machine and dryer. It washes and dries nicely, with no bunching or ripping.
Royal Hotel's 300 Thread Count
You can easily get this comforter soft and clean again in your washing machine.
Conclusion: Our Final Reviews Are In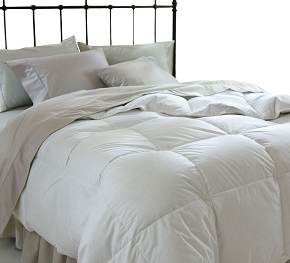 If you want the luxury of down without the high cost, this is the perfect choice for you. It costs less than $100 but it's just as soft and warm as a traditional down. The microfiber outer is super-soft, and it is filled with 100% polyester that is ideal for anyone with allergies. Choose from six great color combinations designed to enhance the beauty of any bedroom.
The double stitching prevents bunching and shifting, and it has a classic baffle box design. This affordable comforter is perfect for your bedroom, a guest bedroom, or even a college dorm room. It looks great, keeps you comfortable all night long, and is a great alternative to more expensive down comforters.
Pros
Available in all common sizes
Available in multiple colors
Extremely inexpensive
Easy to clean
Soft and comfortable
Hypo-allergenic
The stitching prevents the fill from bunching
Cons
May rip over time
May begin to bunch when laundered often
It cannot be dried
The fabric attracts lint quite easily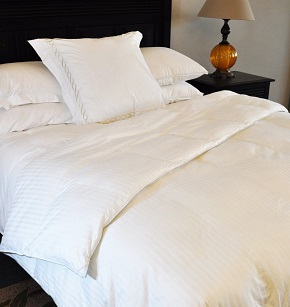 This luxurious down alternative comforter feels just like the more expensive ones, but you won't have to break the bank to purchase it. It is designed to be used by itself, or you can use it with a new or existing duvet cover. It is available in all standard sizes, as well as oversize versions that provide you with extra warmth and overhang.
This 300 thread count sateen outer is soft and will provide you with the perfect night's sleep. It is easy to clean, and the design prevent bunching. It is hypo-allergenic, and it is thick but not overly so. This unit is comparable to genuine down but is much more affordable.
Pros
It is easy to clean
It is warm
Does not bunch or pile
The outer fabric is very soft
It is well-made
It is inexpensive when compared to down comforters
Very soft and fluffy
You don't have to worry about feathers poking through
Can be washed and dried at home
Cons
It collects lint easily
It sheds quite a bit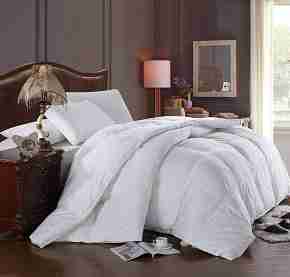 You'll never want to leave your bed once you add this comforter from Royal Hotel, which is our choice for best down alternative comforter. You'll enjoy soft, luxurious comfort with this high-quality comforter, which has a soft 300 thread count Egyptian cotton shell and 100% goose down alternative fill.
The Baffle Wall Box design is made to prevent shifting of your filling and provide maximum warmth. The high-quality design doesn't rip easily, even when it's cleaned in your washing machine. It can be used alone or with a duvet that matches your room's color scheme.
The price, though slightly more expensive than other down alternative comforters, is a mere fraction of a comparable goose down option. The quality, softness, and warmth is truly unsurpassed, and it is hypo-allergenic so it's perfect for those with allergies who want to experience the luxury of down comforters.
Pros
Made of high-quality Egyptian cotton
Soft and silky
Ideal for use alone, or it can be used with a duvet cover
Easy to clean and dry
It is thick enough to provide plenty of warmth
It does not shift or bunch
Available in multiple sizes, including oversize options
Affordable when compared to genuine down comforters
Cons
It is more expensive than other down alternative comforters
It may rip after repeated washing
In Summary
If you have allergies, you can enjoy the luxury of down with a great down alternative comforter. These are also great choices for budget-conscious shoppers. If you want superior softness, warmth, and comfort night after night, Royal Hotel's Goose Down Alternative Comfort has everything you need at a price that's great for your bank account. With this comforter, you'll feel like you're sleeping on a cloud without paying a price that's sky high.