Some links on this page are monetized by affiliate programs - see disclosure for details.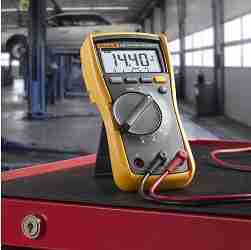 Multimeters have come a long way from their first analog days, when they served to help repair and maintain radio and telegraph equipment. Today's advanced digital multimeters can quickly and accurately gauge all aspects of electronic circuits, including measuring volts, ohms and amperes. We can now also replicate the analog multimeter's useful ability to record rapidly varying values, as well as offer pinpoint precision across a wide variety of different testing modes.
While all multimeters on the market today precisely measure volts, amperes and ohms, many advanced models also include the ability to measure farads, siemens, decibels, radio frequencies, henries and even the temperature via a thermocouple. These devices are extremely accurate, with many of them able to measure increments as small as 0.1 ohm. Successfully used, a multimeter can quickly and accurately identify problems in circuit flow, engineering design, and critical components of complex electrical systems.
Compare: The 10 Best Digital Multimeters of 2018

The Basics: What is a Multimeter?
A multimeter is sometimes known to industry insiders as a VOM, an acronym which stands for Volt Ohm Meter. A multimeter is a device that combines the ability to measure different aspects of electricity, specifically voltage, current and resistance. They are generally used either to repair or troubleshoot electrical equipment, including home appliances, as well as advanced technological equipment like computers.
Some engineers use multimeters as a testing tool when designing new equipment. By having a portable, lightweight, and extremely accurate testing device, the multimeter allows anyone repairing or building an electrical device to quickly determine where, when and how much current is flowing in any particular circuit. Multimeters are also vital components of every mechanics tool set.
A multimeter works by using a test probe and measuring an aspect of the current flowing through. Sometimes crocodile clips are used, or test leads, or "tweezer" probes for smaller jobs. Once the current that is flowing over the multimeter's test probe is measured, the results are displayed on the screen. Most handheld multimeters sold today use a battery to generate the charge and the battery will have to be changed.
What are the different types?
While some traditionalists still use analog multimeters, most people today rely on the convenience and simplicity of using a digital multimeter. Many of today's models come equipped with an auto-ranging function, which limits the range of what is being tested so that the multimeter and its display screen do not overload.
Other models include the ability to perform polarity checks on D/C circuit readings to identify the direction of current flow. Other multimeters are so advanced that they effectively function as a low-bandwidth oscilloscope. Some manufacturers offer additional control over the multimeter and include cables and software to connect it to a computer.
Some devices come with available jacks or inputs, including thermocouples, in order to connect exterior measuring devices and sensors, such as a thermometer, to the multimeter. This gives the multimeter additional measuring functionality without having to buy or use an additional tool. Because multimeters are an integral part of working with electrical currents, all of today's models include some form of advanced fuse to shut off the unit and protect it from a short circuit or overload.
In the United States, digital meters, including multimeters, that measure electricity contain fuses rated in Categories I-IV, with the higher numbers indicating higher resistance.
What are the advantages of owning one?
Depending on your electrical engineering skills, a multimeter can be one of your most important tools. While designers use multimeters to test new product ideas, even amateur home tinkerers can benefit from having a multimeter. Simple DIY repair projects, such as fixing a simple home appliance like a lamp or a toaster, can become easier.
Using a test probe to quickly verify the functionality of circuits leads to quick fixes or swapping parts. Anything electrical in the house, from computer mice to the mains power itself, as well as electrical components in automobiles and boats, can be measured and analyzed with a multimeter. Quickly identify problem areas or troubled circuits. Sometimes expensive and complicated equipment can cease working due to a single chip or circuit malfunction.
A multimeter allows anyone who can read a screen and hold a pen perform to precision readings on any electrical device or circuit.
Which models are the top contenders for Best Digital Multimeter Overall?
The INNOVA 3320 is an amazingly powerful and versatile hand-held multimeter that weighs in at just 9.6 ounces, offering professional electricians and home DIYers the ultimate in portability and accuracy. With a large, easy-to-read display, comfortable rubberized grip, and intuitive control settings, this multimeter is up to the job of almost any home electrical repair job. The multimeter comes with built-in auto-ranging scales, which quickly set the range when preparing to take measurements.
The Mastech MS8268 is an attractively-designed matte black hand-held multimeter with a large, easy-to-read backlit four-digit LCD display. Rigorously engineered to comply with several international safety standards, the MS8268 offers top-quality precision measurement at a very affordable price.
Professional electricians know that Fluke continues to be the premier brand of cutting-edge, hyper-accurate multimeters. Engineered to the highest of safety and design standards, the Fluke 115 Compact offers hand-held convenience with a high-tech device capable of True-RMS for extremely accurate readings on even non-linear loads. With its trademark jaunty yellow design, the Fluke 115 Compact offers outstanding performance in a device small enough to slip in your pocket.
Considerations for Choosing the Right Multimeter
Display
The best multimeter in the world is of no use if you can't read its display. Models with bigger screens can show measurements to more digits. Some multimeters come with backlit screens to increase visibility in areas with less light.
Control and Settings
Every multimeter has a number of measurement options compacted into one hand-held device, so understanding and using the controls requires careful designing. Different devices offer a wide variety of optional settings.
Safety Compliance
Any time you're dealing with electricity, there is a possibility for an accident. It's important that multimeters be certified as meeting or exceeding industry safety standards.
Additional Features
Multimeters sold today come with a variety of options, including thermocouples and banana jacks for additional probes.
Display
The INNOVA 3320
The 3320 comes with a very clear, ultra-large LCD display thats shows not only the current readings but also a variety of other useful information such as the unit's current settings and status. The 3320 uses an intuitive set of color-coded LEDs to display battery status and function. A dedication button will activate the display's soft blue backlight.
The Mastech MS8268
The display on this ergonomically-designed hand-held unit is very large and easy to read, capable of showing up to four numerals at a time. With a press of a button, the display can freeze on the requested data point, and the display also has other indicators to show polarity, range and a low battery warning.
The Fluke 115
The Fluke 115 Compact uses a very large black and white LCD screen with room for up to four digits as well as a handful of indicators, including the battery status. In poorly-lit areas, the Fluke 115 Compact contains a powerful white LED backlight to provide additional illumination.
Control and Settings
The INNOVA 3320
With a single flip of the central switch, the 3320 will quickly set the range, often in seconds or less. The 3320 comes with a single-setting resistance function for both DC and AC voltage.
The Mastech MS8268
The large center switch in the center gives you dozens of measurement options to choose from. Features an auto-off safety function to preserve battery life. The auto ranging function operates efficiently and quickly.
The Fluke 115
The advanced design of the Fluke 115 means that a simpler central switch can activate a range of automatic measurements. As well as testing the standard volts, ohms and amperes, the Fluke 115 can also measure continuity, frequency, capacitance and perform the diode test. The Fluke 115 handles up to 10 amps of AC current, and includes a 20 amp overload for measurements lasting 30 seconds or less. The maximum range of the Fluke 115 Compact's frequency range is 100 kHz or a capacity of 10,000 microfarads.
Safety Compliance
The INNOVA 3320
The INNOVA 3320 is a UL certified product, officially compliant with UL standards for both safety and accuracy.
The Mastech MS8268
The Mastech MS8268 meets or exceed the international safety standards IEC1010-1, CAT II 1000V, and CAT III 600V.
The Fluke 115
As expected with a top-quality brand like Fluke, the 115 Compact rates as a CAT III device that can handle up to 600 volts. All inputs on the device comply with CE, IEN61010-1, UL, CSA, TÜV, and VDE safety and engineering requirements.
Additional Features
The INNOVA 3320
While the 3320 is an affordable basic multimeter, the unit does come with one battery included. The intuitive LED battery test function quickly identifies the battery's status. The 332 runs on standard AA batteries.
The Mastech MS8268
Comes with a battery and uses standard AAA batteries. The 3320 also has banana jacks to connect to a wide range of third-party accessories.
The Fluke 115
Able to measure frequency, capacitance, and continuity as well as standard measurements.
Conclusion: Our Final Reviews Are In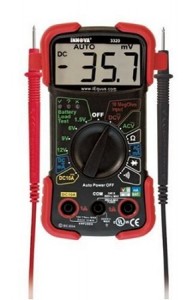 The INNOVA 3320 is a fantastic entry-level multimeter, giving home DIYers and professional electricians alike a compact, accurate tool to quickly identify and repair problems in circuits and electrical systems. Whether used to troubleshoot car problems or to repair household appliances, the 3320's fast-acting auto-ranging system quickly tunes the multimeter for your next precision measurement.
Pros:
The resistance auto ranging is very rapid, allowing for faster measurements between selections
Measurements taken by the 3320 are comparably accurate to more expensive models
The battery test function is great, as a colored light quickly identifies the battery's status
Cons:
The leads look dull and are not as sensitive as other models
The 3320 does not measure high AC current loads and reaches a maximum of 200 milliamps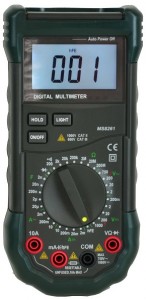 The Mastech is a great hand-held digital multimeter that is the perfect tool to have around the house or in the car for quick repair jobs or troubleshooting sessions. With its high-quality leads and precision measurement capabilities, the Mastech MS8268 is ready out of the box to help professional electricians and DIYers repair and build electrical systems and components.
Pros:
Looks great and feels solid in the hand
Buttons are intuitive and simple to use, and the LED backlight lasts five seconds, plenty of time for viewing in low-light situations
Cons:
The probes included with the device are do not attach to alligator clips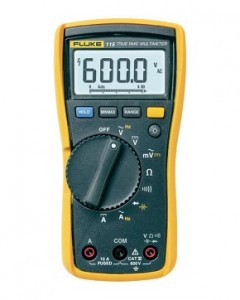 Fluke has been winning over electrical engineers and automative repair mechanics for years due to its line of high-quality, rugged multimeters. The 115 Compact is the latest addition of advanced multimeter technology in a solid hand-held device that can be ergonomically operated with just one hand. With its signature bold yellow design, the Fluke 115 is the cream of the crop when it comes to portable multimeters, offering professional electricians and home DIYers the ability to measure, tune and troubleshoot nearly any aspect of an electrical circuit or component.
With its powerful fuses and integrated advanced Category III safety design, the Fluke 115 will function for years. That's why it's our pick for best digital multimeter.
Pros:
The ergonomic design fits perfectly in the hand, and the large central switch can be operated one-handed by most users
Comes with a built-in kickstand for no-hands testing
This is a true RMS meter in a convenient portable device
Cons:
The test leads that come with the device are not compatible with other types of adapters sold by Fluke
To use Fluke adapters, you'll have to buy a new set of test leads
In Conclusion
Anyone who's doing some work or who wants to troubleshoot can benefit from having a handheld multimeter. By making quick and accurate readings, users can rapidly identify problem areas and making short work of repairs. For car mechanics and automobile owners wishing to do their own repairs and improvements, a multitool is an invaluable aid in designing, fixing and installing audio and other electrical systems.
After careful consideration, the Fluke 115 is the best handheld digital multimeter on the market. With its rugged design and wide range of testing functions, the Fluke multimeter can help any electrician or DIYer make rapid and accurate measurements to diagnose, troubleshoot and repair electrical devices and systems. With its pinpoint accurate readings, the Fluke 115 provides vital measurements at the touch of a button.