Some links on this page are monetized by affiliate programs - see disclosure for details.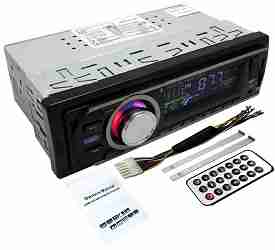 A car's factory-installed DIN head unit typically controls speaker volume, provides a few equalization and interfacing options, and a limited set of inputs: just enough to be neither a hindrance nor a noteworthy feature. Aftermarket head units on the other hand present a plethora of extra features that bring out the best of not only the audio system, but the overall experience of driving.
This guide details some of the best options for making the center console of a car one that makes being on the road safer, more convenient, and more enjoyable overall.
The Top 10 Best Single DIN Head Units of 2018

Introduction: What Is a Single DIN Head Unit?
DIN head units are the devices located in the center console of most cars, that are typically used to control the volume of a car's stereo system. Single head units are about an inch long, allowing more space in the console for storage or other devices than the larger double head units.
Aftermarket head units can pair with smartphones and other input devices. Strean music and hands-free interfacing with select Apple and Android apps.
You might also be interested in: Our Guide To The Best Double DIN Head Unit
What Are the Advantages of Upgrading a Head Unit?
Upgrading a car's head unit increases the potency of its speakers, the expandability of its audio system, and the number of small tasks that can be handled through one readily available interface. Aftermarket head units universally provide more power, more inputs, and more overall capabilities than their factory-installed brethren.
On both an aesthetic and functional level, installing a new head unit noticeably improves a car's capabilities.
Introducing Our Top 3 Contenders
The 150MP is a basic upgrade that makes up for its relatively minimal feature set by consistently bringing good audio out of speakers of nearly any quality. It has all the expected amenities, an auxiliary input, and 12 customizable colors.
Sporting a large LCD screen, the Soundstream Single DIN allows you to easily switch between radio, CD, Mp3, Mp4, Bluetooth, and a variety of other formats. Equipped with an AUX port, it allows you to seamlessly connect to your own personal devices.
Sporting a large touchscreen, this Joying Single Din performs with exceptional functionality and ease. Equipped with everything from Google maps, to Mp3 capabilities, to radio capabilities, to a bevy of other special features, this head unit is as powerful as any you're going to find on the market today.
Considerations for Choosing the Best Head Unit
Given the huge amount of DIN head units available, individuals are better off deciding on their personal wants and needs and narrowing their search by that criteria. Supported media, consistent average power, and expandability are important factors for audio enthusiasts while smartphone integration and personalization features are for those who want to enhance their overall driving experience
General Features
Much of how a head unit performs is determined by its core features. The power output of the amplifier, supported file-types, and customization options play an important role in how well a unit performs and fits in with a car's interior. Amplifier power is especially important for people who are planning on upgrading their speakers as well.
Audio Features
Head units can do a lot to affect audio playback, provided they have the right built-in capabilities. The presence and effectiveness of equalizers, retrievers, and additional controllers contributes to an individual's ability to personalize their car's sound quality.
Compatibilities
The most basic input a modern head unit can have is AM/FM radio and a CD player. Even something as simple as an auxiliary input gives people the opportunity to use their music players and phones as additional sources, and Bluetooth integration allows the same to happen over the air. Head units that support Bluetooth present unique and convenient benefits such as hands-free calling.
Controls
Ease-of-access is of the utmost importance while driving, so this guide takes into consideration how easily each head unit's features are to access and memorize. Simpler interfaces are less likely to be frustrating, as most people would like to be able to skip songs, adjust volume, or take calls without having to take their eyes off of the road.
General Features
Pioneer DEH-150MP
The 150MP's features are basic, but the head makes good use of the resources it is given. Its amplifier produces a consistent 14 watts, it plays all kinds of CDs and is compatible with the popular MP3 and WMA file formats. The 150MP has a 12-segment LCD display that is easy to read in most lighting and looks stylish in virtually any interior it is installed in.
Soundstream VR-730B
This Soundstream Single Din Head Unit is capable of reading CDs and DVDs, as well as Mp3s, Mp4s, and SD cards. In addition to these capabilities, it is also possesses Bluetooth capabilities. Unlike many single din head units, this unit also possesses a rear-view camera, allowing you to take photos of cars and objects behind you. In addition, it possesses an AUX input port, allowing you to connect to your own personal media devices.
JOYING Car Radio
Possessing 2 GB of ram as well as 32 GB of ROM, this Joying single din head unit is capable of supreme storage. Equipped with everything from Bluetooth capabilities, to GPS, to Google Play, and more, it allows you to add apps while on the go. Sporting a backup camera, DVR capabilities, a USB port, and steering wheel control, to name a few, it is as powerful as any single din head unit you're going to find.
Audio Features
Pioneer DEH-150MP
Pioneer's MOSFET amplifier does a good job boosting sound quality and speaker power. It is aided by an advanced sound retriever that enhances the quality of compressed file formats commonly used for mobile music by restoring the clarity and brightness of high notes. For fine tuning, the 150MP features a 5-band equalizer. People who enjoy multiple genres of music may find the lack of equalizer presets cumbersome, but more generalized settings still add a substantial amount of punch to each track.
Soundstream VR-730B
As far as audio features go, this Soundstream single din head unit is right on par with the Pioneer DEH-150MP and just a step below the Joying in our top 3. Capable of powering a subwoofer with up to 80 Hz of power, it provides you with truly booming, rich bass. Sporting 52 x 4 w Mosfet speaker outputs, it accommodates the majority of speakers you throw at it.
JOYING Car Radio
When it comes to audio features, this Joying single din head unit reigns supreme. With a working voltage of between 10.8 and 14.8 volts, it can supply up to 4 x 45 watts of output power. Possessing analog audio, it is stocked with 2.0 volt output audio capabilities.
Compatibilities
Pioneer DEH-150MP
150MP is limited to a single input, but for most music players this is enough to get the job done. There isn't an audio device in the world that doesn't have a headphone jack. The 150MP can make good use of its singular input. It has a respectable 2-channel preamp output for rear speakers or a subwoofer so one can add more output devices, but further upgrades would be better served by a head with more capabilities.
Soundstream VR-730B
Equipped with Bluetooth capabilities, this Soundstream unit allows you to make hands-free calls. It does, however, struggle with syncing up to iPhones. Capable of attaching to a set of subwoofers as well as a set of speakers. it has no problem syncing up with any set you can find. With an AUX capable provided, it allows you to connect to any device which possesses a headphone jack.
JOYING Car Radio
An Android head unit, this Joying unit is equipped to work specifically with Android devices. So, while it does possess Bluetooth capabilities, it only truly thrives with Android. However, it does allow you to connect to WiFi hotspots with ease, and also possesses an AUX output for easy connection to any of your personal devices. A USB port is also provided to accommodate phone charging and syncing.
Controls
Pioneer DEH-150MP
The 150MP's control scheme doesn't require many buttons or knobs to access all of its features, so the overall design of the head is relatively compact. The playback controls are a little on the small side but after an extended period of use it becomes fairly natural to find the right button without taking one's eyes off the road. The head comes with a remote control for back seat DJs.
Soundstream VR-730B
With physical power, volume, mode, and USB buttons, this Soundstream single din head unit possesses a touchscreen which allows you to seamlessly switch between disc, TV, radio, USB, SD, Bluetooth, and more. The screen is brightly lit and highly intuitive, switching instantly from features to feature, and mode to mode.
JOYING Car Radio
When it comes to controls, this Joying single din head unit is similar to the Soundstream. It has power, volume, and mode buttons, while possessing touchscreen buttons for Bluetooth, radio, AUX. Plus it has a bevy of other operations. With a brightly-lit LED screen, it is beyond easy to see and operate.
Conclusion: Our Single DIN Head Unit Reviews Are In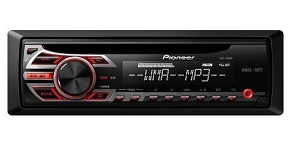 The DEH-150MP is a basic upgrade. It gives a little more power to the speakers than a factory installation, opens up a few different input options, and brings a bit of style to a car's overall appearance. The head is a more substantial upgrade in older cars than newer ones, but the added power alone is enough to make it a worthwhile, affordable purchase.
Pros:
Better power handling than factory heads
Easy to install and use
Cons:
No further enhancements
Limited output options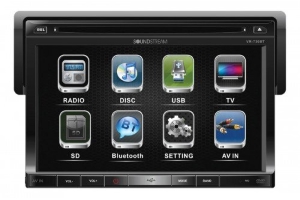 Possessing a highly intuitive and easy-to-read touch screen, this Soundstream single din head unit allows for truly seamless operation. Capable of connecting to subwoofers, speakers as well as external audio devices, it allows for excellent connectivity. For the money, this is the top single din head unit you're going to find. If you're looking for a top-notch unit at a reasonable price, you definitely have to take a look at this.
Pros:
Intuitive and easy-to-use touch screen
Possesses superb connectivity capabilities
Possesses Bluetooth capabilities
Cons:
Isn't compatible with all external devices
To put it simply, this JOYING single din head unit is my favorite single din head unit currently on the market. Stocked with everything from Google Maps, to Google Play, and more, it allows you to purchase, download, and use apps while on the go. Possessing a simple, easy-to-use touchscreen, it can operate in exactly the way you need it to. If you're looking for the best, this Joying head unit is what you're looking for. This unit is our pick for best single DIN head unit overall.
Pros:
Easy-to-operate screen
Bluetooth integration
Great output options
Cons:
A little difficult to detach
Final Word
The potential of a head unit is often overlooked and taken for granted. Factory installations are underwhelming and featureless, and many simply become accustomed to their low-tier quality. However, even the cheapest aftermarket upgrade can completely change a car's audio landscape, add new, convenient tools, and impress other passengers.
For a true music lover, or someone who is simply on the road a lot, nothing delivers better than a head unit with strong audio and Bluetooth capabilities. The JOYING Car Radio is an investment in the short term, but it pays off in the long run.