Some links on this page are monetized by affiliate programs - see disclosure for details.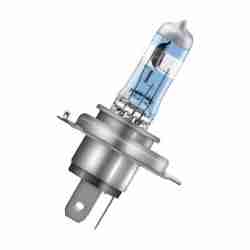 No one really pauses to think about why all cars are mandated to have headlights. Headlights allow us to see down a non-lit road at night and under poor weather conditions. They also serve to alert oncoming cars of our presence.
Headlights are such commonplace features that we take them for granted. Asides from car buffs, many of us would not even be able to name the different types of car headlights available. The type of bulb you use, however, in your headlights can make a difference in how well you see when driving.
The details below will help you to find the best halogen headlight bulbs for your vehicle.
Compare: Top 10 Halogen Headlight Bulbs of 2019

What are Halogen Headlight Bulbs?
Headlights, also known as headlamps, are the lights mounted in the front of a vehicle. (These "lights" are constructed of a light source, a reflector, and a special lens. Thus, they should technically be referred to as self-contained lamps.) It may be proper practice to call the physical light source on the front of your car a "headlamp", and the light beam it illuminates its "headlight."
Most vehicles will have a setting by the steering wheel to control the headlamps' brightness. If a vehicle has more than one set of headlamps, this setting may also control which headlamps are turned on. It is common road courtesy to not have your headlights glare bright enough to distract the car in front of you or oncoming traffic.
Halogen headlights are just one type of headlamps available for a vehicle, competing with Xenon and LED headlamps.
What are the advantages?
Prior to the innovation of xenon and LED headlamps, halogen headlamps have long been the common standard among vehicle manufacturers. They are the most cost-effective type of headlamp with a long lifespan and low replacement cost. These lamps are also very bright.
What are the different types of vehicle headlight bulbs?
Besides halogen, there are other two other basic headlight options: Xenon and LED.
Halogen
A group of highly reactive and poisonous nonmetallic elements of the periodic table. These elements include fluorine, chlorine, bromine, iodine, and astatine.
Halogens are a common component of halogen lamps, an advanced type of incandescent lamps, which use a tungsten filament to produce light. The glass, or "envelope," is made of heat-resistant quartz. The envelope encases the proper gases to induce a chemical reaction which makes the tungsten filament last longer.
The best halogen headlight bulb will produce bright, white light. They are the best for a person on a budget. However, they are the most energy-wasteful of headlamp varieties.
Xenon
Xenon is a highly stable, odorless, and colorless gas which is extracted from the atmosphere. It is commonly used in vehicle headlamps, along with HID (high-intensity discharge) lighting. A distinguishing note about xenon lamps is that do not contain a filament. Rather, light is generated through a xenon-electrical charge which ignites an arc between two electrodes.
The xenon headlight bulb produces a clean, white light. They are the best for someone who needs very strong headlight illumination. (However, its harsh brightness may annoy other drivers on the road.)
LED
LEDs, or "Light Emitting Diodes," are semiconductors which produce light when they receive voltage. They are immensely popular and are widely adaptable for any lighting display, be it a television's remote control, billboard, or car headlights. LEDs' small size and need for a rear cooling system may require alternative headlamp designs than xenon or halogen headlamps.
LED headlight bulbs produce better light return from road signs and are great for the economical-minded consumer, as they need little power to run.
Choosing the Best Halogen Headlight Bulbs for your Vehicle
Are you wondering about how to buy and install your vehicle headlights? The process is easier than you may think. Purchasing your own halogen lightbulbs and installing them on your own will be much more affordable than taking it to your local repair shop. However, before pursuing headlight bulbs, consider the following:
Ask yourself "What do I need?" Are you looking to replace the entire headlamp unit, or just the headlight bulb? Though the sizes of the headlight bulbs are pretty standardized, the housing often differs.
When choosing, find a balance between light quality and affordability. Not many of these replacement halogen lightbulbs have long lifespans, so if you find a model that will last years, it may be worth paying more.
Top three models on the market
Choose a halogen lightbulb that is well-reviewed for quality and is cost efficient. Sylvania and Philips appear to dominate the halogen lightbulb market but Osram is considered a quality brand as well.
This lightbulb is easy to install and meets the United States Department of Transportation's (DOT) regulations. Sylvania boasts that its lamps are constructed of high quality material that ensures lasting durability.
Meeting DOT regulations, Sylvania's XtraVision headlight bulbs are conveniently available in multiple headlight bulb base sizes. The XtraVision line claims to provide better downroad visibility that basic headlight bulb models. Its filament is of a proprietary design to increase lifespan and performance.
Osram claims to have the safest halogen headlight bulb on the market. Its Night Breaker Unlimited line aims to provide brighter and whiter headlights, allowing for greater nighttime road visibility and ultimately safer night driving. These lightbulbs emit headlights "up to 110%" brighter and "40 meters longer" than competing bulbs. Many consumers are comforted that the bulb was manufactured in Germany — a supposed a testament to the bulb's automotive quality.
Factors to Consider When Choosing
Do not forget to choose the best halogen headlight bulb based on your car's model and your needs. Other than that, think about how much you will want to spend and what exactly you are looking to buy.
Price
With such low prices for a halogen headlight bulb, how extravagant should your lightbulb really be? Different model light bulbs will claim to have better performance and aesthetic for vastly higher prices.
How many per pack
What do you need? If you are looking to replace one headlight bulb, you only need purchase a single bulb pack. Buy a 2-pack if you want to save one for later and believe that you will not lose it in your garage. If you want to replace the bulb in each headlamp, buy a 2-pack.
Size
Fortunately for most folk, headlight bulbs are typically based on the same model sizes: 9904, 9005, 9006, 9007, H1, and H4. The simplest way to determine which size headlight bulb your vehicle needs is by checking the old headlight bulb's base where you will find the model number. If it is not there, you can check your car's manual or research your model vehicle online.
Color Temperature
Halogen lightbulbs also come in varying color temperatures, marked by K for Kelvin. Lower color temperatures, 2,700K – 3,500K produce warmer toned light. Around 4,000K will produce white light. 5,500K and upwards will emit cool, blue light. You may want to ensure that each of your headlamps will emit the same color temperature. (Most packaging will not reveal the bulbs' specific color temperature in Kelvin. Rather, they will simply say that they are white, amber, red, or blue.)
Price
Sylvania H1 Basic
You cannot choose anything more affordable than a "Basic" headlight bulb. This single lightbulb replacement is very inexpensive.
Sylvania H7 XtraVision
Sylvania's more premium line is also very affordable, but costs slightly more per unit. This small upcharge may be well the worth, though, for all of its stellar performance reviews.
Osram – Night Breaker Unlimited H4
These lightbulbs have a more luxurious feel to their light output, being whiter and brighter than competitor's headlight bulbs. This is why their slightly higher price may be worth the purchase.
How Many per Pack
Sylvania H1 Basic
This basic model comes with one lightbulb. The Basic Halogen Headlight Bulb is great if you need to replace one burnt out headlight bulb and you determine this lightbulb's light quality to be comparable to your vehicle's surviving headlight.
Sylvania H7 XtraVision
As a pack of two lightbulbs, you may purchase Sylvania's XtraVision Halogen Headlight Bulbs to replace both of your vehicle's headlights.
Osram – Night Breaker Unlimited H4
Also sold in packs of two lightbulbs, purchase Osram's Night Breaker Unlimited Super White Halogen lightbulbs if you are looking to replace both of your vehicle's headlight bulbs.
Size
Sylvania H1 Basic
The specific link above applies to a size H1 headlight bulb. You can find Sylvania's Basic Halogen Headlight Bulb in other sizes on Amazon, though, including 9005, 9006, H7, H11, and many others.
Sylvania H7 XtraVision
Sylvania is good about producing many different sizes for the same style of bulb. In addition to size H7, their XtraVision bulbs come in size 9005, 9006, and others.
Osram – Night Breaker Unlimited H4
Osram produces their Night Breaker Unlimited bulbs in multiple sizes, including 9005, H1, H11, and others.
Color Temperature
Sylvania H1 Basic
The Basic Halogen Headlight Bulb appears to have a low color temperature – a warmly toned amber.
Sylvania H7 XtraVision
Sylvania's XtraVision headlight line is just one step above its Basic line, meaning that its color is still amber.
Osram – Night Breaker Unlimited H4
Osram's Night Breaker Unlimited bulbs are slightly whiter than Sylvania's lower lines. Its color is almost a neutral white, but still has an amber tinge.
Top Picks: The Final Reviews Are In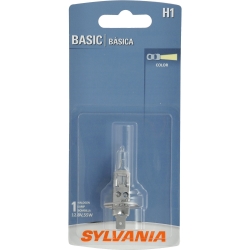 When price is a factor, take a look at Sylvania's H1 Basic Bulb for an inexpensive option that gets the job done.
Pros:
The cheapest on the market
Very durable
Con:
As a basic halogen lightbulb, some consumers complain about the manufacturing quality, claiming that they often burn out after one month or that the bulb does not actually fit in their car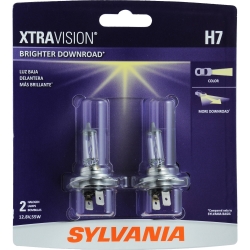 The H7 XtraVision is a great quality bulb and a strong value choice.
Pros:
Consumers claim that these are brighter and distribute headlight beams better than original factory headlight bulbs
Cons:
Contrary to its advertising, Sylvania's headlight bulbs are not known for their longevity
Their longest rated XtraVision bulb is rated for only 500 hours of use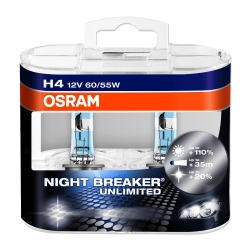 Osram's Night Breaker is our choice for best halogen headlight bulb with all factors considered.
Pros:
Consumers claim that this headlight bulb is a true, neutral white color, and that this bulb truly makes their visibility better at night
Cons:
The lifespan of the headlight bulb leaves something to be desired
Some consumers complain that they burnout in a matter of months
All in All
The most difficult part of finding the best halogen headlight bulbs is determining what size lightbulb your vehicle needs, finding a headlight bulb manufacturer who sells bulbs in the size you need, and then deciding what style of headlights you want. Looking for the best? You can't go wrong with the Night Breaker Unlimited H4 Super White Halogen bulbs.