Some links on this page are monetized by affiliate programs - see disclosure for details.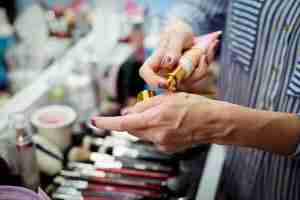 Tattoos are more socially acceptable today than ever before. But there are still some situations where tattoos stand out – and not in a good way! You might need to cover up a tattoo either for a special situation or simply because you no longer like how it looks.
Fortunately, tattoo concealer is an effective, easy and non-invasive way to cover practically any tattoo completely. Not sure which concealer is best? We've rounded up our top 10 favorites. Plus, we've created an easy guide with application instructions.
Maybelline's full-coverage concealer was originally designed to hide dark circles under the eyes, but it's widely recognized as a great way to cover up tattoos, too.
The ultra-concentrated formula covers large areas without requiring a ton of buildup. Once applied, it has a natural, near-undetectable finish.
Maybelline is a trusted name in cosmetics. Although this concealer isn't made specifically for tattoo coverup, it's safe and effective for that purpose.
GOTDYA's concealer completely covers practically all unwanted marks including tattoos, birthmarks, vitiligo, and other dark spots. It's safe for use on both the body and the face.
The concealer has no alcohol or toxic chemicals. It's lightweight and thin so your skin can breathe easy even with all-day use. It won't clog pores or dry your skin. Plus, it's waterproof.
Application is easy with the precision tip. A pea-sized amount can cover your entire face! It creates a natural look which will effectively camouflage even dark tattoos.
Looking to cover up a larger tattoo on your legs, arms, back or torso? Dermablend's foundation is made specifically for the body. They call it "a body makeover in a tube."
High-performance pigments cover tattoos, scars, bruises and more. It's a lightweight formula which doesn't have a caked-on or masked appearance. Wear it for up to 16 hours without fading or transfer. Plus, the concealer protects skin with an SPF of 25.
No extra moisturizer needed. All-day hydration is already part of the formula. It's also allergy and fragrance-free. It's a great option for anyone with sensitive skin.
Don't let the Japanese lettering fool you – the benefits of Fancathy's concealer are universal. It's a thin, lightweight concealer which you can use on your body and face.
The set includes brown and white cream. Apply the brown cream evenly to the tattoo first. Then adjust the color by adding white cream. It can match your existing skin tone with a 90% similarity.
All-natural products give your skin a bright, radiate glow. The light texture allows the skin to breathe. It's great for achieving a healthy, natural look on areas like your arms where you don't wear makeup.
Dermacol's unique formula is one of the first concealers ever developed. Even just a thin layer effectively covers acne, bruising, tattoos and skin blemishes. Use it on both the face and body.
The concealer contains 50% pigments. It's a great color corrector for concealing even vibrant, multi-colored tats.
Dermacol concealer is widely used by professional make-up artists and photographers. But you don't need to be a celebrity to enjoy the benefits. It's a great choice for anyone who needs to conceal a tattoo for a photograph.
This concealer from XITshow is safe, natural and effective. It contains no alcohol or other ingredients to dry your skin. Plus, it's lightweight so your skin can easily breathe.
Use the concealer on the face and body. It's ultra-concentrated, so you only need a pea-sized amount to cover a large area. Gently pat and blend into the skin to match your tone.
Sweat and waterproof, you can actually wear it for up to three days. However, for best results, you'll want to wash it off each night and reapply a fresh coverage coat in the morning.
Boo-Boo Cover-Up's tattoo concealer is great for anyone undergoing tattoo removal. The formula not only covers blemishes but also helps with healing. It's conceals and heals bug bites, scars, acne, rashes, tattoos and more.
The concealer contains aloe, chamomile, green tea, tea tree oil, and vitamin E. The medium shade is their most popular but lighter and darker options are available.
As with any products applied to your skin, consult with the removal specialist. However, this hypoallergenic formula is generally considered safe for most skin types.
Are you the allergy-prone type? Bairly Sheen's concealer is one of the most hypo-allergenic options available. It's free from alcohol, paraben, fragrances, and oil. Ideal for sensitive skin, it's approved by both dermatologists and ophthalmologists. Plus, all products are cruelty-free and never tested on animals.
The concealer is lightweight and transfer-free. It provides coverage for up to 18 hours. Only a small amount is needed to cover most tattoos so you can avoid the caked-on look.
Application is easy if a little different. It's a spray-on concealer which acts similar to an airbrush. It allows you to build layers to cover blemishes without adding unnecessary build-up.
Celebrity tattoo artist Kat Von D's line of tattoo-related cosmetics features her Lock-It foundation. It's a full-cover liquid foundation. Although it's not a traditional concealer, it will cover tattoos when used with powder.
It's long-lasting with a healthy, glowing finish. The foundation is much lighter than similar products, including Mac foundation. However, while it will work for dry and oily skin types, it's really best for combination skin.
Kat Von D isn't on TV much these days, but her cosmetic line is going strong. Her products are a great choice for anyone with multiple skin art, whether you want to conceal a tattoo or simply keep them looking their best.
Do you need to cover up a tattoo quickly? This tiny tube from Dermablend is portable but packs a punch. It's a full coverage concealer stick used to cover dark spots, imperfections, and tattoos.
Application is easy. Glide the stick over the tattoo. Then use your fingers to blend the concealer into your skin. Set with powder for up to 16 hours of wear.
With an SPF of 50, it's great for covering tattoos which will be exposed to the sun. It's allergy-free and fragrance-free, making it a favorite among those with sensitive skin.
Frequently Asked Questions about Tattoo Concealers
When Should I Cover Up a Tattoo?
Tattoos are far more common today than they were even 20 years ago. Roughly 21% of adults in the U.S. have at least one tattoo. You'll find people from all walks of life sporting tats.
But there are still occasions when you might need to cover up a tattoo. For example:
In church
Around older relatives
In professional office settings
What is Tattoo Concealer?
It's makeup which covers tattoos. Most tattoo concealers have a liquid foundation. They're the same products used to cover up dark eye circles, acne, scars and other blemishes.
The weight of the concealer is important. It should be thin enough to allow your skin to breathe. Plus, thin concealer blends in easier with your natural skin tone.
However, if the concealer is too thin, it won't cover up your tattoo effectively. Tats with bright, vibrant colors are the most difficult to conceal. Several applications might be needed.
What Tattoos Can Be Covered Up?
The most common locations for tattoo concealment are the forearms, hands, ankles, and shins. Clothing typically covers chest and back tattoos. After all, if you're not wearing a shirt, you're probably not at a formal event.
Face tattoos can be covered up, but it can be pretty difficult. Generally, face tattoos are easier to conceal if you also wear traditional makeup. They're harder to hide on bare skin.
Concealer helps hide any tattoo you're in the process of having removed. Removing a tattoo often takes five or more laser sessions, with six weeks of healing required between each. If you're having a tattoo removed, you're probably self-conscious about it. Concealer helps hide your tattoo today.
Have a new tattoo you want to conceal? Concealer should only be applied to fully-healed tattoos. Generally, tattoos take 45 days to heal completely (although check with your tattoo artist for specifics). Applying concealer to a tattoo which isn't fully healed can lead to infections and other skin problems.
What Type of Concealer is Best for Tattoos?
There are a few different types of concealers. For tattoos, you generally want body concealer or heavy-duty concealer.
Heavy-duty concealer is specially formulated to cover up the most visible blemishes, scars, and tattoos. It's best for large tattoos with multiple colors.
Body concealer is usually a little lighter. It's often quicker to apply. Use body concealer for smaller tattoos on your legs or forearms.
Avoid under-eye concealers. They're made for the specific type of skin under your eye and aren't effective at treating redness, blemishes or tattoos on the body.
How Do I Prepare My Skin Before Applying Concealer?
Taking just a few minutes to prepare your skin before applying the concealer helps it work more effectively.
First, wash the tattooed skin. Use a gentle cleanser with no additives. After washing, pat the area dry with a clean, soft towel.
Is there anybody area visible in the tattooed area? You'll want to shave it off. Hair which isn't particularly visible in a tattoo can be highly visible once concealer is applied. Only remove hair within the border of the tattoo.
Next, apply moisturizer to the area. Tattooed skin tends to dry out. Adding concealer can highlight a dry, scaly appearance. However, regular use of moisturizer helps keep your skin smooth (and it feels good, too).
Finally, consider a primer. It helps the concealer stay on your skin while also preventing unwanted transfer to your clothing.
Use clear primer instead of the color correcting kind. Purple color-correcting primers hide yellow tones while green primers hide red tones. However, the colors can conflict with the cleaner. Clear primer allows the concealer to work as intended.
How Do I Apply the Concealer?
Before using any concealer for the first time, check for any allergies or skin sensitivities. Place a dab on concealer on the inside of your wrist. Wait about 20 to 30 minutes. If no redness, itchiness or other problem appears, then you probably don't have an allergy.
You can apply concealer with your fingers in a pinch. But you'll probably get better results with a makeup brush or sponge. Not particularly familiar with makeup? A sponge is usually considered the easiest to use.
Blot or dab the concealer onto the tattoo. Avoid rubbing it into the skin (like lotion). Rubbing expands the product, thinning it out and reducing coverage. Blotting not only covers the tattoo effectively but also helps avoid wasting the concealer.
Apply a thin coat of concealer across the entire tattoo. Wait a few minutes for it to dry completely. Once dry, assess the coverage. If your tattoo is still visible, you can re-apply.
Generally, you won't need a thick coat of concealer. If your tattoo is still visible after application, the problem usually isn't the thickness. Instead, most likely you'll want to switch the concealer to a darker shade.
Practice makes perfect. You'll likely need to experiment with shades and application techniques – especially if you don't have much prior experience with makeup.
What Should I Do After Applying Tattoo Concealer?
Apply powder on top of the dried concealer. Powder sets the concealer. It helps prevent the concealer from smearing. Any standard face or body powder will work. Match it to your natural skin tone.
Only starting putting on your clothes after the concealer and powder are completely dry. Otherwise, staining will likely occur.
How Does Clothing Work with Tattoo Concealer?
When covering up a tattoo, clothing can be your best friend and your worst enemy.
Clothing is great at covering up tattoos on your chest and back. After all, it's unlikely you'll be taking your shirt off at work.
However, clothing coverage gets trickier when dealing with tattoos on your ankles, forearms, and wrists. You'll need to apply concealer. However, long sleeves and pants can brush up against the concealer and stain. That's why it's so important to use powder and allowing for sufficient drying time before getting dressed.
Don't forget about accessories. Watches, bracelets, socks, and anklets can help hide your wrists and ankles.
Has concealer rubbed off onto your clothing? First, don't throw the item into a washing machine. A machine wash can set the stain permanently. You need to treat the stain a bit first.
First, go low tech. Scrape as much of the concealer off as you can with your fingernail or silverware. Then you'll treat the stain in one of two ways:
Use hydrogen peroxide for liquid concealer
Use laundry soap for powdered concealer
You don't need much of either. Add the substance, some water and gently scrub with, ideally, a toothbrush. A clean cloth can also work in a pinch. Rinse with room temperature water.
Now you can safely wash the clothing in a washing machine. If the stain's still there, repeat the process. After a second time, even heavy-duty concealer is usually gone.
How Do I Fix the "Cake-y" Look?
One of the most common problems with concealers is a caked-up look. In most cases, the concealer's not the problem. Instead, the caked-on look is often caused by skin dryness.
Moisturize your tattoo before applying concealer. Also, mix a small amount of foundation into the concealer. That helps thin it out a bit.
How Long Can I Wear Concealer?
Products vary, but many concealers last for 19 hours or more. While that's great for special occasions, you probably don't want to wear concealer on your tattoos all the time. It's good to clean your tattoos and let the skin breath naturally, especially if you're in the process of having a tattoo removed. Consult with your tattoo removal professional for specific care instructions.
Final Thoughts
Not every tattoo is appropriate for every occasion. Concealer easily and effectively hides a tattoo, especially in situations where your bare arms, legs or torso will be visible. Even if you're not a makeup pro, concealer is usually easy to apply.
Tattoos are permanent, but they don't always have to be visible!