Some links on this page are monetized by affiliate programs - see disclosure for details.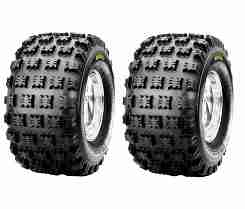 While ATVs come in all shapes and styles, designed to handle a wide variety of off-road and unimproved terrain, even the most powerful dune buster depends on its tires to get the job done. A quality set of ATV tires is the most important factor for improving off-road traction and performance capabilities. The right set of tires, matched to the right off-road vehicle and terrain can add unparalleled gains in stability and traction.
Originally, ATV tires were little more than smaller versions of the steel-belted radials used on passenger cars. Other pioneering off-road enthusiasts attempted to adapt tires used on tractors and other farm equipment. Today's tires are made from incredibly strong bias ply construction and engineered tread knobs to provide maximum grip and traction in a wide variety of terrain conditions.
Top Rated: The 10 Best ATV Tires of 2020

Smart Shoppers Guide
What are the different types of ATV Tires?
While most manufacturers offer ATV tires in a wide range of sizes, some models take advantage of different tread designs to offer ATV owners and riders options to customize the vehicle to the terrain. Most ATV tire models on the market today use a bias ply design, made from superstrong ply cords that crisscross the interior at an angle of 30-40 degrees. This gives bias ply tires greater resistance to lateral forces, resulting in a smoother ride for vehicles driving over rough and unstable surfaces. Other ATV tires use a radial design, better suited for smoother surfaces and higher speeds.
ATV Tires can be distinguished by their aspect ratio. Roughly speaking, the aspect ratio is calculated by dividing a tire's height by its width. The lower the aspect ratio, the better a vehicle will handle lateral forces at low to intermediate speeds. Experts generally agree that ATV tires with lower aspect ratios produce a wider tread contact footprint that provides better traction over uneven and broken surfaces.
What are the advantages of owning a good tire?
Currently, most commercial vehicles such as cars, trucks and vans, offer the best performance for on-road performance. Outdoor enthusiasts, explorers and anyone else wishing to travel across unimproved natural lands can benefit from using an ATV. As ATVs cannot properly function off-road without specialized tires, it is highly advantageous to anyone wishing to traverse wild areas or off-road zones to buy and install a good set of ATV tires.
While many people think of ATV tires as being used only for recreational vehicles, many people with mobility issues choose ATV tires for their off-road wheelchairs. Mobility-impaired individuals who own off-road wheelchairs equipped with ATV tires can enjoy the freedom of independently exploring parks, nature preserves and other wild areas.
Which models are the contenders for the Best ATV Tires?
Carlisle Knobby – This brawny knobby tire offers great off-road traction across a wide variety of terrain. ATV owners and riders will appreciate its aggressive, bold look and its long-lasting durability.
GBC Dirt Devil Bias – These stylish and attractive tires offer a mid-range aggressive bifurcated tread design backed up by durable and long-lasting high-grade construction. With a split "plow" design winged by durable side knobs, these tires offer maximum traction across a wide range of terrain conditions.
Kenda Bearclaw K299 – This outstanding off-road tire uses rugged knobs and an outstanding design to provide maximum traction and stability in adverse terrain conditions. With a built-in rim guard to protect the integrity of the wheel and a high-torque center lug design, the Kenda Bearclaw offers ATV enthusiasts unparalleled long-range off-road capabilities.
Considerations for Making the Right Purchase
Tread – While almost all the ATV tires on the market today are made from high-quality materials, one important factor that can determine traction and control is the design of the exterior treads on the tire. Some models feature a bifurcated "plow" design while other tires benefit from a grid of grippy knobs.
Construction & Durability – By definition, ATV tires are going to take a punishment. ATV owners and riders need to know they can rely on top-quality construction for their ATV tires to last for years.
Aspect Ratio – Depending on the terrain and vehicle conditions, the right aspect ratio can ensure that the correct amount of engine power is being transferred to the tires for greater control and stability.
Bias/Radial – ATV tires must be carefully constructed in order to provide maximum handling capabilities and traction in off-road conditions.
Tread
The Carlisle Knobby
For ATV owners looking for the perfect knobby tire, the Carlisle is definitely your best choice. With its uniquely-engineered square knob design, the Carlisle ATV tire will give your vehicle unparalleled traction in soft dirt, sand and other slightly viscous dry terrain conditions.
The GBC Dirt Devil Bias
The bifurcated tread design of the GBC Dirt Devil combines an aggressive exterior channel formed of durable knobs with an easy flow center tread channel. This gives the Dirt Devil an excellent combination of traction control in both wet and dry conditions.
The Kenda Bearclaw K299
The Kenda Bearclaw uses an innovative bifurcated crescent knob and square rim knob design to provide maximum traction in very rough or broken terrain. These aggressive tires can grind through almost any off-road condition, from mud and bogs to grass ridges and rocky, loose terrain.
Construction & Durability
The Carlisle Knobby
This is a well-made tire with durable knobs that should resist degrading or smoothing even after many seasons of arduous use. These ATV tires carry a speeding rating of A, meaning they are excellently equipped for higher-speed and smoother landscape conditions.
The GBC Dirt Devil Bias
The GBC Dirt Devil tires offer a tubeless design built to withstand years of aggressive off-road use. These tires are also well-balanced and can easily transition between regular on-road and off-road driving. The GBC Dirt Devil is constructed out of a durable material that will provide ATV owners and operators many seasons of hard use.
The Kenda Bearclaw K299
The Kena Bearclaw is extremely rugged, designed for long-range use and years of off-road abuse. With a built-in rim guard and center lug design, these ATV tires can be counted on to provide many seasons of outstanding off-road performance.
Aspect Ratio
The Carlisle Knobby
The Carlisle Knobby has an aspect ratio of 12, calculated by the height of the tire divided by its width. With a relatively high aspect ratio, these tires are perfect for higher-speed conditions. They are also uniquely designed to provide better traction in soft dirt, sand or other unstable surfaces.
The GBC Dirt Devil Bias
With an aspect ratio of 10, the GBC Dirt Devil tire offers an excellent balance between on-road high-speed performance handling and low-speed traction control. The GBC Dirt Devil is the perfect tire to handle mix-use terrain needs, performing equally well on-road as well as off.
The Kenda Bearclaw K299
Comes with an astonishingly low aspect ratio of 8, giving these tires unparalleled traction and stability control in low-speed, rugged environments. ATVs and other off-road vehicles can traverse uneven and rough terrain with much greater comfort using the Kenda Bearclaw.
Bias/Radial
Carlisle Knobby
Made out of bias plies to give better resistance to lateral forces and improved stability over rough terrain. This tire is built to be flexible enough to handle a wide variety of off-road conditions.
GBC Dirt Devil Bias
Constructed out of highly resilient bias plies, which offer greater flexibility and grip to the tire when used on uneven or rough terrain. The bias design gives the GBC Dirt Devil outstanding control for use in off-road conditions.
Kenda Bearclaw K299
The Kenda Bearclaw is the ultimate off-road tire, and as such is made out of an incredibly strong inner weave of plies laid against the bias. Even in loose, granular terrain, the Kenda Bearclaw provides outstanding traction and a wider tire surface area to power ATVs and other off-road vehicles across rugged surfaces with ease.
Our Final ATV Tire Reviews Are In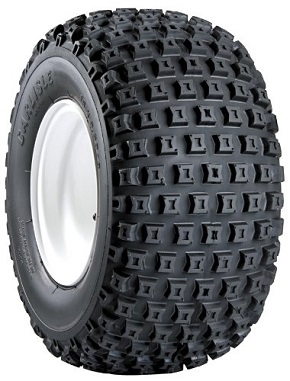 For ATV riders wanting to take their vehicles into sand, soft dirt or other shifting surface terrain conditions, the Carlisle Knobby tire offers fantastic traction and stability. With an attractive price, the Carlisle Knobby can offer ATV owners top-quality performance under a wide variety of off-road conditions.
Pros:
The knobby tread design and slightly higher aspect ratio of these tires make them absolutely optimal for sand, dirt and other similar terrain conditions
ATV riders will experience greater control and enhanced stability at higher speeds, making these tires perfect for mixed on/off-road use
With a fun, aggressive knob design, these tires give a bold look to any ATV or off-road vehicle
Cons:
These tires are definitely not recommended for overly rocky or abrasive terrain that can quickly degrade and smooth away the knobs on the tires
Although these tires are designed to be puncture-resistant, they may be unable to resist excessive shearing forces sustained from traversing rocky territory
Although these tires can handle some on-road surface use, they should not be used extensively on paved surfaces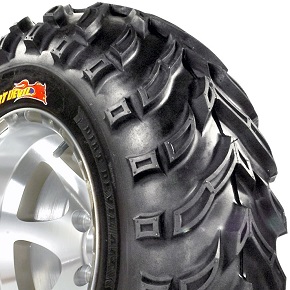 The GBC Dirt Devil, with its stylish and bold look, is an excellent tire for any ATV or off-road vehicle use. Whether used with quad bikes, 4×2 "Gators", minibikes or other off-road vehicles, the GBC Dirt Devil provides the perfect balance of durability and traction control for mixed-terrain use. With an excellence price and reliable construction, the GBC Dirt Devil is an outstanding ATV tire.
Pros:
Many ATV vehicle owners and riders use their vehicle to move between on-road surface asphalt conditions to off-road, rougher terrain
The GBC Dirt Devil, despite its name, is probably the best balanced tire for mixed-terrain conditions and daily use
The GBC Dirt Devil is a great all-year tire that can be used just about anywhere
Cons:
While this tire is various flexible and adaptable to different terrains, it does not specialize in any one environmental condition, and may not be suitable for more extreme or high-demand terrains or off-road racing conditions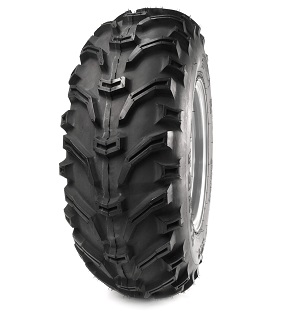 ATV owners and riders, motorbike enthusiasts and other off-road vehicle drivers appreciate the Kenda Bearclaw for offering unparalleled traction and control in very rough and uneven terrain. With an advanced and durable tread design and low aspect ratio, these tires can tackle even the most inhospitable of environments with ease.
With a stylish and rugged appearance, the Kenda Bearclaw looks great on any ATV or off-road vehicle.
Pros:
The Kenda Bearclaw combines all of the best aspects of a true off-road ATV tire, using high-traction treads, reliable bias plies design, and centered lug nuts to provide maximum stability and control over rough and uneven terrain
Simply put, the Kenda Bearclaw is designed to tackle any terrain that an ATV driver wants to traverse
Cons:
The Kenda Bearclaw is definitely not meant for street use or high-speed surface driving
Due to its aggressive knobs and high tread footprint, the Kenda Bearclaw is unsuitable for use in fragile ecosystems or protected wild areas
In Conclusion
ATV owners and operators, as well as motorbike enthusiasts and other drivers of off-road vehicles, should always carefully considered the needs of their vehicle before buying a set of ATV tires. Owners and operators should consider which terrains they primarily plan to drive on, and what their traction and control needs are. Different tread designs and aspect ratios can help ATV and off-road vehicle drivers maintain greater stability and control under different environmental conditions.
After carefully weighing all of the options, the best ATV tire on the market is the Kenda Bearclaw K299. With its innovative and rugged tread design, and low aspect ratio, ATV owners and off-road vehicle drivers can be assured that the Kenda Bearclaw will power their vehicle over any terrain. With center lugs for increased stability and quality tread design for better traction, the Kenda Bearclaw will offer ATV owners and operators years of reliable off-road performance.