Some links on this page are monetized by affiliate programs - see disclosure for details.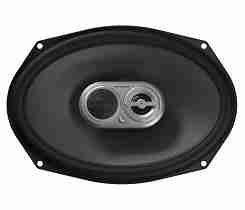 Upgrading your sound system can transform your driving experience. Many cars come stocked with somewhat lackluster sound systems, but you don't have to be stuck with them forever! There's a massive variety of audio products on the market today, filling every need, want, and desire.
The big question is how to sort through all the choices to find the ideal fit for your car and your budget. Continue reading this guide to learn more about purchasing the best 6×9 car speakers for your ride.
See The 10 Top 6×9 Car Speakers of 2020

Introduction: What is a 6×9 Speaker?
Buyers are faced with two choices when seeking to upgrade their audio systems of their car: component and coaxial speakers. Both use a range of speakers, from woofers to tweeters, but the coaxial speaker has a few advantages over the component option. A component speaker system is literally split into separate components, all the ranges are hit with their own individually housed driver. Coaxial speakers combine several drivers into one housing, saving on space while providing full-range sound.
Depending on the size of the speaker enclosure in your car, a 6 inch by 9 inch car speaker can be used to replace your stock speakers. Reference your vehicles documentation to be sure what size speakers you'll need to upgrade your sound system.
Why Upgrade your Car Speakers?
Coaxial speakers bring some strong traits to the playing field, and are worth seriously considering over the component speaker alternative. Sound quality is biggest reason most people upgrade from stock, and coaxial speakers can meet that demand. While component speakers are commonly thought to be better options for sound quality, that's not necessarily true. A well manufactured coaxial speaker will always be better than a cheaply made component speaker; coaxial speakers can hold their own in sound quality.
Once you take care of the elephant in the room that is sound quality, there are a few other major advantages to getting a coaxial speaker system. Coaxial speakers provide a much more consistent listening experience. Since the drivers are all in close proximity to one another, you won't experience strange positional side effects that could happen if your drivers are spread out around the cabin. This also saves on space. Since coaxial speakers combine all their drivers into one housing it's not necessary to carve out niches for additional drivers, they'll fit in your pre-existing spaces.
Coaxial speakers are generally very easy to install because of this; they're a no hassle solution for high-fidelity audio. All of these advantages are rounded out by the fact that coaxial 6×9 speakers are less expensive. Unless you're looking for precise customization or audiophile quality sound, coaxial speakers are an all-around excellent choice.
What are the Best 6×9 Speakers for 2020?
There are three very strong options in the market right now, one for each price point of high, middle, and low. Let's take a look right now.
For the budget minded, this is a highly capable set of drivers. Coming with a woofer, tweeter, and super tweeter, the unit provides excellent audio at all ranges. Specs include peak power at 300w, an adjustable tweeter, and a 45Hz – 21kHz frequency response.
Filling in the mid-range spot, these speakers from Pioneer have five drivers each and a 600W peak power rating. A highly rated option, the Pioneers provide crisp audio with a 27 Hz to 37 kHz frequency response.
The end-end option, from Rockford, is a strong representation of the technologies they offer. These speakers have four drivers each, with peak power at 150 watts and a frequency response of 60Hz – 24kHz. The flex-fit basket allows for slight adjustments to the speaker in its housing, and the VAST surround system increases the radiating cone surface relative to similar options.
Features to Evaluate
There are four main qualities of a speaker system that you should consider before making your purchase. These factors are their size, build quality, sensitivity, and power handling. When brought together, these factors create a good general picture of the quality of the speakers and how well they'll serve your needs.
Frequency Response
Frequency is a measure of pitch, the range of highs and lows provided by tweeters, woofers, and more. The frequency response of a speaker is a measure of how wide a range of frequencies a speaker can reproduce. But take care not to get a speaker system with poor frequency balance. A speaker system that places too much emphasis on low frequencies will distort and muddy up higher frequency sounds. The best speakers have a balanced frequency response.
Build Quality
The build quality of your speakers will have an impact on more than the length of their life. Choosing good materials will also play a large role in the quality of your sound. Rubber will last a very long time, while providing great sound quality. Polypropylene blends or metal-coated synthetics will provide great durability, and equally impressive bass response. Build quality matters.
Sensitivity
Sensitivity is a measure of how much power is required to put out at a given volume level. Higher sensitivity speakers will require less power to operate. Consider the power of your amp or head unit before you commit to a purchase. Sensitivity is measured in decibels, with higher numbers being better. Good ranges start around 90dB and up.
Power Handling
Power handling is the level of power (in watts) that can be put through your speakers. The best way to measure power handling is through the root-mean-square (RMS) value, as many manufacturers use obscure or meaningless numbers and measurements. Also consider that the maximum RMS value is more important than the peak power handling value. Your speakers will need to be able to handle the power that your head unit or external amp can send to them, and inversely, the speakers shouldn't be left starving for power either!
Frequency Response
JBL GTO938 3-Way
The Frequency range of the JBL GTO is narrow, ranging from 45Hz to 21kHz, but only relative to other speaker options. Since the frequency response of this set of speakers ranges just beyond the edges of human hearing, it's not something that anybody but an audiophile should worry about.
Pioneer TS-A6995R 5-way
The pioneers have an impressive frequency range, going well above the ranges of human hearing, from 27Hz to 37kHz. It might sound like that's mostly wasted sound, but the unheard sounds contribute to the music in surprising ways. Sound that isn't heard is still felt, and speakers that reach the lower frequencies especially will create a listening atmosphere that has more depth and fullness than speakers with lesser range.
Rockford Fosgate Punch P1694 4-way
With a low of 60Hz and a high of 24kHz, this speaker has a middling frequency response, surpassing the human hearing range on the high end but coming up slightly short on the low end. Compared to other options, this speaker set balances towards the high end of the frequency range, but can still produce respectable bass.
Build Quality
JBL GTO938 3-Way
The tweeters of the JBL speakers are made of a titanium-coated Mylar material, providing enduring durability and crystal clear audio qualities. The woofer is made of a material proprietary to JBL, and boasts a larger cone surface that outstrips similar competitors "up to 30%". The crossover networks have high and low pass filters, which smoothly bridges the gap between high and low ranges.
Pioneer TS-A6995R 5-way
The Pioneers are constructed with a multilayer Mica matrice cone, a rigid but sensitive material which produces excellent audio at all frequencies. These materials ensure a long operating life without worry of compromising sound quality.
Rockford Fosgate Punch P1694 4-way
The construction of these speakers is solid. The construction is mixed, with a butyl rubber surround, PEI (Polyetherimide) tweeters, and Mica injected polypropylene cones. These materials will provide the user with a long life of high quality audio, and compare favorably to other speaker systems in the same class.
Sensitivity
JBL GTO938 3-Way
The sensitivity rating of the JBLs is at 94dB at one watt of power. This means that they will produce loud volume at minimal effort for your system. This is an unusually high level for auto speaker systems, and sits near the top, something that may surprise you considering its rank as the budget option.
Pioneer TS-A6995R 5-way
With a sensitivity rating of 92dB at 1 watt, the pioneers are capable of loud volumes at minimal load. They don't have the highest sensitivity rating of the three, but 92dB is still a highly desirable value that speaks to the quality of the system.
Rockford Fosgate Punch P1694 4-way

The Punch meets the bar set by many of its peers, with a sensitivity of 90dB at one watt. Like the others, this will provide high volume at low power loads. The sensitivity rating means that this set is also a good buy for those seeking power and performance.
Power Handling
JBL GTO938 3-Way
The peak power handling of the GTOs reaches a maximum of 300 watts, with a nominal continuous RMS rating of 200. The 300 watt maximum isn't the highest, but the continuous power handling rating of 200 watts is impressive. These speakers will be able to meet demanding volume levels reliably for extended periods of time, without risking distortion or even damage to the system.
Pioneer TS-A6995R 5-way
The peak power rating of the pioneers is an impressive 600 watts, with a nominal continuous RMS rating of 100 watts. The 100 watt nominal rating is a good baseline that can handle strenuous volume levels without risking damage, and the 600 watt maximum gives an amazing range of power available for those wattage fluctuations that are present in music; the 600 watt peak will make clipping and distortion during those peaks a rare occurrence, while simultaneously protecting the set from permanent damage. You'll be able to push this set farther than many.
Rockford Fosgate Punch P1694 4-way

The Rockford Punch reaches a peak power handling rating of 150 watts, with a nominal continuous RMS rating of 75 watts. The peak power rating is double that of the nominal, which will minimize the risk of damage to the speakers while simultaneously allowing plenty of room for spikes in power output. This creates a more consistent listening experience, and the speakers can be pushed without risk of sound distortion or membrane damage.
Final Results: Our 6×9 Car Speaker Reviews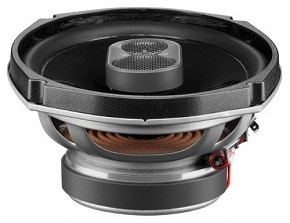 JBL has really outdone themselves with this one. This speaker has the highest sensitivity rating and the highest nominal power handling level, which really goes to show the quality of the craftsmanship. The materials used throughout are sturdy and allow for excellent sound quality. The only real drawback to this particular set is the narrowness of the frequency range, which could have been extended a little on both ends.
The sound itself is good enough to exceed the expectations of all but the most cautious of buyers. The sound is very well balanced, with strong bass, very impress mid-range sound, and good highs. The three combined produce a pleasant listening experience that is consistent throughout.
If you're looking to get a custom speaker setup for your vehicle without breaking the bank, this is the best option by far. It competes with more expensive models across the board, is made of quality materials, and has all the benefits of a coaxial speaker set that makes it ideal for easy and affordable installation.
Pros:
Highest sensitivity rating
A very high power handling rating
Very well balanced sound
Excellent price.
Cons:
Narrow frequency response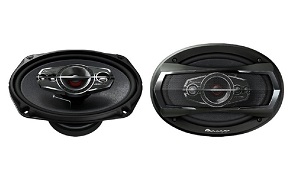 The Pioneer TS-A6995R fills the mid-range 6×9 speaker price point, and then bursts it open at the seams. This speaker boasts the most impressive power handling of the trio, and its build quality is nothing to laugh at. Combined with the best frequency response by far, and a capable sensitivity, the Pioneer A series speakers are auditory powerhouses that pump out amazing volume with a crisp, clear quality of sound.
These speakers are at their best with their deep base. It will leave a real, lasting impression in your bones that only good base can provide. The sound is crisp and clear throughout, with a strong mid-range and a high end that is easier on the ear than the JBL GTO's slightly harsher tweeters. Altogether a strong option.
This is all provided at a price point that sits comfortably on the middle of the road. Pioneer's long history as a respectable manufacturer of speakers shines through here, you can expect a superior product.
Pros:
The best frequency response
The best power handling
Great bass and balanced mids and highs
Cons:
Continuous RMS rating could be higher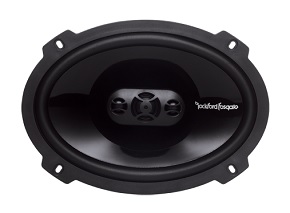 Rockford Fosgate is a well-respected manufacturer, and the Punch is a strong showing from their engineers. While the statistics may seem to leave it worse off than the previous two offerings, this set of speakers really shines through with the quality of its audio.
The frequency response is exquisitely balanced, more than making up for the relative lack of range compared to its peers. The high frequency response ranges in particular are the strong points of this model. Rockford has tuned the Punch to put out a clear, clean sound in the 6-16kHz range, and the end result can only be described as superior. The bass wasn't neglected, and keeps up with the higher pitches, providing a well-rounded depth to the listening experience. Distortion is minimal, and the speakers are capable of a respectable power level.
Altogether, the Rockfords are well worth the money if sound quality is what you seek. They won't leave you wanting for better when you're listening to your favorite music. The Punch is an impressive piece of technology that's more than worth the price.
Pros:
Best in class audio quality
Excellent build quality
Cons:
Narrow frequency response band
Low power handling
Conclusion
All three of these options have their own unique set of pros and cons. It's important to remember that price isn't everything. The JBL GTOs make it clear that amazing products can be yours without breaking the bank. But then again, as the Rockfords demonstrate, paying a higher price can yield amazing auditory results. Whether it's sound quality, overwhelming volume, or a blend of those qualities and others that you seek, these three options won't disappoint you.
Just remember to carefully consider the qualities of your next 6×9 speakers and how they meet your own specific needs, and you'll find a speaker set that will make your driving experience more enjoyable than it has ever been before.