Some links on this page are monetized by affiliate programs - see disclosure for details.
Subwoofers are for people who can not live without powerful, voluminous bass. Their sheer size of the 15″ models enable them to produce a massive quantity of sound that smaller subwoofers struggle to match, making them an increasingly popular choice among audio enthusiasts. However, their size is also a threat to their sound quality.
In order to properly balance power and precision, certain considerations must be adhered to when shopping for the top 15-inch subwoofer. This guide will highlight three viable options, each with their own benefits.
Compare: The Top 10 Best 15 Inch Subs of 2020

Best of the Best: Our 15 Inch Subwoofer Reviews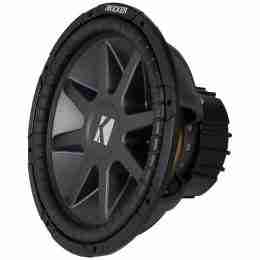 The CompVR is all about power. It delivers a massive amount of sound at a relatively low cost and is built to sustain that intensity for years to come. However, what it has in volume, it lacks in precision. The CompVR doesn't reach the tonal depths of other subwoofers in its class and lacks articulation for fast moving bass.
Pros:
High power and efficiency
Broad frequency range
Cons:
Imprecise
Resonance is overpowering in faster songs
---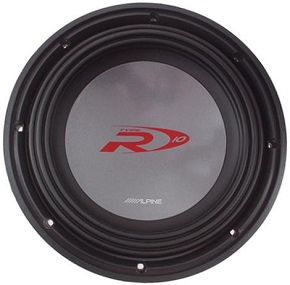 The Type-R defies the limitations typically associated with its size class, using premium materials and design considerations to keep its bass precise and impactful. It sacrifices some amount of volume to achieve this end, but the quality of its sound is arguably preferable to having a larger quantity of sound. Alpine delivers all the fantastic features of the Type-R at a highly competitive price, making its bang to buck ratio very attractive.
Pros:
Highly articulate
Energy efficient
Compact, attractive design
Cons:
Lower overall output than most 15-inch subwoofers
---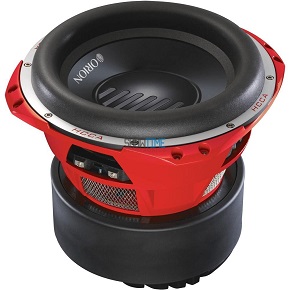 The HCCA1152 is the ultimate subwoofer for the most passionate audio enthusiasts. It performs with as much power and resounding intensity as anyone could possibly desire, and does so with precision unprecedented in the 15-inch class. Orion's speaker is almost cartoonishly effective and is the type of subwoofer most people only dream of. Though it is a very hungry beast, it makes every watt count in terms of sheer sound.
Unlike many subwoofers, the HCCA152 is a complex device that requires a keen hand when installing. Some cars may need to upgrade a few elements of their electrical system in order to even handle the subwoofer's lofty requirements. However, its incredible sound rewards individuals for every second and every penny they invest in it.
Pros:
Immense sound
High precision
Extremely durable
Cons:
Requires a large enclosure
Low efficiency
---
A Guide to Subwoofer Shopping
Just as the bass notes they produce are to music itself, subwoofers are the foundation of a good audio system. They are designed to enhance only the lowest frequencies within a song, fully capturing the punch and resonance of bass instruments.
While 10-inch and 12-inch subwoofers will get you by, 15-inch subwoofers are especially proficient at putting forward the deeper elements of dance and hip-hop genres, which make frequent use of heavy, powerful notes. Their size facilitates impact and continuity.
What are the Different Types of Enclosures?
One of the most significant aspects of a subwoofer outside of the schematics of the speaker itself is its container. Subwoofer enclosures come in different shapes, sizes, and designs that have direct effects on the quality of sound and volume that a speaker will produce. By choosing one enclosure over another, one can make a 15-inch subwoofer's voice more articulate and precise, capitalize on its volume capacity, or minimize the amount of space it inhabits.
Sealed
Enclosures are relatively compact and airtight, which manipulates the vibrations of a subwoofer's cone to make it sound more crisp and precise. They are an enticing choice for individuals who want to build up their system's accuracy and keep the enjoy the benefits of having a large speaker without having to deal with a large enclosure. Sealed enclosures take a little bit of volume away from a speaker, but a powerful sub will make itself heard regardless.
Ported/Vented
Enclosures increase a subwoofer's volume and frequency range by allowing air to escape through specific openings. Speakers within this ported enclosures are louder and more resonant, but less precise. They are the best choice for individuals who just want to their music to sound and feel as strong as possible.
Tube
Enclosures are selected most often for spatial considerations, as they take up significantly less room and are easier to carry. They are cylindrical instead of box-shaped and produce accurate, percussive notes without too much of a dip in volume. Installing a tube enclosure takes slightly more effect, as tube-enclosed subwoofers need to be carefully mounted to perform their best.
What are the Advantages of Owning a Subwoofer?
Even the lowest-quality subwoofers immediately and dramatically improve the quality of a car's stereo system. Audio enthusiasts who really want to let their music library perform the way it is meant to absolutely require a good subwoofer. Subwoofers grant sound system a full range of the deep notes that play an indispensable role in most modern music. Without them, it is simply impossible to achieve those depths without quickly destroying normal speakers.
What are the Contenders for Best on the Market?
Kicker 10cvr15-2 2010 Comp Vr Series: The Kicker CompVR is a simple but powerful speaker built to perform at mind-blowing volumes. It is built to withstand and control its own considerable power, with an injected-molded polypropylene cone and a solid steel basket. The CompVR delivers loud, thumping bass that is sure to draw attention.
Alpine Type-R SWR-1542D Car subwoofer 750 Watt 15″: The Type-R's futuristic design is as aesthetic as it is functional. It produces highly accurate bass for its size class, features low impedance 2-ohm voice coils and a unique resonance resistant housing to keep its sound clean. It is overall one of the most efficient and best-sounding subwoofers available.
ORION HCCA152 15″ 4000 Watt Dual: The HCCA152 combines absurd power with unequaled precision in one rugged shell. Its sound is more tangible, contains more punch, and reaches greater depths than any of its competitors, without even reaching for its 4000-watt peak. The HCCA152 is big, heavy and has the booming delivery to match.
Features to Consider
Subwoofers are best judged by their efficiency, output, and stability, which will determine a speaker's overall performance. The ultimate goal of a subwoofer is to effectively enhance low audio frequencies, without consuming too many resources or threatening its own stability. The most crucial specifications that affect performance can be narrowed down to four categories:
Power and Sensitivity
A subwoofer's continuous average power decides its regular output and is a better judge of power than its peak wattage. For a 15-inch speaker, individuals will want to seek a speaker that averages 750 watts or higher, or has a high efficiency. Efficiency is measured in how many decibels (dB) of sound a speaker produces for each watt it is given.
Frequency Range
Subwoofers primarily serve to enhance sounds that have very low frequencies, so the lower one's standard range is, the more effective it will be. The high end of subwoofer's spectrum isn't as important but plays a role in how well it blends with other speakers.
Voice Coils
Voice coils are the source of a subwoofer's sound and how it receives power. They are wrapped around the speaker's cone and provide the vibrations that produce audio. How they are designed and housed has a direct effect on how efficient and effective a speaker is.
Nominal Impedance (Ohms)
Nominal impedance is a measure of the resistance offered within the flow of an alternating current. Speakers with fewer ohms are more efficient because there is less resistance. Impedance can be optimized for speakers with dual voice coils depending on how they are wired.
Power and Sensitivity
Kicker 10cvr15-2 2010 Comp Vr Series
The CompVR flies a little low with a continuous average power of 100-500 watts but makes up for it with its high sensitivity of 89.1 dB. As such it is more than capable of delivering high-volume, high-intensity bass with the power it is given. The CompVR is great for making substantial noise and is solidly constructed to produce that sound consistently.
Alpine Type-R
Each of the Type-R's coils averages 250 watts, combining for a regular 200-500. This is on par with the CompVR, but its lower impedance allows it to sustain its maximum more easily. Its sensitivity rating is a competitive 85 dB, and its compact design allows it to easily fit into smaller enclosures without sacrificing volume or precision.
ORION HCCA152
With a continuous average power of 2000 watts, the Orion HCCA152 is in a class beyond its competition and most subwoofers in existence worth mentioning. The speaker can be heard clearly from a huge distance if pressed, and easily produces a powerful and articulate sound at reasonable volumes. The Orion's bass is one that is always heard and felt, but at a low 30 dB sensitivity, requires an extremely powerful amp to keep it going.
Frequency Range
Kicker 10cvr15-2 2010 Comp Vr Series
The CompVR has a broad 25-500 Hz frequency response, one that can hit high and low notes indiscriminately. While it doesn't have access to the same depths as its competitors, the subwoofer hits deep enough and hard enough to satisfy most listeners. It delivers its high frequencies beautifully for a powerful resonance that lasts throughout an entire song, even when the bass isn't a focal point.
Alpine Type-R
At an official 23-500 Hz range, the Type-R's low end sits in a prime position to deliver most ranges. With the right enclosure and amplifier configuration, it can reach even greater depths and keep a consistent pairing with other speakers on high notes. The Type-R manages to be powerful and highly articulate for its size class, making it a good choice for people who like their music to boom with precision.
ORION HCCA152
The HCCA152 focuses on the most important notes at a subwoofer's disposal, the 21-100 Hz range. This allows it to be much more dynamic than its broader-ranged cousins, with each note it delivers significant and powerful. The HCCA152 delivers what people want to hear out of a subwoofer, and leaves the rest to more dedicated speakers.
Voice Coils
Kicker 10cvr15-2 2010 Comp Vr Series
The CompVR's dual voice coils are wrapped around an injection-molded polypropylene cone, backed by a formidable steel basket with rubber surrounds. They benefit from excellent heat dispersal. Use any compatible amplifier wiring configuration and power input without risk of damaging the speaker. The subwoofer is designed to handle a significant onslaught of power.
Alpine Type-R
The Type-R's dual coils perform gracefully with its Kevlar reinforced cone and rubber surround. The subwoofer's advanced construction is the source of its impactful and precise sound and is easily wired for optimal performance. The speaker is built with anti-resonance in mind so that its audio isn't muddled by competing frequencies.
ORION HCCA152
The HCCA152 houses an immense 4″ high temp voice coil and a huge motor to match. Consequently, it is one of the overall largest subwoofers on the market, but has the power and intensity to make it worthwhile. The HCCA152 maximizes its output in every conceivable aspect, which lends to its inimitable performance.
Ohms
Kicker 10cvr15-2 2010 Comp Vr Series
The dual 4-ohm specification matches the standard for subwoofers and is the right amount of resistance for most amplifiers. The dual nature of the coils allows individuals to wire the CompVR in parallel to reduce load and increase output.
Alpine Type-R
Thanks to its dual 2-ohm coils, the Type-R experiences little resistance in the current and is able to max out its output with the greatest of ease. Finding a compatible amplifier takes a little more time than for a standard 4-ohm speaker, but the difference in consumption is inarguably worth it. Wired in parallel, the Type-R's impedance is a highly efficient 1-ohm.
ORION HCCA152
For its incredibly high power, the HCCA152 has a low impedance, allowing individuals some relief. You can wire its dual 2-ohm coils to operate at 1-ohm. This increases its already considerable output. But more importantly reduces the amount of power needed to reach its maximum volume.
In Conclusion
Nothing brings out the best of a music library like a strong subwoofer, and the 15-inch range delivers a massive amount of volume and quality. No subwoofer is going to make an insignificant impact, and a great deal of power can come from relatively small packages. However, for the biggest and most powerful bass available, the only option is the Orion HCCA152.