Some links on this page are monetized by affiliate programs - see disclosure for details.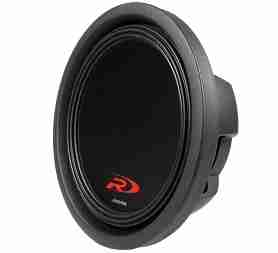 On the road, most people love to get their daily music fix but few get to enjoy the deeper qualities of the songs they listen to. No matter how nice a stock car stereo system is, they lack the extra punch that is the foundation of most modern music: the bass.
At the core of every true sound system is a good subwoofer, a speaker that is dedicated to producing the deeper tones that stereo speakers lack. For people looking to unlock the full potential of their music library on the go, this guide will point out the best subwoofer options in the compact and versatile 10-inch range.
Compare: The 10 Best 10 Inch Subwoofers of 2018

Introduction: What is a Subwoofer?
Subwoofers are specialized speakers that deliver the low-frequency sounds that normal stereo systems can't. Coming in a variety of sizes, they are most often seen in 10 inch, 12 inch, and 15 inch versions. They are integral parts of any type of quality sound system, from home theaters to car stereos. Functionally, they consist of three components: the speaker itself, its amplifier, and its enclosure.
The qualities of the speaker will determine the type of amplifier needed, and personal preference the enclosure.
What are the Different Types of Subwoofer Enclosures?
Subwoofer manufacturers will include enclosure recommendations for every speaker they ship, but individual preference and space requirements may dictate the use of another. A subwoofer's enclosure refers to the box the speaker is housed in. Different designs provide different air responses, altering the quality of sound delivered. There are several sub-variations and hybrid types of enclosures, but the basic options are:
Sealed Enclosures
Designed to be airtight and are physically more compact than ported subs. They are preferred by people who want crisp and accurate bass without residual ringing. The air pressure inside the box absorbs the sounds of the subwoofer's cone and reproduces it evenly and consistently with less boom, but more punch. Sealed enclosures are a good choice for people who want a precise sound.
Ported/Vented Enclosures
Allow air to flow in and out through ports that enhance the efficiency and volume of a speaker. Because less sound is trapped in the box, subwoofers within ported enclosures play much louder with less power. Ported enclosures are larger than their sealed counterparts, but are the immediate choice for people who want their systems to bring the thunder.
Tube Enclosures
Forgo the box shape of other designs, instead placing the speaker at the end of a long cylinder. Their main advantage is their portability, providing a sound comparable to a sealed enclosure at a significantly lower weight and size. They work best in corners, so mounting a bass tube may require a little experimentation.
What are the Advantages of Using a Subwoofer?
For simple music lovers and total audiophiles alike, the subwoofer is a crucial component to getting a complete set of tones from every song. Nothing can substitute for the power of a live performance, but a subwoofer enables recordings to carry out the actual intentions of artists and performers. Bass is inarguably one of the most important components of music and the only way to get good bass is through a subwoofer.
Top 3 Contenders
Built for durability, the 10C104 makes use of Kicker's best technology at an impressively affordable price. It is a very versatile speaker with a lot of punch in sealed and ported enclosures, or even in open air. The 10C104's stiff cone can take a great deal of power without bottoming out.
With intuitive cone designs and large components, the P2 brings loud and aggressive bass at an efficient 2-ohm impedance. For bass that is just as tangibly felt as it is heard, the P2 is inarguably the best in its class.
As the next step up in Rockford Fosgate's famed Punch series, the P3S sets the highest standard of excellence. With its advanced materials and construction, it has emphasis and volume usually restricted to larger speakers. Its dual 4-ohm voice coils allow for wiring versatility and bring out the most from any amp.
Features to Consider
The quality of a subwoofer depends on a number of factors primarily centered around two things: efficiency and output, both of which are determined by the same specifications. A good sub lacks a major reliance on power consumed and can deliver a high volume output with little resources. Efficiency can be boosted by the kind of enclosure used but for the greatest flexibility, a woofer requires better core specifications. The most consequential of these are:
Power and Sensitivity
The first and most direct attribute affecting subwoofer productivity is its continuous average power. Paired with an amp that matches its power output, a sub can do a great deal with pure electricity alone and its sensitivity will determine how efficiently it handles that power.
Frequency Range
A subwoofer's listed frequency range provides a general concept of what tonal depths it has at its disposal. The lower it reaches, the greater the amount of depth it will be able to reproduce. However, frequency range isn't the only determining factor in that regard, as its enclosure will also play a role.
Voice Coils
Subwoofers come with either single or double voice coils, the latter of which provides more flexibility when it comes to wiring systems. Dual voice coils can reduce load on an amp and make the most of every watt of its power.
Nominal Impedance (Ohms)
Ohms measure the resistance offered by an electric circuit to the flow of alternating current. The lower the resistance, the higher a subwoofer's output will be. The nominal impedance will also affect the type of amp that is recommended.
Power and Sensitivity
Kicker 10C104
The 10C104 peaks at 300 watts and averages a consistent 50-150, which is on the low end of the spectrum but enough to fill a car with sound. At higher volumes, users may experience some distortion, but is adequate for people who just want to hear a little more bass.
At its continuous average power, the 10C104 is at its loudest in a ported enclosure or left in the open, as it is specifically tailored to do. It produces 86.2 decibels per watt, which compensates adequately for its low power rating.
Rockford Fosgate P2D2-10 Punch P2 DVC
The P2 has a continuous average power rating of 300 watts, which is right at the sweet spot for subwoofers. This is enough to give good sound at normal volumes and keep its quality consistent at higher levels. Its estimated peak is 600 watts, which is more than enough room for most individuals.
At 84 decibels per watt, the P2 uses its power pretty efficiently, and can sustain strong notes at impressive volumes.
Rockford Fosgate P3SD4-10 Punch P3S
The P3S also averages 300 watts continuously, but due to its dual voice coil setup, uses its power much more efficiently and to greater effect. The P3S stays clear and precise even under strenuous use, with each note as punchy as hearing it straight from a bass amp at a concert.
Its sensitivity is 83 dB which is on the lower end of the spectrum, but in terms of sheer power will satisfy virtually any listener.
Frequency Range
Kicker 10C104
With a frequency range of 30 – 500 Hz, the 10C104 is great at producing low, booming notes, especially in a ported box or free air. Though its power rating restricts it from bringing truly thunderous bass, at reasonable volumes it reaches delightfully low depths that add resonance to every song. Its long range is impressive but not entirely useful at higher ranges that are better left to normal speakers.
Rockford Fosgate P2D2-10 Punch P2 DVC
The P2's focused 29 – 250 Hz range makes the most of its power to deliver the notes people need the most from a subwoofer. Even at its lowest frequencies, the P2 performs with clean, tight precision. Depending on its box, individuals can decide whether they want to feel the P2's bass or feel it, but in either a sealed or ported enclosure the speaker does both spectacularly.
Rockford Fosgate P3SD4-10 Punch P3S
The P3S's 40 – 250 Hz frequency response allows for a clean consistency that can be enhanced depending on the chosen enclosure. Despite having a higher minimum than its competition, the P3S takes advantage of its physical design to provide greater resonance from its driver. Consequently, even when the P3S delivers a note at 40 Hz, it has the impact and resonance of a much deeper frequency.
Voice Coils
Kicker 10C104
Having only one voice coil, the 10C104 is restricted in its wiring options, so nothing can be done to customize how the subwoofer receives power from its amp. As such, there is no way to enhance its impedance or power using different setups. The coil's basket itself features cooling perimeter venting to help keep its temperature down and prevent damage.
Rockford Fosgate P2D2-10 Punch P2 DVC
The P2 features dual voice coils, allowing individuals to wire each coil in parallel for a 1-ohm load or in a series for a 4-ohm load. Modifying the subwoofer's impedance provides ample opportunity to affect how it performs. With its mids and highs channelled to one amp and its lows to another, the P2's frequency range can be extended and enhanced. The coil is made from anodized aluminum with spider venting to keep the subwoofer at safe temperatures.
Rockford Fosgate P3SD4-10 Punch P3S
The P3S's dual voice coil allows for a 2-ohm load when wired parallel and 8-ohms when in a series. Combined with the subwoofer's other features, having freedom in wiring makes the P3S one of the most functionally versatile available. This comes in handy when choosing one or multiple amps to get the most punch out of the speaker. The P3S uses the same innovative materials and venting as its lower-end cousin to keep it cool.
Ohms
Kicker 10C104
The 10C104 has a 4-ohm impedance, which is relatively common among subwoofers. In the case of the 10C104 with its already low power rating, an amp will have to work a little harder to get the most volume and impact out of its speaker.
Rockford Fosgate P2D2-10 Punch P2 DVC
The P2 has an efficient 2-ohm impedance that can be made even more efficient by wiring its voice coils parallel. With its low load, the subwoofer can make quite a bit of noise out of a small amount of power, but doing so requires greater selectivity when choosing an amp. However, for the extra effort one can gain a great deal of output.
Rockford Fosgate P3SD4-10 Punch P3S
With the same 4-ohm impedance as most amps, the P3S matches up with the majority of amps and individuals can opt to use different wiring configurations to lower its impedance and boost output. Again, the P3S wins points for versatility, with any configuration delivering a phenomenal amount of sound.
Our Final Reviews Are In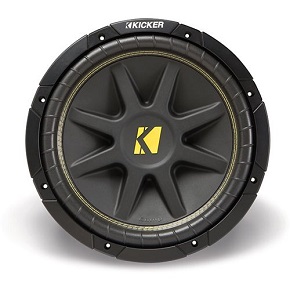 The 10C104 is a solid offering for a low price subwoofer, with enough features and sound to make it worth the investment. However, its low-end specs restrict it from producing the kind of sound some might hope for from an enhanced sound system. It will provide good bass, but is incapable of anything beyond.
Pros:
Extensive frequency range
Longevity
Works without an enclosure
Cons:
No wiring options
Restrictively low power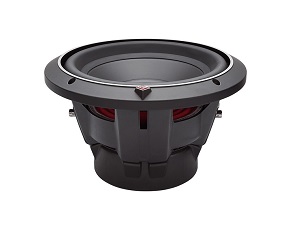 The P2 gives buyers the best bang for their buck, with a plethora of high-end features and strong design concepts that combine to produce fantastic sound. The P2 is most versatile in the hands of an experienced user. Its low impedance provides plenty of options for customization, though some might have trouble finding the right amps to get the most out of its features.
In a simple configuration, the P2 still sounds great and performs strongly in any kind of enclosure.
Pros:
Dual voice coils
Strong power rating
Remarkably low impedance
Cons:
Large design
Sound quality drops in tonal extremities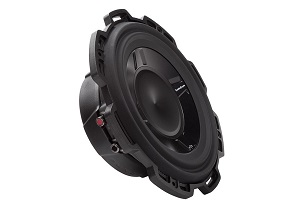 The P3S does a wide variety of things very well. It can please music enthusiasts with its precise tones or elicit excitement and energy with its sheer power and resonance. Its highly customizable and makes efficient use of its power, and will impress anyone who hears it no matter how it is set up. Its compact frame makes it easy to incorporate into the interior design of most vehicles and its shallow mount design allows it to fit into smaller locations.
The P3S's highly effective radiating cone and efficient power use makes it one of the most striking subwoofers in its class. Few speakers can produce as much volume as it can without sacrificing precision and tonality, but the P3S delivers a consistent sound in all volumes, intensities, and styles of music.
Pros:
Innovative design
Powerful but compact
Highly customizable
Cons:
In Conclusion
Car audio customization is complicated at first glance, but brands like Kicker and Rockford Fosgate make it very simple for inexperienced individuals to permanently enhance their music quality. Whether one desires a simple bass boost or incredibly precise enhancements with thunderous capabilities, its easy for a savvy buyer to get what they want.
After experiencing how music sounds through a spectacular subwoofer like the P3S, few will ever fully appreciate anything else.