Some links on this page are monetized by affiliate programs - see disclosure for details.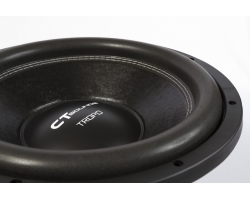 People spend a large amount of time going from place to place in their cars, and many individuals like to pass the time by listening to music. However, no matter how good a standard car stereo system sounds, it always lacks the depth of a home audio system. The thing that makes those systems great is a subwoofer.
Subwoofers dramatically increase the tonal diversity of an audio system at home or in a car. This guide gathers three viable subwoofer options in the 12-inch speaker range that can completely change a vehicle's auditory experience.
The Top Rated 12 Inch Subwoofers of 2021

12 Inch Subwoofer Reviews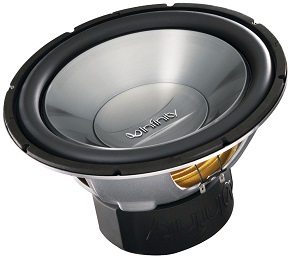 The Reference is a simple subwoofer with a great range and enough power to satisfy most listeners. With the exception of continuous power it has all the features a subwoofer needs. It makes up for its power in its impressive sensitivity and in the right box can gain a little extra punch or volume. Lacking a desirable quantity of both as is detracts from the Reference's overall value, but it is priced well according to its capabilities.
Pros:
Extensive frequency range
High sensitivity
Manufacturer provides valuable tips and specifications
Cons:
Generic aesthetics
Restrictively low power
---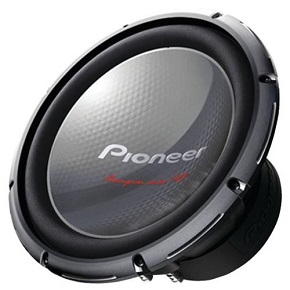 The Champion delivers a huge amount of power and efficiency that makes it stand out among other subwoofers at its price point. It touts one of the sturdiest designs available with its dual spider coil design and a rugged polypropylene cone surrounded by a dual-layer elastic polymer. The speaker is as punchy and lively as any subwoofer can be, but its short frequency range keeps it from participating with variety.
Pros:
Highly powerful
Highly efficient
Good nominal impedence for its power
Cons:
Very low frequency response
---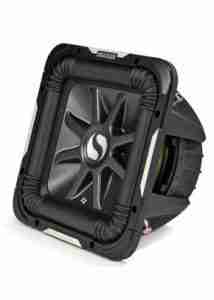 The Kicker 11S12L72 is one of the most finely tuned and enjoyable speakers ever produced. It delivers every thumping or resounding note with natural precision and looks fantastic no matter where it is placed. The speaker is incredibly powerful, efficient and delivers every note with concert quality bass. Everything it does, it does better than the vast majority of its competition.
Kicker's decision to go with a square shape is uncommon but works to great effect in the 11S12L72's case. This minor change, coupled with the subwoofer's bounty of other features, makes the 11S12L72 a 12-inch speaker that can compete with a 15.
Pros:
Innovative design
Incredibly powerful
Low nominal impedance
Cons:
---
What is a Subwoofer?
Subwoofers are dedicated speakers that are built to deliver only low-frequency sounds. In doing so, they complete the tonal variety of an audio system. There are several different sized subwoofers available, including 10-inch subwoofers, 12-inch subwoofers, and 15-inch subwoofers, all carrying their own benefits and drawbacks. The most important feature of a subwoofer, the speaker itself, receives power from its amplifier to produce sound from its voice coil. This sound is further contained and enhanced by its enclosure, filling the environment with deep, powerful tones.
What are the Different Types of Subwoofer Enclosures?
The box or enclosure that a subwoofer speaker is housed in has a direct and noticeable effect on the qualities of the sounds it produces. Depending on individual preference and space requirements, one can opt for an enclosure that produces crisp, precise notes, or one that delivers heavy, thunderous bass. There are several sub-variations on the basic types, but enclosures are essentially one of three options or a hybrid of sealed and ported boxes.
Sealed Enclosures
Compact and airtight so that the only sound is produced from the front-end of the subwoofer speaker. Sealed boxes are the choice for people who prefer precise, punchy music without the distraction of excessive resonance. Subwoofers in sealed enclosures aren't as loud as they are in ported ones, but make up for volume with emphasis.
Ported/Vented Enclosures
Allow some air to escape, meaning the vibrations within the cone of the subwoofer aren't trapped inside. Consequently, ported boxes allow speakers to be louder and more resonant, each note lingering for maximum effect. Ported enclosures are great for people who want to feel their music as much as hear it.
Tube Enclosures
Cylindrical instead of boxed. Their main advantage is portability as they are considerably more lightweight and compact than sealed and ported box enclosures. They are closer to sealed boxes in terms of audio quality but require specific mounting in order to get the most sound out of the speaker.
What are the Advantages?
For music lovers, the is no substitute for a sound system with a good subwoofer. Installing a subwoofer in a car has immediately noticeable impact and a sound quality that is simply beyond comparison of a normal stereo system. Anyone who loves music can benefit from having a subwoofer. They play an indispensable role in making every song sound the way it was meant to.
What are the Contenders for Best 12″ Sub?
The first contender for best 12 inch subwoofer, the Infinity Reference is a sharp, no-nonsense speaker designed to add punchy bass to every song. It features dual voice coils for customizable wiring and a broad frequency range for deep, powerful tones.
Pioneer's Champion Series is commendable for its rugged design and packs a lot of power for the price. The amount of detail in its physical schematics is comparable to that of an engine, and each unit is built to deliver powerful bass over a long lifespan.
The 11S12L72 is sleek, powerful, and precise, operating on efficient dual 2-ohm coils. It zeroes in on the most important bass frequencies and is highly effective in either a sealed or ported box. Its considerable features come packed in one of the most unique and attractive designs in the subwoofer market and sounds as good as it looks.
Considerations for Choosing
Subwoofers are best judged by their efficiency and output, which refers to their ability to get the most out of their amplifiers and how good they sound at high power. The more efficient a speaker is, the more diverse its capabilities and sound. Several factors, including the enclosure they are housed in, determine how a subwoofer performs in these regards:
Power and Sensitivity
Continuous average power refers to how many watts a subwoofer uses. Its sensitivity, measured in decibels (dB), decides how efficiently it handles that power. Manufacturers make recommendations for amplifiers based on power and nominal impedance, making power one of two very important categories.
Frequency Range
Frequency ranges provide a general expectation of the highs and lows a speaker can reach. These numbers are important factors in determining which subwoofers are worth considering but are not set in stone. The chosen enclosure will also affect its frequency range, either raising or lowering it.
Voice Coils
Voice coils serve as the source of a subwoofer's sound. They are wired directly to the amplifier and are responsible for the movement of the cone, which then makes the music happen. Subwoofers with dual voice coils are able to be wired to reduce impedance, which affects performance.
Nominal Impedance (Ohms)
The resistance within an electrical circuit is its impedance, measured in ohms. The lower the resistance a subwoofer faces within the flow of an alternating current, the higher its potential output. A subwoofer's nominal impedance also determines which amps it is compatible with.
Power and Sensitivity
Infinity Reference
The Reference peaks at 1200 watts but operates normally at a significantly lower 100-300. For a speaker of its size, this is on the low end of the spectrum but is enough to fill a car with sound. At higher power levels, one can expect a bit of distortion, so heavy listeners should look for something with a little more power. At 93 dB of sensitivity, the Reference does make efficient use of the power it has.
Pioneer Champion Series
With a continuous power capacity of 100 – 600 watts, the Champion is more than capable of producing powerful sound on a consistent basis. Equally impressive is its sensitivity of 96 dB per watt. Combined, the Champion is one of the most efficient and powerful 12 inch subwoofers available, which bodes well for people seeking thunderous bass. Even in a sealed box it hits every note delightfully hard and loud.
Kicker 11S12L72
The Kicker 11S12L72 touts an impressive continuous average power of 100 – 750 watts, above and beyond many subwoofers in its class. No matter what kind of enclosure it is in, a speaker with that kind of power makes a booming statement at the slightest provocation. It takes a hit in sensitivity, settling for 86.9 dB per watt, but compensates nicely for its appetite with its low impedance. As such, the 11S12L72 is just as efficient as its competition and with even more overall power.
Frequency Range
Infinity Reference
At 23 – 400 Hz, the Reference is capable of fantastic depths and good mid-range notes. Due to its low power rating it never gets too boomy or too resonant when delivering these notes, which is an advantage or disadvantage depending on the desires of the buyer. Regardless, the subwoofer's capacity for depth is one of its finest qualities and can be further enhanced by a ported enclosure.
Pioneer Champion Series
The Champion is an extremely focused subwoofer, producing frequencies in the short range of 20 – 80 Hz. While it captures the most important frequencies a subwoofer produces, this heavily abbreviated range restricts it from blending completely with normal speakers. Listeners will feel and hear the bass as clearly as possible thanks to the sheer power within the speaker but it risks overtaking the rest of a song if the other speakers can't keep up.
Kicker 11S12L72
The 11S12L72's range of 20 – 100 Hz contains a crucial amount of tones and reaches just high enough to stay in line with its companion speakers. Its range easily extends by the right enclosure and retains its admirable boom in either type. In its depths, the subwoofer has incredible precision and accuracy. Most impressively, the 11S12L72 retains its accuracy even at extreme volumes.
Voice Coils
Infinity Reference
The Reference features two voice coils, allowing individuals to configure their wiring to their preference. By wiring each coil in parallel, its reduced impedance allows for more power to the speaker. The Reference's spider design provides good cone control for a crisp bass sound even at the low end of the subwoofer's considerable depths.
Pioneer Champion Series
With dual 4-ohm voice coils, the Champion can run with parallel wiring at 2-ohms or 8 as a series. The former is a more attractive option for reasonable impedance but the subwoofer's high sensitivity is just as viable with the right amp set. Its cone and coil make for a sturdy and consistent sound.
Kicker 11S12L72
The 11S12L72's dual 2-ohm coils are wrapped in a Kicker's unique one-piece square cone that produces substantially more vibrations than a typical circular cone of the same size. Its voice coils are tolerant of extreme levels of heat, allowing the subwoofer to consistently perform at high volumes with no risk of damage. Whether one chooses to add more power from the amp or use parallel wiring to reduce impedance, the 11S12L72 performs immaculately.
Ohms
Infinity Reference
With a 4-ohm impedance, the Reference's resistance is typical of subwoofers. As such there are a wide variety of amps available that match up well with it. You can lower its impedance to 2-ohms, which gives a much-needed boost to its power.
Pioneer Champion Series
At 4-ohms, the Champion relies more on its sensitivity than it does a low natural impedance. However, its sensitivity is more than adquate to keep the subwoofer's resource consumption relatively low. Combined with an efficient coil configuration, the Pioneer Champion thrives on a moderate amount of power with average resistance.
Kicker 11S12L72
The 11S12L72's low 2-ohm impedance means it meets with an inconsequential amount of resistance when wired parallel. In a series, it meets with 4-ohms of resistance, half that of its competitors. There are fewer choices in amplifiers that match its parallel wiring impedance of 1-ohm, but Kicker provides several solid options for people to choose from.
All in All
Serious music lovers are incapable of truly appreciating their audio libraries until they have experienced the power of a real subwoofer. Whether it's depth or impact that a stereo system is missing, any of the above options will provide immediate results. Leading the pack is the Kicker 11S12L72. The definitive 12-inch sub for audiophiles in need of the most convincing bass available.