Some links on this page are monetized by affiliate programs - see disclosure for details.
The holidays are fast approaching, and it's time to find the perfect gift for that special guy in your life. With so many options out there from grooming products to tech toys, finding a holiday gift for your guy can be daunting. Never fear, help has arrived! Here's a quick list of gifting ideas ranging from stocking stuffers to holiday highlights to get your holiday gifting off to a great start.
Ready to find his new favorite gift? Go!

What guy doesn't love a great bowl of cereal? Even better, how about a cereal that's both keto friendly and chock full of non-GMO plant proteins and fibers? Speak to his snack attack needs with the cereal variety pack from Catalina Crunch. With 6 different flavors, the variety pack is a sweet gift that he'll enjoy on multiple occasions.
Whether or not he's in desperate need of BO coverup, this deodorant by Each & Every is sure to please your guy (and everybodynear him) with its unique aroma of sandalwood and black pepper. The formula is aluminum-free, making this product body-friendly with repeated use (which is the idea, really). Grab one or two for his stocking and rest easy knowing that you're supporting a company that provides cruelty-free, vegan products.
Looking for a gift for the guy who needs a little help hearing the TV but hates wearing headphones? The Chair Speaker has him covered (well, technically, it covers the chair). Directing sound where it needs to go without making your guy sweat, the Chairspeaker can help the hard-of-hearing enjoy their favorite shows again without increasing the noise level in the rest of the house. That means he can hear it and you won't have to…as much, anyway.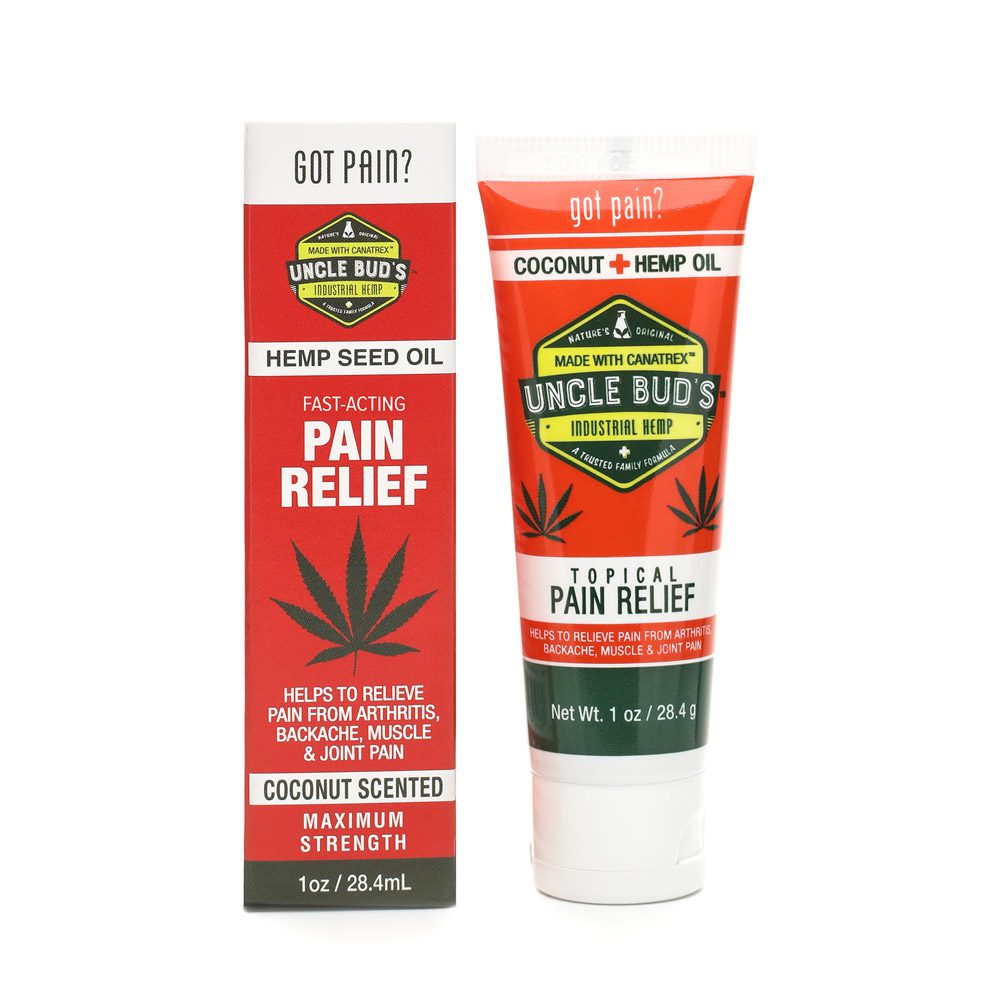 Aches and pains high on your guy's daily list of complaints? Put a tube or roller bottle of Uncle Bud's Hemp Pain Relief in his stocking this holiday season. Made with CBD oil, these Uncle Bud's products are an anti-inflammatory for back pain, arthritis, joints, and generally sore muscles that relieve pain quickly and smell like fresh coconut. Help him to rest easy this holiday (and maybe grab some for yourself, too!).
No more missing out on a good glass of wine with friends! The Wave wine purifier from Pure Wine removes the headache-inducing histamines and sulfates that stir up many of the most common wine sensitivities. It's easy to use at home or to take on a night out, so he can enjoy his favorite fruit-forward or savory wines in convenient comfort. Bonus, The Wave is also a restorative wine bottle sealer, so your guy won't have to worry about throwing out any leftovers.
Whether or not your guy has a sentimental streak, he's sure to appreciate the cool factor of a laser engraved crystal portrait. 3D Laser Gifts will take your uploaded photo and etch it in 100% pure crystal in a landscape portrait that can be enhanced with a lighted base. Whether it's a photo commemorating his special moments or his loved ones, the clear-as-crystal, professionally edited portrait is a gift that your guy can treasure and display for years to come.
The expression on your guy's face when you hand him his very own, customized sword will be worth every penny spent. Swords of Northshire creates every one of their katanas just for you in a process that takes about 2-3 weeks (so get that gift on time and order soon!). You can request customization on every aspect of this japanese-style weapon, right down to the blade color and custom engraving. Take your gift giving to the next level and give him the most unique gift he's ever seen, customized just for him!
Something else on Swords of Northshire caught your eye? Use code TRR5 for a cool 5% off sitewide; the sky's the limit (but remember, order soon so they can craft that masterpiece on time)!
Nobody likes picking out a skincare routine, much less most guys, and a gift of the Full Set skincare line from KOA is a great way to help your guy save time and save face. The four piece set includes a cleanser, toner, moisturizer, and sunscreen to help him maintain his rugged good looks in just a few easy steps. Plus, KOA is another company that doesn't test on animals and makes a point to provide ecologically friendly packaging. The Full Set helps keep his skin and your planet cared for all at the same time.
Want to get your loved one a unique, artistic holiday gift, and support an individual artist as well? Take a look around the amazing Society6, a place where artists can upload their designs and sell them on a variety of useful products. Is he into retro or modern art, mountains or hot rods, phone cases or t-shirts? Society6 has it all. Whatever his style, there's art at Society6 he'll love, and plenty of cool gift options for you! Get a gift your loved one will appreciate both in form and in function. Bonus, you get to support artistic talent from all over the world!
Finally, if your guy is missing all those amazing steak meals he's used to eating at restaurants (thanks a lot, covid-19), why not give him the gift a 5-star meal right at home with Sous Vide Meats by The Chicago Steak company. Perfectly cooked and aged for flavor before being flash frozen, these meat offerings are ready to thaw and eat, making his meal both easy and top-notch delicious. The Sous Vide offerings range from Peppercorn Filet Mignon to Lemon Pepper Chicken, all ready-to-go straight from your refrigerator. Plus, you can get 15% off this amazing range of products with site code TOPRATE15.
Searching out the perfect gift for your guy can be a daunting task, but knowing that your guy is getting the best and most unique gifts (I mentioned the personalized katana, right?) out there makes checking off his holiday gift list worth the hunt. Whether your holiday plans include cozy meals together, a gift exchange, or a comfortable time with family, we hope you and your guy have a truly memorable holiday season.
Happy Gifting!