Some links on this page are monetized by affiliate programs - see disclosure for details.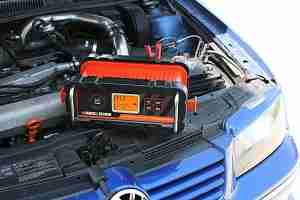 As all car owners know, along with the alternator, the battery is the most vital component in an automobile electrical system. While the alternator serves as a generator, producing alternating electrical current, the battery supplies the juice that enables the voltage regulator of the alternator to function properly. The battery also supports the electrical current that operates all your modern vehicle's updated electronics and accessories.
Without high functionality of the battery, your car cannot run properly, and with a dead battery, the car will not start at all. In addition, with no support from the battery, your car's alternator will most likely fail as well, due to overwork and excessive stress. When operating conditions are normal, an auto alternator can keep the battery running for smooth, steady driving action. In this guide we break down our top picks for best car battery charger to own.
Compare: The 10 Top Rated Car Battery Chargers of 2018

Car Battery Charger Shopping Guide
A car battery charger is a device designed to channel energy into a rechargeable battery, or secondary cellular component. It replaces the depleted battery's energy by injecting electric current into and through it. Batteries with high capabilities to handle overcharging can be connected to a source with continuously flowing voltage or electrical current. These chargers with a basic design must usually be manually disconnected when charging is complete, although recent models may be equipped with adjustable timers to automatically stop charging at a preset time.
Batteries not designed to withstand overcharging, however, may have built-in precautionary cut-off mechanisms to prevent overcharging. Others are structured to adjust levels of current during charging or switch off the inflow of current through use of their microprocessor controllers. While slow chargers may require a few hours to finish charging batteries, high-speed chargers may restore batteries to full capacity once again in under an hour's time, or even within minutes.
Battery charging rate, referred to as C or C-rate, reveals a battery charger's rate of energy discharge that equals the battery's recharging capacity in one hour. A 1.6Ah battery has a C-rate of 1.6A (written as C = 1.6A). This charging rate equation is only true when the battery has 100 percent efficiency for absorbing charges. A charger with the rating of C/10 will complete battery charging in 10 hours, and one rated 4C will recharge the battery within 15 minutes.
If you are using a charger that offers fast-recharge rates of less than one hour, it is essential to monitor battery temperature and terminal voltage during the charging process to avoid battery cell damage from overcharging.
How do I get the most out of my car battery?
When completely charged, car batteries usually output approximately 12.4 to 12.6 volts with enough power in reserve to support normal driving and electronics usage from nine to 15 hours. However, if the voltage plunges below 10.5 volts, in all probability, turning the ignition will not start your car.
Another factor exerting strong impact on your vehicle's battery functionality is weather. In extreme temperatures, the battery can be adversely affected, resulting in dramatic reduction of its reserve resources. During periods of extremely hot or cold weather conditions, if you should leave your car's headlights on, even for a short period of time, you may have to deal with a dead battery as the result. Yet in more moderate temperatures, these lights could be turned on for many hours at a time without interfering with your car's normal starting and operation.
What is the advantage of owning a car battery charger?
If you do have the misfortune of getting in your car to run a fast errand, speed off to work or take off on your long awaited vacation, only to encounter no engine action due to a dead battery, having a top quality car battery charger close at hand can resolve this emergency swiftly and efficiently. By choosing one of the highly recommended car battery products now available to consumers, you will never need to worry about the dilemma of being left with no transportation for long periods of time because of a dead or seriously weakened car battery.
Take the wise advice of automobile experts and purchase one of the fine quality vehicle battery chargers now in popular use.
What are the Different Types?
There are two primary types of battery chargers manufactured for charging vehicle batteries. One type is designed specifically for charging the battery of a car or other vehicle that runs on fuel and requires a modular design charger. The second variety of recharger is meant for restoring operating power to the battery pack of an electric vehicle (EV). Recharging features of each type of automobile battery charger include the following:
Battery Charger for Fuel-Powered Cars
Battery chargers with one or two amperes ratings can maintain battery basic charge levels on parked vehicles to prevent their batteries from becoming totally depleted of energy. These low-powered rechargers are also often used on small garden mowers and tractors. Many car owners carry battery chargers in their vehicles of up to 12 or 15 amperes for temporarily recharging a depleted car battery.
Auto mechanic shops, commercial vehicle garages or service stations usually have a large enough recharger to charge an auto battery to compete capacity within one or two hours. Just by supplying necessary charging to partially replenish the large count of amperes (hundreds) needed to turn the starter of an internal combustion motor, these chargers can enable drivers to reach the next vehicle service center when batteries become energy-depleted during travel on major roadways or in urban traffic.
Battery Chargers for Electric Vehicles
Battery chargers designed to use for recharging electric vehicle batteries are available from different brands with varying features and qualities. Typical brands with quality ratings are Zivan, Elcon and Quick Charge. The maximum recharging rate of these batteries ranges from 1 kW to 7.5 kW. Some of these batteries utilize constant voltage to produce continuous current while others make use of algorithm charging curves. Some are designed to be programmed by the individual consumer-user via a CAN port, and others have dial settings for regulating voltage and amperage. Others are actually preset to specific amp-hour, voltage and chemistry of EV battery packs.
Portable EV chargers to be carried in your car transform AC power into DC for charging an electric vehicle's battery pack. They may be of two different types:
Isolated
These chargers do not require any actual connection from the AC electric mains to the batteries getting a recharge. Instead, they operate by a form of inductive charging. Other chargers that are isolated models can be employed in parallel, resulting in less charge time and higher current charging. The EV batteries being recharged have limitations on current intake and must not be overcharged.
Non-isolated
These EV battery rechargers are connected directly to the wiring of an AC outlet and are not for use in parallel.
Power Factor Correction
PFC battery chargers can lessen battery recharging time because their greatest current delivery is very close to that of an electrical plug.
You should consider a quality car battery charger as an essential part of your car's on board maintenance tool kit. This valuable battery booster should always be stored in the trunk of your car whether you are driving to your vacation destination or driving a few blocks to do a quick errand. If you have ever experienced battery failure while driving in city traffic or on a heavily trafficked highway, you know just how important a fast, reliable recharger can be to any motorist. Well designed car battery chargers have testing features for both batteries and alternators. They can determine quickly whether any problems you have with your car's ignition or smooth operation are within the alternator or the battery.
If your battery is dead, the charger will indicate this right away, and if it just needs a power boost, the charger's digital display will reveal how much charge is still live in the battery for use. If you are preparing for a long trip by car, it is wise to take along a battery recharger that is a portable source of power rather than one that requires an electrical connection for repowering. However, for short trips, everyday driving and as part of your home garage car maintenance kit, any quality recharger that offers dependable charging will keep your battery up and running.
Who are the Contenders for the Best Car Battery Charger?
The three top contenders for the best among different brands and types of car battery chargers are the following models:
This product is rated most highly as a low cost, entry level product. As a cheap car battery charger, this model offers car owners reliable basic support and service for auto recharging requirements. Microprocessor operated, this recharger is conveniently controlled by push button and supplies digital data display. This charger has both battery and alternator test features and charges the majority of vehicle battery types. It includes settings for regular and deep-cycle charging as well as AGM and gel-cell type battery recharging, at all rates of speed.
This battery charge booster supplies 100-amp jump starting power for road emergencies when you need a quick boost from stalled to quick start. With this recharger, you can obtain a slow charge of 2 amps or a rapid charge ranging from 12 to 30 amps. Since this model comes without added power outlets, it is more helpful for garage usage than as a portable, on-road power supplier.
This auto charger is an intermediate, middle of the road product that is the best choice on the market for the money. This charger provides 1700 peak amps along with 425 cranking amps for vehicle start-up power. Weighing only 18 pounds, it can be used to recharge autos in service garages, car dealership facilities, vehicle auctions and car parking lots. As the most powerful portable jump starter available on the consumer market, this charger model is a 12-volt battery type with capacity of 20 amps per hour.
Hand-held, this convenient auto battery recharger can be turned and rotated to fit into small work spaces, offering reliable operation when positioned at any angle. With its built-in charger, this device does not need a charging adaptor and can be plugged into any 12-volt DC power outlet. This handy Jump-N-Carry vehicle recharger is very helpful as an onboard jump starter for your car. By packing one in your essential auto maintenance kit, you will be well prepared for resolving any stalling or ignition problems caused by a dead or weakened car battery while on the road.
This powerful and dependable high-end device is considered the top-performing car battery charger overall. More expensive than most other popular chargers, it can prove well worth the extra dollars spent if you are ever stranded by the side of the road with a dead car battery. This Powerpack Pro charger can be easily recharged with connection to a standard AC outlet. Its impressive inverter supplies 600 watts of power to its pair of AC outlets along with its singular DC socket. This device has an LED fuel gauge that shows the battery charging level, and its interior protective circuit network guards against overheating and overcharging.
This recharge unit is also equipped with an alarm that sounds when any low-voltage levels occur. This top-tier car battery charger from Duracell offers 18 ampere-hour Absorbed Glass Mat (AGM) battery power. It provides rapid recharging energy to auto batteries, ensuring startup for cars of up to and including eight cylinder design. This device also offers an air compressor of 150 PSI as well as a reliable air pressure gauge. This Powerpack Pro Duracell car battery charger wins for its longevity and use as a stalwart power back-up source.
Features to Think About Before you Buy
Consumers shop for and purchase car battery chargers based on different product qualities and features. Four important considerations of buyers when selecting a charger are: (1) product durability, (2) feature options, (3) charging speed and capacity, and (4) pricing, for example:
Product Durability
To help ensure the long-term endurance and functionality of your charger, is is good to select one that includes a cooling fan to prevent charger overheating and overuse while in action. Although lightweight chargers are advantageous and easily maneuvered during use, be sure to choose a car battery charger manufactured of sturdy, durable materials for product safety and longevity. It is also wise to select a charger that is compact and easily stored in your car-trunk tool kit for safekeeping and protection from accidental drops, bangs and the daily wear-and-tear of car travel.
Battery chargers with digital displays of battery charging progress are also useful in promoting product durability over time. When monitoring charging time and levels, you can prevent overheating or overuse of your charger and avoid overcharging your car battery.
Feature Options
Different brands and models of auto battery chargers offer various features. If you need a portable charger for use in managing on-road battery recharging when needed, be sure to choose a model with long-lasting charge capacity. You will also gain benefits from buying a device with recharging capabilities for other electronic products in your car. Some drivers prefer a singular-purpose portable charger to prevent depletion of charging power through use in charging laptops, mobile phones and other digital devices. If you are buying a vehicle battery charger for use mainly in your garage or driveway at home, a model with one or two connecting ports for use with AC outlets is needed.
For recharging electronic devices in your car while traveling, a charger that plugs into your car's cigarette lighter can be helpful. Multiple cables of varied lengths are also helpful for recharging your car battery when stopped at roadside. Push button operation and LED lighting for digital displays can be very helpful for nighttime use of your charger.
Charging Speed and Capacity
Chargers are available with charging capacities of from 2 amps to 30 amps and above as needed, according to items to be charged. With a charger of 30 amps, you are definitely equipped with enough charge power to rejuvenate the battery of an eight cylinder car rapidly. With 2 amps of trickle-charging capacity, you can recharge batteries of small vehicles, for example, a moped or scooter.
12 to 30 amps means you can charge the battery of your car or other large vehicle quickly and efficiently. On speed-charge, your auto battery can be fully charged within one to five and a half hours. Smaller items will recharge in much less time.
Durability
Schumacher SC-10030A SpeedCharge
This high-speed battery charger from Schumacher is built to endure, both internally and externally. Its strong interior mechanisms are designed to provide durable, consistent and reliable charging action. With capacities for regular, deep-cycle and AGM as well as gel-cell charging, this sturdy product is built to recharge at virtually all speed rates. As a battery booster, it provides 100-amp power for jump starting vehicles.
This charger is also equipped with a cooling fan to prevent any malfunctioning due to overheating or overuse. Weighing just 14 pounds, this charger is compact and easy to manage with a retractable handle and two cord-wrapping cleats on the back to prevent users from tripping on its cord. It also offers sturdy outer construction to prevent damage if dropped.
Jump-N-Carry JNC660 1700 Peak Amp 12
This portable Jump-N-Carry Pro car battery charger is lightweight at 18 pounds, but built for steady professional use. Measured pound for pound, this charger provides the most powerful jump start action of any charger on the market today, delivering take-off powering of 1700 peak amps. Its built-in charger prevents the need for outside charging adapter hook-up and any resulting overcharging damage.
Its sleek, industrial weight exterior surfaces add to its durability for long-lasting, effective use. This charger's 46-inch heavy-gauge cabling is also quite durable, delivering high-power charging action to the car battery without interruption.
Duracell 600 Watt Powerpack Pro
This heavy-duty Powerpack Pro model from Duracell is built for use in the rugged outdoors. This leader in fine quality power chargers can handle many demanding jobs, from charging electronic items during power outages to resolving roadside emergencies from dead car batteries to powering equipment at remote construction sites.
This is a formidable, stand-alone power source with an 18 ampere-hour AGM battery inside. Protective interior circuitry supports long life of the inverter as it guards against charger overheating and overload.
Feature Options
Schumacher SC-10030A
This auto battery charger can recharge nearly all varieties of 6 or 12-volt batteries, including gel cell and AGM batteries. It serves as a strong battery booster for all vehicle types—cars, trucks, SUVs, RVs, boats, motorcycles and tractors. It has a deep-cycle charging feature for deep-cycle vehicle batteries. This charger supports 100 amp engine startup, weighs only 14 pounds and is a good inexpensive entry level charger.
Operated by a microprocessor, this battery charger has push button setting controls and a helpful digital data display. This auto battery charger is inexpensive, and customers praise its versatility and durability.
Jump-N-Carry JNC660
With 1700 peak amps, this intermediate charger also offers 425 cranking amps for jump starting vehicles. It is the portable battery charger with the most power sold today. Weighing only 18 pounds, it can be used anywhere. This 12-volt battery type model has capacity of 20 amps per hour. It has a convenient built-in charger, does not need a charging adaptor and can be connected to any 12-volt DC power outlet.
This charger is ideal as a portable onboard jump starter for your car. This charger has testing features for measuring both battery charge level and adaptor functions.
Duracell 600 Watt
This Powerpack Pro model is near the high end of the price range for car battery chargers as a high-performance product. It is easily rechargeable via connection to an AC power outlet. Its inverter supplies 600 watts of power and its inner circuitry guards against overcharging and overheating while charging batteries.
This charger provides 19 ampere-hour AGM battery power and has rapid charging capabilities to power jump starts for cars of up to 8-cylinder designs. It also has an air compressor feature of 150 PSI along with an accurate air pressure gauge.
Rates of Charging Speed and Capacity
Schumacher SC-10030A
This powerful battery booster charges at speeds of from 2 amps to 1230 amps and comes with a battery charge level tester and alternator checker. It can charge all types of 6 or 12-volt as well as gel cell or AGM batteries. It also powers 100 amp engine startup during jump start operations.
Jump-N-Carry JNC660
This high-power, portable charger model has 1700 peak amps and supplies 425 cranking amps for jump starting cars. As a 12-volt battery type, it has charging capacity of 20 amps per hour.
Duracell 600 Watt
This Powerpack Pro charger delivers 19 ampere-hour AGM battery power and can jump start cars of up to 8-cylinder design. Its inverter supplies 600 watts of power to its two AC outlets.
Conclusion: Read Our Final Car Battery Chargers Reviews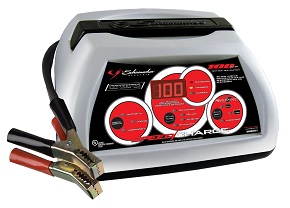 This powerful, but low-cost car battery charger has diverse charging capabilities, powering-up 6 or 12-volt batteries, including AGM and gel cell batteries. Supporting 100 amp engine jump starts, this powerful battery booster provides rapid charging action for vehicles of all types, including cars, trucks, SUVs, RVs and tractors.
It also has a special feature for boosting deep-cycle vehicular batteries. This sturdy charger is operated by a microprocessor. It comes with convenient push button controls and a very useful digital data display. This auto battery charger is inexpensive, and customers praise its versatility, durability and powerful jump starting action.
Minor inconveniences that some users have encountered are that when this charger goes into maintaining mode, it can set off car and truck alarms, and when operating, it is somewhat noisy.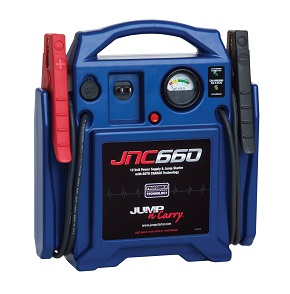 This intermediate auto battery charger offers 1700 peak amps along with 425 cranking amps for quick startup of vehicles. This model is the most powerful portable vehicle battery recharger on the consumer market today. As a 12-volt battery design model, it has capacity of 20 amps per hour and can be used anywhere needed.
Easily connected to a 12-volt DC electrical outlet, this device has a handy built-in charger and needs no adaptor. It offers testing functions for battery charging levels and adapter functionality. This charger is ideal for carrying in your car's maintenance kit to handle battery charging emergencies during road travel. Customers comment favorably on this charger's operating smoothness, consistency and steady endurance.
Slight objections have been voiced about the need for careful monitoring of this device during battery charging since it does not provide an overcharge warning. Also, some consumers are slightly disappointed to find that this is a single-purpose device—it charges batteries, period.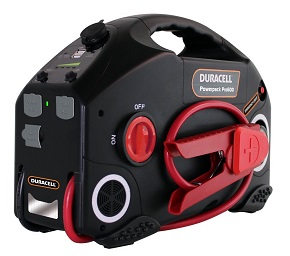 This high-end and top-performance car battery charger has an inverter that supplies 600 watts of power. This device can be easily recharged by connecting it to the nearest AC power outlet. Its internal circuits protect against overheating and overcharging while in action.
This charger delivers 19 ampere-hour AGM battery power. It is equipped with rapid charging features and can jump start cars of up to 8-cylinders. This device also includes a convenient air compressor function of 150 PSI and a dependable air pressure gauge.
Customers note this charger for its long-lasting functionality and its added usefulness as a convenient back-up power source. It has gained praise as the best overall car battery charger. The only slight disappointment mentioned from users of this charger is that, when plugging a small TV into this charger as a backup power source, the TV makes a buzzing sound. This is because the inverter cannot deliver a true sine wave.
Final Thoughts
When shopping for a car battery charger, be sure to examine the top three contenders in the consumer marketplace today—Schumacher SC-10030A SpeedCharge, Jump-N-Carry JNC660 1700 Peak Amp 12 and Duracell 600 Watt Powerpack Pro. By carefully reviewing their charging capabilities, features, functions, durability and pricing, you can make an informed purchasing decision. Before buying, be sure to read customer comments and feedback as well as industry rating reviews and detailed product descriptions.
Decide if any product criticisms are important enough to affect your battery charger choice. Also decide if pricing is a strong factor in making your product selection. Remember the strong overall benefits of the Duracell 600 Watt Powerpack Pro, including its high functionality and use as a backup power source. Check current sales rates for each charger. Once you make your choice and buy your new car battery charger, you will have a valuable source of power for rejuvenating your car battery whenever needed and for charging up many additional electronic devices.