Some links on this page are monetized by affiliate programs - see disclosure for details.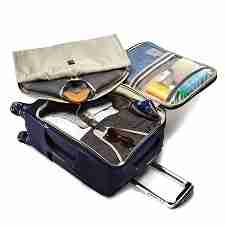 If you've ever flown on a plane, you know that you have to come tightly equipped with all of your essentials. From your luggage that holds all of your clothing and personal items to a comfy neck pillow for a more relaxing ride, you may come packed with a lot of gear for your trip.
If you're going on a short trip and don't have a lot of things to pack, you don't want to pay to check an extra bag, or you want to keep your most important items close at hand, a functional carry on bag is another critical essential you need for your trip.
A Guide to Carry On Bags
A carry on bag is a small bag or suitcase that is lightweight, portable, and typically used for traveling on an airplane. This is the bag that you take with you on the plane. If you're planning a short overnight trip, you may put everything you need in this small bag so you don't have to deal with the expense of checking it at the airport.
Families that travel may use this for needed items like bottles, toys, books, and other items that make for a more comfortable ride.
What are the Advantages?
Your bag should be small enough to adhere to airport regulations, while having enough space to carry everything you need. That way, it is right on the plane with you in the overhead compartment and can be accessed during your ride if needed. If you also don't have enough space in your luggage, you can use a carry on bag to avoid paying extra for additional bags, which can get costly depending on which airline you are taking.
These bags are lightweight, easy to maneuver through the airport, and provide you with just enough space for the things you need the most when you travel.
What are the Different Types?
If you have a trip coming up, and you want to make sure you are adequately prepared, you'll want to have a bag that you can carry with you on the plane. There are a few different types of bags available. The type that you choose depends on a variety of factors, but you should make sure that you pick one that is the proper size both for the plane and for convenient carrying.
Duffle bags – These are tote bags that you can easily slip over your shoulder. These are convenient to carry, and come in a variety of sizes to best fit your needs.
Rolling suitcases – These are just like your other types of luggage, but they are much smaller, small enough to fit in the overhead compartment. These are ideal for rolling through the airport and for carrying heavier items.
Diaper bag – This is a must-have for parents traveling with children. A diaper bag not only holds essentials like bottles, diapers, wipes, and toys, but it can also be used like a purse to hold identification, plane tickets, and cell phones.
Smart bags – If you're traveling for business, this may be the best choice for you. These are designed to safely hold your electronic devices, including smartphones, tablets, and laptop computers.
Which Carry On Bags are the Best on the Market in 2015?
LeSportsac Ryan Baby Diaper Bag Carry On – Traveling with a child can be difficult, but it doesn't have to be if you're well prepared. With this bag from LeSportsac, you can have everything you need, perfectly organized, and right at your fingertips. This bag comes in an assortment of great colors and prints, has multiple compartments, and has a great lightweight design that makes it the perfect traveling diaper bag.
Cenzo Duffle Vecchio Brown Italian Leather Weekender Travel Bag – Get the perfect combination of functionality and style with this bag from Cenzo. This duffle is made with 100 percent genuine leather, so it not only looks great, but it's incredibly durable. This is the ideal size for carrying onto a plane, and provides plenty of space for all of your necessities. It also makes a great overnight bag when you're not flying on a plane.
Samsonite Silhouette 16 Expandable – Pack everything you need for your overnight trip in this bag from industry-leading Samsonite. This bag is the right size for carrying on a plane with you, and it works for other trips as well. Standout features include functional pockets and spinner wheels that make navigating through the airport a breeze.
Features to Evaluate
You don't want to be stuck on a plane with the wrong type of bag. You want to make sure that you invest in a piece that is just right for your needs. Since there are so many bags on the market, the purchasing decision can be a challenge. However, by looking at four key features, you can narrow down your selection to find the right bag for your trip.
Type
As mentioned earlier, there are several different types to choose from. You want to make sure that you buy the right one for your needs. A zippered duffle, for example, is a good choice for clothing but one large compartment won't work for a parent with children who is carrying lots of baby essentials. Consider what you will be packing in your bag to decide which one is best for you.
Size
You want to evaluate size for two main reasons. First, you want to make sure that you purchase the right size for the airline that you are using for travel. You don't want to buy a bag that is too large, only to have to pay to check it in at the airport. In addition to making sure your bag is the right size for the airline, you want to make sure that it has plenty of space for everything you want to pack.
Price
These bags range in price from less than $50 to several hundred dollars. Decide on your budget but also keep other features in mind. You don't want to purchase a bag that is too small just because it's cheaper. Make sure you evaluate several important features, in addition to price, to get the best bang for your buck.
Compartments
If you're traveling with your electronics, you want to find a bag that has specialized compartments designed to keep these products safe. If you're traveling with children, multiple compartments and pockets help you stay organized.
Type
LeSportsac Ryan
This is a diaper bag that is the perfect companion when traveling with babies and younger children.
Cenzo Duffle
This is a duffle bag that is the right size for carrying on the plane for you. To get more use out of your bag, it can also be used for overnight trips not taken on a plane.
Samsonite Silhouette
This is a small rolling suitcase designed to hold a lot of things in one small space. This is great for plane rides for short overnight trips where you just need one suitcase.
Size
LeSportsac Ryan
At 14 inches high and 20 inches wide, this is large enough for all of your child's essentials.
Cenzo Duffle
This bag is 11 inches high, 10 inches wide, and 21 inches long.
Samsonite Silhouette
This bag is 8 inches high and 15 inches wide, giving you the right amount of space while conforming to airport regulations.
Price
LeSportsac Ryan
This may seem like an expensive carry on. However, this can be used every day, whether you're going on a cross-country trip or just walking to the park, making it a great investment.
Cenzo Duffle
This bag retails for an extremely fair price for a genuine leather bag that is both stylish and functional.
Samsonite Silhouette
At the highest price of the three, this is a high-end carry on.
Compartments
LeSportsac Ryan
Keep everything neat and organized with this bag, which boasts two interior pockets and four exterior pockets.
Cenzo Duffle
This bag has one large compartment inside and one interior zippered pocket.
Samsonite Silhouette
This has four interior pockets and two exterior zippered pockets.
Our Picks for Best Carry On Bag

Travel with your baby more stylishly when you carry this bag from LeSportsac. Start off by choosing your print. There are 22 designs to choose from to fit any style. Design choices include Animal Camo, Black Patent, and Flower Child. Once you've picked the right print, you'll find a lot of great features that make this the ideal carry on.
You'll have plenty of space for everything you need, as this has a roomy interior, complete with two interior pockets, and four additional outside pockets to keep your most important items close to you at all times. The interior and exterior are made with nylon, which is durable and easy to clean, so you can easily erase spills. It also zips up so you don't have to worry about anything falling out, it is large enough for several outfits, toys, and necessities, and it is lightweight enough to tote anywhere.
Pros:
It is affordable. It is durable. Plenty of storage space inside and out. It is easy to clean. It is very lightweight. Large handle makes it easier to carry. It has high-quality zippers that do not snag. It comes in 22 great prints.
Cons:
The straps do not adjust to provide a more personalized fit. It does not have separate compartments inside of the bag.
Travel in style with this Cenzo duffle bag that is not just functional but looks great too. This bag is made with 100 percent Italian calf-skin leather, which gives it a soft feel, a beautiful look, and durability that's sure to last for years. This is the ideal unisex bag for traveling on a plane or even just taking a quick weekend trip close to home.
This bag has carrying handles, as well as a detachable shoulder strap, that make it easy to carry. The brass hardware is the perfect accent and is also heavy duty. At 4 pounds, it is lightweight, and it is the perfect size for storing a change of clothing, toiletries, or other personal items. It has a stylish striped lining, and it is the ideal size for overhead storage compartments.
Pros:
It is very durable. It has a unisex design. It's lightweight. It provides plenty of interior space. Made with high-quality calf skin leather. It looks great. Comes with a limited lifetime warranty.
Cons:
It has a smell when you first use it, and it does need to be aired out due to the glue used in the process. It doesn't have exterior pockets.
Samsonite has always been a leader in luggage, and it's because of their innovative designs and high-quality luggage. This bag is no exception, boasting a lot of great features that keep your belongings safe while providing you with just enough space to store all of your necessities. It has multiple pockets inside, including a mesh pocket and a WetPak pocket.
This bag has a nylon exterior that has a water-resistant coating that's ideal for traveling in all types of weather. The four multi-directional wheels make this easy to move from place to place, and the telescopic gel-infused handle provides a comfortable grip. This bag comes in three great colors, including Black, Cypress Green, and Twilight Blue.
Pros:
It is large enough to fit all of your necessities while staying within airline regulations. Glides easily. It has a comfortable handle. It is treated to be resistant to water. Multiple compartments for organization. It is very durable. Rubberized parts prevent wear and tear.
Cons:
It is a bit expensive. It is a bit heavy. Can be hard to pull over carpet.
In Summary
If you're planning a trip on an airplane, one thing that should be added to your to-do list before you hit the airport is to purchase a carry on bag. The Samsonite Silhouette is a top choice that offers all of the features you need, including a rugged, durable design, multiple pockets for organization, and it's easy to pull around with you in the airport or heading to your hotel. Though this bag does carry a higher price tag, this is one that you can take with you on trips for years to come.