Some links on this page are monetized by affiliate programs - see disclosure for details.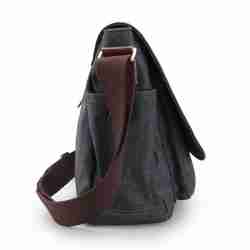 In today's busy society, you'd be hard-pressed to find a professional in any field or business, or student for that matter, that doesn't use a laptop, many of which whom tote them around from office, to meeting, to coffee shop, to home, to conference, to class, to… you get the idea.
Our laptops contain a variety of important information relative to the task at hand; outlines, samples, photos, graphs and charts, assignments and a multitude of other necessary documents to manage whatever work or studying we are doing. Making sure that your laptop is protected from damage while you are on the go is imperative to ensure your work is safe and sound. Laptop messenger bags are a functional and stylish option to transport your computer that also provides adequate cushioning to shield it from damage.
Read on for my recommendations.
Considerations when Selecting the Best Laptop Messenger Bag
A messenger bag is typically described as a large bag that has a long strap allowing it to be worn across the body, similar to a backpack. This helps keep hands free for other tasks; opening doors, holding a cup of coffee, talking on the phone, and similar tasks that are best done without having to hold onto the handles of a bag such as those on a briefcase.
Durability, padding to keep your laptop secure, overall size and added storage for accessories are going to be important factors when choosing the right messenger bag to meet your needs.
Types of Laptop Messenger Bags
While there are a wide variety of styles of messenger bags to choose from on the market, they are in a class of their own and are either a classic, horizontal shape or vertical.
Similar bags, such as briefcase or attaché, tote bag, newsboy bag or satchel, or hobo bag might hold a laptop but if you do intend to use it to transport your laptop, you will want to purchase a bag meant to securely hold your delicate electronic device. Both styles should have an adjustable strap to customize the fit.
Classic, horizontal messenger bag – This style stows the computer horizontally and is wider across.
Vertical messenger bag – Worn the same way as a classic messenger bag, the vertical bag is narrower and holds a laptop on its side.
Three Great Laptop Messenger Bags for 2020
High-density cotton canvas and genuine leather zipper pulls make the Ibagbar a durable option for transporting your laptop. With five different color options to choose from, and its sleek structure, it is a fashionable option for both men and women. This bag has 9 separate pockets for added storage of essentials when you are on the go.
The Snugg Crossbody messenger bag is a comprised of premium-quality canvas and available in five different colors. It has metal fasteners and a cushioned cotton interior to help keep your laptop safe and secure as you go about your day. It also offers plenty of storage with four external pockets and six internal ones for easy organization.
Not only is the Timbuk2 Command laptop messenger bag great for day-to-day use, it is also ideal for travel as it is TSA compliant so you can pass through security without having to remove your computer and then pack it back up. This nylon bag features an external entry side zipper pocket to offer easy access to the power cord. An internal organization system keeps small items secure and there is a lined floating pocket ideal for delicate items such as sunglasses or a phone.
Considerations when Selecting a Laptop Messenger Bag
Like most purchases, it is important to do some research beforehand to make sure you identify the product that will suit your needs the best. You'll want to consider the size, durability, extra features, warranty or guarantee, and price when choosing the best laptop messenger bag for you.
Size
The size of the laptop messenger bag is probably the top consideration since your laptop needs to fit inside of it. A snug fit is okay but you don't want it to be so snug that it becomes a struggle to get your laptop in, or out of, the bag. Note that some of the options presented here have different size options available. Extra room for a few folders or notebooks is a bonus.
Durability
Look for fabric that is resistant to wear and easy to clean. Hardware should be metal or quality plastic with stitching that is reinforced.
Extra Features
The padding should be thick enough that it offers adequate protection from minor bangs and bumps. However, it shouldn't add weight to the bag. Plenty of pockets and cargo space, as well as having an adjustable strap are features to watch for.
Warranty
A quality laptop messenger bag made by a reputable label or manufacturer, regardless of its price, should offer at least a one-year limited warranty. If the bag has parts, such as buckles or latches, that could break, make sure you research if they can be replaced and if the company you purchase from offers repairs or replacement parts.
Size
Ibagbar Canvas Messenger Bag
The Ibagbar laptop messenger bag comes in two sizes. The small is 13" L x 11" H x 3.5" W and can hold a 13-inch laptop. The larger size is 15" L x 12" H x 4" W and will accommodate a laptop that is 14 inches long.
Snugg Crossbody Shoulder Messenger Bag
This laptop messenger bag comes in one size and will easily store a laptop up to 15.6 inches. The dimensions for this bag are 16.9" L x 13.4" H x 4.5" W.
Timbuk2 Command Laptop Messenger Bag
With several sizes to choose from, you can rest assured that there is a Timbuk2 Command laptop messenger bag that will provide the perfect fit for your laptop and all of your other essential gear. The small size bag is 16.9" L x 13.6" H x 5.1" W and idea for smaller laptops or notebooks. The medium model will easily house a 15" laptop with dimensions of 17.1" L x 14.4" H x 5.1" W. The largest of the Timbuk2 bags will please the professional that lives life on the go. It is 18.5" L x 15.4" H x 5.9" W.
Durability
Ibagbar Canvas Messenger Bag
This durable messenger bag is constructed from high-density washed cotton canvas that holds up well and can be easily cleaned at home with warm water and a gentle cleanser. Hang it to dry in a ventilated area avoiding direct sunlight.
Snugg Crossbody Shoulder Messenger Bag
The high-quality canvas and durable metal fastenings of the Snugg Crossbody messenger bag will withstand plenty of use and still look great whether you use it for business, school, or travel.
Timbuk2 Command Laptop Messenger Bag
The Timbuk2 Command bags are made with quality craftsmanship and are guaranteed to last. They feature waterproof flap and bag construction and will hold up to daily wear and tear.
Extra Features
Ibagbar Canvas Bag
If you like pockets, you'll love the fact that the Ibagbar laptop messenger bag has nine of them! The shoulder strap is easily adjustable so you can customize the length for a comfortable fit. The structure of the bag lining was designed to allow your items to be stored in a systematic way.
Snugg Crossbody Bag
Made with commuting in mind, the Snugg Crossbody messenger bag has a protective, cushioned interior and zip and clip fastenings to help keep your belongings secure. It boasts 10 pockets; four external ones and six on the inside.
Timbuk2 Command Bag
The external access side zipper pocket gives you a quick option for reaching your power brick or cord. It has an internal organizer to help keep pens, glasses, phones, and other small items handy and safe. Its TSA compliant status makes this a great bag for travel.
Warranty
Ibagbar Canvas
Ibagbar offers a one-year warranty on their bags and will happily assist you should you have an issue with your bag.
Snugg Crossbody
Snugg offers a 12-month guarantee on their bags.
Timbuk2 Command
Timbuk2 is so sure that their bags will hold up that they offer a limited lifetime warranty on their products and will replace or repair them as long as the damage is not due to normal wear and tear of the bag.
Our Top Picks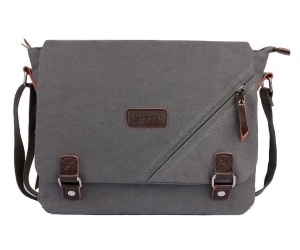 Great bang for the buck makes the Ibagbar Canvas Messenger Bag on of our top selections for best laptop messenger bag. It is a stylish and durable bag that is ideal for both men and women. With plenty of pockets and enough space to hold a laptop and more, this is a great choice for professionals or students on the go.
Pros:
Ibagbar stands behind their products and will help the consumer solve any problems or issues that arise with the bag during the first year after purchase. Plus, they are high-density cotton canvases and genuine leather.
Cons:
The large bag will only fit a laptop up to 14 inches so make sure you know how much space you ideally need when purchasing.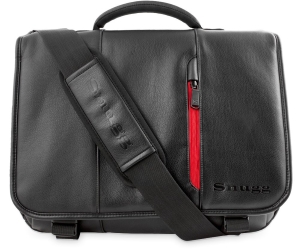 This sleek looking bag boasts 10 pockets and plenty of space for a larger device up to 15.5 inches. It is constructed from high-quality canvas and durable metal fasteners and has a cushioned cotton interior to protect your laptop and other belongings.
Pros:
This bag also comes with a 12-month product guarantee.
Cons:
The internal liner is either red or yellow, depending on the bags outer color, which might not be appealing to everyone.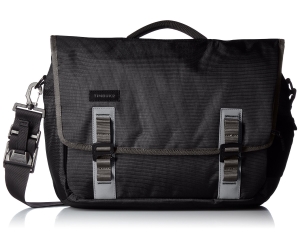 The Timbuk2 Command Laptop Messenger Bag has the most options for sizes and colors making it our best overall selection for best laptop messenger bag. With the lifetime warranty, it is a great investment to protect your laptop and all of the documents it stores.
Pros:
It is a great laptop bag for anyone that travels frequently as it is TSA compliant for passing through security. It also features a waterproof flap and bag construction to keep your items dry.
Cons:
Not all of the colors are available in the three sizes.
Conclusion
The best laptop messenger bag is going to be the one that fits your needs and your lifestyle. As you take our recommendations into consideration, make sure you identify how much you will need to rely on your bag. If you are a busy, on-the-go student of professional, or you travel with your laptop frequently, those factors will be significant when you make your selection.