Some links on this page are monetized by affiliate programs - see disclosure for details.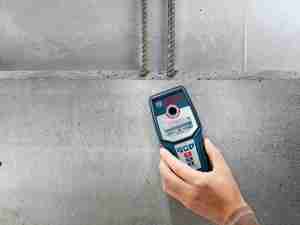 Whether you are a DIYer or construction is your business, a stud-finder is an essential tool for completing tasks such as framing drywall or even hanging pictures, TVs or other objects. Studs can hold much more weight than drywall, and the ability to find them will help ensure that whatever you are hanging remains securing connected to the wall and will not fall. In essence, Stud finders are one of the most important tools in your tool belt.
The Top 10 Best Stud Finders of 2020

What Is A Stud Finder And How Does It Work?
You use stud finders to determine the location of solid wooden studs behind a wall's surface. Different stud finders work in different ways to determine the locations. They use magnetic fields, sensing where the nails used in the studs are located or ultrasound, which will also help you outline the edges of a stud so that you can attach whatever it is you are hanging to the center.
Why is a good Stud Finder important?
With a standard wood-framed wall there are horizontal plates at the top and bottom and the vertical pieces, which link them and form the body of the wall—also known as studs. You may need to locate a stud in a wall for any number of reasons. Most of the time, you are attempting to install something heavy, like a TV mount, a large mirror, or an anti-tip bracket for a tall bookshelf. Sure you could use a wall anchor, but the only way to have a true sense of security about the sturdiness of your wall supportive structure is through directly drilling into a stud.
What are the Different Types?
If you want the best stud finder for the task at hand, you must make sure that the type of stud-finder matches up to the job you doing. Otherwise, you will not be able to properly locate the framing studs behind varying surfaces. If you are able to spend a little more for an ultrasound stud-finder, you will nail into the wall with the greatest degree of precision.
Magnetic
These types were some of the first to come available and thus have problems with accuracy. Rather than sensing for the stud itself, it finds the nails that keep the drywall attached to the stud. While it may take many sweeps over your wall to find the nails, these devices are very cheap.
Metal detecting
This kind searches for the nails through an electromagnetic field. These are much more sensitive than the magnetic type, so it is easier to locate the nails. Due to the incidence of false positives, many consumers consider them a waste of time and money.
Ultrasound
Generally these are the most accurate. To detect studs, these determine the change in density of the wall. You locate the exact spot of the stud once you slide it along it along the wall and it flashes or beeps to indicate it has found an edge. It is a nice feeling to be able to confidently drive a nail through your wall with an exact understanding of the stud layout.
What Type of Stud Finder is the Best?
From the simple magnetic finder to the high-tech ultrasound, all types of stud finders will perform the basics. Many people wonder if there's any difference between the cheapest and most expensive brands.
For general use, a magnetic stud finder will probably be fine. It'll help you hang a TV or perform other common jobs around the house.
Ultrasound stud finders are the better choice for more complicated projects like remodeling or other construction. They offer increased accuracy. Plus, they find studs quickly, which is a real time-saver if you're working on a large project.
You won't find too many professionals using metal-detecting stud finders. They're not accurate enough for most jobs.
Things to consider
Whether you are putting up a new series of shelves, hanging pictures, or beginning to start a new addition, it always helps to know where your studs are located. Before the time of stud finders, all you could do was pound a small nail into the wall until you found a stud or use a small pivoting magnet. Both techniques are inefficient but this all changed with the development of the stud finder.
The Top 3 Best Stud Finders on the Market in 2020
The CH Hanson is one of the best stud finders that include a combination of durability, functionality, and cost. With two neodymium magnets instead of the usual one, it has double the scanning area of previous models. You can find your studs quickly and it comes with a multi position tool that helps you mark your studs and position your pictures. It stays on your wall with no hands necessary. It requires no calibration, batteries, lights, or hassle. CH Hanson is a favorite among carpenters because it has extreme durability. It is a cost-efficient option.
The Zircon StudSensor e50 rapidly and easily finds the corners of wood and metal studs and joists located behind walls, floors, and ceilings. It contains two scanning modes, which means you can scan more surfaces in your home than with normal stud finders. It has a DEEPSCAN mode that doubles the searching depth for walls up to 38mm deep, allowing you to scan for joists in many floors and ceilings. This unit has a very comfortable handheld design that can adjust at any angle while at the same time reducing scanning errors. It has an LCD display to show you stud edges and a SpotLite Pointer to shine a light on the wall to mark your target. With the WireWarning detection, you will be protected from hitting unshielded electrical wiring for up to two inches.
The DEWALT DCT419S1 12v Max Hand Held Wall Scanner is able to detect five different types of embedded material. Whether it is plastic, ferrous metal, wood, or unshielded live electrical wires over three inches deep, this model has got you covered. It is capable of scanning through multiple wall surface layers from drywall, plywood, concrete, and ceramic tile. With the automatic mapping feature, you can see through all of the embedded materials at once. The scanner has a color 3.5" LCD display for greater visibility and embedded material type mapping and viewing. This is frequently used for installation, remodeling, maintenance, and service because it greatly reduces the amount of collateral damage involved with finding a wall stud.
Factors to Consider when Choosing
Price
An important factor to always consider is the price. If you really only plan on using the stud-finder one or twice, it makes sense to purchase a cheaper model. If you are a professional carpenter who needs many features, you should invest in an effective model.
Size
When you are trying to use a stud-finder in a tight or cramped space, you are going to want to find one that can adapt to your limitations. Your device will be of no use if it is too large to fit over the area, which you are trying to examine. It really helps when you have to reach at an awkward angle to have a stud-finder that has a graspable and comfortable design.
Included Features
For professionals that need to use their stud-finder across multiple types of material, it helps to have a stud-finder that can adjust accordingly. If you need to map exactly where you are going to be drilling or nailing, purchase a model that includes a mapping display on an LCD screen.
Price
CH Hanson 03040 Magnetic Stud Finder
This is one of the most cost-efficient models on the market today. For simple and occasional stud finding, this is your best bet.
Zircon StudSensor e50 Electronic Stud Finder
This is a very affordable unit, especially considering of the amount of included features.
DeWalt DCT419S1 Hand Held Wall Scanner
This is an expensive investment. These are suited for professional carpenters that have to do extensive and frequent stud finding.
Size
CH Hanson 03040
It is one of the most compact units available. When you have to locate studs in a tight space, this will be your smallest option.
Zircon StudSensor e50
This one is a slightly larger build but still is very handy for most surfaces and spaces. If you have a standard sized space that needs stud finding to complete whatever job you are doing, this is a great option.
DeWalt DCT419S1
The DeWalt is much larger when compared to other stud finders. While it has a handheld design that helps to offshoot the discomfort and weight, it is still very large if you need to do a specialized find.
Included Features
CH Hanson 03040
This one is the most basic unit in terms of features and only includes a standard stud-finding capability. It has a few user-friendly expansions but it is mostly meant for basic jobs.
Zircon StudSensor e50
It includes a standard amount of features with a few added benefits. It can detect if there are live wires, for up to two inches, behind where you are about to hammer or drill.
DeWalt DCT419S1
The DeWalt includes the greatest amount of features, functions, and accessories. While it may take some research to figure them all out, it really comes in handy for carpenters that have complex jobs.
Final Stud Finder Reviews: Our Results Are In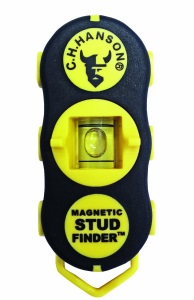 This model offers everything you need for simple jobs with the smallest price tag. It is very reliable and can locate most studs without too much hassle. It's low price tag and unrivaled durability makes it one of the best choices for the precarious and simple job. It even allows you to perform a simple level of marking to keep track of the stud location. Since it is capable of sticking to the wall with no hand support, it comes in handy in the planning stage of construction.
Pros:
It is very affordable
It does simple and shallow jobs without too much hassle
Great feedback from satisfied customers
It comes with a warranty
Cons:
Unconventional handheld design may be difficult to handle
It is not the most precise model on the market
It does not include that many features or customizable options

One of the best stud finders at a very reasonable price, the Zircon offers plenty of features to make your stud-finding experience as painless as possible. You can easily locate the edges of wood or metal studs in ¾ inch deep wall. It detects when you are over live wiring for added safety. In addition, it features an easy to read LCD display and a spotlight pointer that clearly marks where your stud is situated. With its easy to grip and rubber design, you will have no problem getting hand support in the most awkward of spots. With the audio tone feature, you will instantly get notified when you are passing over a stud with a clear sound.
Pros:
Compact and easy to use
It has a large number of included features
It comes with a warranty
Ergonomic design
You can use it on many different kinds of materials
Cons:
It is a bit pricier
It tracks smoothly against the wall
The number of features can become a bit confusing
You have to constantly hold it to use it
It is somewhat heavy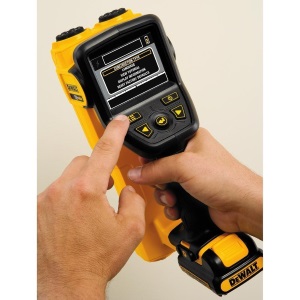 You will feel very confident knowing where you studs are when you use this device. Not only are you getting an array of included features and capabilities, but you also have greater protection from live wires and damage done while undertaking your job. There is no better model out there for contractors that work frequently and with a diverse number of materials.
Pros:
It does a very complete and accurate job
It has a variety of settings for any kind of stud finding
You will create much less collateral damage
Comes with a warranty
Cons:
It is very expensive
Very large device that can be difficult to handle
It is meant more for professional contractors, not the do-it-yourself crowd
It may be hard to understand all of the included features
Conclusion
When the time comes to figure out where your framing studs are located, you are going to want the best stud finder possible. You should go for the stud finder that meets or exceeds the requirements of your job so that you can use it for sheet wall and other hanging needs. You need to balance out the prices and functions of the above three models and get the one that suits the level of work you expect to do around the house or at work. Looking for the best? The DeWalt Hand Held Wall Scanner has everything you want and need.