Some links on this page are monetized by affiliate programs - see disclosure for details.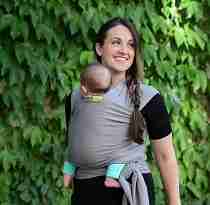 Finding out that you are expecting is an exciting time in a parent's life; but it can also be confusing. When it comes to shopping for baby, deciding on what products work best can be a daunting experience. If you're in the market for a baby sling, then look no further.
This buyer's guide contains answers to some of the questions you may have regarding baby slings, as well as reviews for the top choices on the market today.
What is a Baby Sling?
The first question you may have is what exactly is a baby sling? A baby sling is simply a piece of cloth that is worn in a way that supports the baby against the wearer. Baby slings have become quite popular, coining the term babywearing to describe the practice. Baby slings have been seen in growing intensity in television shows, movies, and being donned by celebrities- adding to the trendy craze.
Related: Ten Functional and Stylish Diaper Bags You Need to Own
What are the Different Types?
When you first begin the process of purchasing a baby sling, the first and most important decision is to determine which type will work best for you. There are four types of baby slings available on the market, each with different features. Some parents choose to purchase only one, whereas others purchase two or three styles, alternating between them. Every baby is different and you may find that what works for some babies does not work for your baby. Make sure to review the features of each type of sling before purchasing to make sure that you find a suitable product for you and your little one.
• Ring slings: These baby slings are shaped from a rectangular piece of fabric. This fabric is then fed through double o-rings, creating a pouch-like seat for baby. It is easily adjustable. Ring slings can be used from birth until the child becomes too heavy to wear.
• Pouch slings: A continuous circle of fabric stitched into a tubal shape. This creates a pouch for baby to sit or lay in. Usable beginning at birth.
• Mei Tei carrier: This type of sling consists of four straps coming from a rectangular piece of fabric. The child is placed in the rectangular section and the straps are wrapped comfortably around the wearer, tying the baby into place. These work great from newborn age up until preschool age. A newer version of this style is called the Buckle carrier and simply replaces the knots with clips or buckles for added safety.
• Wraps: One large length of fabric that is used to wrap the baby onto the caregiver. Wraps give the most about of versatility when babywearing. Great for newborns, but are able to be used at any age.
What are the Advantages of Using a Baby Sling?
One of the most important aspects of owning a baby sling is the closeness you'll experience with your infant. Whether completing chores around the house, or running errands around town, you'll occasionally require the ability to be hands free without putting baby down. Baby slings are the perfect solution.
On top of being useful for hands free babywearing, a sling grants you the ability to share a continual closeness with your baby. Slings are lightweight and breathable. They make movement for you and baby easy and natural. Unlike traditional carriers, slings are transitional- most are made of a excessive amount of fabric, allowing for versatility in size and position.
Products You Should Consider

BABYBJORN Baby Carrier Miracle: Constructed of a cotton blend, this buckle carrier is equipped with a cushioned waist belt and support for the lower back. Fully adjustable, this carrier grows with your child through to the early toddler years. All buckles are conveniently located on the front of the carrier for easy, one-handed release. The front of the carrier opens entirely so that baby can be removed gently during naps, and is supportive to a newborn's head, neck, hips, and legs.
Boba 4G Baby Carrier: The 4G carrier is 100% cotton with no harmful cottons or dyes. This carrier can be used forwards or backwards and holds up to 45 pounds. Extra features include a removable sleeping hood, infant insert, and foot straps for added comfort. You can adjust the carrier multiple ways, providing a custom fit. The 4G carrier also includes pockets for extra, easy to reach storage when on the run.
ERGObaby Four Position 360 Baby Carrier: Both the shell and lining of this carrier are made of 100% cotton, giving it a lightweight feel with breathability. Best for babies between 7 pounds and 33 pounds, the 360 carrier grows with your baby by providing four positions for baby to engage and explore the world around him or her. The support of the carrier ensures your baby will always be in an ergonomic position that cradles the head, hip, and spine.
Choosing the Best Baby Sling
Once you've chosen what type of sling you'll be using, you need to decide on specific product features that will suit your needs best. While some are superfluous, there are qualities that are a must-have for a comfortable experience for both you and your baby. Make sure to thoroughly research your choices by reading product features and reviews online and in-stores and by talking to other parents who have previously purchased a carrier and find out what worked for them. Some of the most important features include cost, comfort for both you and baby, and ease of use.
Comfort: Comfort is critical. If the carrier you purchase is uncomfortable, the likelihood of you using it diminishes exponentially. If using the carrier is unpleasant for your newborn, they will fuss and cry during use- also causing you to resist using the product. Lack of use raises the price drastically when compared to frequency of use. When researching comfort, it is important to look at head support for your infant, back support for yourself, padding for both you and baby, and how breathable the product is during wear. It is crucial to select a sling made from a breathable material, especially if you live in a warmer location. One of the biggest complaints parents make regarding babywearing is that both themselves and the baby heat up during the experience.
Ease of use: Another important feature to vet before buying is how easy the item is to use. If the baby sling or carrier is too complicated or bulky to use, it will end up collecting dust instead of being put to good use. Check online reviews for comments about how easy adjustments are to make, clasps and buckles fasten or release, and how easy it is to get baby out while sleeping.
Comfort:
• BABYBJORN Baby Carrier Miracle: The Miracle carrier is fully equipped with a padded waist belt. A waist belt is a great addition to the typical carrier design as it helps transfer baby's weight away from your shoulders, neck, and back. An adjustable back support is located along the lower lumbar region, which also helps control any strain on your back. For your baby, the Miracle provides an adjustable head support as a proper foundation for baby's head and neck. The forward facing of the carrier keeps baby in a pediatrician approved position, preventing hip dysplasia. The upright seating keeps baby's airways free and clear, making breathing easier for baby. BABYBJORN stands by their fabrics as being safe and comfortable for both parent and baby- using fabrics that meet all European and American safety standards.
• Boba 4G Carrier: The 4G is designed to distribute baby's weight in an even manner across your entire upper body, unlike several popular carriers on the market. Its ergonomic shape cradles baby safely, lessening the chance of hip dysplasia, and its back rest is higher than its competitors'. Fully adjustable, the 4G carrier provides a soft, breathable style for the parent, while maintaining a supportive shape for baby. Equipped with a sleeping hood and foot straps, this design focuses on keeping baby content and comfortable. Chest straps are added in order to make this sling comfortable for all sizes of parent.
• ERGObaby Four Position 360 Baby Carrier: This carrier boasts comfort for everyone who wears it, ranging from petite mothers to large-framed daddies. As its name suggests, this carrier is designed with baby in mind- keeping your bundle of joy in a pediatrician recommended frog-leg position. It comes with an adjustable hood for those moments when baby drifts off to sleep. The hood is also great for additional head and neck support, sun coverage, or privacy during nursing feeds. Modifiable panels on both the back and sides of the carrier grow with baby, giving this carrier a prolonged useable timeframe. For the wearer, this lightweight design weighs in at a pound making it easy to wear for long periods of time. The waist band can be worn in a high or low position for custom comfort. Shoulder straps are padded for added support and ease during wear.
Ease of Use:
• BABYBJORN Baby Carrier Miracle: All straps and adjustments are conveniently placed directly on the front of this carrier. This makes it easy to adjust, release, or put on while on the go or just alone in the house. The latches are designed specifically to be durable and strong, but yet able to be utilized with a single hand. One of the most unique, and useful, features of this product is that the front of the carrier opens completely to remove sleeping babies without having to pull them out of the top.
• Boba 4G Carrier: The 4G carrier is equipped with several unique features that make it a breeze to use. A handy purse strap holder makes slipping straps of purses and diaper bags a thing of the past. Pockets across the front of the carrier make storing frequently used items simple. For breastfeeding mothers, the 4G is constructed with two additional straps designed for pulling baby in closer for feeding in an easy, quick motion. The shoulder and chest straps both have double adjustment places for an added fit and the soft shell of the carrier is better for storage and travel than a framed carrier.
• ERGObaby Four Postion 360 Baby Carrier: Four carrier positions for baby's upmost comfort. Buttons are attached for easy adjustment of carrier size through baby's age. Built in adjustments on the shoulder straps make for easy fitting. All adjustments are Velcro, making for easy utilization, even when one-handed. The item folds easily for traveling or storage.
Conclusion: The Reviews Are In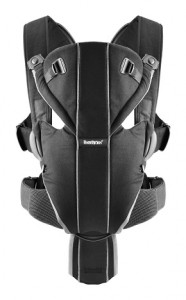 The Miracle baby carrier by BABYBJORN is a great entry level baby sling. If price is your main concern, the Miracle packs a punch while still remaining in the lower end of the cost spectrum. It's front of carrier buckles, waist belt, and front opening are all features well worth the price of the product. However, it is not all pros with this product. If you are over six feet tall, this may not be the product for you, as some parents have complained of needing another two inches in the straps for proper fitting. While this carrier faces in and out, it does not transfer to a wearer's back for older children, like its more expensive counterparts.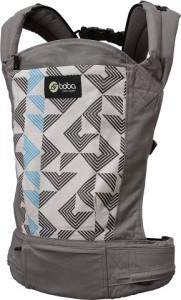 If you are within a budget but not entirely strapped for cash, then give the Boba 4G Carrier a try. Its supportive waist band and unique features – such as the purse strap holder – push this carrier into the intermediate category. Although the product is great for the price, keep in mind that it is slightly heavier than its counterparts. While the information states it is great for children as small as 7 pounds, it is not recommended for newborns, as it lacks the extensive neck support of its counterparts.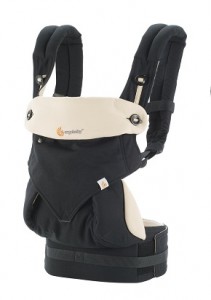 This carrier takes the cake as best overall. While it is considered to be a higher end product, this carrier is comprised of great features, making it money well-spent. ERGObaby spent time developing this product over the span of a decade, consulting with pediatricians, consultants, midwives, and parents alike. The four carrier positions are all extensively supportive, making baby's outings exciting and ergonomically safe. The versatility of the product outweighs its cost, allowing you to use the item as a back carrier and a front carrier, ultimately prolonging the life of the carrier.
Of course, every product has a list of cons. It has been said that the Velcro used on the 360 can be loud in quiet settings, and is cumbersome to use when adjusting positions once the carrier is in place. However, users of this product do state that the love of the carrier itself more than compensates for the bothersome Velcro. In order to be able to use for a newborn, you have to purchase an additional infant insert.
All in All
When shopping for a baby sling, it is important to do your research. Even the lower end products are an investment, so purchasing the wrong item can cost you precious time and money. Talk to parents, read online reviews, question your pediatrician- consumers will always have tips and tricks that you won't find on product information.