Some links on this page are monetized by affiliate programs - see disclosure for details.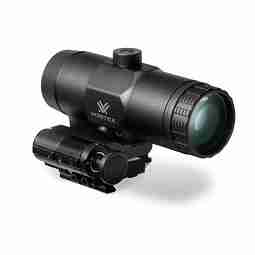 Over 100 years ago, gun manufacturers began experimenting with new ways to improve accuracy and marksmanship at greater distances. Eventually, they discovered a process that rifled the gun barrel, greatly improving the stability and aerodynamics of shots fired. Soon, gun makers were combining recent developments in portable optical technology to create the first telescopic sight for long guns.
After adding adjustments for windage and elevation, rifle scopes became an invaluable accessory used for hunting, warfare and personal protection use.
What is a Rifle Scope?
All rifle scopes are, at their most fundamental, a long tube with a lens on the front end. The lens gathers and focuses light into the central chamber, which is then refocused to create a sharp, detailed image that is perceived by the shooter's eye. By greatly magnifying images, shooters can aim better and use carefully measured markings inside their scope to accurately place and land shots.
Most of today's advanced rifle scopes are carefully sealed to prevent moisture from entering the body of the scope, and are often infused with nitrogen to provide continuous atmospheric pressure to prevent condensation build-up and "fogging" the view through the device. Rifle scopes usually contain adjustments for elevation and windage to help calculate the projected drift of a fired bullet based on distance and horizontal air currents. Other rifle scopes contain adjustments for parallax, using two different viewpoints of the targeted area to visually improve depth of field. To prevent recoil from injuring sensitive areas of the face and eyes, rifle scopes come equipped with a safe length of rubber or other flexible material to cushion contact with the shooter's face.
Modern scopes are precision-machined lenses that improve and magnify the amount of light that can be ordinarily seen with the naked eye. By using enhanced visual capabilities that rifle scopes provide, hunters and marksmen can greatly improve their accuracy on medium and longer-ranged shots. Whereas once rifle telescopes were little more than a crude pair of lenses strapped to a rifle barrel, today's rifle scopes are advanced pieces of rugged optical equipment that greatly aid and improve accuracy and shot distance.
What are the different types of Rifle Scopes?
Rifle scopes are first sorted by their magnification power and ability to zoom. Different lenses are manufactured in different diameters, with bigger scopes able to gather more light. Different designs in eye relief allow users to safely and comfortable view the scope image. Some rifle scopes feature a military style "dot" reticle while other rifle scope manufacturers offer special reticle designs. Originally a literal "crosshair" painted on the end of the scope, today's rifle scopes use a variety of reticle (crosshair) designs and hash marks to help shooters accurately gauge distances once the scope has been "zeroed".
What are the advantages of owning a Rifle Scope?
Every hunter and gun owner knows that there's simply no substitution for using your own weapon and gun accessories. Any rifle can be greatly improved by the addition of a quality scope, which allows shooters to accurately and efficiently place and land shots at longer distances. Once a scope is properly calibrated or "zeroed" to the gun, shooters can be assured of accurate and detailed visual information about where any intended shots will land. Owning your own scope allows you to finely tune it to match the needs and characteristics of your weapon, allowing gun owners to use their weapon for hunting and other purposes with the confidence that their guns can be easily and accurately fired at targets.
Which models are the contenders for the Best Rifle Scope?
The UTG 3-9×32 Compact CQB Bug Buster AO RGB Scope – The Bug Buster is as rugged as they come, built of shockproof material and featuring a nitrogen-filled central chamber that is sealed against moisture to be completely fogproof and rainproof. With a one-inch tube and military-style dot reticle, the UTG offers superb light gathering and aiming abilities.
The Nikon P-223 3-9×40 Mate BDC 600 – This excellent scope from Nikon is specifically engineered to account for the trajectory of a .223 Remington / 5.56 NATO round equipped with a 55-grain polymer tip, one of the most popular forms of ammunition used by hunters and rifle owners today. The BDC 600 features Nikon's legendary clear optics and parallax effect to provide pinpoint precision when placing and landing shots. Longer eye relief protects shooters even during heavy recoil.
The Nikon Buckmaster 4.5-14×40 Riflescope – This deluxe rifle scope from Nikon offers a user-selected choice of different reticles (crosshairs), including the standard mil-dot design, bullet drop compensation (BDC) mode, or the company's proprietary Nikoplex reticle design. With up to 92% light transmission, this rugged all-weather rifle scope will give hunters and gun owners unparalleled optical targeting capabilities.
Considerations for Choosing the Right Scope For You
All-Weather Resistance – Most rifle scopes sold for civilian use are used in connection with hunting and other outdoors activities. Scopes exposed to the weather and changing elements must be protected against moisture and other damage to ensure years of perfectly clear image viewing.
Reticle and Hash Marks – Different rifle scope manufacturers use different designs for the "crosshairs" or central reticle, with some models also using hash marks or graduated lines to help more accurately calculate distances.
Magnification Power – All scopes collect light and magnify it by a factor, allowing the shooter to see up to that many times closer than with the unaided eye.
Eye Relief and Adjustments – A good eye relief both protects the shooter as well as provides a perfectly circular, clear vision of the scope's intended target. Many scopes today can be adjusted to account for windage, elevation and parallax to greater improve shot accuracy.
All-Weather Resistance
UTG 3-9×32 Compact CQB Bug Buster AO RGB Scope – This scope is designed to handle anything the weather and environment can throw at it. Completely sealed against moisture and condensation, and filled with nitrogen gas, the shockproof Bug Buster will provide years of reliable optical magnification.
Nikon P-223 3-9×40 Mate BDC 600 – The engineers at Nikon designed the BDC 600 to be completely water and fogproof, tightly sealed against the elements with secure O-rings and filled with nitrogen gas. The rugged design of the scope is engineered to withstand years of hard use.
Nikon Buckmaster 4.5-14×40 Riflescope – Nikon engineers used incredibly tight O-rings to seal this fogproof, waterproof and shockproof rifle scope. With its durable construction and advanced multicoated optics, the Buckmaster is designed to handle years of exposure to elements and outdoor use.
Reticle and Hash Marks
UTG 3-9×32 Compact CQB Bug Buster AO RGB Scope – The Bug Buster comes with a classic Mil-dot style illuminated reticle for simple aiming and shot targeting. The Bug Buster ships with an instruction video on how to properly calibrate or "zero" the scope.
Nikon P-223 3-9×40 Mate BDC 600 – Nikon engineered a special BDC 600 reticle for this scope, designed to help gun owners achieve pinpoint precision when calculating the trajectory of a .223 Remington round or a 5.56 NATO 55-grain polymer tip round. The BDC features multiple circle aiming points combined with hash marks from 100 yards in graduated steps up to 600 yards.
Nikon Buckmaster 4.5-14×40 Riflescope – Users can choose between a standard mil-dot reticle, bullet drop compensation reticle design or Nikon's Nikoplex reticle system, giving hunters and gun owners unparalleled flexibility and precision in targeting and acquiring distant game or threats.
Magnification Power
UTG 3-9×32 Compact CQB Bug Buster AO RGB Scope – Hunters and riflemen will get plenty of use out of this powerful scope, which can magnify ambient light up to nine times with its emerald-coated lens with a generous 32mm objective diameter.
Nikon P-223 3-9×40 Mate BDC 600 – The BDC 600 offers a great deal of versatility with its three to nine times magnification power settings, enhanced by a large 40mm objective diameter.
Nikon Buckmaster 4.5-14×40 Riflescope – With a full-size 40mm objective diameter, the lens in this high-quality scope from Nikon can be magnified from 4.5 times to 14, offering unequaled ease at acquiring and locking on to very distant targets. With Nikon's patented multicoated optical lenses, the Buckmaster delivers crystal clear images even under maximum magnification of moving objects in the field.
Eye Relief and Adjustments
UTG 3-9×32 Compact CQB Bug Buster AO RGB Scope – The Bug Buster comes with both premium zero lockable as well as zero resettable target turrets, which offer shooters a reliable 1/4 MOA for every click adjustment. Eye relief is comfortable and delivers a clue view of the scope's image.
Nikon P-223 3-9×40 Mate BDC 600 – The BDC comes with a very generous eye relief and the ability to intuitively make fine adjustments in windage, elevation and parallax.
Nikon Buckmaster 4.5-14×40 Riflescope – The Buckmaster has an extremely generous eye relief to allow shooters to fire weapons with heavy or aggressive recoils. The high 92% light transmission means that shooters can acquire targets under lower light ambient conditions. Contains a side parallax adjustment to help improve depth of focus. Controls are easy to see and adjust even under very low light conditions.
Conclusion: Our Rifle Scope Reviews Are In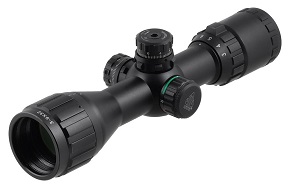 The UTG Bug Buster is a fantastic scope packed in a durable and rugged shell. Built to be shockproof and handle the recoil of most modern long guns, the Bug Buster can accurately stay calibrated even after hundreds of rounds fired.
With its illuminated mil-dot reticle and powerful lens, the Bug Buster is well-designed to allow hunters and marksmen to accurately place and land shots under all ambient conditions.
Pros:
Very rugged and tough design, and it maintains its accuracy even after hard use and stronger recoils. Filled with nitrogen and tightly sealed against the environment, the Bug Buster delivers a precision view even in wet and harsh weather. Well-built to allow even beginning sportsmen to calculate, fire and land longer shots against smaller targets.
With its elegant black design, the Bug Buster looks sleek and stylish mounted onto any long gun.
Cons:
The control knobs are very stiff to guard against inadvertent adjustment, and may be difficult for some users to comfortably control. The scope requires two lithium batteries to operate, which are included, but may need to be replaced while in the field.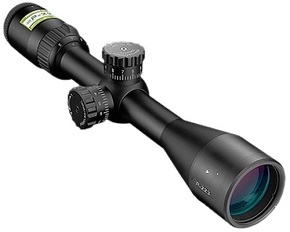 The BDC 600 is Nikon's outstanding rifle scope designed specifically to calculate the trajectory of a .223 Rem/5.56 NATO round, giving shooters the ability to achieve pinpoint precision even for longer shots.
Ruggedly designed to handle strong recoil and other environmental conditions, the BDC 600 will give any long gun owner or hunter the ability to confidently place and land shots even at severe shooting angles or longer distances.
Pros:
Nikon is renowned for their outstanding line of optics, and the BDC 600 is no exception, presenting crystal clear and sharp images to the eye relief. With extremely precise 1/4-MOA zero reset turrets, it's very easy to zero in and maintain the scope even while firing guns with heavy or violent recoils. Adjustment knobs and turret clicks are extremely easy and intuitive to use.
Cons:
The rifle scope does not ship with "flip" caps to cover the scope when not in use, but these can be purchased separately.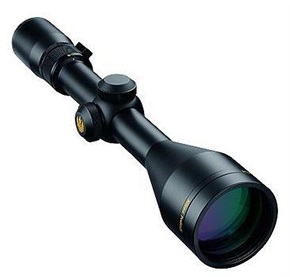 The Buckmaster from Nikon is simply a top-notch rifle scope perfect for both amateur and professional hunters, outdoorsmen and long gun owners. With its selectable reticle system and easy-to-use adjustment systems, the Buckmaster can hold its "zero" even after hundreds of rounds fired from weapons with heavy recoil.
Whether hunting large game or small, the outstanding ease and precision targeting ability of the Buckmaster make this the perfect scope for any long gun owner or user.
Pros:
The Buckmaster is designed to be quickly and easily used to acquire targets, even at nighttime or under difficult lighting conditions. Whether hunting large game or small, or simply as a way to improve marksmanship skills, the Buckmaster offers gun owners unparalleled quality and precision accuracy when placing and landing shots. The flawless lenses and optical coatings on the Buckmaster provide crystal-clear and sharp images to the shooter even under low light conditions. Fantastic scope equivalent to other models sold for hundreds of dollars more.
Cons:
The Buckmaster is a powerful scope starting at 4.5 magnification and may not be suitable for hunters pursuing smaller game or closer targets. Due to legal restrictions, this scope cannot be shipped to customers outside the United States.
In Conclusion
Hunters and long gun owners know that a good scope allows shooters to achieve unparalleled accuracy at longer distances. Once properly calibrated, a good scope can show shooters the exact trajectory of any fired round, allowing hunters and gun owners to make aiming and acquiring targets simple and easy. Rugged scopes are able to withstand rain, snow and other destructive ambient conditions, as well as the shock and vibrations from recoil and other hard use.
Offering any long gun owner or hunter a powerful scope equivalent in quality and power to advanced military scopes, the Buckmaster is one the best rifle scopes sold for civilian use on the market today. Able to zoom all the way up past 14 times magnification power and featuring a highly accurate reticle system, long gun owners and hunters can safely and precisely target every shot with the Buckmaster. Sold at an affordable price, this rugged and durable rifle scope will offer years of reliable service in the field.