Some links on this page are monetized by affiliate programs - see disclosure for details.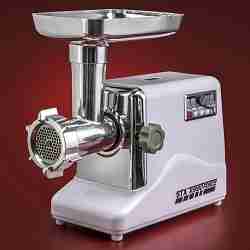 If you've been to your local market lately, you've probably noticed the rising costs of meat. In addition, some of the meat that you buy may not be as fresh as it should be, and it can go bad quite quickly after purchasing. Packaged meat may taste good, but it doesn't taste as great as freshly ground meat.
You could go to your local butcher to buy your meat, but there's another alternative that not only provides you with fresh meat for all of your meals, but it also allows you to save money, and that option is using your own household meat grinder.
Compare: The 10 Top Rated Electric Meat Grinders of 2017

What is a Meat Grinder?
A meat grinder is a kitchen tool that is designed to grind up meat, just as you would expect from the name. All you have to do is insert a larger cut of meat and within just a few minutes, it has been minced and chopped into smaller pieces which can be used immediately or packaged and stored.
These are similar to the grinders found in your local butcher shop or supermarket, only they come in smaller sizes that easily fit on your countertop and in your cabinet when not in use.
What are the different types of Meat Grinders?
If the idea of grinding your own meat sounds appealing, a meat grinder is just what you need in your kitchen. If you've never had any experience with this type of small appliance, it's very important that you do your homework in researching the different types of grinders, as well as the features that make each unit unique. When shopping for a meat grinder, there are three types you will have to choose from.
Manual grinders – These are generally the least expensive, and they are characterized by the handle that is used to manually grind the meat.
Electric grinders – Instead of pushing the meat through with the turn of a hand crank, these models use an electric motor that is activated with the push of a button to mince and chop a variety of different meats.
Commercial-grade grinders – These are the most similar to those found in a butcher shop. They are made of higher-quality metals for durability, may be larger in size than other household models, and they typically cost quite a bit more than other grinders. These can be manual, but they are most frequently powered with an electric motor for efficiency.
What are the Advantages of Owning a Meat Grinder?
With rising food costs, everyone is looking for a way to save a few bucks. With a high-quality meat grinder, you can grind your own meat at home that is fresher and less expensive. This is a great idea if you or someone in your household hunt and want to grind up fresh game. Many families have also been purchasing whole or partial cows which includes a lot of meat for one low price.
With a grinder, you can take the meat you have and create your own fresh ground beef, ground sirloin, pork sausage, deer sausage, homemade meatballs, and so much more.
Who are the contenders for Best Meat Grinder?
Sunmile G33 S/S Meat Grinder – If your prime reason for purchasing a meat grinder is to save money, you may not want to spend a lot of money for your product. This affordable model has all of the features you need to quickly grind your meat, grinding up to 170 pounds in just one hour. It has a solid, durable stainless steel casing, a large capacity tray, and it's very easy to use. It also comes with a variety of attachments for different types of grinding.
STX INTERNATIONAL STX-3000-TF Turboforce 3-Speed Electric Meat Grinder – You won't be disappointed in the performance of this model, and you'll also be quite pleased with the price. Choose from three different speeds and three different grinding plates so you can grind meat exactly how you want. It is also backed with a great guarantee that ensures your total satisfaction.
LEM Products .75 HP Stainless Steel Electric Meat Grinder – This commercial-quality grinder has a durable stainless steel design and it includes all metal rollers and bearings, so you don't have to worry about cheap plastic parts that break easily. This model comes with multiple accessories, including grinder plates and stuffing tubes, and it also comes backed with one of the best warranties you'll find.
Considerations for Choosing the Right Grinder For You
Like your other small kitchen appliances, you'll want to make sure that you purchase a model that you can use for years to come. If you've never purchased one of these before, you may not know where to begin when it comes to what features are most important. These next four points should be kept in mind while you shop to assist you in selecting one of these kitchen tools.
Warranty
Speaking of high-quality, you want to make sure that you get at least your money's worth out of your product, and most of the time, you do. However, in some rare cases, a defect may cause your item to just stop working before it's supposed to, or something occurs to where it doesn't work as it should. If this is because of a manufacturer's defect, you won't have to worry about the repair expense if you have a warranty.
Attachments
Different attachments perform different functions, from plates that allow you to adjust the cutting size of your meat to sausage kits that let you make your own homemade sausage. If you want the most versatility, you'll save the most money by purchasing a package deal that has multiple attachments included so you don't have to purchase those later.
Motor
The strength of your motor determines the performance of your grinder. The stronger the motor, the more efficient your grinder will be. You'll be able to quickly grind up a large quantity of meat in no time at all with a model that is equipped with a strong electric motor.
Warranty
Sunmile G33
Your purchase comes backed with a 1-year manufacturer's warranty.
STX INTERNATIONAL STX-3000-TF
This has a 3-year warranty, one of the best you'll find.
LEM Products .75 HP Stainless Steel Electric Grinder
There is a 2-year warranty on parts and labor.
Attachments
Sunmile G33
You will receive one stainless steel cutting blade, a set of cutting plates, a sausage attachment, and a plastic food pusher.
STX INTERNATIONAL STX-3000-TF
This grinder comes with Size #12 Grinding Head, 3 Stainless Steel Cutting Blades, 3 Sizes of Tempered/Hardened Steel Grinding Plates, a Set of 3 Sizes of Sausage Stuffing Tubes, and a Kubbe Attachment.
LEM Products .75 HP Stainless Steel Electric Grinder
You'll receive a Big Bite auger, meat stomper, stainless knife, three stainless plates, and three stuffing tubes so you can grind just about anything with ease right out of the box. Other parts and accessories are available for this model as well.
Motor
Sunmile G33
This model comes with a strong 400W rated power and 800W max locked power motor.
STX INTERNATIONAL STX-3000-TF
This unit has a strong motor that 3000 watts of Peak Output Power (Maximum Locked Motor Wattage), 600 Watts of Power under no load and between 800 and 1200 watts of power under load.
LEM Products .75 HP Stainless Steel Electric Grinder
This model has a motor that is .75 hp, grinding up to 360 pounds of meat in just one hour.
Conclusion: Our Meat Grinder Reviews Are In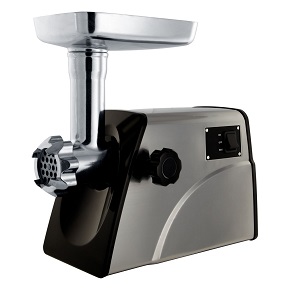 If you're new to grinding meat or you just don't want to spend in the upper hundreds or even thousands for one of these devices, then this model is a good choice for you. It is easy on your wallet, but it doesn't fall short on performance. The unit has a strong 400w rated motor that can handle up to 800w, allowing you to grind up to 170 pounds of meat per hour.
It has a large capacity tray, and the stainless steel-wrapped body is not only durable but it's easy to clean. It comes with all of the attachments you need, including a stainless blade, cutting plates, and a sausage attachment. It's very quiet when in operation, and it has a reverse function that allows you to easily clear up clogs.
Pros:
It is very easy to disassemble and clean. Eeasy to assemble each time. It weighs under 10 pounds, so it's quite lightweight. It's affordable. Comes with a warranty. It has all of the attachments you need to get started immediately. It is very easy to use.
Cons:
Some of the parts may tarnish after multiple cleanings. The gears are made of plastic and may break down over time with regular use. It does clog a bit more than more expensive units.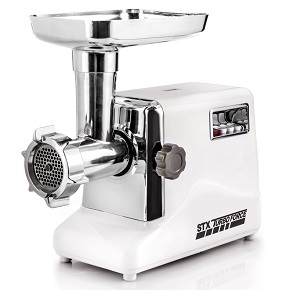 While economy grinders are good for those on a budget, if you want to invest a little more for a more powerful product, you can get this mid-level grinder. It has a powerful motor designed to chop easily through any type of meat, and it comes with a variety of attachments and accessories, including sausage tubing, a sausage attachment, grinding plates and blades.
It has a larger grinding head that is much larger than those found on most household grinders, and best of all, it's backed with one of the best warranties you'll find. The first 90 days are covered with a 100 percent replacement guarantee, while the remainder of the three year warranty covers parts and labor required when a defect occurs. This grinder is very easy to use, simple to clean, and at right around 12 pounds, it's easy to store in your kitchen when not in use.
Pros:
It comes with multiple attachments to grind up any type of meat. It has an excellent warranty. Very easy to use. It is easy to clean. All gears are made of carbon steel, not plastic, so they are more durable. It grinds very quickly. It does not just mush up the meat like cheap grinders.
Cons:
All bones must be removed, as the grinder is not strong enough to handle them. Meats with lots of tissues may go through slowly or may clog. The instructions for use and cleaning are not very clear.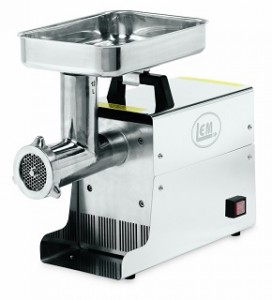 For hunters, people who purchase their own fresh meat, and even ranchers, this is a great household grinder that has all of the power you need. The strong motor handles up to 360 pounds of meat per hour, about double the output by other household models. Even though it performs like the commercial equipment, it isn't much more expensive than comparable grinders.
It comes with loads of accessories, including stuffing tubes, stainless plates, and more, so it's ready for use immediately. However, if there's something you need, the company has lots of affordable extras and replacement parts, so you can get the most out of this device.
Other standout features include a large meat pan, heavy-duty handle so you can move it easily when not in use, and all metal gears, so you don't have to worry about them wearing out as quickly as cheaper models equipped with plastic gears. This model is very easy to use, doesn't mush the meat, and grinds just about any type of meat from beef to poultry and game meats.
Pros:
It is easy to use. It has one of the strongest household grinder motors. Comes backed with a warranty. It has an oversize meat tray. It has all of the parts you need to get started and extras that can be purchased. The parts are easy to clean. Everything is made of metal for durability. It has a permanently lubricated motor. Built-in circuit breaker for safety.
Cons:
It is quite noisy. It is very heavy.
Closing Thoughts
Grinding your own meat provides your family with the freshest meat you could ever eat, and it helps save you money too. If you've been thinking about grinding your own meat at home for affordable freshness, you want a household grinder that's up for the task. Although there are many grinders you can choose from, the LEM Products .75 HP Electric Grinder is one of the best currently on the market, and it doesn't cost much more than the economy models.
Despite its heftier weight, this is a great choice for any kitchen, as it works quickly, grinds perfectly, and is easy for even beginners to use. With this model, you can be enjoying your own freshly ground meat in no time.