Some links on this page are monetized by affiliate programs - see disclosure for details.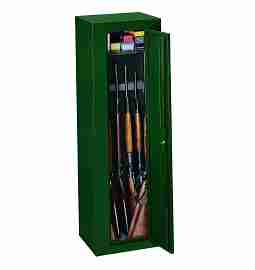 A good gun safe is excellent protection against accidents as well as intruders and burglars. Made out of solid materials and using advanced locks and mounting systems, today's gun safes offer unrivaled security. Many homeowners can benefit from insurance reductions if they use a quality safe to store their firearms and firearm accessories.
While originally many gun safes were enormous heavy behemoths that relied on thick construction to protect against thieves and unauthorized access, today's models use special composite materials and high-tech locking systems to provide the ultimate in firearm security.
What is a Gun Safe?
A gun safe is simply a lockable reinforced container or space that is designed to store one or more firearms. While some gun safes are specifically engineered to hold certain types of guns, with included interior upholstery and special shelving for ammunition and firearm accessories, other gun safes are more akin to standard safes.
Guns are both valuable items as well as dangerous weapons that must be carefully handled. Since guns are vulnerable both to theft as well as accidental or unauthorized usage, gun owners can benefit from having a secure, locked container to store their guns.
Regrettably, many people think of gun safes as big unsightly metal cabinets that rarely add to the positive ambiance of the home. Today's gun safes come in a variety of sizes and designs, and even bigger models are well-designed to tastefully accompany interior home decor. With advanced insulating designs, many of today's gun safes also double as fireproof or fire-resistant safes, perfect for storing other valuables such as cash, jewelry and important documents. Precisely because so many gun safes are bulky and heavy, they are very difficult to remove, and sophisticated locks keep even the must curious inquisitors at bay.
What are the different types of Gun Safes?
Some gun safes are quite large, equivalent to an armoire or closet, while other gun safes are smaller to provide more discrete storage of guns and firearm accessories. Some gun safes rely on older but proven locking technologies such as the combination wheel, while other gun safes use advanced electronics to add enhanced locking security. Many gun safes are also designed to serve as a fireproof or fire-resistant safe, keeping weapons and other valuables such as money or jewelry safe from both theft and fire.
Many gun safes, including smaller models designed to be hidden in drawers or other parts of furniture, can be bolted to the floor or other surfaces to add additional protection against theft.
What are the advantages of owning a Gun Safe?
Many gun owners can benefit immediately from owning a gun safe because several insurance companies offer discounts for gun owners who can prove that their valuable firearms are adequately protected. Parents or guardians of small children can be assured that their young ones will not accidentally gain access to guns if weapons are kept securely locked up in a gun safe.
Gun safes can also serve as a standard safe, and securely protect cash, important documents, sentimental keepsakes and jewelry protected from both theft and fire. Gun safes ensure that your weapons are always prepared and ready for use. While many gun safes focus on storing your weapons, a good gun safe also allows quick access to weapons for when they are urgently needed.
Which models are the contenders for the Best Gun Safe?
The Stack-On PDS-500 Drawer Safe with Electronic Lock – This compact safe is designed to discretely store a handgun or pistol in a drawer or cabinet. With two steel locking bolts and interior hinges, the Stack-On PDS-500 offers unparalleled privacy and safety for firearm owners. The advanced electronic lock allows authorized users access to their weapons in just seconds.
The Stack-On GCG-910 Steel 10-Gun Security Cabinet – This elegant gun cabinet kitted out in hunter green is designed to comfortably accommodate up to 10 rifles, shotguns or other long guns. The Stack-On GCG-910 comes with a specially engineered top shelf to hold ammunition and other firearm accessories. Comes with two unique keys to allow fast access to the Stack-On GCG-910.
The Mesa Safe Company MBF6032E 14.4 Cubic Foot 30 Rifle Gun Safe – This large gun safe provides unparalleled protection for up to 30 rifles or shotguns. With a lushly upholstered interior and durable 1 1/12-inch thick all-steel exterior, the Mesa Safe MBF6032E will secure valuable weapons against even the most determined thieves, snoops and unwanted intruders. With a matte black design and gold font lettering with a decorative spinning brass handle, the Mesa MBF6032E Safe is styled after classic models used over a century ago by pioneering gunsmiths.
Considerations for Choosing the Right Safe
Dimensions – The size and dimension of any gun safe is important for buyers to consider, as gun safes usually require being bolted or permanently attached to floors or other surfaces.
Storage Capacity – It goes without saying that more voluminous gun safes can safely store more weapons and firearm accessories.
Design – Modern gun safes use a combination of hardened steel construction and advanced locking mechanisms to protect valuable firearms.
Safety Features – A good gun safe does more than keep out unauthorized users and thieves, it also protects the weapons from damage and exposure.
Our Gun Safe Reviews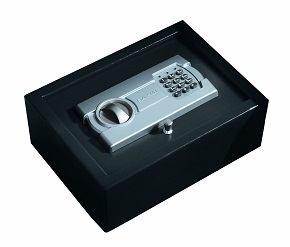 Anyone wishing to safely and secure a gun or pistol in a desk drawer will greatly benefit from the Stack-On PDS-500, which features a secure steel bolt locking system controlled by an electronic access keypad. Large enough to store one or two weapons discretely, the Stack-On PDS-500 can be mounted to any interior cabinet or drawer, allowing gun owners to securely keep weapons accessible. Drawer gun safes such as the Stack-On PDS-500 can also serve a dual purpose and be used to safely store cash, coins, jewelry and other small valuables.
Pros:
The size of a phone book, the Stack-On PDS-500 easily fits inside most office desk drawers. Electronic keypad entry makes access quick and easy for authorized users while keeping out children, snoopers and thieves. Mounted securely to a drawer or cabinet, the Stack-On PDS-500 is highly resistant to theft or accidental access by children. All the hardware necessary to securely mount the Stack-On PDS-500 is included.
Cons:
Extremely large caliber handguns, shotguns, rifles and other long guns are far too large to be stored in the Stack-On PDS-500.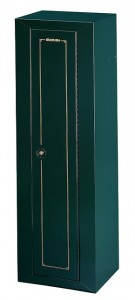 This full-size home safe from Stack-On comes in an elegant forest green that is perfectly designed to tastefully blend in with your home decor while still giving you secure access to your weapons. Able to safely store up to 10 rifles and shotguns measuring up to 52″ long, the Stack-On GCG-910 gives gun owners security and peace of mind concerning their valuable firearms. With a relatively small footprint, the Stack-On GCG-910 can be installed in almost any room or closet in the house.
Pros:
The elegant design of the Stack-On GCG-910 is tasteful enough that many visitors to the home may not even realize it is a gun cabinet. When the overhead shelf is used, it sits at the back so longer guns can be kept in the front of the Stack-On GCG-910. Foam padding on the bottom guards against scratches and superficial damage to valuable firearms. Plenty big enough to hold other valuables like heritage keepsakes, cash and important documents.
Cons:
This is not a fire safe, and is not designed to protect against flooding or other environmental damage. The Stack-On GCG-910 is accessed by using a key, which could be lost or duplicated with malicious intent.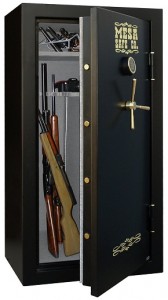 Any serious gun owner knows that a well-built and secure gun safe is the best place to store firearms. Having valuable weapons locked away from inadvertent access by children or visitors adds peace of mind to gun owners, and may qualify them for reductions in their insurance premiums. The Mesa Safe MBF6032E not only protects handguns, rifles and shotguns from unwanted access but also from determined thieves, with a special impact-triggered re-locking device and thick 1 1/2-inch steel construction.
Pros:
The beautiful brass spoke handle on the front and the company's logo in gold font adds a classy Old West elegance to this full-size gun safe. Able to withstand temperatures up to 1,750 degrees Fahrenheit, the Mesa Safe MBF6032E can be used to protect guns as well as other valuables like insurance papers, birth certificates, stocks, bonds, marriage papers, financial records, cash, coins and jewelry from fire damage. Finely upholstered interior protects valuable weapons from scratches and scuff marks.
Cons:
This safe is very heavy and can only be mounted on interior rooms properly braced to sustain its weight.
In Conclusion
Gun owners spend their hard-earned money on protecting their Second Amendment rights with finely-crafted rifles, shotguns and handguns. Protecting these valuable firearms from access by inquisitive children, snooping authorities, or unethical thieves is a top priority. Only a well-built safe with enough storage capacity can offer gun owners peace of mind that their weapons are safely protected when not in use. Gun safes are formidable items that reinforce the seriousness of using firearms while simultaneously intimidating would-be thieves by appearance alone. Quality gun safes are designed to last for decades, and in many cases are passed down from generation to generation.
Although basic gun safety recommends that all gun owners keep their weapons unloaded and secure from children, only a quality gun safe can truly secure firearms from unwanted access. The Mesa Safe MBF6032E, with its voluminous interior capable of comfortably storing 30 long guns, is designed to protect weapons from both fire and theft. With a thick steel exterior construction and advanced electronic anti-impact locking system, the Mesa Safe MBF6032E provides gun owners protection against even the most determined thieves. Homeowners can truly rest more easily storing their weapons in the Mesa Safe, knowing that children will never accidentally access potentially dangerous guns, rifles, shotguns, and ammunition. A properly made legacy gun safe such as the MBF6032E ensures that which firearms a citizen chooses to arm him or herself with are safe from both prying eyes and sticky hands.