Some links on this page are monetized by affiliate programs - see disclosure for details.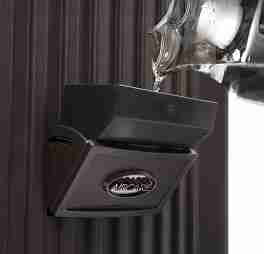 Winter brings about a lot of great things, like Christmas and other holidays, snow days, warm fires, and cute sweaters. However, when the colder weather rolls in, it brings some problems with it. Maybe you've picked up a cold or the flu during a season of illness, or perhaps the dry air in your home caused by your central heating unit has zapped the moisture from your skin and has left your lips cracked, dry, and painful.
The combination of cold water, viruses that run rampant, and indoor heating can really take a toll on our skin, hair, and bodies. However, there is a solution that can help you deal with the dryness of winter or dry climates and that is a humidifier.
What is a Humidifier?
A humidifier is a small, portable device that uses electricity to disperse moisture into the air. During the cooler months, electric heat leaves the air dry, which can lead to a hacking cough at night and skin that is dry, cracked, and irritated. These devices features a tank that holds water. When it is turned on, the water is sprayed into the air to add humidity through a fine mist.
The addition of this humidity makes the air not as dry and offers several benefits, including helping with respiratory problems and eliminating problems with dry skin due to heat and dry air.
What are the different types of Humidifiers
If you're tired of suffering through your cold, flu, or other illness, a humidifier is a great investment for your home. Before you make the purchase, though, you need to know about the different types you'll find while shopping, and the differences between each in order to pick out a product that's right for you.
Warm mist
These models have a built-in heating element that boils the water so that when it is released into the air, it is warm. One advantage of this is that since the water has been boiled, it is free of germs and bacteria without needing a filter. It can also help heat up the room it's in, ideal if you live in a cooler climate. You can also use it with medication to create soothing vapors. This type can be dangerous for children if it were to spill, and it also uses more energy than other types.
Cool mist
These are the best models to use in homes with children, as you won't have to worry about accidental burns. These also use the least amount of energy. One drawback is that a filter is required to get rid of impurities that may be found in the water, and these replacements can get to be costly over time.
Ultrasonic
These are available in cool or warm mist models. The mist is made using vibrations, so it is much quieter than other models. However, ultrasonic devices are typically the most expensive.
What are the Advantages of Owning a Humidifier?
If the air in your home is just too dry, a humidifier is an easy way to add the extra humidity you need. Many people use these during the colder months, when central heating units make the air uncomfortably dry. If you have breathing troubles because of allergies or an illness, these can help you breathe easier when used in moderation.
You can even add soothing medication that is released as vapors that can help open up your airways when you're struggling to breathe. Many people who have respiratory issues find that using one of these devices at night helps them get a good night's rest free from dry coughing that may keep them up all night.
Who are the contenders for Best Humidifier?
Vicks Warm Mist Humidifier – Get 12 hours of use with every refill with this great warm mist model by Vicks. With two comfort settings, it allows you to adjust it to fit your preferred standards and specifications. Equipped with a specialized medicine cup, it allows you to emit Vicks vapor steam through the air.
TaoTronics Cool Mist Humidifier – Capable of running for up to 15 hours one one filling, this TaoTronics humidifier can accommodate you through most of your day. Featuring a 360 degree rotating nozzle, it will cover every inch of your room, ensuring that it doesn't engulf any one area. As quiet as they come, you will barely even notice it running.
Essick Air EP9 800 Evaporative Humidifier – Why treat just one room when you can improve the air quality in your whole home with this model? This device adds moisture to the air of homes up to 2,500 square feet and up to 2,800 in tighter spaces. You can adjust the fan speed and humidity level as needed for the perfect air quality in your home. It is equipped with great features like auto shutoff, as well as a pedestal design that doesn't stick out amid you other household furnishings.
Considerations for Choosing the Best Humidifier
Once you've decided that this is the right purchase for your household, it's time to get shopping. However, no one ever wants to invest their hard earned money into a product that gets little use. Instead, you want to find a device that you love to use and just can't live without. In order to do that, you need to do your research and look for a few important key factors before you make your investment.
Price
Price should always factor into your decision for a number of reasons. First, you want to purchase something that is affordable to you. You never want to purchase beyond your means if you don't have to. Next, you also need to consider other features and why some products are more expensive than others. For example, if you just want to save a little money, a budget-friendly model is fine; however, if you want upgraded features, you will have to pay a little more. Balance out your must-have features along with how much you're willing to spend to come to your ideal price point.
Warranty
Most products don't last forever, and it's inevitable that over time, anything you buy will show some signs of wear and tear. This doesn't mean that you should settle for inferior quality. You should expect your humidifier to last for at least a couple of years for high-end models and at least one year on economy products. If something goes wrong in a short period of time that is not due to misuse, a warranty provided by the manufacturer will cover the repairs or replacement costs that are incurred due to the defect.
Run time
If you plan on using your device overnight to ease a dry cough while you're sick, you want to make sure it can run for that long without running out of water. If you want to run yours for long periods of time, make sure that you purchase a model that has a larger water tank that can run for 10 hours or even longer.
Square footage coverage
You will need to determine where you plan to use your product in order to purchase the right size. A smaller model may be okay for a baby's room or a bathroom, but it might not make a difference in a large, open living room. Models are available in ultra-small sizes that fit easily on a nightstand to pedestal models that can provide humidity throughout your entire home.
Price
Vicks Warm Mist Humidifier
If you're looking for an affordable model, this one is a steal when compared to similar products.
TaoTronics Cool Mist Humidifier
This is a mid-priced device that is priced about average when compared to other similar products.
Essick Air EP9 800
This is one of the more expensive models. However, since it can be used for an entire home, it is comparable to purchasing smaller models for each room.
Warranty
Vicks Warm Mist Humidifier
Even though the price tag is small, the warranty is not, as your purchase is protected for three years with the manufacturer's limited warranty.
TaoTronics Cool Mist Humidifier
This comes backed with a 2-year limited warranty to protect your purchase.
Essick Air EP9 800
This model comes with a 2-year limited warranty.
Run time
Vicks Warm Mist Humidifier
You can get up to 12 hours of operation per tank depending upon the humidity level selected.
TaoTronics Cool Mist Humidifier
On average, this model runs for about eight to 15 hours per tank of water.
Essick Air EP9 800
This model holds three full gallons of water. The run time depends on how long it is run, as well as what the settings are adjusted to be. On average, you should expect a tank to last approximately 10 to 12 hours on medium and higher outputs.
Square footage coverage
Vicks Warm Mist Humidifier
This compact model is best for smaller rooms that are only a few hundred square feet, including bathrooms and bedrooms.
TaoTronics Cool Mist Humidifier
This is a compact model that will effectively humidify rooms that are around 100 square feet. It is an excellent choice for bedrooms, nurseries, bathrooms, and smaller living spaces.
Essick Air EP9 800
This can be used for spaces up to 2,500 or up to 2,800 in more confined areas.
Conclusion: Our Humidifier Reviews Are In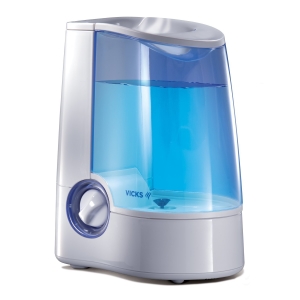 Whether you're on a budget or you just want to give these products a try before investing more money, this model from Vicks is a great choice. The compact size fits easily on a nightstand, table, or other small space to effectively humidity several hundred square feet of space. It is is ideal for a bedroom or study, where it can be confined to a closed area.
The tank holds enough water for up to 12 hours of operation, so you can leave it on all night. The humidity level is easy to adjust, and it doesn't consume much power. All in all, this is a great humidifier for a low price.
Pros:
1 gallon tank for up to 12 hours of operation
It's small enough for the tightest spaces
It has adjustable humidity level controls
It is easy to use
Does not consume a lot of energy
It can be used with Vicks pads that produce a soothing vapor
Cons:
It is louder than high-end models
Not the easiest to clean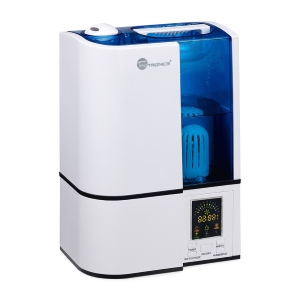 While it's not the absolute best humidifier currently on the market, this model by TaoTronics is an exceptional buy at a fair price. Capable of providing up to 15 hours of continuous use, it can operate throughout the majority of your day without being refilled.
Equipped with a LED light, a 360 degree rotating nozzle, and a sleep mode, it possesses all the features you need for top-notch functionality and operation. If you're looking for the best humidifier for the money, this is it.
Pros:
Easy to operate
Offers 15 hours of continuous use
Equipped with a 360 degree rotating nozzle for all-encompassing mist emission
Cons:
Struggles to humidify large rooms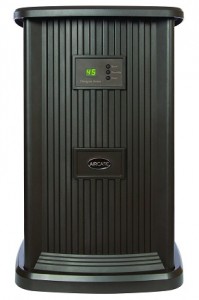 Why just improve air quality in one room when you can treat your whole home? With this model, you can. You won't have to purchase multiple units to keep your home's air moist and comfortable. This is large enough to treat up to 2,500 square feet.
You can receive outputs of up to nine gallons per day with this unit. Even though it is larger than most, it is housed in an espresso colored pedestal that looks great with your existing décor. You can adjust the fan speed as well as the humidity level to moisturize the air, eliminating airborne pathogens and allowing you and your family to breathe easier year-round.
Despite its size, this model is very energy-efficient. It is extremely easy to control, and it doesn't put out a heavy spray or white dust like you may find with other models. It has a digital control panel for easy adjustments, and it automatically shuts off when the proper humidity level is reached or your unit is running low on water to prevent damage.
Pros:
Works for larger spaces, including whole-house use
It is very energy efficient
It has an attractive design
The control panel is easy to use and allows you to adjust the humidity and fan levels
Nine different speeds
It features an automatic shutoff feature
It is not very loud
Digital controls for easy use
Cons:
It is a bit expensive
Adding water can be a bit difficult
A Final Thought
You will be amazed at how adjusting the humidity in your home can make you feel better, whether you are fighting off a seasonal illness or not. Instead of feeling like you can't breathe through the night, why not invest in a high-quality humidifier that can improve your air quality in no time? Instead of buying multiple units for each room, try the Essick Air EP9 800. This great model combines a fan and mist function to effectively add moisture to up to 2,500 square feel, providing your entire household with better air quality.
With its attractive design, easy to use controls, and settings, this model is truly a breath of fresh air.