Some links on this page are monetized by affiliate programs - see disclosure for details.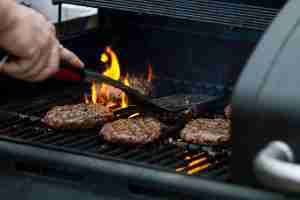 You can't have summer without barbeque. You can't have barbeque without a solid grill. It's that simple, yet finding the best grill for your BBQ cookouts can be a real hassle. You've entered a world of serial numbers and cooking jargon that can overwhelm even the most experienced barbeque chefs. In this smart guide, we explain what you need to know to find the best grill for your next summer outing!
What are the different types of Grills?
Gas Grill
You are most likely already familiar with the popular gas grill. They are typically fueled by propane, which is available at most supermarkets and gas stations. Specifics may vary by brand, but gas grills tend to have an all around design – balancing convenience, price, and quality.
Charcoal Grill
As suggested by the name, a charcoal grill uses charcoal as its fuel source instead of gasoline. Charcoal is also widely available – it can be found at many home improvement and hardware retailers. Conventional charcoal grills tend to made out of heavy metal, granting sturdiness at the cost of mobility. If you prefer a more lightweight charcoal grill, look into the smaller kettle-shaped mobile alternatives and the ceramic based Kamado systems.
Electric Grill
Just like the automotive industry, electricity has emerged as a viable fuel alternative to gasoline. Wherever you have an open power outlet, feel free to plug in an electric grill and start cooking! Indeed, electric grills tend to be more compact and indoor-friendly than other types of grills. Not a big fan of smoke? An electric option could be the best grill for you.
Wood Grill
Cooking using wood as fuel might sound primitive, but wood-based grills are an engineering marvel. Different types of wood are broken down into flavored pellets, which are consumed by the grill to generate heat. Modern wood grills often have steeper pricing but allow you to customize the way you cook your meal; an attractive tradeoff for those looking for a high-end grill.
What Grill type is the best for me?
Beginner
New to grilling? We recommend looking for a simple propane gas grill to get you started. Low cost and easy cleanup make the gas grill a great option for beginners. If you feel reluctant commiting to buying such a large device, try out our picks for compact electric grills. Many electric grills are completely smoke-free and can be used anywhere (as long as you can plug it in)!
Intermediate
Want a quick upgrade for your annual barbeque party? We recommend graduating to more advanced gas grill models. Consider switching to natural gas fuel if you find yourself using the gas grill often. Less trips to the local supermarket means more time for grilling! You might also want to look into a few charcoal based alternatives, which can infuse your meat with a more profound, smoky taste.
Advanced
For BBQ masters, we recommend trying out unique models that may be outside of your comfort zone. Try out the ceramic Kamado systems, which offer more precise heat control than other charcoal grills. Maybe even consider upgrading to a pricier wood grill to take advantage of the unique tastes from each type of wood pellet. The grilling world is yours to explore!
Do I need a new Grill?
It's never a bad idea to buy a new grill, but we understand the desire to keep cooking with an older model. The nostalgia and synergy associated with your old grill is all too familiar to us. If an individual part of your grill breaks down, repair is an option. But you should always replace a grilling system older than 10 years with a newer model.
Our Picks for Best Grill in 2021
The Weber Spirit II E-3101 does it all. Staffed with Weber's signature GS4 grilling system, the Sprit II E-3101 balances efficiency with ease of use. With 30,000 BTU input main burners over 529 inches of cooking space, this grill is perfect for both backyard solo ventures and medium-sized BBQ parties. Amazon currently offers free expert assembly in select locations – a service that is worth around $100 in value. Weber also offers a ten year warranty for their stellar ignition system – a must-have for frequent grillers.
The Royal Gourmet CC1830SC is a great choice for those looking to try out a charcoal grill. Royal Gourmet offers a quality product at an affordable price, which can be a tough find in the market. With over 400 square inches of cooking space and an additional offset smoker, this grill is perfect for smaller gatherings and camping trips. Note that the Royal Gourmet CC1830SC is a traditional style charcoal grill. For a kettle shaped alternative check out this Weber product.
George Foreman is a household name in the world of grilling, and the GGR50B Electric Grill is a perfect demonstration of how they got there. Boasting George's patented nonstick coating and a convenient temperature control probe, the GGR50B makes grilling as simple as possible. This odor-free product also includes a useful removable stand for easy set-up and transportation. Feel free to try this product out in both indoor and outdoor environments!
Kamado Joe is the go-to brand for traditional ceramic Kamado systems. Don't let the steep price deter you – this premium system is built to perfect your grilling experience. With innovations such as the SlōRoller Hyperbolic Smoke Chamber and a lightweight heat-resistant shell, the Kamado Joe Classic III can help even the most experienced grillers improve their craft. After purchasing the product, contact the manufacturers to see if your model qualifies for a lifetime warrantee.
Enthusiasts of hardwood flavoring – look no further. The Traeger Grills Pro Series has all the features needed to satiate your desires: versatile cooking with several different barbeque styles, precise temperature control, a study steel design, 884 square inch cooking capacity, and top it all off – Traeger's wood pellet technology to guarantee that your meal has that signature wood-fired taste. For those of you just getting into pellet grill's, check out this alternative from Z Grills.