Some links on this page are monetized by affiliate programs - see disclosure for details.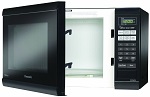 Few appliances have made an impact on kitchens around the world quite like the microwave. Microwaves have made cooking, reheating, and defrosting easier than ever. In just minutes, you can reheat leftovers, heat up soup, or get your frozen chicken ready for the oven.
This appliancee is a kitchen staple for families, those who lead very busy lives, and anyone that appreciates convenience. Whether you're thinking about replacing a microwave or purchasing one for the first time, knowing more about this small appliance will aid you in making a smart purchase. Read on to see our picks for best countertop microwave.
Compare: The 10 Top Rated Countertop Microwaves of 2020

Countertop Microwave Shopping Guide: An Introduction
A countertop microwave is a small appliance that, as the name suggests, sits on your countertop. A microwave has a door, and inside, it has a glass plate that may or may not turn, optional racks, and a built-in light. A touch panel is on the front, and it has buttons that can be used to set the power level, as well as set the cook time. Countertop microwaves can heat anything from canned and frozen vegetables to soup, rice, pasta, and potatoes.
What are the different types of Microwaves?
There are three main types of countertop microwaves, and they are all distinguished by size. When selecting a microwave, it's important to note how much counter space you have available so you select the right size.
Compact microwaves
Compact microwaves are the smallest of the three types. These microwaves have a capacity of less than one cubic foot. Compact microwaves are best for small spaces, including cramped kitchens, apartments, office break rooms, and even dorm rooms.
Mid-size microwaves
These microwaves are larger than compact models, but still easily fit in most spaces. The capacity of a mid-size microwave is between 1.0 and 1.4 cubic feet.
Full-size microwaves
Full-size microwaves are the largest of the three. These have a capacity between 1.5 cubic feet or larger. These are ideal for larger kitchens, as well as for people who cook for large groups or a bigger family.
What are the advantages of the Countertop Microwave?
Countertop microwaves are all about convenience. If you don't feel like cooking dinner, you can reheat last night's leftovers in a microwave-safe dish or make a microwaveable meal that's ready to eat in just minutes. A microwave is great for defrosting; you no longer have to leave meat out on the countertop or in the fridge for long periods of time when you're in a hurry.
Many modern microwaves also have great style, so they enhance the décor of your kitchen. Microwaves are great for families, are easy enough to be used by children (when supervised), and are a college dorm room staple. Countertop microwaves require no installation, and once removed from the box, simply plug it into an electrical outlet and it's ready for use immediately.
How to Maintain Your Microwave
Microwaves don't require complicated maintenance. But the life of your microwave can be extended significantly if you regularly perform a few simple steps.
Keep the inside of the microwave clean. The microwave energy will interact will any food particles splattered on the walls. If these particles burn, damage to the microwave can occur. Clean the interior with a damp sponge or microwave oven cleaner.
Be careful when opening and closing the door. The latch mechanisms use three switches to create a seal when the door is closed. Slamming the microwave door can accidentally damage these switches, which can potentially cause the microwave to stop working entirely.
Who are the contenders for Best on the Market?
If you want an affordable, no-frills microwave that reheats, cooks, and defrosts without a lot of complicated settings, this microwave is the right choice for you. Its compact size makes it the perfect choice for smaller spaces, and the two dials make it easy to select the power level and set the timer without a lot of complicated buttons. This microwave is ideal for college students who don't need an expensive microwave with all of the bells and whistles, and it's also a great choice for senior citizens who may struggle to see small writing on buttons that are difficult to push.
Get consistently even heating with every use when you use this microwave. This full-size microwave has all of the features you could want without costing a fortune. There are multiple options available, including a reheat button and sensors that eliminate the risk of overheating your food by automatically setting the power level and time. It is large enough for any family, and its clean design makes it a great addition to any kitchen.
This sleek appliance utilizes the latest technology and a modern design to create a microwave you'll love using. The built-in sensors perfectly heat your food, and you can even change the settings while the microwave is in use with an easy twist of a dial. This is a mid-size microwave that fits perfectly on most normal countertops.
Features to Consider
You want to ensure you get an appliance that fits your kitchen and the needs of yourself and your family. That is why it is important to become informed about the different features you may see while you're shopping for your new small appliance. Before you begin your search, keep these considerations in mind to make a more informed purchase.
Size
As mentioned before, it's important to evaluate the size of your available counter space before you make a purchase. The last thing you want to do is buy a microwave, unbox it, and discover that it is too large or small for your counter. Measure your space carefully and make sure you find out the dimensions for each product you are considering.
Finish
Many people like their microwaves to match their other appliances. This is why most countertop models are available in black, white, or stainless steel. If you want to add a fun pop of color to your kitchen, there are even models available in red, teal, and other bright colors.
Wattage
Look at the wattage specifications – power is important! A general rule of thumb is that a microwave with higher wattage cooks more quickly and evenly than one with lower wattage. Most microwaves use anywhere from 600 to 1,200 watts.
Price
Microwaves range in price from less than $100 to over $500. If you're on a strict budget, you might want to stick with a smaller, more basic microwave. If you're more concerned with style and performance than price, choose a model with all of the bells and whistles. It's also important to note that all other considerations should be looked at before you use price as your deciding factor.
Size
Westinghouse WCM660W
This 0.6 cubic foot microwave is a compact model that fits in small spaces. You can have all of the convenience of a quality microwave without cluttering up smaller kitchens or dorm rooms with this model.
Panasonic 1250W
1.6 cubic feet makes this full-size microwave the ideal size for larger items and is great for a family, couple, or people who share a home.
Breville BMO734XL
At 1.2 cubic feet, this is classified as a mid-size microwave that will fit on most normal kitchen counters.
Finish
Westinghouse WCM660W
This microwave is available in your choice of White or Black, making it easy to coordinate with your other appliances and your kitchen décor.
Panasonic 1250W
If you decide this microwave is right for you, you'll have your choice from Black or White to complement your kitchen.
Breville BMO734XL
This model is available in stylish stainless steel that complements other stainless appliances, but looks great with other colors as well.
Wattage
Westinghouse WCM660W
This compact model offers 600 watts of power, which is just enough to reheat food and cook microwaveable items.
Panasonic 1250W
At 1250 watts, you won't find many other models that will outperform this high-quality yet affordable countertop microwave.
Breville BMO734XL
You'll get plenty of power for great cooking with this 1100 watt model.
Price
Westinghouse WCM660W
This model sells for cheap in either finish, making it a very budget-friendly option when you just want a basic microwave.
Panasonic 1250W
This Panasonic microwave is a mid-priced model that packs many features similar to high-end products.
Breville BMO734XL
This microwave is considered a high-end small appliance that is packed with features not found on cheaper models.
Conclusion: Our Final Countertop Microwave Reviews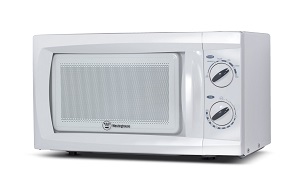 Sometimes, going back to basics is what works best. If you want a microwave that's simple to use, doesn't have a ton of confusing buttons and features, but also provides you with even heating and a simple design that looks good in your kitchen, this microwave from Westinghouse has what you're looking for. With a 0.6 cubic foot capacity, it's compact enough to fit on small countertops or in cramped dorm rooms. Don't be fooled by its size, though. This microwave is ready to perform.
You can choose from six different power options and set a timer up to 30 minutes. Instead of buttons, two knobs make it easy to set your microwave for cooking. This microwave easily wipes clean, and the turntable is removable for a more thorough cleaning job.
Pros
The simple design is easy to operate
It's available in your choice of two colors
It heats quickly and evenly
Compact size fits in almost any space
The price is very affordable
Cons
Doesn't have a clock
Doesn't have any one-touch functions
The low wattage contributes to longer cook times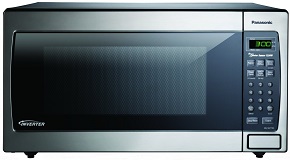 Size and power are what stand out on this affordable countertop microwave. With 1.6 cubic feet and 1250 watts of power, you can rest easy knowing your food will cook evenly and quickly with every use. This model also uses Panasonic's Inverter Technology that is the smarter way to cook. You don't have to worry about burning the edges or overcooking your food. There's also a Turbo Defrost option for fast defrosting of your frozen items.
There are many different features on this microwave, including a one-touch popcorn button, sensor cooking that takes the guesswork out of heating your food, and a warming option. This microwave is easy to program and use. It even has a child safety light that prevents the microwave from running when buttons are pushed.
Pros
Plenty of power for fast, even cooking
Affordably priced
Easy to use
It has several quick functions
Sensor cooking technology
It is easy to clean
It is a great size for families
Cons
Hinges may loosen over time, leading to a door misalignment
It is very large so it won't work in smaller spaces
The plastic door feels cheap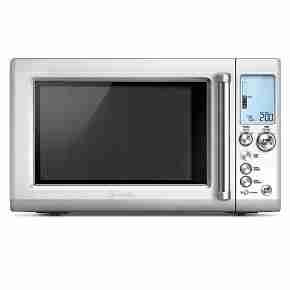 This high-end microwave is the perfect addition to any modern kitchen. Gone is the traditional microwave touch pad and in its place are smooth stainless steel knobs and one-push buttons. A large LCD display shows the time when not in use, and it displays power level and cooking time while it's running. The exterior is shiny, stylish stainless steel.
You won't have to try to figure out how to reheat your leftovers or cook your meal with Sensor IQ Cook and Reheat buttons that cook and heat to perfection. Is your food not quite done yet? Push the "A Bit More" button for extra time. You can also adjust the power level and cooking time while the microwave is running. This top-of-the-line microwave even has a kitchen timer and a unit conversion option.
Pros
Very modern and stylish
It is a great size
Plenty of power for even heating
The sensor options are convenient
Safety lock feature
It has easy to use buttons and knobs
It has a large LCD that displays a clock, timer, cook time, and power level
Settings can be adjusted while in use
Has hidden buttons inside for one-touch cooking
Cons
It is loud when in use
It is more expensive than other microwaves on the market
All in All
A microwave is a necessity for every home, whether you're a master chef or you just want to heat your bowl of soup. It's important to keep size, style, and convenience features in mind which is why the Breville Quick Touch is a top choice. Despite the higher price tag, this stylish microwave looks great while perfectly cooking your food.