Some links on this page are monetized by affiliate programs - see disclosure for details.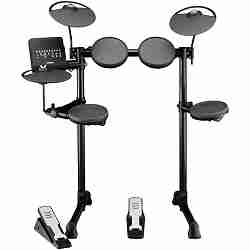 With an ever growing number of electronic drum sets on the market, it's important to know the features and benefits before you decide on a purchase. Otherwise, you could end up missing out on something you would really prefer to have, or paying for something you don't even need.
Have no fear, though. This expert guide to the best electronic drum set will break it all down so you get the kit that works best for you.
Top Rated: Compare The Best Electronic Drum Sets of 2020

What is an Electronic Drum Set?
Electronic Drum Sets typically consist of several rubberized pads and a control module, or "brain", that handles all the inputs and outputs for the set. Hitting any of the pads sends a signal to the module, which produces the corresponding sound and sends it to your speakers or headphones.
What are the different types of Electric Drum Sets?
Most electronic kits are very similar in form and function. The main difference you will see on most high end sets is the presence of a silent kick pedal, which allows you to play the bass drum without hitting a pad – simply pressing down on the pedal will trigger the sound.
What are the advantages of using an Electronic Drum Set?
Electronic drum sets have seen a sharp rise in popularity over the last decade or so for several reasons. First, they have come down in price substantially since they first entered the market, making them far more affordable than traditional acoustic sets.
Second, the variety of tones available to the user number in the hundreds on most electronic kits, as the module can be configured to produce a variety of sounds, and many can change while you are playing. For example, if you are playing a beat and want to add congas to your kit, it's just a couple quick button presses on the module.
The last reason, and the primary concern for most users, is the ability to practice the drums without making a racket. Just strap on a pair of headphones and plug them into the module, and parents, neighbors, and roommates won't be disturbed by the high volume that an acoustic set normally generates. The only sound is the dull thud of the drum sticks on rubber pads, which is barely audible just a couple rooms away.
Are Electronic Drums a Good Choice for Beginners?
Absolutely! Learning how to play the drums requires a lot of practice, but it doesn't require a traditional drum set. Electronic kits are often an excellent choice for beginning drummers.
Electronic drum sets don't take up much space. You don't have to clear out your garage or basement to make room for tons of gear. Instead, an electronic set can sit on a desk or table.
Additionally, electronic drums don't make nearly as much noise as traditional drums. Many people can't play drums in their home because of the noise. An electronic kit is a good choice if you live in an apartment or with others.
Finally, many electronic sets include features to help you learn. Almost all sets include a metronome to help you keep time. Many sets also let you play along with music.
Showdown: Our Top 3 Favorite Brands of 2020
Alesis DM6 USB Kit Five-Piece Electronic Drum Set – One of the best cheap drum sets on the market.
Yamaha DTX Series DTX400K 10-Inch Electronic Drum Set – Our pick for the best bang for your buck.
Roland TD-11K-S V-Compact Series Electronic Drum Set – Our top choice pick, best overall.
Considerations for Choosing the Best Electronic Drum Set
While there are many factors that go into the decision of which electronic drum set to buy, there are four specific considerations that should be at the forefront – durability, connectivity, capability, and ease of use.
Durability – You'll be hitting it fairly hard with wooden sticks, day after day, month after month, year after year. How well do the drum and cymbal pads hold up? How well is the rack that holds the pads designed? Are the sound triggers still responsive after years of use?
Connectivity – Control modules from different companies will have different options as far as inputs and outputs go. What does one brain allow you to do that others won't? The ability to add extra pieces to your kit or play alongside external sources can enhance your playing experience.
Capability – The operating system on the module and the number of samples it has stored inside. These should be important concerns when making your buying decision. Are the tones that fit the mood of your project available? Are you going to be paying for tones you don't need? What other capabilities does the module have?
Ease of use – Getting an electronic drum kit unboxed and set up is probably going to take a good chunk out of your day, and you need to know that the process will be as painless as possible so you can get started playing right away. Also, how easy is the module to use? Is navigating the software intuitive? Does the accompanying documentation provide sufficient support?
Durability
Alesis DM6 USB Kit Five-Piece
The pads on this kit are 8″ in diameter and the cymbals are 12″, all with rubber heads. The kick drum pad is smaller and made from the same material. The frame and clamping hardware are plastic, but are thick and well built. Players who practice regularly may notice some of the foam padding sneaking out through cracks in the pads.
Yamaha DTX Series DTX400K
The included drum pads are 7.5″ across, and the cymbals are 10″, and all have rubber heads. The rack is made of tubular steel, which won't be losing its shape anytime soon. The fact that the KU-100 kick pedal can be used without a pad means the part of the kit that would get the most wear doesn't even exist.
Roland TD-11K-S V-Compact Series
The snare and cymbal pads in this kit are 10″ across, while the tom pads are 8.5″. All are made of extremely durable molded rubber, except the snare, which features a very durable and responsive double mesh head. The kick pad is made from woven cloth and is designed for heavy abuse. The metal frame and pad clamps are very sturdy and well built.
Connectivity
Alesis DM6 USB Kit
The DM6 Module has two 1/8″ outputs, so you can send audio to speakers and headphones, or two pairs of headphones if you're jamming with a buddy. It also has a USB out for sending MIDI signals if you'd like to use computer software to change the tones of your kit, and one 1/8″ input for an iPod or other external device to play along with.
Yamaha DTX Series DTX400K
The DTX400 module features one 1/4″ output, one 1/8″ auxiliary input for external audio sources, and a USB out for sending MIDI to a computer.
Roland TD-11K-S V-Compact
The Roland TD-11 module has 3 1/8″ outputs, which allows for headphones and separate left and right channels so your kit can be panned at the mixer. It also has an auxiliary input if you want to play along with pre-recorded music, and an extra trigger input if you'd like to add another pad to your kit. There is a MIDI out as well, which means you'll need to have a USB interface to send MIDI signals to your computer. The standard USB port allows storage devices to connect for either file backup or audio playback.
Capability
Alesis DM6 USB Kit Five-Piece
The DM6 module gives the user 108 sounds to choose from, including 10 drum kit presets and 5 preset slots. Most of the tones here are straightforward percussion, nothing fancy. There are also a metronome and 40 patterns to play along with if you want to practice on your own. The snare pad is dual zone, which means you get a different tone from hitting the rim than you do from the pad, although none of the other pads have this capability. Some tones are also velocity sensitive, meaning you get a louder sound if you hit the pad harder.
Yamaha DTX Series DTX400K
The DTX400 module comes with 297 different tones, including 10 drum kit presets. You will have the option to download additional samples and presets, but only by using an iOS app and an extra cable that isn't included. There are also 10 different instructional programs on the module that will help you work on different rhythms and techniques. While all the pads are single zone, they all also feature Yamaha's Accent Articulation, which means that the tone and volume changes based on how hard you hit the pad, and the hi-hat pad works in conjunction with the pedal to provide a nice variety of different tones based on how open or closed the pedal is.
Roland TD-11K-S V-Compact Series
The TD-11K module includes 190 different tones and a whopping 50 customizable kits. Each makes use of Roland's SuperNATURAL sound generator with Behaviour Modelling, which creates realistic drum sounds based on the player's velocity and articulation. The kick pad on this kit is the only one we looked at that was wide enough to allow a double bass pedal to be used, although it's not included with the set. There is a Coach feature on the module that guides you through warm ups and challenges that get progressively more difficult, and gives you a score to track progress.
Ease of Use
Alesis DM6 USB Kit
This kit is fairly easy to set up out of the box, despite the instructions being a bit cryptic. The biggest drawback here is that there is an issue with snare sensitivity after initial setup. You'll need to download a firmware update to the module, which means you'll have to connect it to the computer using a USB cable that isn't included, so be ready to incur the additional expense. Even after the update, the trigger response time can be a bit slow on some pieces – for instance, fast playing on the hi-hat and snare together may result in some dropped notes.
Yamaha DTX Series DTX400K
The setup here is fairly straightforward and well supported by the product documentation. The lack of a screen on the module may be disorienting to some users, although it can be overcome by using the iOS app if you spring for the added expense of a connecting adapter. Otherwise, there is a somewhat steep learning curve, as you'll need to reference the manual often to figure out how to navigate the unit until you become more comfortable. The option to go without a kick drum pad will cut down on the noise made while playing. And for those who prefer to use a real kick pedal, a kick drum pad comes with the set.
Roland TD-11K-S V-Compact Series
Setup out of the box is easy and quick, using the guide in the front of the manual. The LCD display and articulation wheel on the module make navigating and changing settings a breeze, and the menu layout is intuitive and well designed. The manual is extensive and well indexed if you want to dive into some of the deeper features. The trigger response time is a lightning quick 2.9 milliseconds, which means that every ghost note and rim shot comes through no matter how fast you play. This is also the only kit on which the cymbals can be "choked", or grabbed to stop them from producing sound. This kit does not include a kick pedal, which you will absolutely need to play it, so be aware of the added expense.
Conclusion: Our Final Reviews Are In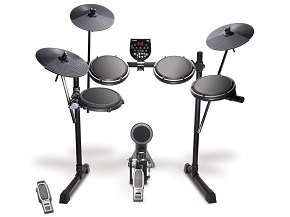 This kit is best suited for beginning players. The relatively slow trigger response prevents more nuanced playing, and the simple velocity sensitivity isn't going to cut it for those who want a truly realistic and responsive drum sound.
Pros:
Great value for beginning players
Easy physical setup
Durable hardware
Cons:
Poor trigger response
Limited articulation
Confusing documentation
Important firmware update out of the box requires additional USB cable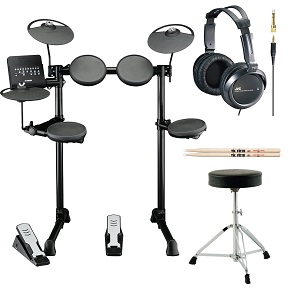 This is a great middle of the road drum set for those who want a responsive kit with more options but don't want to break the bank. There are an incredible amount of tones available, and the Accent Articulation produces a nice variety of sounds that lend personality to your playing. The module features a number of deep customization and visualization options, provided you have an iOS unit like an iPhone or iPad and are willing to purchase the extra adapter.
Pros:
Great value for intermediate players
Easy setup
Very durable hardware
Good trigger response and articulation make kit feel real
Silent kick pedal
Cons:
No screen on module makes navigating and customizing a challenge
Real kick pad available but you must buy kick pedal separately
iOS adapter not included
Limited connectivity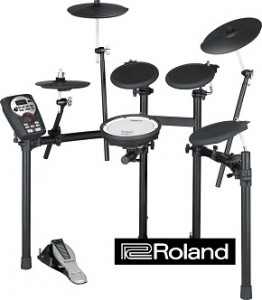 Made for players of all skill levels, with a wonderfully intuitive module that has plenty of features, this kit performs beautifully as a home practice tool or a fully functional piece of a live rock band. The connectivity options allow for a great deal of flexibility in setup, whether it's playing with other musicians, recording, or practicing on your own using the Coach software.
The feel of playing a live drum kit has been difficult for manufacturers to replicate on an electronic drum set. The Roland TD-11K changes that, with excellent trigger response, a wide range of available tones, and the incredible SuperNATURAL sound generator that gives every hit its own unique flavor.
Pros:
Easy setup
Indestructible build quality
SuperNATURAL sound generator and trigger response combine to give realistic sound and feel
Playback from USB storage
Cons:
In Summary
The technology that drives electronic drumming has grown leaps and bounds over the last several years, with more durable and realistic sounding kits hitting the market. There's never been a better time to invest in a practical, quiet solution for home, studio, or live drumming with plenty of features and options. If you're looking for the ultimate set, you should definitely consider the Roland TD-11K-S V-Compact Series Electronic Drum Set.