Some links on this page are monetized by affiliate programs - see disclosure for details.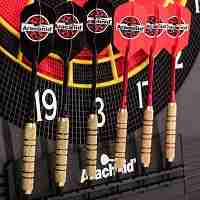 Darts isn't just a game that you'll find at your local bar. In fact, this fun game has grown in popularity, so these days, it's found in many restaurants and even home game rooms. There are a few problems, however, that make many people avoid darts. If you're a beginner, the thought of throwing something sharp may be unappealing to you, especially if you have kids in the home.
You may not understand the scoring process, or you might want to learn a few new games. Instead of equipping your home or business with an old-fashioned board, why not try an electronic dart board?
Comparison: The 10 Top Best Electronic Dart Boards of 2020

Electronic Dart Board Shopping Guide
An electronic dart board is a round game board that is hung on the wall. Players throw darts at the board. Smaller sections that require a more precise throw earn higher points, with the bulls eye right in the middle netting the most points. Instead of using traditional steel darts, these units use soft-tipped darts that are safer.
The board also has an electronic display that keeps score for you, so you don't have to worry about anyone writing down the incorrect score or trying to cheat to win.
What are the Advantages?
There are a few advantages to owning an electronic dart board. The first is that the soft tipped darts are much safer than traditional steel darts. Steel darts can really injure someone if it hits them, and they can also put holes all in your wall when the target isn't hit. With these soft-tipped darts, you don't have to worry about dangerous edges that can injure players or damage your property. They're ideal for adults, and children can get in on the fun too.
The electronic scoreboard also keeps up with your scores, so you don't have to have a scorekeeper, and you'll know that no one is trying to cheat and inflate their score.
Are Electronic Dart Boards Superior to Traditional Dart Boards?
Professional dart players, like you can watch on TV, only use wooden boards. So, many people feel electronic dart boards deliver inferior performance. But that's not true. Electronic boards offer a variety of benefits which make them superior to traditional ones – at least in the right setting.
The soft darts used with an electronic board won't pierce walls. You can use an electronic dart board inside without worrying about damaging your house. Plus, the soft darts can't pierce skin. They're the safer options for kids. Of course, even soft darts should never be thrown directly at a person.
Electronic dart games are also easy to play. You don't have to keep score. Instead, the electronic board tracks each point automatically.
What are the Different Types of Electronic Dart Boards?
If you think that you'd enjoy having one of these devices in your home or business to enjoy with family or friends, you might want to make a purchase. Before you buy the first board that you find, though, make sure you pick the right one by knowing what types are available.
Regulation-size boards
These are regulation size and look most similar to the traditional boards. These are ideal for adult players, and they are the most popular type.
Cyber-play boards
If you want to compete with others, a cyber-play board might be the best choice that will fit your needs. These boards will link with other similar boards to allow you to play against each other, even if you're not in the same place.
Children's boards
These are much smaller and are designed to be used by children or parents who are playing with their kids. They are very similar to regulation-size boards and may have many of the same features, including auto shut-off, only in a smaller size that's more convenient for children.
Which Electronic Dart Boards are the Best on the Market in 2020?
Up to 8 of your family members or friends can bond over this fun game, which is loaded with all different games and hundreds of scoring options, so you never get bored. This comes with an adapter, so you never have to worry about your batteries dying in the middle of a game, as well as soft-tipped darts that are perfect for players of all ages.
Get everything you need in one neat and organized cabinet when you purchase this set. This set stands out because it can be used with soft-tipped or steel darts, making it more versatile. This comes loaded with different games and hundreds of variations for hours of fun with your friends and family.
If nothing less than the best will do, you'll want to mount this model from Arachnid in your game room, man cave, or other area of your home or business. This high-quality board is ready for tournaments, or you can play just for fun with your loved ones. Up to 8 players can join in on the fun with hundreds of variations and games that provide loads of fun for all ages.
Features to Evaluate
Whether you're a master at hitting the bullseye or you've never thrown a dart in your life, a dartboard is a fun game with easy rules that provides a challenge for all skill levels. One you've decided to make this purchase, you need to look at the features of each board to determine which one is right for you. These four features can help you start right away.
Price
An inexpensive board just for fun costs less than $50, while a more high-tech board designed for tournament-level play may cost hundreds of dollars. Make sure that you evaluate all other features before purchasing solely based on price. The more expensive board may be too complicated, or the cheaper board may fall apart with heavy use. While it's okay to set a budget and spend what you can afford, you should never let price be the sole deciding factor when making your purchase.
Number of Players
If you plan to host groups of friends at your home, you want to make sure that you have the versatility to play with a lot of players. For every board you're considering, see how many players can be scored at once to make sure your game is scored accurately and fairly and that no one is left out.
Number of Games
To get the most out of your board, look for one that features a variety of different games. Make sure that the one you are purchasing has an instruction book that explains each game. By purchasing a board with multiple settings and games, you can ensure hours of fun in your rec room.
Included Accessories
Sure, that board you're eyeing may seem cheap, but make sure that you don't have to purchase additional darts, tips, or other accessories to begin enjoying it – these items really add up! Instead, look for an inclusive set that has everything you need to get started to play this fun game.
Price
Fat Cat Rigel
This is an inexpensive way to have fun with your favorite people.
Bullshooter
This set is relatively inexpensive, and considering everything that comes with it, it is quite the steal.
Arachnid Cricket Pro 800
This is a high-end board that has a high-end price.
Number of Players
Fat Cat Rigel
Up to 8 players at one time can partake in the fun with this board.
Bullshooter
Up to 8 players can join in on a game when playing on this board.
Arachnid Cricket Pro 800
Up to 8 players can join in on each game.
Number of Games
Fat Cat Rigel
This is loaded with 32 games and 305 different scoring options for hours of fun.
Bullshooter
This has 38 games preloaded, along with 211 variations.
Arachnid Cricket Pro 800
This has 39 games loaded, along with 179 variations.
Included Accessories
Fat Cat Rigel
Six plastic darts, 30 replacement tips, and a manual that explains how to operate the board and how to play the games.
Bullshooter
Comes with steel and soft-tip darts for more versatility. Plus a heavy-duty game cabinet that keeps everything neat and organized, an AC adapter, and user manual.
Arachnid Cricket Pro 800
This unit comes with six darts, extra dart tips, an AC adapter, and manuals that explain the games and how to operate the board.
Results: See Our Top Electronic Dart Board Picks
If you're new to darts or you just want to get an affordable game for the family, this board Fat Cat is a great choice. Priced well under $100, it's one of the least expensive on the market, but don't mistake affordable for cheap. It boasts many great features found on more expensive products.
This game can be played by up to 8 players, and it comes ready to play, loaded with over 30 different and fun games, as well as over 300 scoring options. You'll get six plastic darts that are lightweight and easy to throw, so it's great for kids too. Over time, your tips may break or wear down, but this comes with 30 replacement tips so you can keep playing. This model has a 13" face and an LED display that keeps up with your score.
Pros:
It is affordable
Comes with everything you need
Supports playing with multiple players
It has multiple games and scoring options loaded
Easy to mount
It comes with an AC adapter so you don't have to worry about replacing batteries
Cons:
This is not a full-size board
The interface is a bit confusing
Those who want to use batteries for portability will not have the option
Choose your game with this versatile board, which works with steel or soft-tip darts, both of which are included. You won't ever be bored when you play this, since it has over 30 different games and over 200 different variations for hours of non-stop fun. It also has voice recognition, making it easy to control, as well as sound effects that can be turned on or off depending on your preferences.
This set comes encased in a heavy-duty plastic cabinet that keeps everything on your wall looking neat and keeps your pieces organized so they don't get lost. It has an LED scoring display that keeps up with your game, and you won't have to worry about batteries, since this comes with an AC adapter for continuous power.
Pros:
Comes with everything you need to get started
It is very versatile and can be used with two types of darts
Lots of preloaded games
The cabinet has an attractive look and is very easy to mount
Cons:
Soft-tip darts may fall out of the board
The volume setting resets every time the device is turned off
Whether you compete in tournaments or you just want to have a high-quality board you can enjoy for years to come, the Arachnid Cricket Pro 800 is a product you should consider. This board is tournament-quality, meaning that it is more durable and accurate than less expensive boards. You won't have to worry about the darts bouncing out in this unit – they all stay in place.
Up to 8 players can join in on a variety of fun games, and there are hundreds of variations available.
This has a jumbo display that shows 4 players at a time and indicates who is currently up to throw. To throw off the best players, there's even a heckler option that throws out jeers while they throw darts. This unit comes with everything needed to get started, including an AC adapter for continuous power, six darts, and extra tips. This is a very durable board that is designed to withstand years of games.
Pros:
It is very durable
Darts don't fall out as much as on less expensive boards
It comes with a 1-year limited manufacturer's warranty
It has a large, scrolling display
The LCD screen is easy to read, even from a distance
Has multiple options not found on other products, including a heckler and bounce out amend features
Cons:
It is a bit expensive
It is a little tricky to mount
The included darts are cheap and may need to be replaced for better ones
All in All
Playing on a dart board is loads of fun for adults and kids of all ages. Keep the game fun and safe with the best electronic dart board for your family or friends. If you want a high-quality board that withstand weara and tear, is easy to use, comes with games, and has features you won't find on other units, the Arachnid Cricket Pro 800 should be on your list. This board has everything you need for hours of fun at home or at your business.