Some links on this page are monetized by affiliate programs - see disclosure for details.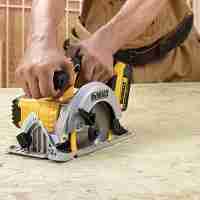 Choosing the right circular saw can make all the difference between enjoying your time in the workshop, or deciding that you'd rather be doing something else than use this powerful tool for your project.
Everything from a new deck to adding a gazebo for your family to enjoy – The best circular saws balance form, function, safety, and power within a compact design that is easy to wield and safe to operate.
Guide: What Is A Circular Saw?
The circular saw has evolved to become one of the most important and useful tools on the work site. It makes cutting through thick lumber a breeze and when placed upon a portable stand, it can complete many of the same cuts a table saw can.
A simple tool to use, learning to wield a circular saw like a professional takes just a little practice to master.
What are the different types of circular saws?
Circular saws are typically classified based on the diameter of the blades they utilize. In this regard, they usually fall within the 5 1/2 to 7 1/4 inch range. They are further divided into either sidewinder, inline, or worm drive saws. Sidewinder saws are the most common set-up. These have the motor located on the same axis of the blade with a shaft connecting the motor and driving the blade forward.
A sidewinder saw is compact and light, and sets the blade on the right side of the motor. These are popular because they provide a slightly better view of the wood's surface as it's being cut. Conversely, worm drive circular saws set the motor at a right angle to the blade and utilizes gears to transfer torque to the blade. This makes it an ideal choice for professionals who intend to use the tool as part of their daily work.
When choosing a circular saw, it's important to consider your specific needs and the jobs you intend to perform. This is imperative as if you select a saw that is underpowered for your needs, or too heavy, then you'll end up with a saw that's uncomfortable to use and can negatively impact the quality of the finished product.
Who are the contenders for the best circular saw of 2020?
We've narrowed our recommendations to the Skil 5480-01 13 Amp 7-1/4-Inch, the Rockwell RK3441K Compact Circular Saw, and the DEWALT DCS391B 20-Volt MAX. Each of these saws offer a variety of features that make them the best in their category and price range.
If you are a hobbyist looking to complete the occasional job around the house, then either the Skill or Rockwell saws will be more than adequate for your needs. However, if you are a professional who intends to use the saw to complete daily tasks, then you'll want to invest in the Dewalt; not because it is better quality, but because it is better adapted to withstand the pressures and demands of continued use day after day.
Best Cheap Circular Saw

Skil 5480-01 13 Amp 7-1/4-Inch
This popular circular saw features a 7-1/4 inch blade spun by a 13 amp, 2.3 horsepower motor. This gives the saw plenty of power to cut through most woods and successfully complete practically any job around the home. It features a 2-point line-of-sight guide that enhances visibility to ensure an accurate cut. The saw also features a safety lock and guarded trigger that make the saw safe to use. Finally, the easily adjustable rear depth adjustment makes controlling cut depth a breeze.
The durable ball-bearings within the motor housing give the saw a high degree of reliability and also minimize vibration as the saw operates. Coupled with an anti-snag lower guard, this helps reduce snags when making narrow cuts regardless of how thin or thick the wood might be.
Best Circular Saw for the Money
Rockwell RK3441K Compact Circular Saw
The compact design of this lightweight, 5 amp saw makes it easy to tote around the job site. Featuring a 4-1/2 inch blade, the saw is capable of cutting 2×4's in one quick pass. At just 5 lbs., it's a saw you can carry up ladders and wield from the sawhorses all day long. Further, the slim design of the inline grip makes it a very comfortable saw to use and control. Indeed, it is a very well balanced saw with a thin blade that requires less physical strain to operate.
The 3500 RPM motor delivers superior performance that you can rely on to cut through even the hardest of hardwoods. The saw features bevel adjustments of between 0-45 degrees, and a a maximum cutting depth at 90 degrees of 1-11/16 inches. This cutting dept is easily set by an easy to read and adjust gauge lever.
Best Circular Saw Overall
Dewalt's reputation for quality is well deserved, and this saw is a continuation of that legacy. The DCS391B delivers high-speed performance in a semi-lightweight design that's easy to heft around the worksite The magnesium shoe provides a solid platform that won't rust or get dinged easily. Coupled with the comfort molded rubber grip, it's an easy saw to handle and control. This makes it popular among professional craftsmen who require consistent performance, reliability, and ease of use throughout the workday.
Considerations before buying a circular saw
We've narrowed down to four the most important features to consider when purchasing a circular saw. These features are critical to the safe, long-term operation of the saw and the completion of the cuts you need to make. Combined, these four features will determine the way you use your saw and your satisfaction at the completion of the projects you finish. The following are our reviews of the four top features to consider:
Motor
Skil 5480-01 13 Amp 7-1/4-Inch – The corded, 2.3 horsepower motor spins the blade at 5300 RPM. This high rate of speed reduces binding and makes it easier to complete clean cuts with minimal burring.
Rockwell RK3441K Compact Circular Saw – The corded, 5 amp motor spins the blade at 3500 RPM. This slows cutting capacity down, however, it gives you greater control over your cuts. This is perfect for craftsmen who believe slow and steady wins the race and ensures a perfect fit once the cut is complete.
DEWALT DCS391B 20-Volt MAX – The "Tim the Tool Guy" saw, this cordless saw's 20 volt lithium ion batteries propel the blade forward at 5250 RPM. This rate of speed makes this one of the fastest circular saws on the planet. Further, the long-life batteries ensure that you'll have plenty of operational time to complete the tasks you're working on.
Blade Guard
Skil 5480-01 13 Amp 7-1/4-Inch – The upper and lower blade guards on this saw leave very little of the blade exposed. Designed to roll back while cutting, it's a saw that you can safely use without worrying about snags and other obstructions throwing the blade off course and into your fingers. Coupled with a wide and sturdy foot, this gives the degree a high safety rating.
Rockwell RK3441K Compact Circular Saw – Featuring only an upper blade guard, the blade on this saw is considerably more exposed than other options. That means that users need to be more attentive in their cuts and take extra precautions to ensure that obstructions are well below the saw while in operation. It also means that the saw must be held properly as the rearward configuration of the motor means you must carefully balance your hands to ensure the saw doesn't "run away" on you while in operation.
DEWALT DCS391B 20-Volt MAX – The lightweight magnesium shoe works in conjunction with the blade guards to provide a stable and reliable cutting platform. The upper and lower blade guards combine to leave just a couple of inches of exposed cutting surface as the saw glides over the wood. Further, the easily grasped handle provides a safe position to handle the saw from which further enhances its safety rating.
Depth/Blade Adjustment
Skil 5480-01 13 Amp 7-1/4-Inch – Set to the right, the blade can be adjusted to a 45 degree bevel. At 45 degrees, the maximum cut depth is 1.9375 inches. This is sufficient for most tasks the casual user will need to perform.
Rockwell RK3441K Compact Circular Saw – Similar to the Skil, the bevel capacity on this left centered saw is 45 degrees. However, the maximum cut depth is only 1.125 inches. This makes this saw ideal for cutting trim and smaller wood sizes.
DEWALT DCS391B 20-Volt MAX – The bevel capacity on this saw is 50 degrees, with a maximum cut depth of 1.625 inches. This gives users a slight edge when creating specialized cuts at odd angles.
Weight
Skil 5480-01 13 Amp 7-1/4-Inch – At 12 pounds, Skil has opted to remain true to their heavy handed heritage. While the weight is considerably more than other options, the advantage of this is of course that it gives you greater control as the saw is cutting.
Rockwell RK3441K Compact Circular Saw – At just 5 pounds, this is one of the lightest saws available. Further, because of its design it's easy to snap into a tool belt and carry up and down ladders. However, because of its extreme lightweight, it's a saw you must put extra pressure upon to ensure cut accuracy.
DEWALT DCS391B 20-Volt MAX – At 8 pounds, the Dewalt is light and easy to carry around. The saw is also well balanced which further reduces the heft of this saw which means that it feels even lighter while in operation
Our Circular Saw Reviews are in: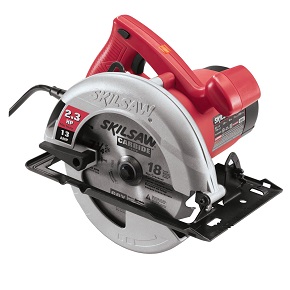 The Skil 5480-01 is ideal for the occasional use of the tinkerer and the hobbyist. Reliable and inexpensive, it's a saw that will last year after year without much maintenance required. It's also easy to use and because it features the same design of many previous models, it's a saw you can start using right away without having to retrain yourself on saw operation.
Pros:
Inexpensive and easy to operate, the Skil 5480-01 is reliable and features a great design. It's popularity stems from its ability to do the job to the satisfaction of the operator.
Cons:
It's heavy and that makes long-term operation more challenging. And, because the saw is corded, it does limit somewhat the saw's mobility around the job site.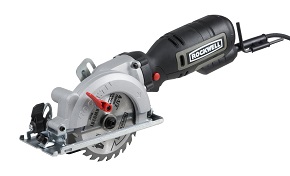 The Rockwell RK3441K is also a fantastic saw. Reliable, sturdy, and speedy, it's a great saw for the craftsman who likes to get things done quickly. The ergonomic grips make one handed operation easy which makes this an ideal saw for those who cut at odd angles or in tight spaces. Further, the saw's attachable vacuum hookup also ensures that the work site stays clean and isn't cluttered with sawdust.
Pros:
At roughly 50% of the weight of most circular saws, it's easy to handle and the inline grip is extremely comfortable in the hands. The high RPM and thin blade require less effort to complete cuts which gives this saw a good balance between comfort, performance, and reliability.
Cons:
The saw is extremely light, which means you have to pay close attention to the blade spin so that the saw doesn't get away from you. Further, because the saw does not feature a lower blade guard, you must be more careful for safe operation.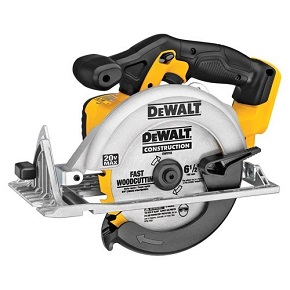 Finally, the DEWALT DCS391B is the top performing saw on the market. Backed by Dewalt's reputation for quality construction, it's a saw that can take a beating and keep on cutting. It's thin blades ensure smooth cuts and minimal snags. Coupled with the ergonomic handle and dual blade covers, it's also a safe saw to operate. Everything considered, it's a craftsman's saw that isn't happy laying around unused in the toolbox. Indeed, it's ready to go to work whenever you are, and as long as you charge the batteries, it's happy to cut wood from 9 to 5 without need much of a break.
Pros:
The saw is weighs only 8 pounds. This creates a perfect platform for the blades high RPM. Further, with a cutting depth of 1.625 inches, coupled with an upper and lower blade guard, it's a safe saw to operate that can effectively cut almost any piece of wood on the job.
Cons:
The Lithium Ion batteries can be sensitive and Dewalt has issues with these wearing out in the past. Based on user experience, it seems that this isn't much of an issue if you carefully follow charging and operation instructions.
All in All
Each of these circular saws fill their respective niches well. After thinking carefully about your requirements choose from one of these saws and your not construction project will be smooth and hassle free.