Some links on this page are monetized by affiliate programs - see disclosure for details.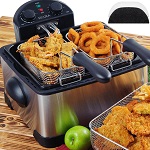 When you go to a diner or your favorite restaurant, one of the best things about going there is the delicious fried food. Whether it's fish, chicken tenders, or french fries, there's something just so delicious about fried food. When cooking at home, putting your chicken strips or fries in the over cooks them, but it doesn't give them that same great flavor and crispy crunch as your beloved dining establishments.
With a quality deep fryer in your kitchen, though, you'll be making and enjoying your favorite fried foods in no time at all.
Our Top 10 Best Deep Fryers of 2020

The Basics: What is a Deep Fryer?
A deep fryer is a small kitchen appliance that is used to cook various types of food, from french fries to hushpuppies to eggrolls. A deep fryer is filled with your choice of oil (vegetable and canola are popular choices), and then heated to a certain temperature. Once the oil is hot enough, fresh or frozen food is placed in the deep fryer basket, which is lowered into the fryer. After just a few minutes, your food is fried to a perfect golden brown. New to the art of deep frying? Check this guide to learn how to use one.
Household deep fryers are similar to those found in restaurants, only in a smaller, more convenient size for your kitchen.
See Also: Ten Toaster Ovens You Should Consider Owning
What are the different types of Deep Fryers?
If you want to add some new recipes to your regular menu, a deep fryer is a great way to do that. If you want to try out a deep fryer in your kitchen, consider the different types to choose the one that's best for your kitchen.
Electric – These are the most common deep fryers. These are filled with oil, and they use electricity to heat up the oil. Most electric deep dryers have a lid that prevents the oil from splattering, which makes messes and could lead to burns.
Propane – These fryers are designed to be used outdoors, and they are powered with propane, not electricity. These are typically quite large and are used for larger items, like turkeys.
Oil-less – These deep fryers do not require oil, so they are less messy and safer than electric fryers that use oil. These fryers are typically more versatile and can do other tasks, like steam your food.
What are the advantages?
A deep fryer is a great small appliance to add to your kitchen because it lets you fry all of your favorite foods to perfection. Using a deep fryer is safer and easier than frying food in oil on a stove top. A deep fryer prevents splatters, so you won't have to worry about messes in your kitchen.
The possibilities are endless as to what you can cook in a deep fryer, so you'll be able to impress your family, friends, and guests with your delicious new recipes.
Read: The Top 10 List of Air Fryers for Healthier Cooking
Who are the contenders for Best Deep Fryer?
Presto 06003 Options Electric Multi-Cooker/Steamer – If you want a multi-function appliance at an affordable price, you'll want to consider this model from Presto. In addition to being a deep fryer with temperature controls. Not only will you be able to use this product as a deep fryer, but it also functions as a roaster and a steamer. This durable product has a capacity of six quarts, and it comes with a basket for frying and steaming. It is very easy to use, has a non-stick surface, and it is extremely affordable, priced under $100.
Waring Pro DF280 Professional Deep Fryer – This small appliance combines the style of stainless steel with great performance and modern upgrades, like a digital timer and temperature control panel. You can cook one thing in the large basket, or fry two different items at one time in the two smaller baskets. It comes equipped with a removable 1800-watt heating element, as well as cool touch handles for your safety.
T-fal FZ7002 ActiFry – If you love the taste and crunch of deep-fried food but hate the added calories, this oil-less fryer gives you the best of both worlds. You can quickly and effectively fry your favorite foods using little to no oil in this innovative small appliance. It is ideal for meat, vegetables, seafood, and so much more. It's very easy to use and easier to clean than most fryers, as it isn't filled with oil and it's dishwasher-safe. It has a digital countdown timer, as well, so your food will always be cooked perfectly.
Considerations for Choosing the Right Fryer
If you've decided to add a deep fryer to your kitchen collection, there are a few things you need to keep in mind before you make your purchase. Consider these key features and decide which are most important to you so you can purchase a model that you'll enjoy using.
Type of deep fryer
You'll need to decide if you want to fry in oil, or if you'd rather make healthier fried food in an oil-less fryer.
Ease of cleaning
Cleaning a deep fryer can be a pain. However, if you really want a product that's easy to clean and maintain, look for one with a power cord that disconnects, removable basket, and
dishwasher-safe design.
Warranty
Before you invest your hard earned money in a deep fryer, make sure that your purchase is backed with a manufacturer's warranty against defects.
Type of deep fryer
Presto 06003 Options Electric Multi-Cooker/Steamer
You can add oil to use this as a deep fryer, or you can use water or other liquids for steaming and roasting.
Waring Pro DF280 Professional Deep Fryer
This deep fryer is filled with your choice of oil for fast and efficient frying.
T-fal FZ7002 ActiFry
This model is an oil-less cooker, and it operates using little to no water.
Ease of cleaning
Presto 06003 Options Electric Multi-Cooker/Steamer
The power cord detaches from this model, making it fully submersible in water and extremely easy to clean.
Waring Pro DF280 Professional Deep Fryer
This model comes with a removable stainless steel oil container that is very easy to clean.
T-fal FZ7002 ActiFry
Clean up is a breeze with this unit, which is completely dishwasher-safe.
Warranty
Presto 06003 Options Electric Multi-Cooker/Steamer
You can rest easy knowing that your purchase is protected with a one-year limited warranty directly from the manufacturer.
Waring Pro DF280 Professional Deep Fryer
You will receive a one-year manufacturer's warranty against defects with your purchase of this deep fryer.
T-fal FZ7002 ActiFry
Your purchase of this unit is backed with a one-year manufacturer's warranty.
Conclusion: Our Deep Fryer Reviews Are In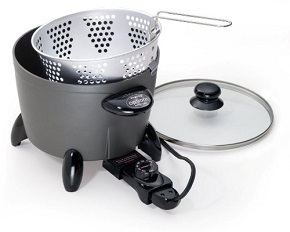 Fry, steam, and roast your favorite meats, vegetables, and other foods in this economical multi-cooker. The heavy cast aluminum construction is durable, and its non-stick surface makes cooking and cleaning easier. You'll know the exact temperature with the temperature control dial, which removes when it's time for cleaning.
It comes with a lift and drain basket with handle, as well as a glass lid for proper cooking. With a price tag of less than $100, this multi-cooker is the perfect small appliance to add to your kitchen.
Pros
It can be used for more than just deep frying. It's easy to clean. It's easy to use. It allows you to set the exact temperature. Affordable. It has a warranty.
Cons
The basket handle feels a bit flimsy. The screw-on plastic feet feel cheap and flimsy. The non-stick coating may flake off with heavy use and washing.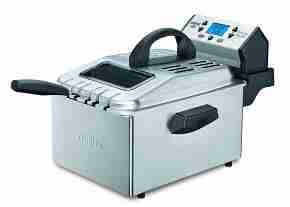 Get the power of a professional deep fryer in your own kitchen at a fraction of the size and price with this great model from Waring. The stainless steel design of this fryer gives it a modern look that looks great in any kitchen. Not only does it look great, but it performs well, too.
You can easily control this product with the digital temperature controls and timer, and you can even check your food without lifting the lid and letting out the heat with the viewing window on top. Your purchase comes with three baskets, one large basket and two smaller ones that can be used together. The oil container is removable, so it's very easy to clean. When compared to other deep fryers, it is very competitively priced.
Pros
It is easy to use. Temperature and time are controlled digitally. It's easy to clean. It's affordable. It has a high-quality stainless steel design. It's a great size. You can fry multiple foods at once. It delivers consistent results.
Cons
There are no filters to reduce odors. The baskets are quite shallow.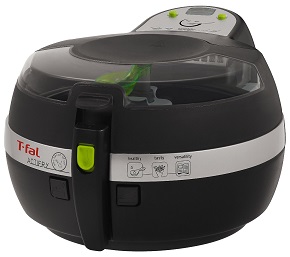 Deep-fried food tastes fantastic, but it may not be the best choice for a healthy diet. If you want all of the flavor and crispy crunch of fried food with reduced fat, give this oil-less deep fryer a try. You can add your favorite meat, seafood, veggies, and even specialty items like risotto. You only use a little bit of oil, and with some recipes, no oil at all is required, so you get the great taste without the fat.
It couldn't be easier to operate this unit. It has two buttons: one is the power switch, and the other is your countdown timer. A recipe book is included so you can easily learn how to use your fryer for your own recipes, as well as new dishes. Everything is dishwasher-safe, so you can clean up in just minutes.
The temperature stays consistent, ensuring that your food is perfectly done, and a no-steam transparent lid allows you to check on its progress without letting out the heat. It holds over two pounds of food, so you can easily feed your family in no time at all.
Pros
It requires little to no messy oil. It's easy to operate. It cooks consistently and evenly. The automatic paddle stirs food for you to prevent burning. It is easy to clean. It doesn't splatter. The exterior does not get hot, keeping it safe for your household while in use. It is odorless, so you don't have to deal with fried food smells for days.
Cons
The timer does not automatically shut off the unit when it sounds. The plastic construction may begin to wear down with consistent use over time. It is more expensive than other fryers.
In Conclusion
If you're craving fried food, don't spend a fortune running to your local restaurant. Instead, make your own delicious food right in your own kitchen. If you want the great taste of food prepared in a deep fryer without the high fat content and greasy texture, choose the T-Fal ActiFry. This fryer allows you to prepare food quickly and easily, and you can feel great knowing that you're providing your family with delicious food that's just as tasty but much healthier than what you'll find at your favorite diner.