Some links on this page are monetized by affiliate programs - see disclosure for details.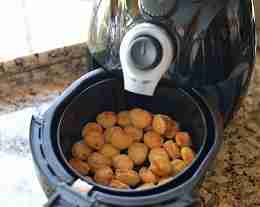 Fried food is very tasty, but let's face it: it's not very healthy. Frying your food in traditional appliances that use various types of oil adds fat, calories, and isn't good for your health. However, you don't have to sacrifice the satisfying crunch and crispy taste of fried food.
Instead of using a deep fryer that leaves your food greasy and loaded with calories, get the same great taste from an air fryer.
Comparison: The Top 10 Best Air Fryers of 2020

The Basics: What is an Air Fryer, anyway?
There are a number of useful kitchen cooking appliances available on the market. These include crock pots, food processors, and An air fryer is a small kitchen appliance that acts much like a convention oven to give similar results to what you would get in a deep fryer. Instead of dumping your food in oil, though, you simply add a little bit of oil (or none at all), shut the lid, and hot air begins blowing on the food, cooking it so it's crispy and delicious without all of the oiliness.
An air fryer lets you cook a variety of different foods, including French fries, chicken wings, egg rolls, and other deep-fried foods in a healthier, less messy way.
What are the different types?
Since air fryers are relatively new to the world of small kitchen appliances, you might not know much about them. If you'd like to make your meals healthier without sacrificing taste, one of these appliances may be perfect for your kitchen. Before you make a purchase, though, make sure you know what types of fryers are available.
Basket air fryers
These models are most similar to deep fryers in that they have a basket that is lowered down into the appliance and the lid is shut while the food cooks. The difference is that instead of putting the basket in hot oil, the food is cooked only using hot air.
Paddle fryers
These appliances are equipped with a paddle that stirs and rotates your food, preventing it from burning. This ideal for larger items like chicken wings, chicken breasts, or egg rolls.
Oil-free turkey fryers
Deep-fried turkey has become a popular meal for Thanksgiving and other big family meals, but cooking them in a regular deep fryer can be extremely dangerous. Get the great taste of fried turkey without the hassle, mess, and danger with a oil-less fryer that's safe and easy to use.
What are the Advantages of Owning One?
Typically, when you want fried food, you put it straight into a deep fryer, a small kitchen appliance full of vegetable oil, canola oil, or some other type of oil. While the food typically tastes pretty good, you may notice that when it comes out, it's oily (even with lots of blotting before serving), and quite frankly, just not good for you. Baking your food in an oven just doesn't work for some foods, like French fries which come out a little bit soggy and not crisp on the outside and soft in the middle.
With the innovative design of air fryers, you get the same great results without having to use bottles of messy oil. These appliances are just as easy and convenient to use as deep fryers, give great results, but have the added benefit of not using oil, which can be very unhealthy when eaten frequently.
Top 3 Best Air Fryers on the Market
Enjoy healthier fried foods by cooking them in this affordable fryer from Avalon Bay. Even though the price is inexpensive, you still get many of the great features found on high-end models, including an innovative design that cooks food to perfection, an easy to use timer, and hassle-free cleanup with dishwasher-safe parts. The adjustable temperature gauge lets you easily set the right temperature for cooking your food thoroughly and evenly, all without the hassle and mess of oils.
You won't believe that your food is just as tasty but healthier when you use this fryer. Cook up your own recipes or try something new with the included recipe book. When you're done cooking, just toss the parts in the dishwasher for easy cleanup without the hassle of disposing of oil, which can clog your pipes and cause a plumbing disaster. With this fryer, you'll enjoy crisp, evenly cooked food with a fraction of the fat in deep-fried food without sacrificing taste. It has a timer, temperature control, and automatically shuts off to prevent burning your food or causing a fire hazard.
If you want a top-of-the-line fryer, it doesn't get much better than this digital model from Philips. Fry, roast, bake, and grill without tons of fattening and unhealthy oil with just this one simple appliance. The digital controls make it very easy to use, its extra-large size means you'll have no problem cooking for a large family or a group of guests, and the patented technology ensures your food is cooked perfectly each and every time.
Factors to Consider
If you've never tried one of these appliances before, you may not know what to expect when you decide to purchase one. You shouldn't be blindsided when you start shopping, though – you should always know exactly what features to look for in a quality small appliance that you can enjoy for years to come. For every product you're considering, remember these four key points to ensure you make the best purchase for your kitchen.
Price
As with other small appliances for your kitchen, these fryers are available at multiple price points, from less than $100 to several hundred for a more high-end model. Just remember, you will generally pay more money for extra features, so if these features (like a digital design, double racks, and extra-large size) are important to you, plan to budget a little more when shopping for your appliance.
Capacity
The capacity of the fryer is important because you want to make as much as you need without making your family or guests wait for it all to finish. If you have a larger family or you entertain quite often, make sure to pick a fryer with an extra-large capacity so you can easily cook everything you need in one shot.
Time and temperature controls
To avoid burning your food, make sure that the model you choose has temperature controls and a timer that are easy to use. If you plan on preparing items that take a long time to cook, make sure the model you purchase will cook for longer periods of time, as opposed to just 20 or 30 minutes.
Warranty
You don't want to take your small appliance home only to have it short out or break after just a few uses. If there is a defect in the product, a manufacturer's warranty will ensure you get a repair or replacement at no cost to you, protecting your purchase.
Price
Avalon Bay
This fryer is one of the most affordable you'll find, boasting a price tag a fraction of the cost of high-end models.
Philips HD9220/26
The retail price of this unit is right around the mid-priced level when compared to similar fryers.
Philips HD9230/56
This high-end fryer is priced at the top of the pricing scale when compared to other fryers.
Capacity
Avalon Bay
This fryer holds approximately one quart of food, so it's best for most families.
Philips HD9220/26
The cooking basket holds 1.8 pounds of food, so it's a good size for many families.
Philips HD9230/56
The basket is large enough to hold 1.8 pounds of food.
Time and temperature control
Avalon Bay
This model has two dials, one that times up to 30 minutes of cooking and the other is a temperature dial that has a range of 200 to 400 degrees.
Philips HD9220/26
This fryer has an easy-to-use timer that cooks for up to 30 minutes, as well as a temperature control knob that adjusts the temp up to 390 degrees.
Philips HD9230/56
Unlike similar appliances that cook for just 30 minutes, the digital timer for this model can be set for up to 60 minutes.
Warranty
Avalon Bay
The manufacturer's warranty on this model is for one year and covers defects in craftsmanship that hinder the function of this device.
Philips HD9220/26
You will receive a one-year limited warranty with your purchase which covers manufacturer's defects.
Philips HD9230/56
Your purchase comes with a 1-year limited manufacturer's warranty.
Conclusion: Our Air Fryer Reviews Are In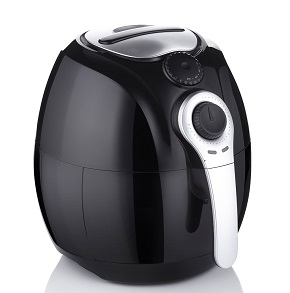 If it's your first time using an oil-less fryer, this is a great entry level model that won't break the bank. This affordable fryer is the perfect size for most families and allows you to cook many of your favorite frozen foods that are normally put in a deep fryer, including frozen shrimp, French fries, and so much more.
This fryer has a 30-minute timer which has an audible alarm. The machine automatically shuts off when it's finished cooking, so you don't have to worry about your food burning. It has a mesh metal basket that holds smaller items, and the whole system is extremely easy to use, from turning it on to cleaning up by washing it in the dishwasher.
Pros:
Very affordable
It comes with a warranty
It is easy to use
The parts are dishwasher-safe
It doesn't require oil
It cooks evenly
Cons:
The basket is not made of non-stick materials, so it may be difficult to clean
It performs best with frozen, not fresh, food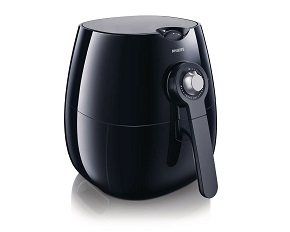 If you want to do more with your fryer, this is a great and affordable option to add to your kitchen lineup. Not only can you fry your favorite foods with less fat and calories, but you can use it to bake, grill, and roast so you can enjoy your favorite recipes in less time and in a healthier way.
This model is equipped with a 30-minute timer which has an audible alarm and auto-shutoff feature so you don't have to worry about burning your food. The patented technology used in this machine ensures even cooking and heating throughout everything you cook. The handle stays cool to the touch, so you don't have to worry about burns, and it's easily cleaned by running the parts through a dishwasher.
Pros:
It is easy to use
It comes with a warranty
Cooks evenly with its patented RapidAir technology
All foods require only a tablespoon or less of oil to cook
A smartphone app is available to help you get the most out of your fryer
It comes with a recipe book
Cons:
Some foods take longer than suggested to cook
It takes up a lot of counter space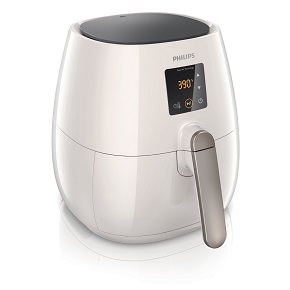 Set the perfect temperature and time every time when you use this fryer from Philips. The digital controls are extremely easy to use and ensure precision when cooking your favorite foods. The design of this machine combines Philips' patented RapirAir technology along with a top heating grill for thorough and even heating of any type of food. One doesn't just fry with this appliance; you can also bake, roast, and grill with less oil, less mess, and less cleanup afterwards.
You can adjust heat up to 390 degrees, ensuring your food is safe to eat, as well as crisp and tasty. It comes equipped with a rack that allows you to stack up to 1.8 pounds of food to feed your entire family in one shot. It's fast, easy to use, and looks great in any kitchen. It is available in White or Black, and it comes with Philips' 1-year warranty.
Pros:
It is easy to use
The timer goes up to 60 minutes, double the time of most fryers
It shuts off automatically when finished cooking
It has an audible alarm that lets you know when your food is ready
Parts are dishwasher-safe
The digital controls are precise and easy to use
It cooks evenly
Cons:
The basket is difficult to remove for cleaning
It is more expensive than other fryers
All in All
Why continue to eat fried foods that you know are bad for you when there is a healthy alternative? With an airfryer, you can still enjoy your favorite crispy foods without the use of heavy oils that add unnecessary fat and calories to your diet. If you want to start living a healthier lifestyle while still enjoying all of your favorites, give the Philips HD9220/26 a try. This fryer is easy to use with its user-friendly digital controls, produces great results, and is a must-have small appliance for your kitchen that lets you enjoy fried food without the guilt.