Some links on this page are monetized by affiliate programs - see disclosure for details.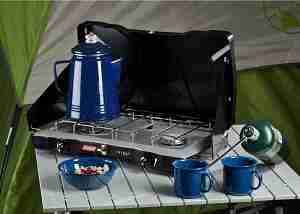 Going camping is a great way to get away from the stresses of everyday life. While camping out in the wilderness, you get to enjoy all of the beauty nature has to offer while also having a simpler existence free from smartphones, computers, and big screen TVs. Of course, going camping doesn't mean you completely have to leave behind all of the comforts of home.
In fact, most campers will tell you that there are many supplies you just have to have to make your excursion more pleasant and convenient. Sometimes, these supplies are also crucial to survival, particularly if you're camping in the wilderness for a lengthy period of time. One of the "must-have" items that many long-time campers pack in their backpacks is a camping stove.
Our 10 Favorite Camping Stoves of 2017

Guide: What Is A Camping Stove?
As you might have already guessed, a camping stove is a type of stove you bring with you on your camping trip. It is similar to a stove you might find in any kitchen in that it is designed to help you heat up food or boil water in a pot. This stove is a bit different from your average household stove, though. For one thing, it does not rely on electricity but is instead operated with fuel. It is portable, small, and lightweight so it's easy to pack in your backpack with other supplies.
These stoves prevent you from having to build a fire, which can be time consuming and may even not be permitted in certain camping areas.
What are the different types of Camping Stoves?
Don't just pick up a stove for camping on a whim and assume it will meet your needs. There are various types available, and it's important that you know the difference between each type. If you are planning an extended outdoor trip, whether it's for a weekend or for a longer period, you'll want to bring a stove with you. There are four main types available to choose from, canister stoves, liquid gas stoves, solid fuel burning stoves, and portable wood burning stoves.
Canister stoves – These stoves contain a canister of fuel, which is typically a mixture of propane and butane. It comes with a pot stand that screws directly onto the canister. These stoves are popular because they are very easy to use and extremely lightweight and portable. To use, all you have to do is attach the pot to the canister, turn on the fuel, and you're ready to cook. The one drawback is that these stoves do not perform well in windy conditions.
Liquid gas stoves – These stoves have a fuel canister attached with a pump to a freestanding stove unit. These, like canister stoves, are very lightweight and easy to pack. However, they do require assembly before use, as well as pumping and priming the fuel. The advantage, though, is that these stoves work great in all seasons, even on cold and windy days.
Solid fuel burning stoves – Instead of fuel canisters, fuel cubes are used with these stoves. This is a convenient option if you don't have much space for multiple large canisters.
Wood burning stoves – Eliminate the need to buy and carry expensive fuels with a wood burning stove. You can use small pieces of wood, twigs, and other natural items to operate this stove.
What are the Advantages of Owning a Camping Stove?
These stoves are a must-have if you plan to camp for any extended period of time. If you are staying in a wooded area or campsite that doesn't follow campfires, you can still enjoy hot food with a camping stove. You won't have to worry about dealing with a campfire that could rage out of control or harm plants, flowers, and grass.
You can use one of these stoves for roasting marshmallows, cooking hot dogs, or for simmering or boiling water for rations or for drinking (after it cools.) This equipment is convenient for your family camping trips and may even be crucial to your survival on long treks away from it all.
Who are the contenders for Best Camping Stove?
Coleman Bottle Top Propane Stove – Affordable and high-performing are just two adjectives to describe this stove from Coleman, a leader in camping equipment. This efficient heater heats evenly, provides you with adjustable controls for your flame, and even has shields that prevent your fire from blowing out or becoming dangerous in a wooded area.
Esbit CS985HA 5-Piece Lightweight Trekking Cook Set with Brass Alcohol Burner Stove – This great set comes with everything you need to cook a great outdoor meal. It comes with a small pot and a large pot, which each have different functions. The large pot allows you to precisely measure foods and liquids, while the smaller lot functions as a lid. This stove is lightweight, easy to use, and is available for an affordable price.
Solo Stove Titan & Solo Pot 1800 Camp Stove Combo – Stoves that use fuel canisters are convenient, but you always have to lug around canisters, not to mention refills can be expensive. With this great stove combo, you can use natural materials like twigs, pine cones, and even leaves to fuel your fire. It has a small, lightweight design, and it's even been recommended as a top product by famous survivalists.
Considerations for Choosing the Best Camping Stove
If you're ready to pack your backpack with a portable stove for your camping trips, you may not know where to begin when it comes time to make your purchase, especially if it is your first time buying this type of product. Before you begin shopping, consider each of these four features to make sure you're making the right purchase.
Fuel type
What type of fuel will you need for your new stove? You need to make sure you know exactly what type of fuel to purchase, and make sure additional canisters are readily available so you'll always have enough fuel for your fire.
Weight
You don't want to lug around a giant, heavy stove in addition to your other camping supplies. Make sure that any stove you would like to purchase is lightweight and packs easily in a camping backpack. You don't want anything that takes up too much space, is cumbersome to pack, or weighs you down as you're walking or hiking through the woods.
Additional accessories
Some stoves come with pots that nest together, providing you with more packing space. Look for stoves that come with everything you need to get started, including pots for boiling water or simmering food.
Fuel type
Coleman Bottle Top Propane Stove
This stove is heated using a propane gas canister that provides 10,000 BTUs of power for fast, even, and effective heating.
Esbit CS985HA Cook Stove
This is an alcohol burning stove that uses fuel cubes for heat.
Solo Stove Combo
You can use wood, pine cones, leaves, twigs, or any other natural products to create a hot flame to heat your food and boil your water.
Weight
Coleman Bottle Top Propane Stove
The stove unit itself weighs about 25 ounces. The fuel container weighs about 30 ounces.
Esbit CS985HA Cook Stove
This five piece set weighs in at just 15 ounces, so it's very lightweight and the nesting design helps it fit easily into your pack.
Solo Stove Combo
This is a lightweight stove that weighs just 16.5 ounces. There is no additional weight since it does not require fuel canisters.
Additional accessories
Coleman Bottle Top Propane Stove
When you purchase this product, you will receive a burner and a base.
Esbit CS985HA Cook Stove
You'll get everything you need with this set, which includes two cook pots (one small and one large), an alcohol burner, stand, fuel base, and a carrying bag.
Solo Stove Combo
This comes with the base and the pot, so you will not need to purchase additional parts or accessories for this product.
Conclusion: Our Camping Stove Reviews Are In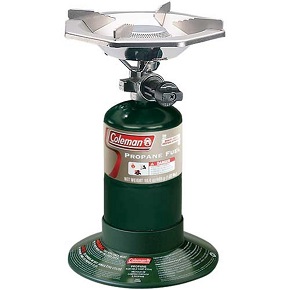 As simple as camping is, all of the gear can get expensive. If you've already spent a lot of money on your backpack, sleeping bag, hammock, and other supplies, you don't want to add on to the price with an expensive camping stove. If you're camping on a budget, you can't go wrong with this stove from Coleman, which is priced competitively and offers great performance.
With the purchase of this stove, you'll receive the stove burner and a base, which is used to hold the fuel canister, sold separately. The burner is large enough for an 8-inch pot, and it has lots of great features similar to those on more expensive units. This includes 10,000 watts of power, adjustable flame control, great fuel efficiency, and wind baffles that ensure maximum heating in any weather.
Pros:
It is inexpensive. It can boil a quart of water in four minutes. It's easy to use. It is very sturdy. Fuel canisters last from two hours up to nine hours.
Cons:
It does not come with any accessories, like a pot. It does not come with the fuel tank.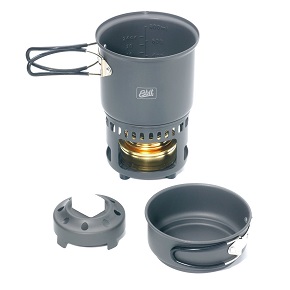 This set comes with everything you need to cook a great meal on your next camping trip. The alcohol burner allows you to use solid fuel cubes, eliminating the need for hefty and cumbersome fuel containers. It comes with two cooking pots that are extremely lightweight and are two different sizes. The larger pot has liter and ounce indicator lines for precise measuring, and the smaller pot can be used for heating, but it can also function as a lid too.
A variable regulator allows you to adjust your flame for perfect, even heating every time. You won't have to worry about it taking up too much space either, as all parts fit within the large pot and can be put in the mesh carrying bag for convenience.
Pros:
It comes with all pieces you need for cooking and boiling. It doesn't require fuel canisters. It's affordable. It's easy to use. All pieces nest to take up less space in your pack. It produces a large, hot flame.
Cons:
It takes longer to heat than other stoves, particularly those that use fuel canisters.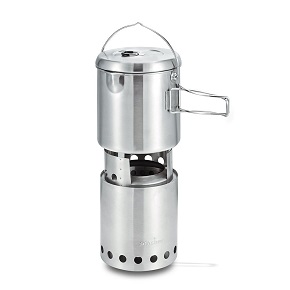 Once you purchase this stove, you won't have to worry about spending a fortune on replacement fuel canisters. This stove, which has been recommended by survivalists and backpacking magazines, uses leaves, twigs, and other natural items to create a hot flame for the Solo pot, which is included with your purchase.
The unique design allows this stove to burn while producing less smoke and without using fuels that can lead to pollution. It is easy to light and boils water in just four to six minutes. It is ultra-lightweight, and the pieces nest, so it doesn't take up a lot of space in your pack. You also save room because you don't have to pack fuel canisters, which can take up a lot of room in your backpack.
Pros:
It uses natural materials. It gives off a clean burn that is better for the environment. Eliminates the waste caused by empty fuel canisters. It's simple to use. It's lightweight and fits easily into a backpack. It comes with a carrying bag. It heats quickly.
Cons:
Rust may develop over time in the combustion chamber. It is more expensive than other stoves.
Final Thoughts
If you plan to spend a good amount of time in the woods, whether it's with multiple weekend trips or for an extended outdoor vacation, a camp stove is a must-have that you should have in your camping backpack. For the best bang for your buck, consider the Solo Stove Combo. You'll get all of the features you need in a great camp stove with the added bonus of not having to purchase additional fuel canisters. Even though the initial investment is more, you'll save money over time with the best camping stove that's built to last through your longest camping adventures.