Some links on this page are monetized by affiliate programs - see disclosure for details.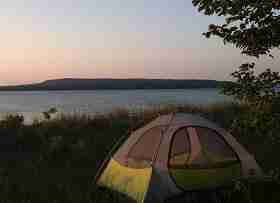 If you're a lover of nature, you know there's nothing better than spending all of your time outdoors, exploring the great wide open, viewing all that nature has to offer. This is why so many people love to camp. Camping takes you away from it all and brings you back to a simpler time.
Beyond just traditional family camping on the weekends, many people of all ages go on backpacking trips, where they trek through multiple cities or even states or countries to explore the wilderness for days, weeks, or even months at a time. When backpacking, you have to make sure you have all of your essentials, as you can't just run into a store in the middle of the woods. The tricky part, though, is figuring out how to pack all of your items into one convenient pack that you can easily carry on your back.
If you plan on hiking long distances, you can't be loaded down with heavy gear. One of the biggest and most important items you have to pack is shelter, and that's why you have to go out in the great outdoors armed with the best backpacking tent.
Start Here: What is a Backpacking Tent?
A backpacking tent is your shelter while you are camping. It provides you with a warm, dry, and safe place to sleep. Tents are popular with campers because they are fast and easy to set up each night, so after a long day of hiking over different terrains, you want to be able to relax in comfort, and a tent is the best way to do that.
For most camping trips, almost any old tent will do. However, if you plan to walk long distances and carry a lot of supplies around with you, you'll need to look for a lightweight backpacking tent that doesn't take up much space and is easy to carry.
What are the different types?
If you find that your current tent takes up too much space in your pack or you're going on your first outdoor adventure and you're buying a tent for the first time, you need to know what to look for in order to ensure you get the most out of your purchase. You don't want to end up with a tent that's too heavy or one that's just too difficult to set up. Before you buy, make sure you understand all the types of shelters available for your backpacking expedition.
Trap
This is the simplest type of shelter, and it's the most lightweight and inexpensive. However, it doesn't provide as much shelter as a typical tent, and it may be difficult for you to set up. A tarp is a piece of nylon that can be used with stakes, trees, and other items to create a simple shelter.
Non-freestanding tents
These are tents that must be staked down to the ground. They provide more shelter than a tarp, but they can take some time to set up and take down.
Freestanding tents
These tents are most similar to what families use when camping together. They do not have to be staked down, although you would need to do so in very windy or bad weather conditions for stability. These tents generally offer the most shelter, but a disadvantage is that they are larger and heavier than other tents.
What are the Advantages of Owning One?
If you're outdoors overnight, you want to have a place to sleep. Not only does a tent protect you from rain, wind, snow, and the hot sun, but it also lets you relax and sleep comfortably without getting bitten by bugs. A backpacking tent is designed to fold up into a smaller package and has a lighter weight than traditional tents, so it's perfect for carrying on long treks.
Who are the contenders for Best Backpacking Tent on the Market?
High Peak Outdoors Maxxlite Tent – Two people can fit comfortably in this tent, and it will fit easily in your pack when it's not in use. It weighs just 6.5 pounds, so you won't have an extra burden on your back when you're carrying all of your gear, and it has a rain cover to keep you fully protected in any weather. It's also priced affordably so it won't put a dent in your wallet.
Mountainsmith Morrison 2 Person 3 Season Tent – With 35 square feet of floor space, you'll have plenty of room for yourself and another person in this freestanding tent, which is designed to perform in three seasons. It has a great design, including taped seams to keep the inside dry and a two pole set up for quick and easy assembly.
Eureka! Timberline 4 – If you're traveling with a group, this tent will provide you with plenty of space for up to four people. You'll have 63 square feet inside of this model, which is made with breathable nylon. You'll also be able to store your gear within the two mesh pockets, and there are also loops for a hanging clothesline, your flashlight, and other supplies.
Considerations for Choosing the Right Brand
Before you pick a tent, make sure you're purchasing one that best fits your outdoor camping needs. Before you buy, take each of these four considerations into mind so you know you're getting a great deal on a product that's designed to last through your longest camping expeditions.
Price
Backpacking tents can be very expensive, so if you're on a budget, you want to pay close attention to price. Be aware, though, that more high-end tents generally have more features and are made with higher-quality materials, so you can easily use a more expensive tent for years without needing to replace it like you would with a cheap tent.
Size
If you're camping alone, the interior size probably won't matter much to you. However, if multiple people will be camping with you and you want to take just one tent, you need to purchase one that will comfortably fit all of you.
Weight
For longer trips, you have to carry multiple pieces of equipment, so you don't want to be loaded down with a heavy tent. Look for a lightweight model that folds into a compact size so it's easy to carry from site to site.
Warranty
No one wants to purchase a product that breaks or tears after just one use. To protect your investment, look for a tent that comes backed with a warranty from the manufacturer.
Price
High Peak Outdoors Maxxlite Tent
This is a very affordable option if you're camping on a budget.
Mountainsmith Morrison 2 Person 3 Season Tent
For a bit more, you can own this tent which is designed to perform well in three seasons.
Eureka! Timberline 4
This tent is priced on the more high-end range of tents when compared to other products.
Size
High Peak Outdoors Maxxlite Tent
This tent measures 78 x 47 x 38 inches, providing plenty of sleeping space for one or two campers.
Mountainsmith Morrison 2 Person 3 Season Tent
This tent has measurements of 56 x 43 x 92 inches, which provides lots of room for two campers to sleep or relax.
Eureka! Timberline 4
The total floor space measures 8 feet, 9 inches by 7 feet, 2 inches, and the center height is 4 feet, 10 inches. This is a very roomy tent.
Weight
High Peak Outdoors Maxxlite Tent
At 6.5 pounds, this product doesn't add a lot of extra cumbersome weight to your backpack.
Mountainsmith Morrison 2 Person 3 Season Tent
At four pounds, 11 ounces, this is one of the most lightweight tents you can find that won't add extra heft to your load.
Eureka! Timberline 4
At 7 pounds, 13 ounces, this is one of the heavier backpacking tents. However, it is big enough for four people, which explains the added weight.
Warranty
High Peak Outdoors Maxxlite Tent
With your purchase, you'll receive a 90-day manufacturer's warranty against defects in craftsmanship.
Mountainsmith Morrison 2 Person 3 Season Tent
You can feel secure in your purchase, as this model comes with a limited lifetime manufacturer's warranty.
Eureka! Timberline 4
Your purchase is protected with a limited lifetime warranty protecting against manufacturer's defects.
Conclusion: All Our Final Tent Reviews Are In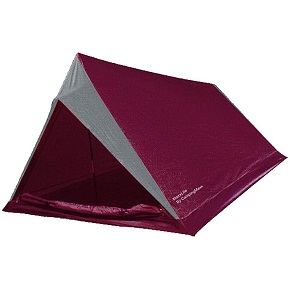 If basic and affordable is what you're looking for, this tent should be one that you consider. It is roomy enough for one or two people, so you can use it for yourself or with a partner. It has a lightweight 6.5 pound design that isn't bulky. When folded, it's just 22 inches long with a 5-inch diameter, so it packs easily with your other outdoor equipment.
Store your items in one of the two large vestibules, and you'll be able to breathe easily with its ventilated interior. If has a mesh door for warmer days. A solid door will keep you warm and insulated on chilly nights.
Pros:
Inexpensive.
It is very lightweight.
It folds up to a manageable size.
It's easy to set up.
It stays dry on rainy days.
Includes a rain cover for added protection.
It comfortably sleeps two people.
Cons:
It is not ideal for winter camping in the snow.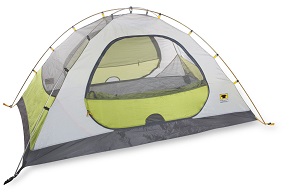 With 35 square feet of floor space, you'll have ample room for yourself or you can bring your camping buddy along with you. In addition to the roomy floor space, there is 14 square feet of vestibule space for your necessities. Don't be fooled by the size, though. This tent folds up to a compact 7.5 x 18 inches and weights less than five pounds, making it easy to tote through the wilderness over any type of terrain.
The taped seams inside keep you warm and dry during a thunderstorm, and it has a two-pole design that makes setting it up in just minutes no problem at all, even for camping newcomers. It's made of extra-durable polyester, has a rain fly for rain protection, and is backed with one of the best warranties in the business.
Pros:
The mesh wall panels keep it well-ventilated.
It's roomy enough for two people.
Provides plenty of storage.
It's easy to set up.
It has durable aluminum alloy poles for stability.
It comes with a removable loft for added storage.
Affordable when compared to other products.
Cons:
It is not designed for camping outdoors in colder winter weather.
Two larger people will be cramped inside and should spring for a 4-person tent.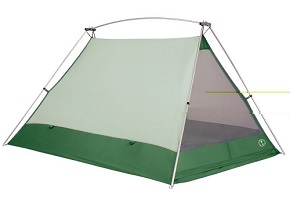 Grab your crew and hit the trails with this great backpacking tent built for four. With 63 square feet of floor space, you'll have plenty of room for sleeping while enjoying the outdoors. The classic A-frame design is easy to set up, and it packs up to a compact size of 7 inches by 24 inches. It weighs just under 8 pounds, so while it isn't the most lightweight tent of the bunch, it is still a manageable size.
You can set this tent up in just a few minutes, and it has a sturdy aluminum frame that withstands even the windiest conditions. Built-in mesh pockets allow you to store your necessities without fear of them getting wet, windows for added ventilation, and a door with a window with twin track zippers. This tent is also backed with a lifetime limited warranty, so you know it's built to last.
Pros:
Sleeps up to four people.
Offers plenty of interior storage.
It is well-ventilated.
It works great for three seasons, even on very rainy or windy days.
Built-in clothesline loop and flashlight loop.
Large front door and two windows for ventilation.
It is easy to set up.
Made of high-quality, durable materials.
Cons:
It has a more expensive price tag.
It's heavier than smaller tents.
It isn't built for winter camping.
All in All
Outdoor camping is a great pastime that allows you to truly get away from it all, whether it's just the overwhelming technology of today or stresses in everyday life. If you're going on a backpacking trip, you have to make sure you have a great tent for protection from the elements so you can relax in between your treks. When picking the best tent, consider the Eureka! Timberline 4. Your entire group will have a stable shelter from wind, rain, and the hot sun that's easy to set up, lightweight for carrying long distances, and built large enough to provide you all with plenty of space during your next outdoor adventure.