Some links on this page are monetized by affiliate programs - see disclosure for details.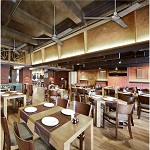 Whether it's too hot in an upstairs bedroom or the soothing white noise is a way to sleep through the night, a fan is a necessity for many. Box fans and tabletop fans take up space on dressers, nightstands, and floors, and frankly, they just don't look great.
If you want a fan that is not only functional but stylish, consider a ceiling fan for your home or business.
A Guide to Ceiling Fans
A ceiling fan is a rotating fan that is mounted on the ceiling. It is designed to cool off a room and circulate fresh air. A ceiling fan can be mounted in almost any room, but they are most frequently seen in living rooms and bedrooms.
Ceiling fans can effectively help cool a room, and they may even help lower your utility bill on warmer days.
While some models function just as fans, many models have built-in lights that keep a room well-lit, even when the fan isn't turned on.
What are the different types?
If you're replacing an overhead light fixture with a ceiling fan or replacing an old, outdated version with a new one that enhances your décor, there are a few types that you should look out for while you're shopping.
Traditional ceiling fans (no lights) – These fans just work as fans. They are usually the least expensive. However, you will need another lighting source, such as a table or floor lamp, if you opt for one of these. Ceiling fans without lights are typically very basic. This would not be a good option for a room that doesn't have a lot of natural light unless you plan on placing multiple lamps throughout the space.
Lighted ceiling fans – These fans perform double duty by providing you with a cooling fan as well as an overhead light fixture. These fans come in a variety of styles, sizes, and finishes to match your interior. The lights on these fans vary, from one small light to multiple bulbs that light up an entire room, making lamps unnecessary.
Remote ceiling fan – Remote-controlled ceiling fans have been growing in popularity in recent years because they are just so convenient. Instead of having to the fan on and off with a switch, you can conveniently control the lights and fan functions with the push of a button on a hand-held wireless remote.
Outdoor fans – These fans are designed for outdoor use, and they are ideal for use on covered porches, patios, in open pool cabanas, and other outdoor areas.
What are the Advantages of a Ceiling Fan?
A ceiling fan helps keep you cool and keeps fresh air circulating throughout your home. It can help your cooling unit be more efficient, helping save on your monthly electric bill. A ceiling fan also helps air out your house when it is turned on and your windows are open. Ceiling fans also provide white noise, making it easier for you to sleep at night. When equipped with a light, a ceiling fan also makes a great overhead light fixture that enhances the look of any room of your home.
Who are the contenders for Best Ceiling Fan on the Market?
If you want to add a modern touch to your room, this Litex Urbana ceiling fan is a great way to do that without breaking the bank. The brushed chrome blades are very stylish and complement modern décor. A single light fixture, covered by a frosted glass shade, provides you with plenty of light. This ceiling fan is quiet, easy to mount, and is backed with a warranty to protect your purchase.
Nickel and gunmetal accents make this fan really stand out from the rest. This fan combines traditional and modern styling to create a fan that looks great in living rooms, dens, bedrooms, or any room of your home. It comes equipped with three spotlights that can be angled any way you wish to provide the optimum lighting scheme for your room. It is backed with a warranty, and the reversible blades allow you to fully customize the look of your fan.
If you prefer a more traditional style, this fan is perfect for you. You'll be able to fully light your room with four lights, enhanced with individual shades, while also enjoying the convenience of a fan. You'll have your choice from two different color schemes to perfectly match with your other décor. It also comes backed with one of the best warranties in the industry.
Features to Consider Before Buying
If you're replacing an old ceiling fan or you're installing one for the first time, you want to make sure you pick one that works best for your home. Because these take time to install, you don't want to get a fan that just doesn't meet your needs. By knowing what to look for before you even begin shopping, you can avoid making a purchase that you'll regret, and instead, get a fan that you'll enjoy using for years to come.
Lighting fixture
If you are replacing an existing light fixture with a ceiling fan, you want to make sure you select one that has a built-in lighting fixture so you don't incur the extra expense of purchasing lamps. You also need to look at how many lights are on the fan, as well as how bright they are. If you are putting the fan in a larger room, you want to ensure that the model you choose provides plenty of light.
Room coverage
The main purpose for a ceiling fan is to cool off a room. Ceiling fans are available in different sizes, so you want to make sure you purchase the right size for the room where it will be installed. For larger rooms, make sure you get a larger fan that is able to effectively circulate the air. For small rooms, a small, basic model is typically sufficient for optimum airflow and cooling.
Finish
Ceiling fan blades come in many different colors, and the hardware is also available in different finishes. Select a fan that complement your fixtures, furnishings, and color scheme.
Lighting fixture
Litex E-UB48BC4C1 Urbana
This fan has a built-in lighting fixture that uses one 60-watt max candelabra bulb to effectively light up smaller spaces.
Westinghouse 7234265 Xavier II
This fan has three built-in spotlights that can be adjusted as needed to provide you with a custom lighting scheme.
Hunter Fan Company 22720 Cortland
This fan comes with a built-in light kit showcasing four light fixtures, each covered with a stylish shade.
Room coverage
Litex E-UB48BC4C1
With 48-inch blades, this fan is best for cooling rooms that are less than 300 square feet.
Westinghouse 7234265
This five-blade fan is designed to properly cool and circulate air in rooms up to 360 square feet.
Hunter Fan Company 22720
This fan is ideal for rooms up to 485 square feet.
Finish
Litex Ceiling Fan
This ceiling fan consists almost entirely of brushed chrome, accented with a frosted glass light kit.
Westinghouse Ceiling Fan
This fan comes in your choice of two different finishes: brushed nickel and brushed nickel with gunmetal accents.
Hunter Fan Company
You'll have your choice from two different finishes: Basque Black and New Bronze.
Conclusion: Our Final Ceiling Fan Reviews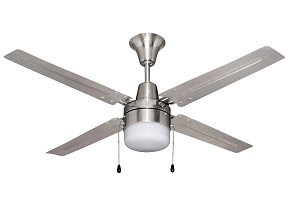 If you favor modern styling, this ceiling fan is perfect for you. Its simple design and brushed chrome blades, combined with a frosted glass light shade, make this a very modern choice for any room. This is designed for down-rod installation and comes equipped with a 6-inch extension rod.
Your purchase is backed with a 15-year limited warranty, so you know this product is built to last. It is equipped with a high-performance motor that provides plenty of air cooling and circulation while operating quietly.
Pros
It is affordable.
It is very lightweight.
Modern design looks great in any room.
It has a built-in light kit.
It is backed with a 15-year warranty.
Easy to install.
Operates quietly.
Cons
With the down-rod installation only option, it is not a good choice for lower ceilings.
Finding replacement parts is difficult.
Gets a good bit noisier at higher speeds.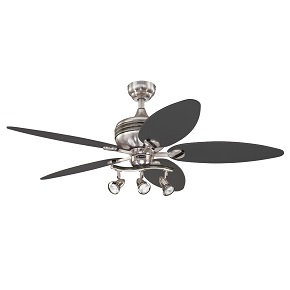 This fan mixes traditional styling with updated features to create a great design that's perfect for every room. Choose from two different finishes, then further customize your fan with the reversible blades, which come in Graphite and Weathered Maple finishes. You'll have three spotlights that light up your space efficiently with three 50-watt halogen bulbs that can be moved as needed.
This fan has three speeds that can effectively cool your home or circulate air. It is easy to operate, and it can be made more convenient with the Westinghouse remote system, which is sold separately. It has a reverse switch, and it comes backed with a lifetime motor warranty and a 2-year warranty on all other parts.
Pros
Looks great in any room.
It is reversible.
It can be hooked up with a remote system.
The motor is backed with a lifetime guarantee.
The blades are reversible for a custom look.
It is very quiet when in operation.
Cons
The down-rod installation is not ideal for lower ceilings.
The lights are too dim for larger, darker rooms.
It is difficult to assemble.
If your style leans towards the traditional, you'll love this fan. It has a traditional design that looks beautiful when showcased in any room of your home. Start off by choosing your finish from Basque Black or New Bronze. You can then choose your color of the five reversible fan blades.
With a 54-inch design, you'll get plenty of coverage for your largest rooms. It is equipped with four lighting fixtures, and the fabric shades are a decorative touch. The lighting kit puts off a maximum wattage of 160, so it effectively lights up a room without the need for additional lamps or lighting sources.
It has a limited lifetime warranty on the motor, so you know you're buying a quality product. You can customize how you install the fan, choosing from standard, flush, or angled mounting, so it works great for ceilings of any height.
Pros
It is quiet and wobble-free.
It has three speeds and a reverse switch.
Comes with bright lights enhanced with decorative fabric shades.
It effectively cools and moves air in large and small rooms.
It has a traditional design.
Comes in two finishes.
The blades are reversible.
Cons
It may be difficult to assemble.
It is more expensive than other fans.
All in All
A ceiling fan is a great way to keep your home full of cool, fresh air. It provides white noise that helps you sleep better at night, and it's ideal for rooms where there is insufficient cooling and air flow. If you want a fan that offers plenty of traditional style combined with great performance and a fantastic warranty, you won't go wrong with the Cortland fan from Hunter Fan Company. This high-end fan looks great, functions perfectly, and can be customized to provide an elegant look that complements your décor.