Some links on this page are monetized by affiliate programs - see disclosure for details.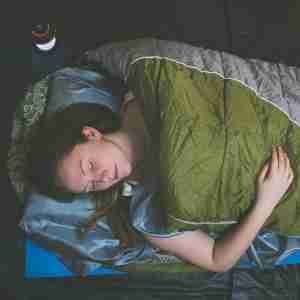 Whether you are a professional mountaineer or an amateur camper, it always helps to bring along a sleeping bag liner.
Sleeping bag liners not only provide you with added warmth and protection from the elements, but they are also much easier to wash. That way, your camping gear remains much more hygienic.
The best sleeping bag liner is one of the most important tools that you can bring along with you on a camping expedition.
The Top Selling Sleeping Bag Liners of 2018

What is a Sleeping Bag Liner?
A sleeping bag liner is one of the most undervalued pieces of equipment in the camping world. They are an added encompassing piece of lightweight material that acts as an extra layer between you and nature. They fit inside of your existing sleeping bag. Extremely easy to pack and lightweight, they are intended to add valuable degrees of warmth to your bag and play a very necessary role in maintaining proper hygiene.
What are the Advantages?
Most sleeping bag users sleep inside of their bag dozens of times before they decide to wash it. Considering the amount condensation, perspiration, mud, spilled drinks, squashed insects, etc. that quickly builds up, it is much more convenient to have a less bulky liner to put in a washer. When you consider sleeping bags in this context, the case for using a sleeping bag liner becomes very clear. They give you an easily washable, easily removable barrier between you and your sleeping bag. Not only do they solve the hygiene issue, but they also provide additional comfort. They are not inconvenient at all because they can be removed and washed just like a normal sleeping bag.
When it comes time for winter, you will be glad you have the few extra degrees of warmth that a high-quality sleeping bag liner can deliver. Not only that, during the hot summer months, sleeping bag liners can be used as a standalone ultra-lightweight sleeping bag when it is too warm to utilized a conventional sleeping bag. It is a perfect substitute for camping out during those hot summer nights when you are traveling in tropical areas.
Sleeping Bag Liner Considerations
Whether you are going on an extended, many-night expedition into an unforgiving wilderness or just an overnight stay at your favorite campgrounds, bringing along the best sleeping bag liner you can find is a crucial component to any collection of camping gear. Sleeping bag liners have made camping in previously impossible destinations a realistic possibility.
What are the Different Types?
Silk
Silk is the most lightweight material, weighing in at about five ounces. It is also the most compact and efficient option available. Silk helps to insulate during the coldest of temperatures but it also is extremely breathable during the warmer months. The prices of silk sleeping bag liners range from moderate to expensive.
Cotton
Cotton is one of the stronger, more durable, and absorbent materials that sleeping bag liners are made out of. Not only that, they are extremely breathable so you do not have to worry about perspiring as much as you would with other fabrics. However, it is not the most compact or lightest material and can add another layer of bulkiness and weight to an already heavy load. Generally, the prices of cotton liners are some of the lowest out there.
Micro-fleece and fleece
These fabrics have the advantage of keeping you very warm with temperature increases of up to 12 degrees Fahrenheit. Fleece is moisture wicking, soft, and quick-drying. However, the mid- to heavyweight varieties is bulkier and heavier than most other materials. These types of liners generally fall in the middle range of prices.
Synthetics
Synthetics are very breathable and moisture wicking, which makes them a prime choice for wet and humid conditions. In addition, they provide a degree of elasticity, which makes them a favorite among restless sleepers. Usually, these kinds of liners fall in the moderate price range.
Insulated
This fabric can add up to twenty-five degrees Fahrenheit of warmth, so it is an ideal choice if you are starting off with a lightweight bag. It is composed of a hollow-core fiber insulation that allows it to dry fifty percent faster when compared to cotton. Typically, this form of sleeping liner is somewhere between the moderate to expensive price range, depending on the brand.
The Top 3 Best Sleeping Bag Liners on the Market
Some of the best sleeping bag liners us silk. The Cocoon Silk Mummy Liner ranks high up on our list because it utilizes some of the highest quality silk available to reduce the weight and packing size. Silk feels very soft and comfortable to the touch in addition to responding to changing temperatures. Not only that, it feels warm in the winter and cool in the summer. Mummy Liners are constructed out of silk so they are hand or machine washable and dry rapidly. This style is woven with a grid-like structure of durable silk threads. Cocoon uses Ripstop Silk which is much more resistant to tearing and stronger than conventional silk.
Many people in the market for a sleeping bag liner choose the Friendly Swede Travel and Camping Sheet. This model offers a lot of extra space, which provides even the tallest of people enough space to stretch out their legs and move around. Despite its large size, this sleeping bag liner can be folded and condensed into a pocket when not being used. It feels very soft and comfortable against your skin since it is made of 100 percent polyester. It is an ideal choice for those who are looking to protect both yourself and your sleeping bag from contaminants and exposure.
Many users like the fact that it contains a side opening with a Velcro closure since it makes it much easier to get into. After which the opening is sealed shut with two Velcro closures so you do not have to worry about slipping out from the sheet in the middle of the night. This liner comes with a lifetime warranty so you do not need to worry about any problems down the road.
Composed of soft fleece, this liner is can be used as a blanket, a bag, or a sleeping bag liner. The sleeping bag can completely unzip and be utilized as a blanket, or can stay zipped as a fleece sleeping bag. As a sleeping bag liner, it provides the greatest amount of warmth when compared to similar models. When fully unzipped, the blanket measures 70 inches by 62 inches wide, while the bag is 80 inches by 31 inches wide. It comes with a handy carrying case so it is much easier to haul on those extended journeys.
Features to Evaluate
Price
An important factor to always consider is the price. If you really only plan on using the sleeping bag liner one or twice, it makes sense to purchase a cheaper model. If you are a serious adventurer who needs a specific fabric and added features, you should invest in a more expensive model that is aligned to your needs.
Size
If you have to carry your sleeping bag liner with many other accessories in your backpack, you are going to want to get the most space saving model. Your liner will be of little use if you later discover that it is too bulky to fit among your other camping gear. Extra space really comes in handy at the last minute when you realize you need to add a few extra items to your camping rig. You never want your sleeping bag liner to add to your discomfort on your trip.
Breathability
Especially if you plan on using your sleeping bag liner in hotter temperatures, you definitively want to get one that is breathable. If your sleeping bag liner is not breathable, you may wake up in the middle of the night sweating and uncomfortable.
Warmth
When you go camping in the winter months, you are going to get a sleeping bag liner that is capable of retaining enough heat so you do not end up shivering. You do not want to pay for a sleeping back liner that skimps out on temperature regulation; otherwise, your camping experience may be unpleasant.
Price
The Cocoon Silk Mummy Liner
This model is one of the more expensive ones on the market today but it is worth it if you absolutely need the extra features.
The Friendly Swede Travel and Camping Sheet
This brand is pretty cost efficient as far as sleeping bag liners run. It usually costs around half of what the other two styles do.
Osage River Microfiber Fleece Zippered Sleeping Bag Liner
The Osage River model offers a great deal of value at a very reasonable price.
Size
The Cocoon Silk Mummy Liner
Since it is made out of silk, the Cocoon Silk Mummy Liner is extremely space saving and one of the best models if you are tight on backpack space.
The Friendly Swede Travel and Camping Sheet
This brand is one of the bulkiest options out there so if you plan on going on an extended backpacking trip, you may want to consider a smaller style.
Osage River Microfiber Fleece Zippered Sleeping Bag Liner
Because it offers three functions in one liner, it is somewhat bulky, especially when compared to the Cocoon brand.
Breathability
The Cocoon Silk Mummy Liner
While silk is not the most breathable fiber out there, it works extremely well for keeping your sleeping bag filled with fresh air during the summer months.
The Friendly Swede Travel and Camping Sheet
Because it is made exclusively out of polyester, the Friendly Swede is less breathable than its cotton counterparts are.
Osage River Microfiber Fleece
Since it is made from fleece, it is not that breathable for use in the summer months.
Warmth
The Cocoon Silk Mummy Liner
The Cocoon Silk liner manages to keep you warm despite significant temperature changes.
The Friendly Swede Travel and Camping Sheet
With a composition entirely comprised of polyester, it is one of the warmer models available.
Osage River Microfiber Fleece
This Osage River fleece is one of the warmest and most insulating models of sleeping bag liners currently offered.
The Results: Best Sleeping Bag Liner Reviews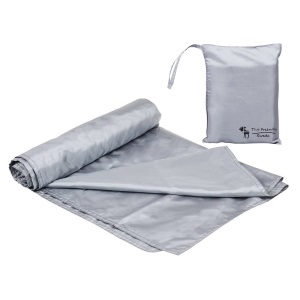 The best sleeping bag liner in terms of price equates to his model. It offers sufficient warmth and comfort for an economical price. If you like to stretch out your feet when you are sleeping or are tall, you should get this style. It receives high ratings from users who like the fact that if offers a side zipper entrance so you do not have to enter at an uncomfortable angle every time.
Pros:
Provides enough space for restless and tall sleepers
It can handle the coldest temperatures
Cons:
It is bulky and heavy
Not comfortable during the summer months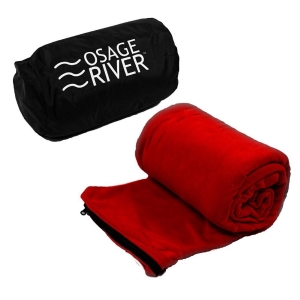 This style offers a lot for one inclusive liner. Made out of soft fleece, it can be converted into a blanket, sleeping bag, and a liner. All you have to do to switch between the different functions is to use the zipper. Users praise this model for its ability to effectively retain heat.
Pros:
It can serve three different purposes
It easily fits in its compact sleeve
Cons:
Not that breathable for use during the summer months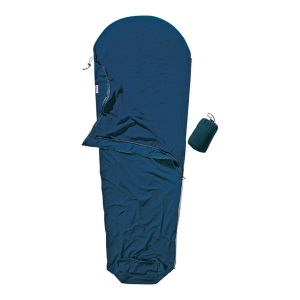 Soft to the touch and extremely comfortable, the Cocoon Silk Mummy liner most campers agree that it is one of the best sleeping bag liners on the market. It is a favorite among campers. It can function as a standalone sleeping bag in the summer months or as an effective liner in the winter months. The grid-like structure ensures that the maximum amount of heat is retained in the liner. For those who are looking for a lightweight model, this brand comes out on top.
Pros:
Suitable for both warm and cool climates
It is space saving
It is soft to the touch
Can function as its own sleeping bag for warmer climates
Cons:
It is one of the most expensive models out there
It does not provide that much warmth
Conclusion
When you are deciding on which is the best sleeping bag liner that suits your particular needs, you need to take the price, size, breathability, and warmth provided into account. Figure out what kind of climate and temperature you will be expecting on your expedition and plan accordingly. Looking for the best? The Cocoon Silk Mummy Liner is the way to go.