Some links on this page are monetized by affiliate programs - see disclosure for details.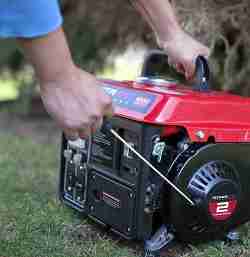 Many couples, families, and friends get together to go on outdoor camping excursions for a rustic vacation experience. Camping is so popular because it allows you to get away from it all, it's inexpensive, and it's a great way to see all of the beautiful things nature has to offer. However, while some people prefer completely "roughing it" with very few modern conveniences, others like to have a few comforts of home along for the ride.
Whether you're camping in an RV, a pop-up camper, or staying in a tent on a campsite, you might want to consider purchasing the best generator for your next outdoor adventure.
Compare: The 10 Top Rated Camping Generators of 2018

What is a Portable Camping Generator?
A camping generator helps you generate electricity while you're outdoors. These generators are smaller and generally quieter than those you would use at your home in the event of a power outage or out at a job site, and they also typically are not as powerful.
These generators are powered by liquid gas, like propane, or regular gasoline. They can be used in an RV, a camper, or anywhere on a campsite where electricity may be needed.
What are the different types of Camping Generators?
If you camp out often, you may find that there are times when you may need electricity. For that purpose, a generator should always be packed in your RV or vehicle, even if just for emergency situations. Before you run out and buy the first generator you see, understand the different types that are available for purchase.
Onboard generators – These generators are frequently installed in recreational vehicles, and they are permanent options that are designed to generate lots of power for things like appliances (stoves and refrigerators), as well as air conditioners and televisions. Most campers come equipped with a generator, although you may choose to have a backup installed or you might need to replace a broken or outdated one. These are typically fueled by liquid propane, diesel, or gasoline.
Inverter generators – These are smaller than onboard generators, and they are portable. These are used for any type of vehicle or campsite that does not have electricity, and it is typically fueled with regular gasoline. These are the most common type of generators that are purchased.
What are the Advantages of Bringing a Generator on a Camping Trip?
A generator is always good to have when you are camping if you ever need electricity. This could be to charge your cell phone for an emergency or even just to power a TV when the kids get bored with fishing, swimming, and exploring the wilderness. In some cases, like when traveling by RV, these are necessities for powering cooking appliances, as well as air conditioners when the temperatures are extremely hot.
Portable inverter generators aren't just restricted for use on campsites, either. You can take them with you while you tailgate, use it for emergencies at home, or take it anywhere with you. These generators are smaller, lighter, and quieter than other generators, so you can use them anywhere without disturbing others around you.
Top 3 Contenders for Best Camping Generator Overall
Camping equipment can be expensive, so if you're on a tight budget, you might be strained to find a quality generator. Luckily, this model from Champion performs like a champ. It's lightweight size is perfect for loading into your vehicle or camper for a weekend out in the wilderness, and it's available at one of the best prices on the market. Don't be fooled by the small size and price tag, though, as this powerful generator puts out a maximum of 1500 watts and can run for 10 hours on one tank of gas at 50 percent power. It's backed with a warranty, and it comes with lifetime support if you ever have a problem that requires troubleshooting.
If you need a little more power than what an economy generator can provide, invest a little more honey for this powerful generator, which is great for camping. It is rated for 4,000 watt output and it will run for eight full hours on on tank of gasoline. The unit is easy to start, and it is approved by the EPA. It comes with a warranty to protect your purchase, and it is priced about average when compared to similar generators.
Quiet, lightweight, and powerful are just three adjectives that describe this model, which is ideal for camping and other uses. The quiet design won't bother your neighbors, and it's light enough to easily take with you wherever you go. It boasts lots of great features that make it a top choice in generators, including overload protection, wheels and handle for easy portability, a warranty, and lifetime support.
Factors to Think About Before Buying
Buying a generator for your camping adventures isn't as simple as simply picking one from hundreds of models. Instead, you'll want to do your research to make sure you get the power you need at a price that fits within your budget. Before you shop, consider these points to make sure you get the best value for the generator that best fits your needs.
Price
Even the smallest generators can cost several hundred dollars, so you want to make sure you make the right purchase the first time around. Before you buy, set a price range that fits your budget while also keeping your "must-have" features in mind that may raise the price a bit. If you opt to go with a cheaper model, you may have to forego some of the power and additional features found on more expensive models.
Warranty
Because a generator is an investment, you want to protect that investment. The best way to do this, other than taking care of your product, is with a manufacturer's warranty. While warranties generally do not cover damages caused by dropping or misusing the generator, if there is an issue that was overlooked during the production process that leads to problems, the manufacturer will cover the expense of repairs or a replacement.
Power
How much power will you need during your trip? If you just want to power something small for a minimum of amount of time, you won't need to invest in a very powerful generator. However, if you intend to run appliances, televisions, or other products that you plan on using for extended periods, or if you'd like to use your generator at home for power outages and other emergencies, you'll want to choose a model that offers maximum power and run time.
Weight
If you plan on moving your generator around quite a bit while you're camping, you want to get a lightweight model that's easy to transport in and out of your vehicle and around the campsite. Look for models that have wheels, folding handles, and a manageable weight.
Price
Champion Power Equipment 42436
This is a budget-friendly generator that can accompany you on many camping trips.
DuroStar DS4000S
You should expect to pay around several hundred bucks if you choose this generator for your outdoor adventures.
Champion Power Equipment No.75531i
This model retails at the higher end of the pricing scale when compared to other portable generators.
Warranty
Champion Power Equipment 42436
With your purchase, you'll receive a 2-year limited warranty from Champion.
DuroStar DS4000S
This model has a 1-year limited warranty from the manufacturer.
Champion Power Equipment No.75531i
Your purchase is protected with a 2-year limited warranty.
Power
Champion Power Equipment 42436
This generator is rated for 1,200 watts and produces 1,500 watts maximum output, which is enough to run a few power tools, as well as lights, a refrigerator, and a TV all at the same time.
DuroStar DS4000S
This model puts out a maximum of 4,000 watts and can run continuously at 3,300 watts.
Champion Power Equipment No.75531i
This Champion generator has a maximum output of 3,100 watts and is rated for 2,800 watts.
Weight
Champion Power Equipment 42436
This generator is easy to take anywhere, as it weighs just 56 pounds.
DuroStar DS4000S
This is the heaviest of the three, weight approximately 155 pounds.
Champion Power Equipment No.75531i
You can easily move this generator around, since it weighs just 80 pounds and has wheels and an easy-pull handle.
Conclusion: All Final Reviews Are In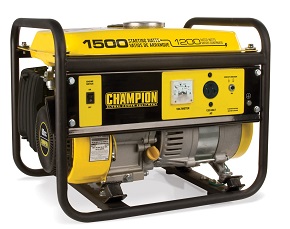 Low price, low weight, but high power define this model from Champion. This is one of the best generators you'll find for in its price range. Plus it is rated for 1,200 watts, so it gives you enough power to turn on your TV, lights, or appliances in your RV. With a weight of just 56 pounds, it's easy to load in and out of your vehicle and transport as needed around your campsite.
It is equipped with an 80cc OHV engine, and it runs for a full ten hours at 50 percent load on just one tank of gas. It has one 120-volt outlet for your convenience, and it operates quietly at just 65 Dba.
Pros:
Includes a warranty
EPA approved
CARB approved for all 50 states
It has a low oil sensor and voltmeter
It has overload protection
Free technical support is offered for the life of the product
It is inexpensive
Cons:
Can be difficult to start
Does not put out as much power as more expensive models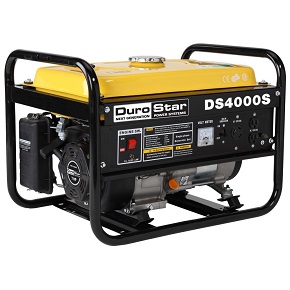 You can run your heat, lights, appliances, and many electrical devices with this mid-priced generator that has a maximum output of 4,000 watts and will continuously put out 3,300 watts of power. It has an eight hour run time at 50 percent capacity on just one tank of gas, and the DuraMax 7.0hp engine provides both power and efficiency.
This model is equipped with lots of great features, including a control panel with voltmeter, start switch, and a gauge that's easy to read. It has a total of three outlets, one 120-volt 20-amp outlet and two 30-amp outlets to power just about anything while you're camping or even for use at home. It measures at 69 Dba, so it's quieter than other large models.
Pros:
It is powerful
It has a long run time
Quieter than models of a similar size
It has an optional wheel kit for portability
Equipped with low oil shut-off feature to protect the device
Cons:
It is quite heavy
It is not CARB-compliant, so you cannot use it in California
The wheel set sells separately and may be difficult to install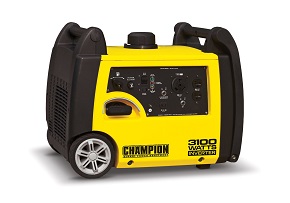 You'll be able to crank up the AC and enjoy your camping trip in comfort with this powerful model, which has a maximum output of 3,100 watts. It will run for eight straight hours on one tank of gas at 25% load capacity, so you can enjoy using your appliances, watching TV, or running your heat and air without worry. It puts out clean power, so you can even use it for your electronics.
The variable speed engine reduces noise, operating at just 58 Dba. The 171cc engine is powerful and efficient, and it has two outlets, including a 120-volt duplex outlet, a 12-volt DC outlet with cables, and a TT30 receptacle, so it's ready for use in your RV. It is lightweight, and it also comes with wheels and a handle so it's easy to transport from place to place. It's also our choice for best camping generator on the market.
Pros:
It has a 2-year warranty
It is quiet and efficient
EPA and CARB-approved
Very powerful
Lightweight and easy to move
Comes with lifetime support from Champion
Low oil sensor and overload protection
Cons:
It is more expensive than many other portable generators
A Final Word
Camping is a great time to get outdoors and leave all of your stresses behind, but sometimes, you still want modern conveniences that remind you of home. A generator is a great and efficient way to run your appliances, heat, AC, and other electrical devices.
If you want the perfect mix of efficiency, power, and portability, the Champion 7553li should be on your list of things to pack along for your next camping trip. This generator has all of the power you need in a light, compact package that's durable and will last for years of outdoor adventures.