Some links on this page are monetized by affiliate programs - see disclosure for details.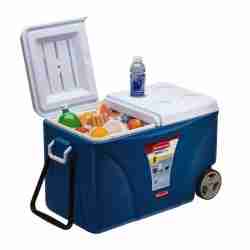 There is nothing better, especially after a long, active day of hiking, fishing or kayaking than returning to your campsite and heading straight to the cooler for a cold brew. The key to making sure that your perishable food, and your beer, of course, is kept cold and safe for consumption is the camp cooler. With so many options available, understanding what features will best suit your needs
while you are enjoying the great outdoors will ensure that you have the right cooler for your adventures.
I compared several of the top makes and models on the market to help you determine the best cooler for camping to meet your needs.
What Is A Cooler And How Does It Work?
A cooler is a container that is insulated to help keep beverages and food cold. Throughout history, they've been called by various names including ice box or ice chest, which refers to the use of ice to help keep the contents cold. That is still true for coolers intended to be used outside.
The internal storage space within a cooler is kept cold thanks to two features; the insulation between the outer shell and the internal liner, which is typically made of foam and by a securely sealing lid to ensure that air cannot enter or exit. In fact, the less you open the cooler, the longer it, and your food, will stay cold.
Related: The Best Camping Stove (Guide)
Types of Camping Coolers
Individual Coolers
An individual cooler is small in size and most often used to keep one meal, and perhaps a few snacks or drinks, cool for a short period of time. Individual coolers can be made of fabric, plastic, or metal. They are ideal for packing lunches for work, school, or short day-long trips.
Single Use/Disposable Coolers
Styrofoam coolers are inexpensive but do not offer the same durability as other coolers on the market. They may hold up to usage a couple of times but will not endure long-term use. Additionally, they do not have wheels, handles, or any other features to make them suitable for extended periods of usage.
Plastic Coolers
Molded plastic creates the structure of these types of coolers. They are durable and usually moderately priced. Many models are equipped with handles, wheels, and a secure latch system so you can be certain that the lid will stay shut.
Metal Coolers
The most durable, metal coolers are not only effective at keeping contents cold, they are extremely durable and have a streamlined, simple appearance. The outer metal shell is effective in helping keep the inner box cool.
Three Great Options
Igloo Polar Cooler – The Igloo Polar Cooler made our list for the best cooler for camping because it's "Ultratherm" insulation will keep items cold for up to five days in 90°. It is a durable cooler that comes with reinforced handles and a tie-down loop feature to keep it secure when traveling. The lid has a dual snap-fit closure to assure that it securely closes and stays closed. Draining excess water is easy because it boasts a threaded drain plug for hose hookup.
Coleman Steel Cooler – This extremely durable steel cooler is easy to clean, rustproof, and has a leak-resistant drain that doesn't require that you tilt the entire unit to release any excess moisture. The solid steel latch seals the contents of the cooler with 10 pounds of force and the stainless steel handles have rubber gripping to allow for easy mobility.
Yeti Tundra Cooler – The Yeti Tundra Cooler's shell is likened to the material that is used to manufacture whitewater kayaks. It's "PermaFrost" insulation is pressure injected allowing for exceptional resistance to melting or warming of the contents. The ColdLock Gasket eliminates warm air from entering the internal chest which features extra thick walls to keep food and beverages chilled.
Considerations when Selecting a Cooler
It is important to note that of the top three coolers we feature here, they all vary in size and storage capacity. The most important aspect in determining which best cooler for camping is right for you is to take into consideration how you will be using it. That includes how long you will be utilizing it and how much food or beverages you need to keep cold for the duration of your trip. Don't forget to factor in the availability of ice should it need to be replenished. Additionally, depending on where you camp, you might need to consider if local wildlife could be a threat and whether or not the cooler latches so that it cannot be easily opened by a critter.
Storage Capacity
This will greatly vary depending on the size of the cooler you select. The minimum size you will most likely need for a short weekend camping trip is about 45 quarts for two people. The duration of your stay and what you intend to keep cold will need to be considered. Most coolers made for camping range from 40 to 120 quarts.
Cooling Guarantee
While it is nice to return to camp and retrieve an ice-cold brew from the cooler, the real intention is to keep food from spoiling. Most coolers will keep food cold for approximately five days but there are several variables that can either keep the ice from melting or make it melt quicker. For example, a cooler that is placed in the direct sun will most likely need the ice replaced sooner than one that is kept in a shaded area.
Weight and Portability
This is another size-dependent consideration. The weight of the top three models we recommend range from 20 to 25 pounds, without contents. Once filled, they could easily weight twice their weight or more.
At a minimum, a cooler should come with sturdy handles to make transporting it or lifting it easy for one or two people. Some coolers also have wheels and an extending handle for easy maneuvering.
Price
A decent camping cooler will cost anywhere from $50 and up to several hundred dollars. The overall size, materials used for constructing the cooler and the manufacturing brand will be the key factors in what price point they're set at. If you camp often, investing in a good cooler that will withstand years of use is a good investment as opposed to buying cheaper coolers that need to be replaced every couple of years.
Storage Capacity
Igloo Polar Cooler
The Igloo Polar Cooler that we reviewed is a 120-quart cooler. It can hold up to 188 cans of soda or beer.
Coleman Steel Cooler
With 54-quarts of storage space, the Coleman Steel Cooler will easily keep 85 cans of your favorite refreshment chilled. It will even store 2-liter bottles upright.
Yeti Tundra Cooler
At 18 gallons, the Yeti Tundra Cooler will accommodate 50 cans or 66 pounds of ice.
Cooling Guarantee
Igloo Polar Cooler
Leave this cooler in temperatures up to 90° and you can still be assured that the contents will remain cool for up to five days. The Ultratherm insulated body and UV inhibitors in the lid of this cooler will prevent ice from melting even when it's warm outside and the lid from breaking down due to direct sun.
Coleman Steel Cooler
This cooler offers a 4-day ice retention promise even when temperatures rise into the 90's.
Yeti Tundra Cooler
PermaFrost insulation provides resistance to heat, keeping the interior and its contents cold for up to five days.
Weight and Portability
Igloo Polar Cooler
Weighing in at slightly less than 20 pounds, the Igloo Polar Cooler has reinforced handles to make it easy to maneuver and empty, one person could do the job. However, due to its size, once filled, it will likely require two people to lift or move it.
Coleman Steel Cooler
Despite its steel construction, this cooler weighs 19 pounds when empty. It features steel handles that have rubber gripping for comfort when moving or lifting the cooler.
Yeti Tundra Cooler
When empty, the Yeti Tundra Cooler weighs 25 pounds and can easily be lifted or carried by one person. Once loaded, it will require two people to move it. It has integrated handles that are easily tucked away to save space.
Price
Igloo Polar Cooler
This cooler can typically be purchased for $80 to $100.
Coleman Steel Cooler
Depending on the color, the Colman Steel Cooler can run anywhere from $120 up to $200.
Yeti Tundra Cooler
The Yet Tundra boasts being one of the top coolers on the market and the price reflects that. The price tag for this best cooler for camping selection runs around $450.00
Our Top Picks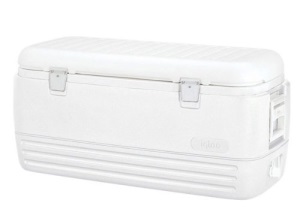 The size alone makes this a great pick for extended camping trips or shorter ones with a large number of people. The insulated cooler cavity and lid, that includes UV inhibitors to help protect the top from sun damage, will keep food and beverages, up to 188 cans worth, cold for five days with temperatures reaching the 90's. A threaded plug makes drainage easy when it is time to pack up and head home.
Pros:
The dual-snap latching lid will keep the contents safe and conveniently placed tie-down loops ensure that the cooler stays put in transit.
Cons:
The hinges and handles are made of plastic and may become faulty with usage over time.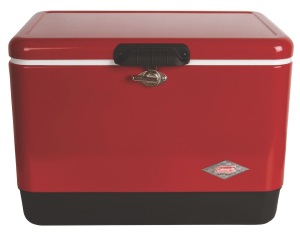 The iconic look and trusted Coleman name makes this cooler one of our tops picks for the best cooler for camping. Thanks to its steel frame, it is one of the most durable coolers available. The comfort-grip steel handles, hinges, and lid latch are all rust-resistant. Draining excess water is simple and doesn't even require that you tilt the cooler thanks to a leak-resistant channel drain.
Pros:
The sturdy construction of this cooler allows it to also function as an extra seat in camp and can hold weight up to 250 pounds! It also is made in the USA and comes with a 6-year limited warranty.
Cons:
There have been reports the lid latch may not provide a good enough seal to prevent warm air from seeping in.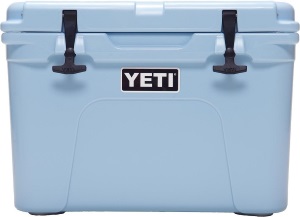 Our best overall cooler for camping is an investment for the serious outdoor enthusiast that spends plenty of weekends throughout the year in a campground. The Yeti Tundra Cooler is extremely durable and compared to the strength of a whitewater kayak. The hinge system is completely integrated and self-stopping so that they won't become weak with use. The handles, with textured grips, tuck in to protect them from damage and there are tie-downs to help secure the cooler whenever it is in transit.
PermaFrost insulation, lid latches to keep the lid secure, and ColdLock Gasket minimizes warm air from getting in or cold air from escaping. This ensures that whatever you need to stay cold during your trip, will.
Pros:
There are multiple sizes to choose from so if the one we've reviewed here doesn't meet your needs, there are plenty of other options. Additionally, all Tundra models come with dry goods basket to help keep small items from getting shuffled or difficult to reach in the bottom of the cooler.
Cons:
The price can be prohibitive for frugal-minded campers.
Conclusion
Choosing the best cooler for camping can be narrowed down to these four considerations; how much storage capacity it has, how long it will keep your items cold, its ease of transport both empty and full, and the price. Keeping beer cold is one thing, but food must be kept at a safe temperature to prevent illness.
Investing in a quality cooler for your camping adventures will take the worry about whether or not your food and beverages are cold so that you can enjoy whatever activities you love in the great outdoors and look forward to cracking open a cold one when you return to camp!