Some links on this page are monetized by affiliate programs - see disclosure for details.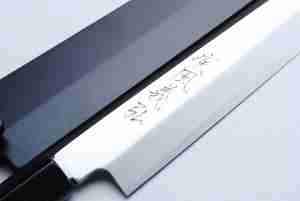 You need the right knife if you want to prepare quality sushi. Having a high quality sushi knife can mean the difference improperly cut pieces and a gourmet dinner that impresses your friends. The best sushi knives are one of the most integral tools in any chef's belt.
What is a Sushi Knife?
A sushi knife is a special kind of knife with a blade that is intended to cut sushi and seaweed. It is typically called a Sashimi hocho in Japanese, which translates to sashimi knife. It is a very thin knife that is used to make sliced raw seafood and fish. Japanese chefs are extremely particular when they prepare their sushi. They want their sliced cross sections to be sharp, shiny, and smooth.
Related: The Best Mandoline Slicer (Guide)
What are the Advantages of using a Sushi Knife?
Sushi knives are lighter, so they cause much less hand strain and faster cutting. Sushi knives are also very good at cutting thin slices of vegetables because they do not use a rocking motion but instead chop down in one chopping motion, which is more efficient and quicker. In addition, sushi knives also have a significantly thinner blade angle of around fifteen degrees. One side of a sushi knife is flat while the other side is beveled like a chisel, so you only need to sharpen one side. In order to accommodate this thin blade, sushi knives are typically made from harder steel, which ensures blade sharpness.
Having the proper knives for the preparation stage makes a huge difference. All it takes is to try cutting through seaweed with a steak knife for you to understand the importance of your sushi knife. With the development of hybrid knives and the prominence of traditional ones, sushi knives are the staple of many Japanese restaurants.
Also See: The Best Rice Cooker (Guide)
What are the Different Types?
If you want the best sushi knife for the cut at hand, you should make sure that your sushi knife matches up to the kind of material you are cutting through. Otherwise, you will end up with uneven sushi and other rolls. If you are able to invest in a specialized knife, it will really help you execute the cooking tasks with ease.
Deba Knives
These knives look similar to a meat clever due to their rectangular shape. They are especially suited for cutting through the cartilage of fish and the bones. They come in particularly handy for making fish stews and soups.
Yanagiba Knives
This variation of the knife is shaped like a willow and is commonly referred to as the "standard" sushi knife. It is particularly great for cutting through sushi and sashimi rolls. Make sure to have one of these around when you are looking for consistently wide rolls.
Usuba Knives
Usuba knives are perfect for using with vegetables, peeling, and for finer cuts. They look like a hybrid between a meat cleaver and a normal cutting knife. If you are looking for a multipurpose knife that can perform well in most cuts, this one may be the choice for you.
Santoku Knives
Santoku translates to three virtues. They are used for meat, fish, and vegetables. This style is a western-inspired knife that was intended to be used as a "one size fits all." While it may not be a traditional style knife, it is used a lot in Japanese homes. It is an extremely useful tool to have around when you need to cut through dense material.
Who are the contenders for best sushi knife?
Equinox Professional Chef's Knife – The Equinox is one of the best sushi knives on the market thanks to its combination of affordability, sharpness, and composition. It is made from high-quality steel imported from Germany. This steel is rust resistant, easy to maintain, sharp, easy to re-sharpen, and holds its edge retention perfectly. It is very versatile and can dice, slice, chop, and mincemeats, vegetables, and fish. Because of its lightweight design, it is very durable, gives you greater control of the cut, and provides great balance. The handle is extremely comfortable to the touch.
Yoshihiro VG10 Japanese Chefs Knife – The Yoshihiro is extremely versatile and an essential knife to prepare delicious and intricate meals. From slicing, dicing, and chopping fresh produce to perfectly carving a roast chicken, even the easiest of tasks are possible with a handcrafted knife that perfectly balances functionality and aesthetics. This knife is forged with a Western style curved blade that easily rocks back and forth with an extended tip for easy chopping. It is forged and hammered with sixteen layers of steel in the Damascus tradition with a VG-10 Core. It also features a premium handcrafted mahogany handle that extends to the full tang of the knife and is certified for commercial kitchens. The hammered texture of the blade eliminates friction and ensures that your food does not stick to the blade. Each knife from Yoshihiro is handcrafted by master artisans.
Sekizo Yanagiba Sashimi Knife – The Sekizo Yanagiba is very frequently used and highly rated across many different kinds of users. It has an eight-inch-long singled beveled blade for right-hand use. Its long slender blade glides through rice and fish rolls with ease and requires little maintenance to keep sharp.
Considerations for choosing the right knife
Price
An important factor to always think about when searching for the best sushi knife is the price. If you really only plan on using the sushi feasts once or twice a year, it makes sense to purchase a more economical model. If you are a professional sushi chef who needs many features, you should invest in the most effective model.
Sharpness
When you need to cut through the most difficult of materials, it helps to have a sharp enough blade. If you are trying to cut through your sushi rolls with a dull blade, it will end up being uneven and look sloppy. Sushi blades require a specialized level of sharpness that it is not attainable with a conventional knife. Get a knife that will leave a smooth and beautiful cut that will impress those eating the rolls.
Included Features
Especially for culinary professionals, having enough included features can mean a world of a difference. If you need to cut through all kinds of seaweed and fish skin, buy a sushi knife that is intended for many functions.
Price
Equinox Professional Chef's Knife
This blade is one of the more moderately priced options even though it works quite well.
Yoshihiro VG10 Japanese Chefs Knife
This blade is a bit of a pricier option, yet it is a worthwhile investment.
Sekizo Yanagiba Sashimi Knife
Despite being directly imported from Japan, this knife is one of the cheapest models on the market.
Sharpness
Equinox Professional Chef's Knife
Since it is crafted of German steel and intended to be a multipurpose knife, this blade really comes in handy when you need some help cutting most Japanese dishes.
Yoshihiro VG10 Japanese Chefs Knife
With its hammered Damascus Gyuto blade, you know that you are getting sufficient slicing ability. It is a perfect selection if you know you will have a variety of materials to cut through.
Sekizo Yanagiba Sashimi Knife
Made from Japanese steel and crafted to achieve a high degree of sharpness, this knife is capable of cutting through most materials with ease.
Included Features
Equinox Professional Chef's Knife
With an ABS handle, it is strong, durable, moisture resistant, and comfortable in your hand. The blade, crafted using German steel, is known for their sharpness and durability.
Yoshihiro VG10 Japanese Chefs Knife
One of the greatest features on this knife is the three-layer construction with a VG-10 stainless steel center core with exceptional sharpness, edge retention, and durability. It has a sturdy Mahogany handle that is capable of supporting enough driving force.
Sekizo Yanagiba Sashimi Knife
It features a number of options that are typical of Yanagiba knives. From its beveled blade to its firm handheld grip, it comes out ahead in features provided.
The Reviews are in: Our Top Picks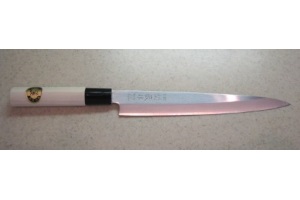 The Sekizo Yanagiba is commonly used for multiple purposes. With an eight-inch-long beveled blade it easily cuts through your sushi rolls. You do not have to spend a lot of time keeping your knife sharp and clean as it is very durable.
Pros:
It is very effective at cutting through tough materials. You do not need to spend a long time maintaining it. It is a traditional Japanese-style cutting knife. It is a very cost efficient option.
Cons:
It may not last as long as slightly improved models. You may have some difficulty sustaining a prolonged grip due to the lower quality handle. It may have some difficulty getting a more exact cut for smaller sized sushi rolls.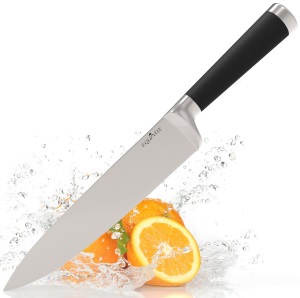 For its price, this knife has a durable composition and a sharp blade. The high-quality steel ensures that your blade will be easy to maintain, rust resistant, easy to keep sharpfe, and capable of holding onto an ideal edge retention. You will have a large number of potential cutting options thanks to the versatility of the Equinox. Not only that, you will have complete control over the balance of your cut and the resulting presentation of your dish.
Pros:
It rust-resistant. It is very sharp. The handle is quite comfortable. It weighs very little in your hand. You can easily sharpen it for repeated use. It works well with most types of vegetables, meats, and fish.
Cons:
It is not a traditional style Japanese sushi knife. It may be a bit difficult to cut through seaweed and fish skins. The handle does not easily conform to your hand.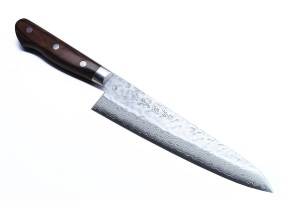 The Yoshihiro is a multipurpose and essential knife that will allow you to make delicious and complex meals. The knife is made from a Western style curved blade that you can easily rock back and forth to allow easy chopping. It is crafted with sixteen layers of steel in the Damascus tradition with a VG-10 Core. It has a premium handcrafted mahogany handle that extends to the entire tang of the blade and is certified for commercial uses. The hammered texture of the blade gets rid of most friction and ensures that your blade does not stick to the food. Every knife from Yoshihiro is handmade by master artisans.
Pros:
It is handcrafted from genuine Japanese stainless steel. It can achieve razor thin cuts through sushi rolls. The Mahogany handle is lightweight and form fitting. The wood grip has a great aesthetic. It is a great choice for entry-level chefs.
Cons:
It does not fall into a traditional Japanese knife category. It may be less effective at slicing through fish skin and seaweed due to the curved blade. Hand wash only.
Conclusion
When it comes time to serve up your guests or your patrons, you do not want to be left stuck with a dull sushi knife. You are going to want to have invested in the proper tools to leave them blown away by the quality of your sushi dishes. You should take in considerations such as price and functionality before you make a big ticket investment. Think about the different kinds of cutting you are going to be performing and do some research into the characteristics of each kind of knife. It is always better to be adequately equipped for preparing your favorite sushi meal.