Some links on this page are monetized by affiliate programs - see disclosure for details.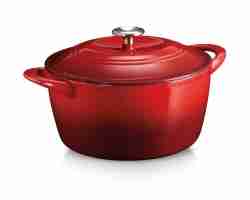 Budding chefs or amateur cooks will find that a Dutch oven is an incredibly useful tool to prepare tasty dishes of various types for your family and friends. Used both outdoors when camping and indoors for home cooking, Dutch ovens are as versatile as they are essential in and out of the kitchen.
Though there are many available options for Dutch ovens, it's important to find the best Dutch oven tailored to match your needs and help ensure that your meals are as delightful as they can possibly be.
What is a Dutch Oven?
A Dutch oven is an incredibly versatile thick-walled cooking pot with a fitted lid that is useful for those who enjoy cooking and eating hearty, delicious, and surprisingly easy meals. Sometimes compared to slow cookers, Dutch ovens can be used for similar purposes yet have many other uses as well. Whether you're hoping to cook a roast, put together a scrumptious casserole, or even bake some homemade bread, Dutch ovens are able to cater to many cooking needs.
What are the Advantages?
One of the biggest advantages of owning a Dutch oven is its versatility. Instead of having to wash multiple dishes after cooking a meal, Dutch ovens allow many meals to be cooked just in the one dish. They can be used both inside the oven and on top of the stove, so for recipes that require stove-top cooking prior to baking Dutch ovens are incredibly useful.
Dutch ovens also provide differing health advantages. For example, enamel (also known as coated) Dutch ovens are often non-stick, which means there is less of a need for cooking with extra oil or butter. On the other hand, cast iron (uncoated) Dutch ovens often fortify food with extra iron, a nutrient which is especially helpful in reducing symptoms of anemia, fatigue, insomnia, and more. By simply cooking meals in a cast iron skillet, your health and happiness may increase twofold!
What are the Different Types?
Outdoor
As Dutch ovens were invented prior to the invention of ovens, outdoor Dutch ovens were originally the only type of Dutch oven available. However, despite the availability of indoor Dutch ovens nowadays, outdoor Dutch ovens are still widely used, especially when camping. This type of Dutch oven is usually made of cast iron and has a flat bottom, three legs that hold the oven above the coals, and a steel bail handle used for carrying. Though camping is the most popular reason for using outdoor Dutch ovens today, there are also many cooking aficionados that swear by the distinguished taste that cooking with coals in a cast iron Dutch oven creates.
Indoor
Indoor Dutch ovens are not for use over coals like the outdoor ones are, however they are incredibly useful both on the stovetop and in the oven. Particularly useful for putting together one meal in one pot, there are different types of indoor Dutch ovens that cater to differing needs that are listed below.
Cast Iron (Uncoated)
Arguably the best Dutch oven, cast iron ovens are very durable and can handle heat up to 2000 degrees. Though they need constant seasoning and upkeep to prevent rusting, when properly maintained cast iron ovens are often passed down from generation to generation due to their long-lasting qualities. Unlike most other Dutch ovens, cast iron ovens have the redeeming quality of heating slowly and evenly, allowing for a maintained stable temperature throughout the cooking process. Dutch oven purists swear by the distinguished taste of cast iron cooking, and the fortified iron in meals is a bonus.
Aluminum
One of the less popular types of Dutch ovens, aluminum Dutch ovens are light yet still incredibly durable. Unlike cast iron Dutch ovens, there is no need for seasoning on an aluminum oven, however there are some disadvantages of this type as well. In particular, the heat distribution in an aluminum Dutch oven is often unpredictable, resulting in uneven cooking and hot spots.
Enamel (Coated)
Many indoor Dutch ovens nowadays are coated, or enamel, due to the time-saving elements this simple addition boasts. Unlike cast iron ovens, constant upkeep and seasoning are not necessary with the enamel versions.
Consider This…
Each type of Dutch oven is made for different uses, something that should be considered when purchasing one. For the budding chef, cast iron Dutch ovens may be the more preferable type due to their versatility (useful both indoors and outdoors) and promising distinguished tastes they create as well as the slow heating and even cooking they produce. For those who simply want a versatile indoor cooking pot that creates easy, delectable meals, enamel or aluminum Dutch ovens would work just as well. When purchasing a Dutch oven, keep in mind what use it would be put to in order to make the decision on what type to buy.
The Top 3 Models on the Market
Lodge L8DOL3 Pre-Seasoned Cast-Iron Dutch Oven – This Lodge Dutch oven is possibly the best Dutch oven on the market due to its versatility, durability, and popularity. Made of cast iron, this oven has a self-basting lid that helps to preserve moisture, as well as loop handles that make carrying the oven easier. It is pre-seasoned with vegetable oil formula making it ready for immediate use, however it requires strict upkeep to prevent rusting. Comes with a lifetime warranty.
Le Creuset Signature Enameled Cast Iron Dutch Oven – For those who prefer everything name brand, when it comes to Dutch ovens you cannot get any more name brand than Le Creuset. Channel your inner Julia Childs while cooking a roast with this enamel cast iron French (Dutch) oven that effectively retains and distributes heat, producing mouth-watering meals comparable to those of the best international chefs. This Dutch oven has large handles that promise a sure grip even while wearing oven mitts, and has a large composite knob that can withstand temperatures up to 500 degrees Fahrenheit. If well maintained, this Dutch oven promises to last a lifetime or more (and comes with a limited lifetime warranty), allowing for hundreds of home cooked meals.
Simply Calphalon Nonstick 7-qt. Dutch Oven & Cover – Made out of impact bonded aluminum for maximum heat conduction, this Dutch oven's nonstick interior makes it easy not only to cook in, but also to clean up. The silicone handles allow users to carry it without the need of oven mitts, and the oven itself can withstand temperatures up to 400 degrees Fahrenheit. Comes with a 10-year warranty.
Factors to Think About
Price
For those planning to use the Dutch oven time and time again, it may be smarter to purchase one that is higher in price as it will likely last longer. For those who wish to purchase one for the occasional recipe, it may not be necessary to invest in a more durable version.
Size
If you're hoping to roast Thanksgiving turkeys in your Dutch oven, you're going to want to choose a larger sized oven. On the other hand, if you're planning on only make smaller meals in your Dutch oven, a smaller version would be doable (and less pricey).
Type and Purpose
For the avid camper who enjoys mouthwatering meals while enjoying the outdoors, an outdoor cast iron Dutch cooker with legs would be of most use. For the chef who wants to ensure the unique Dutch oven flavor enhances his or her meals, a cast iron Dutch oven would also work best. And for the busy parent who just wants an easy yet enjoyable feast, an enamel-based or aluminum-based Dutch oven would work just fine.
Price
The Lodge L8DOL3 Cast-Iron Dutch Oven
This model is about mid-range in price; it certainly isn't cheap, however, with all of the advantages it offers it is well worth the cost.
Le Creuset Signature Enameled Cast Iron Dutch Oven
As Le Creuset is the name in Dutch Ovens, it is also the most expensive brand. Offering similar advantages to the Lodge along with the brand-name title, it is well worth the expense to many.
Simply Calphalon Nonstick Dutch Oven
The cheapest of the three, the Calphalon isn't far behind the Lodge in price. Though it is not as long lasting as the other two, it still has many advantages including but not limited to the price that make it well worth the purchase.
Size
The Lodge L8DOL3 Cast-Iron Dutch Oven
This model comes in either 5 or 7 quarts, with about a $20 difference in price between the two. Due to the cast iron quality, it is quite a bit heavier than other versions, which is something to keep in mind.
Le Creuset Signature Enameled Cast Iron Dutch Oven
This brand holds about 5.5 quarts, and measures about 10 1/5 by 10 1/5 by 4 ½ inches.
Simply Calphalon Nonstick Dutch Oven
Offers either a 5-quart or a 7-quart version with only about a one-dollar difference between the two.
Type and Purpose
The Lodge L8DOL3 Cast-Iron Dutch Oven
This is a cast iron model that is useful for avid cookers who prefer the authentic Dutch oven flavor. Can be used either on the stovetop, in the oven, or even over coals as it has the ability to handle very high heats. It requires consistent upkeep, however if well-maintained it will be useful for generations to come.
Le Creuset Signature Enameled Cast Iron Dutch Oven
This is an enameled cast iron Dutch oven that is useful both inside the oven and on top of the stove. It is not suggested for use over a campfire due to the potential for the enamel to soften and damage, however it is incredibly versatile when used indoors.
Simply Calphalon Nonstick Dutch Oven
This aluminum Dutch oven is useful for those who do not care as much about the taste or durability, but simply want a Dutch oven for occasional meals.
Our Dutch Oven Reviews Are In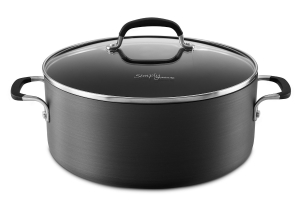 This is the best Dutch oven in terms of price. Perfect for those who aren't picky about specific unique Dutch oven tastes, this model is sufficient in helping to create delectable meals when there isn't enough time in the day to spend cooking. Easy to use and clean as well as quite cost-effective, The Simply Calphalon Nonstick Dutch Oven is a fantastic purchase to make.
Pros:
It is nonstick which allows for easy cooking and easy cleaning, as well as healthier eating due to the lessened need for cooking oil or butter. It also has silicone handles to prevent burns while cooking.
Cons:
It is less durable and will not last as long as cast iron Dutch ovens would. May not distribute heat well.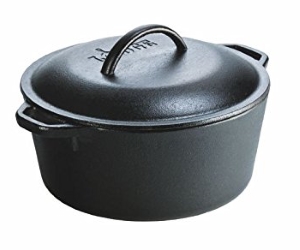 When purchasing this model, you are certainly getting the most out of your money. If you desire the true cast iron flavor, the cast iron versatility, and the cast iron health benefits all for a relatively low cost, this is the Dutch oven for you.
Pros:
If properly maintained, it can last for generations to come. Provides unique cast iron flavor and also adds iron to meals resulting in health benefits. Distributes and maintains an even heat.
Cons:
It requires constant upkeep to maintain the durability and prevent rusting.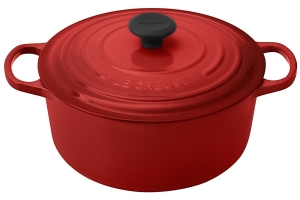 This Dutch oven not only comes with a brand name, but it also comes with plenty of other advantages that make the high price worth it. For those who want to be the star of the cooking party, Le Creuset Signature Enameled Cast Iron Dutch Oven is the best Dutch oven for you.
Pros:
Brand name bragging rights, does not require as much upkeep as a regular cast iron Dutch oven due to enamel coating, long-lasting if well maintained. Distributes and maintains an even heat.
Cons:
It is quite expensive when compared to the other models.
Conclusion
When you are figuring out what type of Dutch oven you would like to purchase, it is important to keep in mind the price, size, type, and purpose of the options before making the decision. Figure out what use the Dutch oven will be put to in order to determine which one best suits your lifestyle.