Some links on this page are monetized by affiliate programs - see disclosure for details.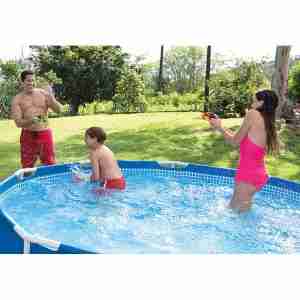 There is nothing that captures the excitement of summer more than a backyard swimming pool. It's there where children and their neighborhood friends can safely splash the summer away playing Marco Polo and learning to swim. Families escape long, hot summer afternoons indoors, as well as air-conditioning costs, by lounging in the fresh, blue waters of a swimming pool. Young adults cap off their summer barbecues with a dip in a still, cool swimming pool- a perfect vantage point for stargazing and dreams.
For you, however, the swimming pool is a dream deferred; it's an idle patch of grass waiting for you to stumble on the money needed to install that perfect pool.
Make no mistake about it, installing an in-ground swimming pool is cost-prohibitive for most people: some estimates for in-ground pool installations run in the six-figure range.  There is, however, a way to make your summer dreams a reality and not break the bank, and that's through installation of above-ground swimming pools.
A Guide To The Best Above Ground Pools
An above-ground pool is a cost-effective way to have all the benefits of a pool without permanently altering your property or requiring expensive plumbing or electrical changes to your home. The above-ground pool sits firmly atop your yard and is easy to assemble on a DIY basis. Once built, a good above-ground pool is safe, durable throughout the year, and includes motorized water filtration pumps. And, depending on what pool you select, an above-ground pool can come with all the amenities of an in-ground pool, including heated water capabilities, pool covers, and designer lighting.
Selecting the right above-ground pool means you can enjoy all of the swimming and leisure related activities of an in-ground pool at a fraction of the cost and time it takes to install an in-ground pool.
What are the different types of above ground pools?
Hard-Side Framed Pools
Generally the more expensive option, hard-side above ground pools are typically double metal/aluminum framed structures with vinyl interior. These above-ground pools are often dubbed "ultra-durable" and possess the sturdiness of in-ground pools but with above-ground functionality and pricing. They are typically larger in dimension, which allows for higher occupancy and better swimming capabilities. This "Samsonite" version of the above-ground pool is more difficult to install and is a more permanent structure in your yard. If, however, you are frequently hosting a large party of swimmers and/or live in a climate subject to harsh winters and hot summers, this durable option may be for you.
Powder Coated Oval or Round Pools
Unlike the hard side, metal framed pools, powder coated above-ground pools are comprised of a steel skeletal structure infilled with powder coated "skin" framing. These pools are designed to mimic the durability of hard-side metal/aluminum pools, but are easier to assemble on a DIY basis and are cheaper than their hard-side counter parts. These pools may not be ideal for harsh climates, as the powder coating is comprised of resin, which erodes faster than solid metal frames. Nevertheless, if you want a cost-effective, large pool, that you can swim in mere hours after receipt, powder coated pools require your attention.
Easy Set-Up Lounge Pools
This lower end above-ground pool is not quite a kiddies Frozen themed inflatable, but it's not going inspire the party to come back to your place on a hot August night. These pools consist of PCV framing support with laminated sidewalls. This modest option is great for a small family looking to beat the heat by relaxing in cool water. These pools are also ridiculously easy to assemble and tear down again, so they are great to take with you on outdoor adventurers with confirmed water sources. These pools are small and are built with lounging activity in mind, but they are offered at a lower price point. If you possess minimal expectations of what an above ground pool should do, easy set-set up lounge pools are the way to go.
What are the benefits of owning an above ground pool?
Above ground pools are a cost effective way to enjoy of the benefits of a pool without the costs and wait time associated with installation of an indoor pool. Even above-ground pools in the mid-price range offer durability, motorized water filtration systems, and the dimensions needed to lounge in water or have a swim. Above ground pools are a great option for young families who may not have a back yard adequate for an expensive in-ground pool or who may be looking to move in a few years' time and would like to take their pool with them. Order an above-ground pool today, set it up tomorrow and enjoy all it has to offer for years to come.
Which pools are best on the market?
Sturdy, rust resistant steel frames, and with 32'x16'x52" dimensions, this hard-side metal frame pool is the ultimate underground pool killer. Large enough to host a party of adults or, alternatively, to teach your children to swim, this Intex product is built to last all year long and for years to come. The pool comes equipped with a Ladder, pool cover, and 2650 GPH Krystal Clear Sand Filter pump. The price is high, but it's peanuts compared to in-ground alternatives, and you can have it up and running by next weekend's barbecue.
This luxury above-ground pool is another large sized (30'x15'x52 inch pool) and hard-frame pool also available in smaller sizes. This pool's oval dimension maximizes space and allows for up to 12 swimmers in the pool at a time. The walls are hot-dipped galvanized to steel frames, so this expensive investment is built to last and can take a beating from a whole neighborhood of kids. The pool comes complete with a lift-off stair case, designer tiling for that extra aesthetic touch, 1 HP Pump and Motor and a 15-Year Manufactures Pool warranty and free lifetime customer support. If you wish to frequently host large pool parties, especially for ruckus children, this may be considered an investment in your future.
This inexpensive option is perfect for small families looking for a break from summer air-conditioning bills. This above ground pool is built for lounging and swimming for small children. The 12'x30" metal frame pool is easy to assemble and disassemble and is a great option for those who may wish to take an above ground pool on vacation to natural locations with water sources. For a modest price, the pool includes a 330 Gallon Filter Pump and Filter Cartridge, Heavy Repair Patches, and a DVD outlining pool set-up and maintenance costs. This is an excellent low cost option for those initiating themselves into the above-ground pool experience.
Considerations for Choosing the Right Above-Ground Pool
Although you might not think it, there are numerous options when it comes to selecting an above-ground pool. Prices can sometimes extend up to five thousand dollars and beyond for a luxury above-ground pool, but whatever you end up spending, you want to make the right choice for you, your family and friends. So before you jump in and make a splashy purchase, there a few considerations to keep in mind when purchasing an above ground pool:
Ease of Assembly
All above-ground pools can be assembled on a DIY basis. Some can be set up in a manner similar to constructing a tent for camping: spend an hour following instructions and, like magic, you will be swimming the same morning you bought your pool. Other above-ground pools, the sturdier, more permanent options, require forethought and some technical skill. Some might require small preparations of your yard before assembly. The good news is most above ground pools come with instructional DVDs; what you need to decide is what your intent is in getting an above-ground pool and how soon you need it fully functional.
Durability
If you do your research, you will find above-ground pools that are durable and will last for years to come. Obviously, some pools are far more durable than others, and you will be charged a premium for that durability. So, before buying a pool, consider its likely uses. Will the whole neighborhood be using the pool? Will you have a classroom full of school children playing water volley-ball every afternoon? Or will the pool be for relaxing with a bottle of wine and some music? Obviously the more stationary use envisioned for the above-ground pool, the less you have to consider paying extra for military-hardware style pools.
Finally, you need to consider your climate. If there are large swings in weather like cold, harsh winters, and scorching summers, the more durable your pool needs to be.
Price
You can spend very little on an above-ground pool or you can spend thousands of dollars. It really depends on how long you intend on staying at your current home and the intended uses of the pool. If you are staying in your home for the next 5 years, it may make sense to spend more money and buy a sturdier, more permanent above-ground pool. This is because you never know how your use of the pool may evolve over the years. If your future at your home is less certain, there are plenty of above-ground pool options in the in lower price range that will tide you over. If you are unsure of how a pool might work for you going forward, spend a few hundred dollars on a top rated, mid-range pool and see how a pool incorporates into your lifestyle.
Dimensions
The last factor, and perhaps the most important, is the size of the pool. You can order a durable pool, at the right price, but if it's the wrong size for its intended use, then you have done yourself no favors. You can buy a 12 foot by 30 inch round pool for the purpose of cooling off and relaxing or you can get 30 feet by 15 feet by 52 inches (4.3 feet depth) pool for more active uses, including swimming. There are also aesthetic considerations such as how a rectangular versus round versus oval pool might look based on the dimensions of your house and yard.
Ease of Assembly
Bestway Steel Pro Round Frame Pool Set
Receive your pool in the morning, start swimming in the afternoon. While this above-ground pool comes with an instructional DVD, you will find assembly intuitive and efficient.
Intex Ultra Frame Rectangular Swimming Pool Set
As far as durable, large pools are concerned, this Intex Ultra Above Ground Pool is relatively easy to assemble. The instructional DVD promises complete assembly in 90-minutes.
Splash Pools Oval Deluxe Pool Package
This luxury option will require an all hands on deck approach and likely take a day of labor to assemble. Once it's built, however, this pools isn't going anywhere and you will enjoy it for years to come. Not bad for a day's work.
Durability
Splash Pools
While you will pay for this high end option, this above ground pool sports solid steel, hard side framing. This will be necessary to contain the Splash's nearly 13,000 gallon water carrying capacity.
Intex
This hard side frame option is plenty durable for the ease with which this above-ground pool is assembled. The elegant panels are supported by steel frames, and further support is provided by twenty-four side weight bearing stands.
Bestway
Although not as durable as other options, 3-ply polyester and PVC support this Bestway Round Frame Pool. For a low price entry, this pool is well suited to survive many summers of lounging.
Price
Intex
This above ground pool hardly the economy option. However, given the dimensions, durability and style, this price point is hard to beat, especially when compared the budget you would burn on an in-ground pool
Splash Pools
Okay, an above-ground pool as pricey as this one may be hard to stomach. If you plan to live in your home for a while, however, and you foresee heavy use of your pool, your money will go a long way with this high-end option.
Bestway
This option may not come with bells and whistles or a promise that it will survive a hurricane. But if you are feeling out wether an above-above ground pool is for you or, if you foresee mobility in your future, this may be a good entry point for you.
Dimensions
Intex
This 4.3 inch deep above- ground pool represents the largest pools in its price range. It's parameters are ideal for swimming, lounging, and pool sport such as water-volleyball.
Splash Pools
This style pool does have a larger option (45 x 18 x 52). However, with a seriously high price tag, it may be hard to justify when the 30 x 15 x 52 option gives you everything you would ever want, at a fraction of the cost.
Bestway
Is your aim is to cool down on a hot summer day and not put your above-ground pool to too much of a test? Then this options is the right size and fit for you.
Our Above Ground Pool Reviews Are In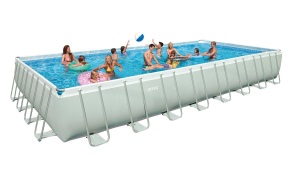 This is the perfect above-ground pool for almost any intended use. Its dimensions allow for a range of activities including swim lessons for children and lounging for adults. The pool uses steel framing and is easy to assemble. All of this at a price point that is hard to beat relative to the in-ground pool option and the nearest in class above-ground competitors.
Pros:
Sturdy, well built pool for most uses and any climate.
Dimensions large enough for almost any intended use.
Cons:
May be little too much pool for those experimenting with above ground option.
Price is higher than some suitable alternatives.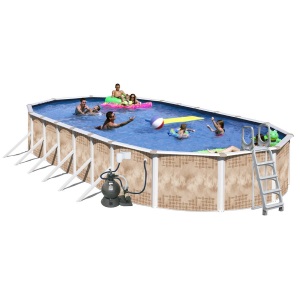 This is the largest, most durable pool of all available options. It's style, dimensions, and powerful filter/motor will keep you swimming in style for many years. It is also the very best option if your aim is to use your above-ground pool for swim lessons.
Pros:
Likely longest lifespan of all above ground pools.
Appropriate for a wide array of activities from lounging to pool-sport.
Cons:
Too large and bulky for many back yard spaces.
High price.
T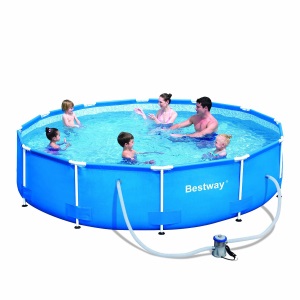 his splash pool is perfect for those looking to enter the above-ground pool space but don't want to make too big of an investment. The pool, though sturdy for its price range, is ideal for pool lounging and beating the heat.
Pros:
Great value for money.
Perfect for adults looking to cool off on a long summer night.
Cons:
Not likely durable for long term use.
Not suitable for a wide range of pool activity.