Some links on this page are monetized by affiliate programs - see disclosure for details.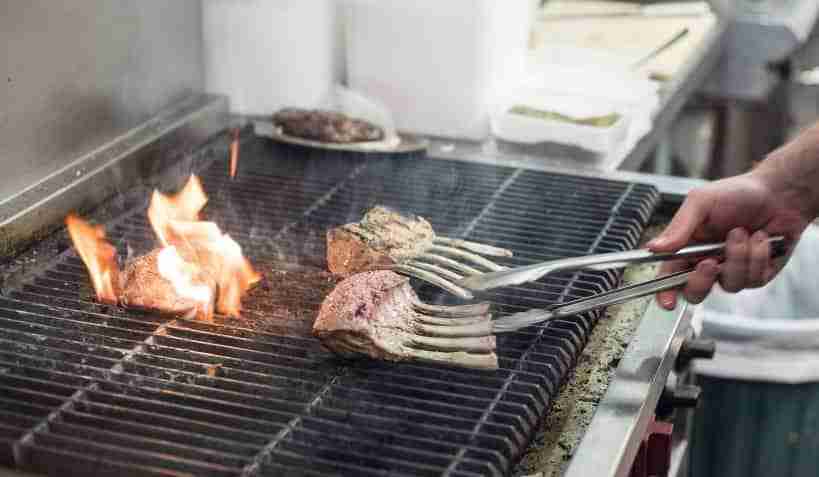 Summer is almost upon us, and the weather is warming up rapidly. In other words, it's barbecue weather! Time to whip out the old propane or charcoal grill and get to cooking. But maybe your mind is strapped as to what type of foods you should grill outdoors. If so, we've got you covered. Here are the top 10 best foods to grill outdoors.
1. Ribs
Is there anything more appealing to a meat eater's mind than the sight of a rack of ribs grilling over an open flame? While they can take quite a while to prepare (around 3 hours of you're doing it right), ribs are just about the ultimate cookout food. Whether you're making country style ribs, baby back ribs, short ribs, spare ribs, or otherwise, an outdoor grill is the absolute perfect setting.
2. Shrimp
As our stereotyped version of our outback friends would say, "throw another shrimp on the barbie!" Shrimp tastes great regardless of where it's cooked, but it tastes best when it's grilled outdoors. There's just something about shrimp on a calm, warm, sunny day that makes you feel great. Shrimp can be prepared in a number of ways, whether that be with skewers, by itself, or otherwise.
3. Pulled Pork
Ideal for tailgates and summer barbecues, pulled pork is popular in the midwest as well as some southern states like Texas. To make it correctly, pulled pork takes some serious preparation. It's not a food that you can just whip up out of nowhere. It can be served in a number of ways, whether that be as a sandwich, or covered in barbecue sauce, or otherwise. In any case, pulled pork tastes absolutely delicious when prepared correctly.
4. Burgers
There's nothing more American than grilling burgers outside on a warm spring or summer day. But not only are burgers ulta-American, they're also very easy to cook. Unlike many foods on this list, burgers can be completely prepared in less than 10 minutes. Simply prepare the patty, throw it on the grill, let it sit there for around 4 minutes, flip it over, let it sit for 4 more minutes, throw it on a bun, add condiments, and enjoy!
5. Meat Kabobs
A fun and delicious food to prepare on an outdoor grill is a meat kabob. Meat kabobs can be made in a number of different ways. You can use just one meat, or you can use four. It's completely up to you and your taste buds. Simply slide your meats onto a skewer, throw the skewer onto the grill, and let it grill for around 10 minutes as you turn it periodically. This will deliver an easy-to-eat food that packs a punch of flavors.
6. Chicken
Is there anyone who doesn't like chicken? Chicken can be prepared on an outdoor grill in a number of different ways. You can barbecue it. You can skewer it. You can make a sandwich out of it. It fits well with just about everything. Whether you want to make grilled, boneless chicken strips, or tasty chicken wings, it can be done on an outdoor grill. Have it with some corn or avocado for an enhanced taste.
7. Potatoes
If you're looking for a terrific side dish to cook on an outdoor grill, you can consider grilling potatoes. You can prepare a variety of different types of potato dishes on a grill, from baked potatoes, to grilled potato strips, and more. Simply cover the grill surface with foil to keep the potato from falling through the cracks. Then add a variety of sauces and seasoning afterwards to get the taste of your choice.
8. Vegetable Kabobs
Kabobs aren't just for the meat eaters. Vegetarians and vegans (and meat eaters, too, of course), can enjoy grilled vegetable kabobs. Preheat your grill to a medium heat. While it's heating up, slide a variety of different vegetables onto your kabob. Excellent kabob vegetables include zucchini, squash, onion, tomato, and mushroom. However, if you enjoy a different type of vegetable, don't be afraid to give it a whirl.
9. Sausage
Sausages include everything from tasty breakfast foods, to bratwurst, to traditional hot dogs, and more. If you're looking for something that you can grill quickly without much fuss, this is the food for you. Popular at tailgates, sausages can be prepared in a number of ways. You can burn them and make them extra crispy, or let them simmer slowly over the fire, making them tender and juicy.
10. Flatbread Pizza
If you're not interested in a typical meat dish, you can try grilling flatbread pizza on your outdoor grill. This can be done by placing the sauces and toppings of your choice on a plain slice of flatbread. Pita bread is a great choice. Put the flatbread on the top shelf of your grill and set the heat to low. After about a minute or two, the cheese will melt. This will signal the successful cooking for your flatbread pizza.
Image Courtesy of Flickr User Paul Lindau